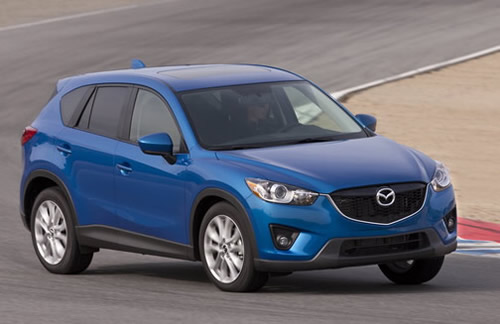 Mazda CX-5 – Economy and Style, Hold the "Zoom-Zoom"
By Jim Bray
June 30, 2012
"For what doth it profit a man, if he gain the whole world, and suffer the loss of his own soul?" - Matthew 16:26
Okay, that may be a bit of an overstatement, but that's how I felt about Mazda coming out of my week with their new "Cute ute" niche SUV/Crossover, the 2013 CX-5. I love Mazdas, and a big reason for that is "Zoom-Zoom," which the company has not only used as its catchphrase for many years, but which it has backed up with a succession of vehicles that are more interesting and engaging to drive than much of the competition.
For example, if you're looking for a small sedan that adds a bit of zing to the mundane chores such vehicles invariably perform, the Mazda3 should be high on your list of vehicles to test drive. Ditto for the 6, the (apparently moribund) CX-7, and of course the (apparently moribund) RX-8 and the plucky little MX-5 roadster.
These are just some of the most recent Mazdas that clearly have "Zoom-Zoom" – which doesn't necessarily mean they're the best performing in the class but that they're a more entertaining choice than some, ones that raise the fun bar without breaking the bank.
Except, perhaps, at the gas pump. Nothing in life is free and if you want a dose of "Zoom-Zoom" it's going to cost you. We aren't talking Hummer mileage here, of course, just performance that isn't as frugal as some of the competition. Despite this supposed fuel premium, all it takes is a look around you on your commute today (hopefully not while you're reading this!) to see how many Mazda3's are on the roads. They're everywhere, and they deserve to be.
But Mazda, undoubtedly feeling the pressure from competitors and regulators to up the mileage ante in their fleet, appears to be heading down this SKYACTIV route to accommodate such pressures. Their SKYACTIV technology offers new engines and transmissions that Mazda promises will supersize gas mileage to make the company more than competitive with the petro-sippers from other companies.
Does it work? It appears to. Heck, the sticker for Mazda Canada's Sky Blue Mica sample CX-5 GT claims 8.0 l/100 km city and a stingy 6.4 on the highway. The Canadian government translates that to 35/44 mpg, which is nothing to sneeze at in any vehicle, let alone an SUV.
The CX-5's SKYACTIV-G gasoline engine uses a very high 13:1 compression ratio and a new 4-2-1 exhaust system and special pistons – "among other things," says Mazda – to craft an engine they say is 10 per cent lighter and has less internal friction than the 2.0 liter gasoline engine it replaces. All this, Mazda says, while delivering more torque and lower emissions.
This results in "a spunky" 155 horsepower at 6,000 rpm and 150 lb.-ft. of torque at 4,000 rpm, which is expected to move the loaded sample CX-5's approximately 1,555 kg along with glee. Yeah, but the same engine only has to move 1,304 kg in the Mazda3 SKYACTIV, and it wasn't overpowered in that configuration.
You can really feel the difference with the CX-5, too, which is actually a tad sluggish off the line. Oh, it'll get you to freeway speeds with little fuss other than some buzziness, but after my week with the CX-5 I though there was something missing from the Mazda experience: the "Zoom-Zoom."
That 155 horsepower compares with the four cylinder Toyota RAV4's 179 @ 6,000 rpm (9.4/6.9 l/100 km), the Honda CR-V's 185 @ 7000 (9.2/6.6 l/100 km) and the VW Tiguan's 200 @ 5,100–6000 (12.0/7.7 l/100 km – on premium!), which means the Mazda's estimated gas mileage advantage is real, but not huge. To be fair, though, I would normally expect to fill up at least once during my week testing any Mazda and I didn't need that pit stop with the CX-5. So maybe that's worth something.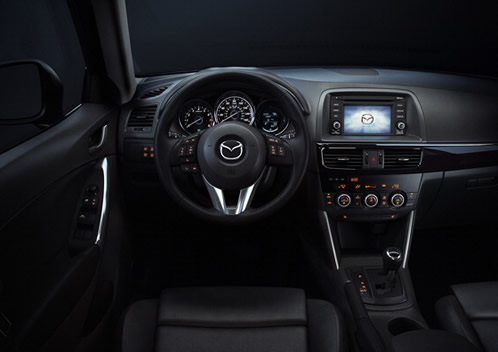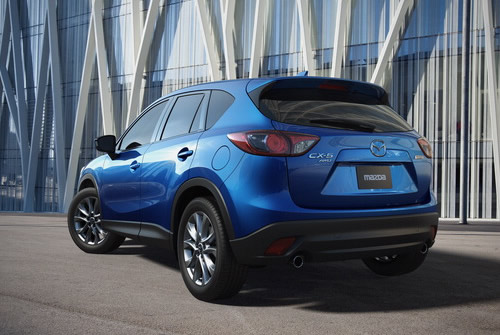 CX-5's are available with a choice of two SKYACTIV six speed transmissions – a manual and the "SKYACTIV-Drive automatic."  The latter, featuring full-range direct drive, is supposed to feel like a manual "while combining the most desirable features of different kinds of automatic transmissions." Mazda's test car had the automatic and it worked fine, including its manual mode – but in cruise control at about 120 km/h heading toward the Rocky mountains on the TransCanada highway, it kept hunting and pecking like a two-fingered typist, shifting up and down to find the perfect balance between the vehicle's minimal power and Mazda's maxi-mileage goal.
Mazda says the SKYACTIV treatment also includes a new, lighter but stiffer suspension and while it feels appropriately Mazda-like in how it steps over road abnormalities, it doesn't feel as tight as I expected it to be.  I drove the CX-5 at a reasonably brisk pace along one of my favorite twisty highways and found it merely okay in the tighter turns. The steering feels fine, though, and so do the brakes, which of course are all discs with a complement of cyber-aids.
The CX-5's SKYACTIV body uses high tensile steel and "new production processes" to make a structure Mazda says is lighter yet stronger than, presumably, a non-SKYACTIV vehicle.
Mazda's brochure for the CX-5 notes its "excellent engine and road noise levels thanks to advanced sound insulation, absorption and suppression." I must have driven a different one, though, 'cause I thought the CX-5 was quite loud inside, with lots of engine noise invading the cabin.
Speaking of the cabin, the CX-5 is a nice place to spend some time, as long as you aren't the third person out back in steerage. The rear folding/splitting seat isn't bad for two, though, with enough room and a comfortable bench. Things are even better up front, with Mazda's sample including a power-operated driver's seat (the passenger's was manual), leather, and front seat bun warmers. The black on black is pretty stark, but it's clean, with easy to fathom functions and an attractive instrument panel.
The sample CX-5 also had Bluetooth for phone and for streaming to the nine speaker Bose audio system that I found a tad disappointing in the oomph department. Or maybe it was just the road noise drowning it out…
You also get keyless entry/push button start/stop and dual zone air, moisture sensing wipers, a rear view camera that uses the LCD touch screen, blind spot sensors and all wheel drive. Base CX-5's come with front wheel drive.
All in all, if it weren't for the lack of "Zoom-Zoom," this would be quite a compelling vehicle. If Mazda could only see fit to drop a turbo four or a six into it, and stiffen it up a bit to match, this could be a really cool entry into the company's catalogue. And maybe that will happen.
As it is, the CX-5 is definitely worth a look if you're interested in a small SUV/Crossover that's equipped well and will run economically. Maybe you're one of the people Mazda is trying to broaden its base to include. And for the as-configured price of Mazda's sample GT AWD CX-5, $32,495, it's quite competitive.
I wonder, though. By not offering a hotter version (at least so far) are they risking alienating their base – not dancing with the ones who brung 'em, so to speak? It might; my best friend (who loves his last generation Mazda3) had been eyeing the CX-5 as a possible replacement. After a short session in it, however, he coined a new slogan: "Snooze-Snooze."
It's understandable, perhaps, but it's also a darn shame.
Copyright 2012 Jim Bray
TechnoFile.com