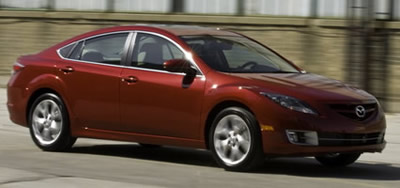 Mazda6 V6 Ups the "Zoom-Zoom" Ante
By Jim Bray
March 24, 2011
Mazda's largest sedan continues to be a compelling drive as it reaches about the middle of its life span.
The Mazda6, like the Toyota Camry, Hyundai Sonata and about a thousand other models, actually occupies the "mid-size" rather than the "full-size" niche – and is, in my never humble opinion, one of the most attractive sedans on the market these days. It's not only easy on the eyes, though, it also performs its function as a practical four door family car very well.
I drove the four cylinder Mazda6 about a year ago and liked it very much. It was at heart the same car as this year's, of course, merely with less motivation than the V6 I drove this time. And if you want to take advantage of Mazda's famous "Zoom-Zoom" – which is more than a catchphrase, since just about any Mazda is a blast to drive – you'll want to check out the V6 version. It ups the oomph ante from a reasonable 170 horses/170 lb.-ft. of torque to a healthy 272/ 269 respectively. It makes a big difference.
Two hundred seventy-two nags isn't the most you can get from a V6 these days (the upmarket Infiniti G37, for example, cranks out 328 horses), but it's competitive with the vehicles in its class: the Camry (268 hp), Accord (271 hp), Altima (270 hp) and the like. It's also more than enough to move the 6 along with alacrity; you definitely won't have trouble keeping up with traffic in either version of the 6, but with the V6 version, you might find yourself leaving a lot of it behind. It's that darn "Zoom-Zoom" thing again.
Anyway, the sporty-looking 6, whose front fenders remind me of the delicious RX-8 sports car, is plenty roomy for four adults, and reasonable for five. And despite its long, low slung look, it has a very big trunk – you could probably use it to haul the bodies of your victims if you're a "hit person," depending on how busy your job keeps you.
Changes for this model year include new headlights and fog lights and new 17 inch wheels. Depending on your 6's trim level, you can also partake of rain sensing windshield wipers, speed sensing door locks, automatic headlights, Bluetooth audio and a new steering wheel design. HID headlights with manual leveling are also available.
Standard features include air conditioning with a pollen filter, power windows and auto door locks, a tilt/telescopic steering wheel, height-adjustable driver's seat, 60/40 split-folding rear seats, a small LCD display on the center stack that also shows the rear view camera's output, an MP3-compatible stereo, power-assisted rack-and-pinion steering, a tire pressure monitoring system (that, like every other one I've tried, gives false alarms when it gets really cold outside), ABS, Dynamic Stability Control, and Traction Control you can switch off enough to do some decent hand brake turns. Or so I've heard.
Other standard stuff – depending on the trim level and engine you choose – include remote keyless entry with a push button start feature that appears to have been an afterthought because there's a big, filled-in circle on the steering column where the key would go normally.
You also get cruise control and steering wheel-mounted controls.
My sample GT V6 had a Blind Spot Monitoring System, heated front seats (with leather), dual-zone automatic climate control, a decent Bose audio system, and a small multi information display with a rearview camera for additional safety and peace of mind.
Six cylinder 6's come standard with a six speed automatic transmission with manual mode. Alas, there are no paddles, just the manual shift feature on the console – which works backwards compared to most other "manumatics" I've used. This is no big deal and you'd get used to it very quickly.
The four cylinder version can be had with a six speed manual or a five speed auto/manual transmission.
My test car also had attractive, dual chrome exhaust finishers and handsome, 18 inch alloy wheels.
That blind spot warning system works well, but it goes beyond merely lighting up an icon on the outside mirrors: if you dare activate the turn signal while there's a vehicle in the blind spot it hollers at you (figuratively, fortunately) which, as one who tends to signal his intentions earlier rather than later, I found quite annoying.
The 6 has a good greenhouse, despite its low slung look. This is partially due to A, B and C pillars that are reasonably narrow and which therefore don't obstruct your vision as much as in some cars (I'm noticing a trend toward thick A pillars these days). Visibility is also enhanced by the low mounting of  the outside mirrors.  
The seats are comfortable and hold you in nicely for those times when the "Zoom-Zoom" kicks in. The driving position is also very good and the layout of the instrument panel and center stack is straightforward. I don't like all the red illumination on the center stack, which I find hard to read, but to each his own. I also find the beep that accompanies use of the steering wheel-mounted volume control annoying, but this may be configurable by the Mazda dealer.
There's enough storage space inside to please most people, I daresay, including the usual bevy of cup holders, boxes, cubby holes and the like.  
I did find that the driver's side seat belt in my test car seemed to get tangled between the seatback and the B pillar a lot of the time. This caused more twisting and tugging on my part than I like, being as exercise-adverse as I am, but it was hardly a deal breaker.
On the upside – big time! – is windshield washers that do a really great job, their broad spray hosing down the glass better than some more expensive vehicles I've tried. In fact, I wish all cars would clean the windshields like this. Heck, the 6 was better in this regard than was the 2011 Porsche Cayenne I drove the week following. Who'd have thunk?
My test car's leather seats also featured two position heating up front ("warm" and "bake") and had power adjustment, which is always nice.
The four cylinder Mazda6 starts at about $20,000 U.S./$24,000 Canadian and the V6 models start at about $28,000 U.S./$31,500 Canadian. Naturally, you can option them up from there as well.
The Mazda6 is an excellent sedan, offering a nice balance between four door efficiency and driving fun. And for the 2011 model, it's even a bit nicer than it was before. Long live "Zoom-Zoom!"
Copyright 2011 Jim Bray
TechnoFile.com