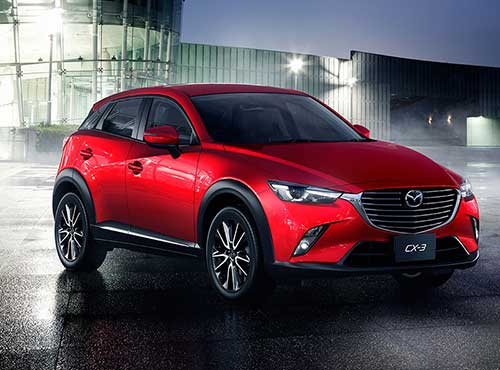 Chalk up another hit for the "Zoom-Zoom" folk, if there's any justice left in the world. That's because Mazda's brand new CX-3 SUV/crossover is a terrific vehicle that should compete well in its market niche.  It's a fun little beastie that, like most Mazdas, is a relative blast to drive.
The new CX-3 occupies the "subcompact crossover" segment, so it's competing with things like the new Honda HR-V, which I have yet to drive but look forward to opining about, as well as the Nissan Juke and others of that ilk. And of the ones in this niche that I have driven so far, the Mazda is easily the best "driver's car" of the bunch. more...
The 2015 Ram 2500 Power Wagon is one heck of a truck, big and powerful and equipped very well. It's also so high off the ground that shorter folks might find it a real chore getting in and out of it.
Once you're ensconced in this large pickup, however, you're greeted with a comfortable and luxurious vehicle that contains pretty well all the technology you could want these days. The sample truck - officially called the Ram 2500 SLT Power Wagon Crew Cab 4x4 - came with a 6.4 litre HEMI V8 engine mated to a six speed automatic transmission. The Ram also has a "FuelSaver MDS" cylinder deactivation system, which is meant to make the massive motor munch a bit less manna than you might think it should given its 410 horsepower @ 5,600 rpm, torque of 429 ft.-lb. @ 4,000 rpm and the overall solid and heavy design and construction of the truck itself. more...
A special TechnoFile report.
There's lots of buzz about self-driving vehicles and how they can either be the best or worst thing about traffic problems and road deaths - but what do real people, as opposed to the vested interests - think about the concept?
That's the question asked of people in a new survey, "Motorists' preferences for different levels of vehicle automation," by Brandon Schoettle and Michael Sivak of the University of Michigan's Transportation Research Institute. "Self-driving vehicles are often discussed in regard to their potential safety, energy consumption, and environmental benefits, or the existing technical challenges that must be overcome for their successful implementation," the report starts, noting that "less attention has been paid  to considering the actual level of automation (if any) that drivers desire in their vehicle." In other words, in all this talk about how wonderful a self-driving car might be, has anyone bothered to ask the people who actually use - and buy - them? more...
It's no STI - or even a WRX, but the 2015 Subaru Impreza PZEV can still be a reasonably compelling drive despite its uninteresting power plant. 
The PZEV moniker means it's a "partial zero emissions vehicle," and though I know they're trying to differentiate themselves from "dirtier" engines, you could say that every other car that isn't all-electric is also a "partial zero emissions vehicle" - because "partial" does not mean "is" zero emissions. In fact, Subaru describes PZEV as producing "zero evaporative emissions, offering extremely clean emissions" and making "the most of every drop of fuel" and the company claims the car can get up to 8.5 L/100 km in the city and 6.4 L/100 km on the highway, even with its all-wheel drive configuration.
I can only imagine how much fun it would be to drive in a manner conducive to getting those figures… more...

A big item from my misspent youth - and that of other boomers - is soldiering on, a formerly analogue addiction now trying to survive in digital and streaming world.
It's the old fashioned jukebox, like we used to see in diners and clubs years ago. Whether they were floor standing models or mounted by the individual tables, the classic jukebox styles of old were almost as much of a gathering place for youngsters inside establishments as the parking lot outside was in days gone by. Jukeboxes, and AM radio, undoubtedly helped spur record sales in that era, too. more...
After debuting to much hullaballoo from enthusiasts, the Mazda6 sedan has soldiered on in near anonymity in its current generation - I see oodles of 3's on the road but it's rare to see a 6 around here, and that's a darn shame because the 6 is pretty well everything the 3 is, but bigger (though no hatchback or V6, alas).
Despite having no hatch or V6, the Mazda6 is a fine car. In fact, it was named the 2014 Canadian Car of the Year after competing in the Automobile Journalists of Canada Canadian Car of the Year TestFest. And it was a deserving winner. more...
It's cool and it's high tech, but to this middle aged user Samsung's Galaxy S6 Edge is as annoying as it is innovative and interesting. Of course, maybe that's just me, because nearly everyone I showed the phone to thought it was the greatest thing since sliced bread.
Go figure.
You may have seen the S6 Edge in commercials; it's the phone whose screen wraps around at the edges, like it's been extruded from the phone's body, and it looks great. It also feels very solid and built well and the screen is simply lovely. more...
If you've been wondering where Lincoln has gone, you may not be alone.
The company is still around, of course - it has never gone away - but in recent years it seems to have developed a low profile that's only now being raised thanks to new products such as this little SUV, the MKC. And if my week in the version that sports the larger of the two engines offered is any indication, they've come up with a real winner in the "cute ute" market niche.
The MKC shares a lot of its underwear with the current Ford Escape, which isn't a bad place to start. more...
How much does it take to make you want to flip off or shoot the person in the other car? Do you get upset when other drivers text, or change lanes without signalling, or drive with their knees while applying makeup or playing the fiddle?
According to a recent AutoTrader.ca survey of "over 1,500 Canadians," if you live in New Brunswick, it appears you may be in the least "tolerant of such stuff" region of the Great White North. The poll not only broke down road rage by region, it also pointed out what peeves people in particular. more...
One's a turbo, the other's a hybrid, and both of these "little wagons" offers car buyers an interesting if not completely satisfying driving experience.
The B-Class is the smallest Mercedes-Benz offered in Canada currently, while the CT 200h is Lexus' entry level hybrid. They both offer the storage and practicality of a wagon and/or hatchback as well as the luxury that buyers of premium automobiles expect. And they're both priced fairly similarly: they start at just over $31,000 Canadian, though of course you can option them up from there: a nearly loaded B-Class will set you back about $42,500, while the optioned up CT 200h F Sport will drain about the same amount from your wallet.

This isn't a completely apples-to-apples comparison because the options are different in each case and because the up market B also has 4MATIC all-wheel drive, a feature that isn't available on the little Lexus. Of course, four wheel drive may not be important to you, in which case the point's moot. more...
Music streaming is nothing new, nor is whole house audio - where a single source supplies your tunes to whatever room you have a compatible audio system set up. And it only makes sense. Digital files are replacing physical media and they offer incredible convenience compared to "old fashioned" discs, tapes or records. Why wouldn't you want to keep all your music in one place and be able to access them from virtually anywhere?
I've been trying a system from the Colorado-based CasaTunes, who sent me their CT-4+ Multi-room Musical System to try. It's really overkill for my installation, but I thought it would make for an interesting test and, as it turned out, I was right. CasaTunes' system is pretty cool and very flexible, and you can use it to supply tunes just about anywhere in the home you'd want. more...
---
It doesn't have a lot that's new for 2015, but Kia's Sportage "cute ute" SUV/crossover remains a compelling and competitive model in this crowded market niche.
The Sportage is Kia's small SUV – as opposed to its big brother Sorento – and it goes head to head with such competitors as Hyundai's Tucson, the VW Tiguan, Mazda CX-5, Toyota RAV4, Nissan Rogue, Ford Escape etc. etc. ad nearly nauseam. It offers a lot of bang for your buck, as well as a good driving experience.
And isn't that what it's supposed to do?
Kia Canada's review sample wore the SX trim level, which is the top of the line and that means it's pretty well loaded with stuff. more... 
Space may or may not be the final frontier, despite what Kirk, Spock and Picard – and countless others – have said, but it's still a heckuvan awesome frontier and one about which we may never learn all there is to know.
As the box for the new Blu-ray/DVD/CD Amazing Space says, "space is not 'out there somewhere.' We are in the midst of it. We are a part of it - from the physical world around us to the smallest cells within, we are interwoven into one vast, living ocean of consciousness." Or as Carl Sagan once said: "We are all star stuff."
A few weeks back I did a column praising Epson for their excellent customer service when my home theatre's front projector developed what C3PO might describe as "a mild flutter." I wrote the column the day I actually sent back the old unit, so I hadn't even tried the replacement then, but I had no reason to think there'd be a problem. I promised to write again if things didn't turn out as planned - and they didn't. more...
---
Visiting southern Ontario is made much more palatable when you have a great car in which to do it. And to that end, Jaguar's magnificent XJ sedan certainly did more than its part to coddle and entertain my automotive and aesthetic sensibilities during a recent trip to the so-called centre of the universe.
The XJ is the big Jag, a car that goes toe to toe with contenders such as the Audi A8, Mercedes Benz S class, BMW 7 series, Lexus LS, and I suppose the Hyundai Equus as well. The car has been around in various generations for, well, generations, but this latest iteration is as modern as those it battles with in the marketplace.
It starts with aluminum, which is everywhere and allows a bigger car to have lower mass, which makes it lighter on its paws. You'll never forget you're in a big sedan, but activate the Sport and Dynamic modes and it almost seems as if the car shrinks perceptibly, making it feel more sprightly and, well, cat-like than when you're using the big feline to just cruise along serenely and comfortably – which it also does extremely well. more...
The Honda Fit is a great little car – inexpensive and decent to drive. Unfortunately, it has also been tweaked for 2015 in a manner sure to bother its front seat passengers, if not its drivers.
The Fit has been around for several years now and fills a niche opened up for Honda as the once-entry-level Civic grew in size and features. This is hardly unique to Honda, of course; you could also look at the Toyota Yaris as a response to the Corolla's inevitable growth, and that's only one other example.
So you might think that driving a Fit is reminiscent of driving an old Civic – and you'd be right to a certain extent. more...
---
We welcome your comments!
TechnoFile: "The Tech Magazine for the Rest of Us!"
TechnoFile publisher Jim Bray's print columns are available through the
TechnoFile Syndicate.
Note: Unless otherwise noted, prices in this publication are quoted in US dollars.

TechnoFile is copyright and a registered trademark © ® of
Pandemonium Productions. All rights reserved.
E-mail us Here!
---