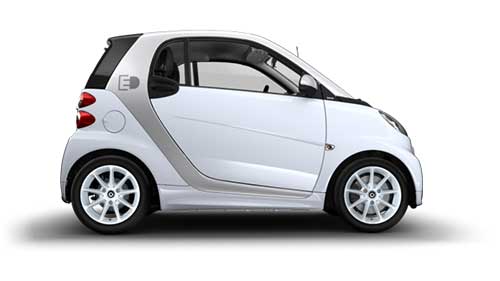 "Zero emissions. Infinite fun." So says the smart website when you click on the link to the electric drive version of the strangely popular little city car from Mercedes-Benz.
Truth in advertising? Well, the zero emissions part is fine as long as you ignore the fact that the electricity has to come from somewhere. In my case, as an Albertan, the smart electric drive was mostly coal powered; depending upon where you live, yours could be powered by hydroelectricity or - here's where it'll really whack the "warm-mongers" - NUCLEAR!!!!!!! The horror!
The truth in advertising also falls down with the word "infinite," which is merely hyperbole and can be ignored as a product of someone's ad campaign. The slide continues with "fun." If you think this car is fun, well, there's a gulf between us that mere words will probably never bridge. more...
Acer is known more for making computers and tablets than it is for smart phones, but if the phone I've been using the for past couple of months is any indication, the company's reputation will be broadened soon to include such phones.
And why not? A smart phone is basically a small tablet with cell phone capability added to it, so any computer company that so desires should be able to introduce smart phones without breaking a sweat. Even famous computer companies like Apple and Microsoft could do it. Oh, wait… more...
If you're looking to give your stereo system a major power and quality upgrade, Rotel has a new pair of pieces that could be right up your alley.
The RB-1590 and RC-1590 is a stereo amplifier and preamplifier combo that not only sounds fantastic, it offers outstanding power and is robust and flexible enough that it can even be a good fit in professional applications.
I fell under this amp's spell so quickly it was reminscent of a teenage girl swooning over a favourite boy band or, in my age group, the Beatles. I would love dearly to pair (trio?) three of them to create a dynamite 6.1 system, but the Class AB technology means big size and weight; heck, the single RB-1590 takes up about the same space as my stack of three Class D amps, and I'd have no place to put them easily without causing a divorce. Ah, but what a home theatre that would make! more...
Lexus' entry level car would be a terrific little sports wagon if not for one thing: it isn't the least bit sporting - even, unfortunately, with the F-Sport packaged added to the mix.
It's a real shame. I love small wagons - full disclosure, my personal vehicle is a small sports wagon - because they give you all the advantages of a sedan, but with more room to haul stuff. Other examples of the species include Audi's Avants/Allroads, and the wagon versions of sedans from Mercedes-Benz and BMW. For some reason, however, wagons don't seem to sell well here in North America; maybe it's thanks to memories of the land barges with stuck on fake wood of decades past, or just because people seem to like SUV's better - but whatever the reason, consumers here are missing out on the chance for great driving pleasure with wonderful practicality in one package deal. more...

An abundance of auto writers converged on Canadian Tire Motorsports Park last week to put the latest and greatest sets of four wheeled vehicles through their paces. It was 2016's version of the Canadian Car of the Year TestFest, an annual driving extravaganza hosted by the Automobile Journalists Association of Canada.
Canadian Tire Motorsport Park used to be called Mosport and is a world renowned racing facility that has hosted such honoured names as Stirling Moss, Jackie Stewart, Mario Andretti and Richard Petty (not to get petty with the name dropping…). The owners turned a good part of the facilities over to us to facilitate our wringing the bejeebers (well…) out of cars ranging from entry level to high end luxury.  It was wonderful! more...
The term convertible may be known better in regard to drop-top cars, but it applies as well to Acer's Aspire R 13 notebook computer, which is not only a good PC in its own right but which is also, thanks to its unique way of moving the screen from position to position, a unit that can fill many different needs.
For instance, it can be great for the sales rep who not only needs a PC to take on the road, but also needs to use it for making demonstrations - PowerPoint, video, whatever - in the clients' places of business. It can also function as a tablet and a regular Windows laptop PC. A tour de force of flexibility, and a powerful tool for those who merely want a good laptop. more...
You could call the Lincoln MKZ hybrid a kind of multifunction device. It's not only a pretty nice car in its own right, but its maker appears to have designed it to appeal not only to what could be - perhaps unkindly - considered its traditional audience, but those whose bent tends more toward curve carving as well.
It's an interesting tightrope walk. Within a few minutes of having first picked up Lincoln Canada's MKZ hybrid, I hated driving it. It was so darn soft - I read somewhere once that it's as if the car "nods agreeably" when it goes over road irregularities - and it also felt as if it would flip over onto its roof the first time I took it to an off-ramp. It had been a while since I drove a car that rubbed me the wrong way so quickly.
Ah, but once I got the car home and started messing with its settings, I discovered a Sports mode that made it not merely acceptable as a driver's vehicle, but quite nice. more...
It won't go down in history as a Hollywood classic, but Chris Columbus' Pixels still manages to be an entertaining romp in the home theatre - just leave your mind in neutral, sit back and enjoy the ride.
If you are or were a gamer, you'll probably get an even bigger kick out of Pixels than if you're just, say, an Adam Sandler or Chris Columbus fan, because it brings to life some of the most famous video games of the early days of gaming, when (as a character notes in the film) people actually left their homes and headed down to the arcade to squander their quarters. more...
(Note: this is part two of two. Part one is here)
Sunnyvale, California - As German as Mercedes-Benz may be, it turns out that it's in Southern California that some of its latest innovations are being created - not just at the Sunnyvale complex they invited a bunch of us writers to be dazzled by at the end of September, but at other "SoCal" locations such as their Advanced Vehicle Design centre in Carlsbad.
The company invited us to help them celebrate the 20th anniversary of its R&D centre, located smack dab in the middle of Silicon Valley - a place known more for innovation in areas other than automotive. But as with other areas of technology - audio, video, computers, smart devices, etc. - there's been a convergence going on for many years now, a marrying of various facets of today's high tech world into products (in this case, cars, SUV's and trucks) that make use of all the disparate parts to create wholes that, to destroy an oft-cited cliché, are greater than the sum of their different bits. more...
The turbo is gone, replaced by a normally aspirated V6 engine, but the heart and soul of Acura's small SUV/Crossover still beats as it always did: a nice vehicle that will stroke your luxury proclivities very well.
As long as you don't mind frustrating interfaces and numerous nannies, though in this way the RDX is no different than other Honda/Acura products and a good part of the competition that I've tested. more...
---
(Note: this is Part One of Two.)
Sunnyvale, California - "The best or nothing." That's the slogan German automaker Mercedes-Benz uses these days, and while one might be able to argue that cars such as the Bugatti Veyron may represent "the best" when compared to, say a B Class, it's hard to argue that, overall, Mercedes isn't the brand most people think of when the topic of the best car companies comes up.
It's no accident. Not only was Mercedes-Benz the first car company back more than 100 years ago, but it has led the field when it comes to innovation nearly consistently since then. Heck, if you want to see what's going to be on your entry level car in 10 or 15 years, you need look no farther, generally, than the mighty S Class, which keeps upping its own ante with new technology, from the once rare and now common antilock brakes and traction control features, to seat massagers, lane departure systems and plenty more. more...
Ford's supposedly mid-sized SUV/Crossover has been redone for the 2015 model year, but fans of the old Edge won't find themselves left out in the cold by the redesign. The question is whether people who hadn't fallen for the Edge already will notice the differences.
By writing that, I don't mean to damn the Edge with faint praise, because it's a decent vehicle. But I wonder if it's enough to stand out in a very crowded market niche - and I guess only time will tell. The new Edge, like the old one, is modern and handsome, if a tad bland, and if Ford has corrected the electrical gremlins that plagued the last Edge I drove (and there was no sign of them during my review) it should serve its customers well. more...
---
Don't call Mercedes-Benz' soon-to-be-released Metris a minivan.
That's the mostly unspoken but highly evident sentiment from Mercedes-Benz, which is unleashing its mid-sized alternative to the popular Sprinter commercial van in October of this year.
"The target group is really commercial customers," said Mathias Geisen, General Manager, Product Management & Marketing, for Mercedes-Benz Vans USA, adding with a smile that "we will not keep anyone from buying this van, because we're paid to sell cars." Geisen noted the company has a "real minivan variant in Europe, the V-Class, but it has a completely different instrument cluster, plus leather trim and stuff like that." There are no plans to bring the V-Class to North America at this time. more...
Call it better driving through technology.
A recent vacation trip to visit family on Vancouver Island and in Washington State really brought home the value of a couple of devices I've been using to help keep my car and my family safe - and clear of unnecessary "imperial entanglements."
One helped keep my speed within Smokey's parameters despite a flaw in my car's info systems, while the other correctly diagnosed a different flaw in my car, giving me peace of mind for the rest of our trip. more...
---
If you've always loved the VW Golf but want something with which you can carry more stuff, the German carmaker has a Golf model for you to love.
It's the Golf Sportwagon, which is a terrific car and I have to admit up front that if I didn't already have a VW-owned wagon in my life I might be stampeding for the nearest dealership to sign on the dotted line. That's how much I loved this car.
Sportwagons start at $22,495 Canadian for the base, "Trendline" model, but VW's sample was of the top, Highline persuasion, which starts at $30,495. VW's sample was even pricier, at $35,720, because it also included the multimedia package. Add about two grand if you opt for the diesel, in whatever trim level you care to choose. A lot of money for a stretched Golf? Perhaps, but it's a lot of car! more...
Fans of The Who will want to see Lambert and Stamp, a new documentary by director James D. Cooper that gives us a look at the duo who took a raw and unpolished gem of a rock band and honed it into the legendary musical and cultural force it became.
Lambert and Stamp are, or were to be more accurate, Kit Lambert and Chris Stamp, a pair of aspiring filmmakers who put their cinematic dreams on hold, kind of, after they saw The High Numbers perform in a London club and decided they wanted to manage the quartet of very diverse but gifted individuals. more...
---
We welcome your comments!
TechnoFile: "The Tech Magazine for the Rest of Us!"
TechnoFile publisher Jim Bray's print columns are available through the
TechnoFile Syndicate.
Note: Unless otherwise noted, prices in this publication are quoted in US dollars.

TechnoFile is copyright and a registered trademark © ® of
Pandemonium Productions. All rights reserved.
E-mail us Here!
---