Drumheller, Alberta – When your bread and butter truck, the F-150, has led the market in sales for years and years, what's left to do to stay ahead?
Well, if you're Ford, you stay on top of the issues, of what consumers want, of what technology allows that it wouldn't before. So it is that Ford, in its 2013 F-150 line, is tweaking its already winning inventory in hopes that its existing customer base will like it, and that maybe some people who prefered other brands may be convinced to switch.
Ford chose the Alberta Badlands – home of the world famous Royal Tyrrell Museum and enough dinosaur remains to create the biggest prehistoric epic movie you could imagine – to introduce the 2013 models to a bunch of fossils they invited for their show. Fossils, as in writers (though there were quite a few youngsters there as well, damn their eyes), who were invited to drive a plethora of different F-150's around the starkly beautiful Drumheller area. more...
Sometimes a TV commercial is just too precious to be true.
Remember the humorous commercial for Volkswagen's new Jetta hybrid, where a guy brings his newly-purchased Jetta back to the dealership, accusing the salesman of having sold him the wrong one?
The guy proceeds to take the salesdude on a test drive, zipping around as if the Jetta's a sports car to prove that it isn't really a hybrid and therefore he couldn't possibly have been sold the correct unit.
It's a funny and pretty compelling ad, especially if you're interested in buying a hybrid that doesn't suck to drive. more...
Toyota has taken the wraps off a new RAV4, its popular entry into the small sport utility market. And it'll probably prove to be popular as well, as so it should despite the dumb Kaley Cuoco advertising campaign.
On the other hand, it may also have lost something in the upgrade to the new generation.
Of course it's gained, too. One of the best additions is the new tailgate, which not only dumps the spare tire that previous versions carried there, but which also now swings upward and out of the way, as it should. My biggest gripe against the old Rav4's (or is it " RAVs4?"), which I liked very much otherwise, was that the previous gate was hinged on the right hand side and therefore swung open from the left. This could be really counterproductive if you were coming from the right side with an armful of groceries or whatever. more...
What's better than a sound bar for enhancing the audio put out by your TV? How about a sound bar that also lets you access digital media files you have stored on your network or want to access online?
That's the rationale behind Sonos' Playbar, a handsome if pricey nine speaker "bar-like" system the company calls "the soundbar for music lovers." Sonos also says the Playbar brings "immersive HiFi sound to the TV and, being a full Wireless HiFi System, streams all the music on earth through one easy-to-use player." more...

The Mazda6 is back, wearing a brand new set of clothes and with a new heart as well. And it's a great new version, even in its four cylinder Skyactiv livery.
It's a good thing the four cylinder's such a delight, too, because Mazda no longer offers a six cylinder option. I think that's a mistake, but at least the configuration is entertaining enough not to water down the "Zoom-Zoom" quotient excessively.
You may have seen this new 6 on TV, in commercials showing a bright red Mazda six zipping around behind a couple of cellists – yet another example of excessive violins on TV! – and Mazda Canada sent one exactly like that for my test. And I had a wonderful time living with it. more...
The iPad may have started the tablet revolution, but it seems as if everyone is trying to get a piece of the action these days. So it is with Toshiba's new line of Excite tablets, which if nothing else up the size ante substantially. 
I've also been checking out a set of SVS SoundPath audio cables. Why? Because the quality of your audio cables is nearly as – if not as – important as the rest of your components and those cheap little red and white (and yellow if they include video) just don't cut it when it comes to audiophile performance. more...
Hyundai's Elantra GT continues the Korean company's winning ways of the past few years. In fact, it copped the prize in its category at the 2013 Canadian Car of the Year, following up on the Elantra sedan's overall "Canadian Car of the Year" and North American Car of the Year awards for 2012.
Needless to say, it's a heckuva car and yet another example of just how far the Korean manufacturers have come in a relatively short period of time. more...
A special TechnoFile rant
Ah, so the poor TV broadcasters are worried about how to respond to people dumping cable in favor of the Internet? Cry me a river.
They have no one to blame but themselves, and they've been working at this for a long time now.
According to an April 7 report from the Dissociated, er, sorry, Associated Press, "a growing number of (people) have stopped paying for cable and satellite TV service, and don't even use an antenna to get free signals over the air. These people are watching shows and movies on the Internet, sometimes via cellphone connections. Last month, the Nielsen Co. started labeling people in this group "Zero TV" households, because they fall outside the traditional definition of a TV home. There are 5 million of these residences in the U.S., up from 2 million in 2007."
That's a big, quick jump in people saying "screw you" to the networks, though so far it's only a trickle. But it wouldn't surprise me if this trickle becomes a tsunami as people realize they don't have to spend $100 or more a month to get a bunch of channels they don't want in order to watch a few shows they do. more...
Honda's new Accord, at least in sedan form, appears to be taking the market by storm. And there's good reason for this.
Always a best seller, the car copped the Canadian Car of the Year title from the Automobile Journalists Association of Canada after its annual TestFest in 2012 and it's once again listed in Car and Driver magazine's annual 10 best list – for the 27th time.
That's quite an accomplishment and it indicates that the Accord must be quite a car – If media are to be believed (a big IF, indeed!). But it is quite a car. I've had issues with recent Accords – in that the past two generations were dumpy-looking outside and too complicated inside – but I've always liked the car and can see why people buy it. more...
Who'd have thought that, in an age of sub $100 Blu-ray players, you could spend $1100 on a player and actually save money doing it?
Well, it would depend on what equipment you have already, of course, but if you're starting from scratch or doing a major upgrade, you could not only use Oppo Digital's fantastic new machine to play all of your media, you could use it as your preamplifier/processor as well, and thereby save yourself the expense of buying a dedicated pre/pro. And depending on what you'd have bought as a pre/pro, that could add up financially; heck, the lovely Rotel RSP-1572 I'm using currently lists for $2200, and you can spend a lot more than that.
But thanks to the inputs Oppo chose to put on the BDP-105, coupled with its switching capabilities, audio and video processing power, speaker balance adjustments, volume control – and more (there's even a headphone jack) – you could easily just plug the thing into your amplifier(s) and be done with it.
See, it's actually a steal! more...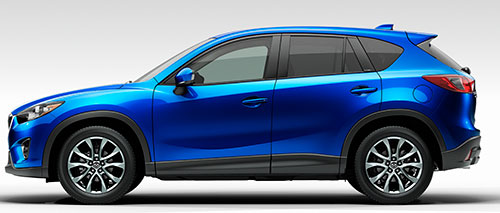 Call one an important upgrade, the other a minor update. And between them both, you have a couple of very nice SUV's.
The CX-5, Mazda's entry-level SUV, came out last year as the first of the company's "Skyactiv" vehicles, which are designed to up the gas mileage substantially while supposedly not minimizing the "Zoom-Zoom" for which the company is rightly famous.
It was handsome, pretty good to drive, and it did get better mileage than may have been traditional for a Mazda. But despite its plentiful goodness, I thought it was underpowered and therefore a disappointment.  And that was a surprise; I was a big fan of the turbocharged CX-7, which the CX-5 replaced, and I'm a big fan of Mazdas in general, exactly because of "Zoom-Zoom" – they're generally a lot of fun to drive. more...
You can keep fit by exercising, you can diet by eating less, and you can do both with style thanks to a couple of interesting new products that, while wildly different in form and substance, both offer interesting ways to accomplish your task.
Well, obviously it depends how you use them. No weight reduction plan short of having someone hold a gun to your head at the supper table is guaranteed, and just because you have a nifty little HD camera doesn't mean you're lord of the bicycle path.
But they're both pretty nifty ideas anyway. more...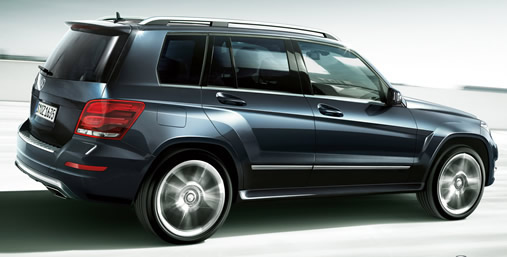 It's German, it's luxurious, it's built well and it's nice to drive. And perhaps best of all, it's entry level – at least as entry level as one can expect from a marque such as Mercedes-Benz.
There's a lot that's new about the GLK 350, including exterior and interior tweaks and new technology designed to make this "cute ute" even more compelling than the previous model – which was itself no slouch.
The newly designed exterior hearkens more to the current Mercedes-Benz line of sedans, with its relatively boxy and angular look. Don't take that to mean it's a cinder block on wheels, however; the GLK is a handsome vehicle inside and out, with high-quality materials, an infotainment setup that works better than before, and a pretty decent driving experience once you shut off the eco stuff and let your right foot loose. more...
If you're looking for the best, most rewarding home theater experience – and if you have the room in your home – there's nothing quite like having a front projection video system.
These two piece (projector and screen) systems can offer truly stupendous screen sizes for less than a comparable flat panel TV would cost, and with the advantage that you don't have to try bending your flat panel to get it around corners or on down the staircase to your home theater room. As if you could bend a flat panel anyway!
Many of the leading electronics manufacturers – such eminent names as Sony, Panasonic, JVC and others – offer such systems, but for the past several years my reference home theater projectors have come from a company you might not think of in the same sentence as the words "home theater:" Epson. more...
---

Ford's big Explorer "crossover" has taken a decidedly sporty turn, with a hot engine that ups the power ante substantially.
Sport, of course, is subjective, and it's hard to take a vehicle as big as the Explorer seriously as a sports car. On the other hand, since it is a so-called "Sport Utility Vehicle," maybe it's only appropriate that Ford has finally dropped its marvelous twin turbo V6 EcoBoost engine into it. And what a difference it makes!
Thanks to the EcoBoost V6, the Explorer has prodigious poop – an  estimated 350 horsepower that Ford says is still expected to deliver "top fuel economy among gas-powered performance SUV's." This engine is perfect for this vehicle and I can't imagine ordering it any other way. more...
Rotel's latest 15 series home theater surround sound processor offers excellent performance, video processing, and even wireless connectivity.
The $2199 RSP-1572 is a definite improvement over the previous model, the RSP-1570, though perhaps not enough to warrant an upgrade from the earlier model if you have one already. If you have an older head unit, however, this one might just turn your crank nicely. more...
---

It may look like a hunchback when the roof is down, but Porsche's 911 Carrera Cabriolet is still an exquisite car worthy of the lustful glances it's sure to bring.
And what better way is there to experience the new, convertible version of a great car than to get it during the depths of winter, when the days are short and one's breath is frosty?
That's what happened to me. Thanks to the realities of the calendar and the number of other writers who also get seat time (damn them all!), Porsche offered me my week in the new 911 – my favorite car in the world, at least in coupe form – when there was snow on the ground, ice in my heart and it was too darn cold for open top motoring.
So I did what anyone else would do in such a situation: I bought a warmer hat. more...
The remake of the 1984 flick Red Dawn is a flawed movie and Blu-ray, but a must see nonetheless if you'd like an opportunity to feel good about the United States of America again.  
It's also a terrific analogy for what's happening in the U.S. today, with the Obama regime and other internal forces trying to bring the U.S. to its knees in order to rebuild it in their own image. In Red Dawn, those forces – at so far as what we get to see on the screen – are external – from North Korea, with off screen collaboration from the Russians, but the metaphor is apt.
Okay, there are clichés and lapses in logic aplenty in this remake, but overall I very nearly found myself leaping from my seat, cheering the actions of the plucky youngsters who stand up to be counted, fighting for the home of the brave while many of their countrymen either knuckle under or collaborate actively with the enemy. more...
---
We welcome your comments!
TechnoFile: "The Tech Magazine for the Rest of Us!"
TechnoFile publisher Jim Bray's print columns are available through the
TechnoFile Syndicate.
Note: Unless otherwise noted, prices in this publication are quoted in US dollars.

TechnoFile is copyright and a registered trademark © ® of
Pandemonium Productions. All rights reserved.
E-mail us Here!
---