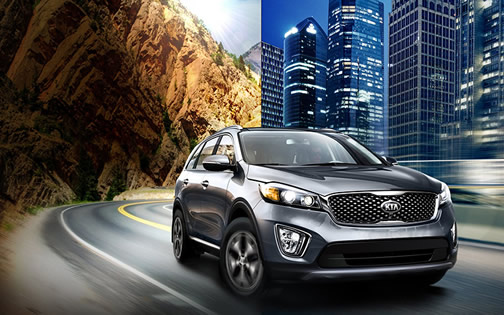 Any carmaker who doesn't yet get it that the South Koreans are not only here to stay but are taking them on head to head need look only at the new Kia Sorento. It's a terrific SUV/crossover that should have the more established brands sitting up and taking notice.
Even at Kia Canada's sample's all-in (sans fees, etc.) price of $46,695 it seems like an excellent value considering what you get. And with a base price of 27,495 it almost seems like a bargain- you still get a lot of loot for the looney, just not as many toys.
Kia's sample was of the top line SX+ trim level and came fitted with the company's 3.3 litre V6 engine, but Sorentos start out with a 2.4 litre four banger Kia rates at 185 horses. There's also a two litre turbo putting out 240 horses. The sample's V6 had a rated output of 290 horses and 252 lb.-ft. of torque and 5000 pound towing capacity. more...
A new digital music download service aims at attracting audiophiles with high resolution tracks it says are aimed right at that particular demographic. It's called Technics Tracks and it isn't about to eschew more mainstream customers in favour of audiophiles, since most of what they offer (at least so far) are more conventional, CD-quality tracks, though supposedly remastered at high bit rates.
Nothing wrong with that, other than the question of whether or not the world needs yet another download service - and the free market will surely by the judge of that. But in a market in which most people are apparently downloading MP3 files that, thanks to their nature, could offer audio quality that's all over the map, the Technics Tracks people are stressing the higher quality of even their "non-high resolution" wares. more...
Lexus is revisiting an old appellation with the 2016 IS 300.
The 300 has joined the company's other IS sedans, the (also new for 2016) IS 200t and the existing IS 350; the hope, undoubtedly, is to up Lexus' sporty reputation, which is a worthwhile endeavour for a company known more for luxe than lust.
Lexus' first real attempt at a sports sedan came in the early 2000's with the IS 300. It was a good car (full disclosure: my son drives one), though a tad busy on the instrument panel, and it featured the last version of the venerable Toyota inline six cylinder engine - a fine power plant that appeared on everything from the old Crown and Corona Mark II to the Supra sports coupe. It was a great engine; my 1983 Supra had it and I drove it happily for 20 years before finally putting it out to stud (you should see its progeny!). more...
Remember the live satellite TV broadcasts WestJet innovated in Canada years back when they were carving out their niche as an upstart discount airline taking on the established giant that was Air Canada? Well they're about to follow free checked baggage into the history books thanks to a new scheme the Calgary-based airline is rolling out.
Called WestJet Connect, the system will see those little seat-back TV's eliminated, eventually, in favour of tablet computers – either your own or one they'll be more than happy to rent you. It's similar to systems creeping their way onto other airlines' menus – I flew United last fall and they had rolled out such a thing – and while it can offer you advantages over the seat-back TV's WestJet has offered for years, it also has limitations. more...

With its Q50 sports sedan, Infiniti has managed to make at least one car writer pine for an older car.
In this case, it's me doing the pining, and I'm lamenting the now-dead G, either the G35 or G37. Why? Because the G was more of a driver's car - a sports sedan - than the new Q, which is admittedly a technological marvel - but at what cost to the person for whom a spirited drive is a necessary component of owning a sports sedan?
My angst comes mostly from the car's innovative Direct Adaptive Steering, a kind of "drive by wire" system that sounds great in theory, but which in practice takes too much of the "feel" out of the process of driving, replacing it with a bizarre sensation that the car thinks it's smarter than its driver.  While this may be true in some cases (hey, no finger pointing!), it's still not something I'd want when dropping fifty grand on a sports sedan. more...
What do driving shoes and a snow brush have in common? Well, they both relate to cars and driving and either could make life with your prized wheels a little more awesome. So let's use that as a hook for a quick look at two very different but very interesting lifestyle products for you and your vehicle.
As a respected member of the automotive media - well, as a member, anyway - I get to check out the odd bit of interesting tech and that's undoubtedly what led both Garant and Piloti to give me a chance to check out samples of their latest wares. So I've been doing: trying out a sample of Garant's newfangled snow brush and Piloti's Prototipo GT driving shoes. more...
Mitsubishi's 2016 Outlander faces an uphill battle to be seen in the crowded midsize SUV/Crossover niche, despite many good things about the vehicle itself.
It's too bad; at heart, the Outlander is a decent vehicle, but as executed on Mitsubishi Canada's sample GT 4WD version, there are some things that leave a bit to be desired - and that could help contribute to the Outlander's perhaps getting lost in the competitive shuffle.
Mitsubishi has freshened the Outlander this year, giving it sharper rear styling as well as a number of other design and engineering improvements such as increased structural rigidity for the body and suspension, a redesigned suspension, electric power steering, noise-isolating windshield and rear door glass, added sound insulation throughout the vehicle, improved weather stripping and engine compartment trim. It all contributes to a vehicle that's improved plenty from previous years. more...
It's a cliché - though not necessarily a false one - that taking your car to the dealer from which you bought it costs more than if you go to a private outlet. But is saving money the best way to ensure your prized wheels stand the test of time?
As with so much else in life, the answer reminds me of an adult diaper: Depends. You can save money by eschewing your dealer, but you could be opening a real can of worms, too. You could be trusting your car to someone who has no clue about your particular model's idiosyncrasies. Yet there are literally a googolplex of private mechanics in business and they must be there for a reason.
The question for you to answer is "do you continue dancing with the ones who brung you, or sally forth in search of a new horizon, a bright and shining repair shop on a hill?" And it's a tough question. more...
Lexus' best selling sedan gets an upgrade for the 2016 model year that makes it an even nicer vehicle than before. And it was a darn fine vehicle already, especially after its last tweaking.
So what has Toyota's luxury division done to this Camry-inspired sedan to improve it? Lots, actually, though much of it won't be visible because it's under the skin. But even that skin has seen some reworking for 2016, resulting in a sedan that's also more handsome than it was before.
Outside, the company's designers have made their signature spindle grille a little less "alien Predator-like" without compromising its overall family-themed appearance. To each side of the grille are new LED projector headlights with L-shaped "arrowhead" daytime running lights. Newly designed fog lights are now on the outer lower corners of the front fascia, which help give the vehicle a wider-appearing stance. It's a very classy front end. more...
What can a consumer get in an all wheel drive utility vehicle for about $40,000 these days? Quite a bit, actually, and you may be surprised to find that an honest to goodness Mercedes-Benz fits into that niche.
It's the GLA 250 4MATIC, with which I'd also spent a week last January. I really liked it then, so I was looking forward to its return engagement and I got to give it a good workout on everything from execrable multi-lane freeway to enjoyably winding back roads.
The GLA 250 is basically a tall version of the CLA sedan, which I also liked a lot when I reviewed it - though its exterior styling hasn't worn as well with me as my memories of driving it have. The GLA, however, looks like a million bucks outside and, like the CLA, is a typical Mercedes-Benz inside, which means it's luxurious as well as featuring design and execution that's efficient and classy. more...
---
You could think of the Mission: Impossible movies as candy floss for the brain, in that's it's sweet and fun but there isn't much to them.
That may not be fair, however, since Tom Cruise and his collaborators seem to go the extra mile to give theatre goers a nice romp each time out. Yet after having seen all of the series' films, I can't really remember much about them - though that may be a tribute to my memory as much as to the forgettableness of  the Mission: Impossible movies' plots.
Still, I know I enjoyed them all, and this latest entry, "Rogue Nation", may be the biggest and best one yet. I'll probably forget what it's all about by the time I finish this review, but as with the other films I'll remember that I enjoyed watching it - a lot. more...
The crowded small utility vehicle market seems to get more crowded nearly every week, with just about every carmaker involved in the competition. Into this market drives Fiat, with a ute version of its little 500 people's car.
It's the Fiat 500X Trekker, and it's actually kind of neat - at least mostly. The regular 500 reminds me of a Smart car wannabe, which isn't a good thing, but the 500X Trekker ups the ante quite a bit, adding all-wheel drive to the mix - and it's actually a pretty decent system, too: I took a 500X onto the off-road course at the Canadian Car of the Year TestFest and it surprised me by performing better under those hilly, rutty and muddy conditions than some taller vehicles - such as the Mazda CX-3 and Honda HR-V, though to be honest I'd rather have either of those vehicles than the little Fiat. And it was the Mazda that won the category (SUV/ CUV under $35K), not the Fiat, and I think the Mazda was the best choice among the competitors. more...
---
Light. If you want to see well, or grow stuff, or bask in the afternoon sun, light can be your best friend. If you're building a front projection home theatre, however, light is your enemy. Outside light, anyway.
Having too much light in the room can also be a factor if you're using a flat panel, depending upon where the light comes from and where the panel is placed, but it really raises its ugly head with the front projection systems which, like the movie theatres on which they're based, need a darkened room to illuminate the screen properly. Too much light coming from other than the projector - or the wrong light pointing the wrong way - can wash out the projected picture, sacrificing the black levels that are vital for the best picture quality. more...
Honda's full sized Pilot has received a major upgrade for 2016, and for the most part it's a fine one. Gone is the boxy Pilot of old, replaced by a handsome and modern SUV that's fully featured and up to date. Heck, it's almost like a lower end Acura MDX - which should surprise no one.
Honda Canada's sample Pilot was of the Touring trim level, and it was loaded with just about everything you could think of including a middle row LCD entertainment system with an honest-to-goodness Blu-ray player feeding audio and/or video to it from the centre stack up front. Blu-ray may be overkill for a vehicle, since most of the LCD screens I've seen won't exploit it properly - and even if they can they're so small the HD picture may be wasted - but if nothing else it means you can bring along all your video library and the Pilot will play it. more...
---
Bose's new Bluetooth-enabled wireless headphones offer good sound and nice flexibility for those who want to take their tunes around with them.
In today's connected world, one area in which wireless connection has lagged is in headphones. There are indeed wireless phones, but most of them aren't practical to take with you when you're out and/or about. This is where Bose rides to the rescue, with the SoundLink around-ear wireless headphones II. more...
"Zero emissions. Infinite fun." So says the smart website when you click on the link to the electric drive version of the strangely popular little city car from Mercedes-Benz.
Truth in advertising? Well, the zero emissions part is fine as long as you ignore the fact that the electricity has to come from somewhere. In my case, as an Albertan, the smart electric drive was mostly coal powered; depending upon where you live, yours could be powered by hydroelectricity or - here's where it'll really whack the "warm-mongers" - NUCLEAR!!!!!!! The horror!
The truth in advertising also falls down with the word "infinite," which is merely hyperbole and can be ignored as a product of someone's ad campaign. The slide continues with "fun." If you think this car is fun, well, there's a gulf between us that mere words will probably never bridge. more...
---
We welcome your comments!
TechnoFile: "The Tech Magazine for the Rest of Us!"
TechnoFile publisher Jim Bray's print columns are available through the
TechnoFile Syndicate.
Note: Unless otherwise noted, prices in this publication are quoted in US dollars.

TechnoFile is copyright and a registered trademark © ® of
Pandemonium Productions. All rights reserved.
E-mail us Here!
---