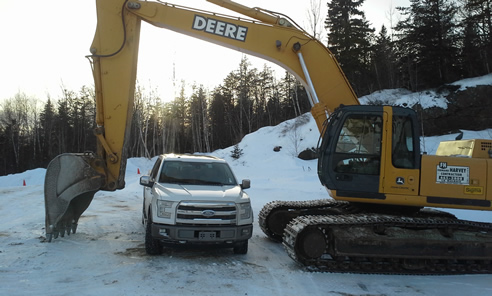 What do you do for an encore when your F-150 pickup has been the best-selling vehicle in Canada for nearly 50 years, especially when it faces absolutely furious competition?
It appears you up the ante by lowering the weight, then sweeten the deal by cramming the truck full of modern amenities, from LED lighting to handy steps to the box – and a lot more.
Ford of Canada invited me to join a gaggle of auto journalists as it put on a wintery demonstration of the new model that started in Quebec City and ended in a rock quarry in the Charlevoix area a couple of hours away. It was very cold and humid, and snowy as heck – a real shock to a guy whose home town of Calgary experienced record-breaking high temperatures about a week before. more...
Lexus appears to be going after the BMW 4 series coupe with its new two door model, the RC. But has it  hit the target?
In some ways, yes – easily. In others, however, meh. It excels in the livability department, but it falls down where it really shouldn't if it's to be taken seriously: as a driving machine, it's nowhere near the "ultimate" mantle that BMW claims. And that's a darn shame because this is otherwise a very nice set of wheels. more...
BMW has created a very nice driving machine in their new for 2015 4 series Gran Coupe. Alas, despite being one of the "ultimate driving machines," the car still leaves something to be desired as a vehicle to live with. And what's with the model designation?
Until recently the 4 series was just a two door 3 series, but BMW split the series in two, with the 3 referring to the four door sedan version and the 4 being the two door coupe. Yet the 4 series Gran Coupe is not only a four door model, it's also a hatchback, sometimes called "five door." So why wouldn't it be the 3 series Gran Coupe? Beats me. What's in a name, eh?
Maybe they want their model names to be as confusing as their interfaces… more...
Do you know how you're going to honor your Valentine this year? Sure, flowers are generally considered a good fallback position, but it's hardly an innovative way to tell your special person that you love him/her/it.
Since it's supposedly the thought that counts, your sweetie may be happy with something small and inexpensive. In that vein, I've been poring over press releases and surfing around to see what tech trinkets are out there that could make your sweetie swoon. Your mileage, like your sweetie, may vary. more...

Lexus' newest SUV, the NX 200, is sized like the RAV4 but since it's a Lexus it ups the luxury ante substantially over the popular Toyota ute. But that hasn't turned the NX into a softie; rather, it has even introduced Lexus' first turbocharger to the mix and the result is a really nice vehicle that will probably sell really well.
The NX is available in two models, the turbo gas engine and a gas/electric hybrid that's probably very nice but probably not particularly compelling to drive. Fortunately, Lexus Canada sent the turbo model, in its up market F Sport livery, and I loved it. more...
How's your winter driving? Naturally, the answer will be affected by where you live and whether or not they have any snow removal – you probably don't need a lot of it if you're reading this from Florida, for example – but here in the foothills of the Rocky Mountains we get snow, and ice.
Ford invited me out to their "Winter Driving School" held on a snowy open area at Canada Olympic Park. They set out a course of cones designed so you'd have to brake and/or steer (exploiting their ABS), use their torque vectoring through a slalom, and learn to use their traction control to keep the wheels from spinning uselessly. more...
The small SUV niche is a crowded and popular market these days, with entries from just about every major automotive brand. So if a new kid on the block wants a piece of this luxuriant landscape of lucre, they'd better offer something pretty compelling.
And that's exactly what Mercedes-Benz has done with its new GLA 250 4MATIC, a handsome and capable vehicle that's not only a nice entry into this niche but is also a way for new customers to discover the joys of owning a Mercedes-Benz.
It's funny to think of one of the world's oldest surviving automaker as being a new kid on the block, but the closest the company has come to making an "entry level" (for a premium car company, anyway) SUV before was the GLK – which is also a very nice vehicle but a tad bigger and more up market than the new GLA. more...
There might not be a lot of commercial Ultra High Definition material on the market to make purchasing a 4K TV feasible fiscally, yet, but Acer is making a compelling argument that it's already time to embrace the technology when it comes to your computer.
Well, once again that would only be if you need it – or if you just want a really big, really cool monitor.
I've been trying their new, $1100 B326HK display for the past month or so and while a 32 inch monitor on my home office desk is more than a little intimidating, I'm sure hooked on it. And that's without spending a lot of time watching actual 4K UHD content on it! I just love it as a monitor, and the 4K resolution makes for a great desktop! more...
There's a new Porsche SUV and an upgraded version of the Boxster roadster in town, and both of them are about as great a value as one could hope for from the German maker of premium vehicles.
The Macan is everything it should be: a small SUV that's all Porsche. Call it a Cayenne Junior if you like, or maybe abbreviate it to something like, well, "Cajun" which, not coincidentally, was the name Porsche floated while the world awaited the new vehicle.
The Boxster GTS, meanwhile, is more of a trim level than a whole new model of Boxster and that's okay because the garden variety Boxster is a heckuva car. more...
The Chrysler 200 has taken a major step forward for 2015, from the relatively bland and uninteresting previous model. The new one is handsome, with an attractive and comfortable interior, and it's also pretty nice to drive.
Oh, it isn't perfect, of course. more...
---
The annual Consumer Electronics show in Las Vegas has wrapped up again, a huge undertaking that seems to get bigger each year. Heck, since the first time I went the show has expanded with the Las Vegas convention center, from one main show floor and assorted other rooms to an entire second building with two display floors -- and of course various hotel conference centers and suites. It's quite intimidating to see all this stuff packed together!
I couldn't make this year's CES thanks to scheduling issues, but it's hard for a tech writer not to get inundated with press releases and pitches whether you're on site or not. So, with the caveat that I'm doing this from press releases, pictures and other hype, here are some of the products I wish most that I'd seen at this year's CES. .more..
The Land Rover seems to be the go to vehicles for those out in the wilds of places like Africa, and you can see the vehicles on display in many documentaries filmed in such far off locales. Serious off roaders, indeed, these vehicles have also gone upmarket in recent years, at least as far as the creature comforts are concerned.
So it is that the Land Rover LR4 enters the 2015 model year with mostly cosmetic changes, and that's okay because, as mentioned, the Land Rover's substance has been the stuff of legend for years.
This is also a tall vehicle and if you're altitudinally challenged it can be interesting climbing aboard. Once you're in, however, you'll be treated to a modern, comfortable and reasonably easy to fathom interior. more...
---
Arguably one of the first SUV's to be offered for sale, Toyota's 4Runner has gone through many generations of development since then - but one thing that hasn't changed is its "body on frame" construction.
That makes the truck-based 4Runner an exception to the basic rule these days that SUV's, or crossovers if you prefer that term, are car-based, unibody creatures - such as Toyota's own Highlander and RAV4, as well as most of the SUV/crossovers available from the other manufacturers, too.
Why does this matter? more...
It's hard to find a bad car these days, such is the nature of technological advance in a highly competitive automotive marketplace.
That said, some cars are better than others for a particular individual, depending on that person's personality, budget, taste, etc. and sometimes a vehicle will just rub you the wrong way for whatever reason.
Just like you, I imagine, I find various cars variously interesting. Hence this year end look at the vehicles that I found most interesting, or nicest, of the ones in which I was lucky enough to get some quality seat time.
Remember, this list comes from cars I've actually reviewed, so it isn't a truly "best of" in the manner that AJAC's Canadian Car of the Year aspires to and achieves mostly. Rather, it's the vehicles I found the most interesting in calendar year 2014, whether they were 2014 or 2015 model year units. more...
---
What are the most interesting tech gadgets of 2014? It depends where you surf and who you ask, of course, but in the case of TechnoFile, it was a year, technologically, that had its charms.
Hence this year ender, where I take a look back and focus on the devices, gadgets or whatever that turned my crank the most this year, for whatever reason. This, like my look back at cars, isn't meant as the be-all and end-all of things technological in The Year of Our Lord 2014, just the stuff that I found most interesting of the stuff with which I was lucky enough to play. It definitely doesn't cover everything that was introduced this year, just the stuff I tried - which is still a pretty interesting list. more...
The Dodge Journey and Honda CR-V are both good examples of the SUV/Crossover beast, though executed in very different ways. And after a week with each, I came away thinking that despite the good things about both models, I think I'd look elsewhere were I to be shopping.
Not that they're lousy vehicles, of course - it's hard to find a truly bad vehicle these days - but neither of them really spoke to me in a way that got my pulse quickening, and that's something that should happen even in this market niche. Or maybe I'm just picky.
Dodge's Journey has come a long way - but then again, so has its corporate owner, so perhaps it shouldn't be too surprising. But after spending a week in a vehicle I would have walked a mile to avoid driving only a couple of years ago I came away with a fresh respect for what is, in fact, a very nice crossover. And for about the same price ($35,790 as tested) you can get the Honda CR-V Touring, which is a smaller "cute ute" than the more mid-size Journey, but a popular choice nonetheless. more...
---
We welcome your comments!
TechnoFile: "The Tech Magazine for the Rest of Us!"
TechnoFile publisher Jim Bray's print columns are available through the
TechnoFile Syndicate.
Note: Unless otherwise noted, prices in this publication are quoted in US dollars.

TechnoFile is copyright and a registered trademark © ® of
Pandemonium Productions. All rights reserved.
E-mail us Here!
---