Mazda CX-7 Hauls People, Stuff, Butt
By Jim Bray
October 18, 2007
Minivans are out, at least if you're Mazda, and that may not be too bad a thing.
Mazda's MPG minivan did about as good a job of putting "zoom zoom" into the little bus-like creatures as possible, and the last time I drove one I liked it quite a bit - as a minivan. But the MPG couldn't hold a candle to the CX-7 which, while it may limit the tallness of objects you can carry compared to the minivan, ups the driving reward ante considerably while being just an all around more modern vehicle.
Mazda calls the CX-7 a "Crossover Utility Vehicle" that's a "sophisticated SUV with the soul of a sports car" (how's that for walking the SUV tightrope?). But it's a pretty apt description. It looks and acts like an SUV (the horror!) but drives surprisingly sportily.
I had a chance to put about 600 miles on an "Electric Blue Mica" CX-7, driving it from the west coast of Canada right through the Rocky Mountains and into their foothills. The combination of narrow mountain passes, heavy tourist and tractor trailer traffic, and the occasional passing lane that offered the perfect opportunity to open up the CX-7,  provided one of the best test experiences one could have short of a long term loan.
This is a nice vehicle that would be easy to live with, though it's a tad thirsty and demands (well, suggests) that you feed it premium gas.
CX-7 shares a lot of its underpinnings with the awesome Mazdaspeed 6, including its direct-injection turbocharged 2.3-litre four cylinder engine and active torque split all-wheel drive (the latter's optional on the CX-7, but you really should order it).  That gutsy engine (though, alas, not the awd) is also available in the Mazdaspeed 3.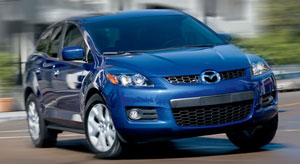 The engine puts 244 horsepower onto the road at 5,000 rpm and 258 lb-ft of torque at 2,500 rpm. That isn't quite as much oomph as you get in the Mazdaspeeds, but the CX-7 never feels anemic at all. In fact, if it weren't for a center of gravity that's higher than a car's, the CX-7 would be a very sporty handler. It's no slouch as it is, but on some of the twistier bits of my mountain drive I wished the Mazda offered something like Porsche's active suspension management that hunkers the vehicle down for serious driving.
I guess that's why some people choose to spend three times as much as the CX-7 when they look for an SUV (sorry, crossover).
The turbo comes on quickly, but I'd be lying if I said lag isn't an issue. It isn't a serious issue, though; jam the gas to the floor and after a quick second you're flying forward with abandon as the CX-7 Zoom-Zooms away happily.
The transmission is a 6-speed Sport mode automatic with overdrive. Its pretend manual setting shifts backwards compared to most of the competition I've driven (you upshift by pulling the lever backwards toward you) and that took a bit of getting used to, but that shouldn't be an issue for owners. Shifts are good, and the manual mode came in particularly handy in the mountains.
The suspension up front is an independent, strut type with coil springs and a stabilizer bar; the vehicle's bum is girded independently as well, with a Multi-Link type suspension featuring coil springs and a stabilizer bar. The rack and pinion steering features engine-rpm-sensing variable power assist, and the steering wheel feels great in the hands.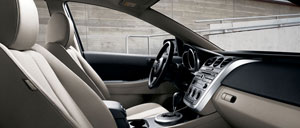 It also tilts and includes ancillary controls for the audio (and cruise control), using toggle-type switches that work well by feel, letting you keep your eyes on the road.
Brakes are ventilated, power-assisted discs all around, with ABS and Electronic Brake Force Distribution (EBD). They're a tad grabby, but no worse than on many other vehicles, and they stop the vehicle straight and well.
Inside is a typically Mazda interior, and all the good and bad that entails. It's mostly good, but I'm not a big fan of red instrumentation and Mazda's speedometers are mounted so the scale runs 6-2 o'clock instead of the more conventional 8-4. This probably won't matter to owners after they get used to it, but I found myself tooling along more quickly than I thought because, while the indicator needle was where I'm used to, that actually meant I was zoom-zooming along about 20 mph faster than I thought.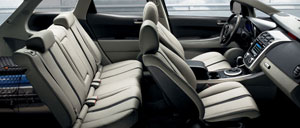 Still, that's pretty nit picky and, on the other hand, offers good testament to how well this vehicle can move along..
The seats are very comfortable; I drove two full days (and "passenged" a good while, too, in front and rear seats) and never suffered from numb bum. My tester featured leather upholstery with bun warmers up front, and the driver's seat had power adjustment. The rear seats fold down flat for hauling stuff, and operating them is straightforward.
HVAC is automatic, though only single zone. My tester's fan control was weird in that I could never find an "off" setting; I'd just keep twisting the knob to the left and once it hit its bottom setting it just kept twisting.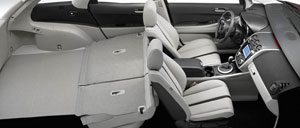 The stereo's very good, better than that in some Mazdas I've tried. You can crank it to quite satisfactory levels and it doesn't run out of steam too early. Audio quality is quite satisfactory. My tester had a Bose system with a six disc CD changer, 9 speakers and AudioPilot and Centerpoint tweaking to optimize the sound for your tastes. I listened mostly to a portable SIRIUS satellite radio system and it worked great.
Some the gauges wash out in direct sunlight. You can see the needle on the fuel gauge, for example, but can't see the scale. And we had to check in the owner's manual to figure out how to adjust the clock!
The vanity mirror on the passenger side doesn't light up, which seems kind of cheap, but on the other hand my tester featured an intelligent key you could leave in your pocket, locking/unlocking the doors by pressing a spot in the outside handle and starting the CX-7 merely by twisting a protrusion where the key would go normally.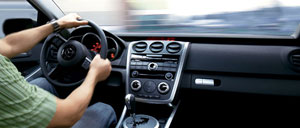 Visibility is very good all around, with outside mirrors that don't get in the way of the view forward. The CX-7 also features interesting little windows in the "A" pillar that are meant to give an extra view to the side, but which don't really do much. Fortunately, they aren't really needed.
Most of the other stuff you'd expect from a modern vehicle is there, from power windows and door locks to the usual abundance of cup holders, air bags, seat belts and the like.
I really enjoyed my time in the CX-7. It's smaller and more responsive than the CX-9, (though you lose the third row of seats), and a lot more fun than any minivan I've driven (though you can't haul as much).
Pricing for the two wheel drive Mazda CX-7 starts at $24,345 U.S ($32,095 Canadian). The upscale AWD GT model starts at $28,595 U.S. ($37,295 Canadian).