Mazdas 3 – a Zoomy Sedan and a ZOOMY! Wagon
By Jim Bray
No matter what flavor you choose for it, Mazda's 3 is a slick little car that offers a lot of fun wrapped up in a lot of practicality.
The 3, nee Protégé, is available in three flavors: four door sedan, five door sports wagon (the Mazda3 Sport) and the Mazdaspeed3, the really hot version of the wagon. I got to try the four door sedan and the Mazdaspeed3, which is a pretty good representation of the species.
Mazda claims on its website that the 3 is a combination of "exhilarating driving performance, emotional styling and high levels of craftsmanship" and I certainly can't argue that point. In fact, of the cars in this class that I've driven, I'd probably buy the 3 before any other, specifically because of its fun to drive quotient.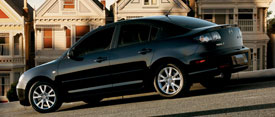 I'm obviously not the only one who likes this car; it's hard to go anywhere these days without seeing several examples of the species on our local streets. The car is a big hit, and deservedly so.
For the 2007 model year, the little Mazda has been given a minor tweaking that's designed to make an attractive car even more so. Mazda says changes include improved torque, refined exterior styling, fit-and-finish and interior trim. Tweaks include an updated front bumper, grille and rear bumper and five new body colors are offered. The GT trim level now offers LED's for the taillights, as well as fog lamps and redesigned side spoilers.
Interior changes include a new interior color scheme for the base models, new seat fabric, and a piano black surface trimming the instrument panel. The GT now has a carbon-grey trim on the instrument panel trim and a black leather interior is now available. The instrument colors have also been changed, to white from black on the base models while the GT gets a pretty blue lighting that Mazda says helps make them easier to read at night.
Even the base 3 sedan is a sporty little critter. It offers plenty of room inside and can be configured with just about any option you could really need short of a navigation system or DVD Audio capability (and I can't think of another car in this class that offers such stuff either).
My tester wore the upscale GT trim and featured a 2.3 liter 16 valve DOHC inline four cylinder engine that cranks out a respectable 156 horses @ 6500 rpm and 150 lb. ft of torque @ 4000 revs. This is plenty of oomph to motivate the lightweight sedan in just about any real world situation.
Base models get a two liter four banger that still manages to put 148 horses and 125 lb. ft onto the road.
Then there's the Mazdaspeed3, a horse of an entirely different color. It shares the turbocharged four of the Mazdaspeed6 and the CX-7 SUV, taking what's already a nifty car and turning into a veritable beast. While the engine displacement's the same as the GT's 2.3 liters, the Mazdaspeed folks have upped the oomph ante by 107 horses, to 263 @ 5,500 rpm and an incredible 280 lb. ft of torque @ 3,000. This is serious propulsion!
Like what you see here? Shop at TechnoFile's TechnoMart!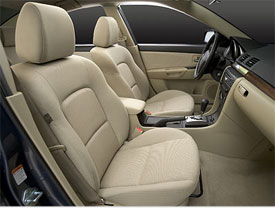 Garden variety 3's come with a nicely shifting five speed manual transmission; four speed and five speed "Sport" mode automatics are also available. My tester had the stick, and it shifts very nicely, with short throws and a nice light clutch enhancing the sporty feel.
3's feature a MacPherson-type front suspension with coil springs and stabilizer bar and a multi-link rear (with coil springs and stabilizer bar). Mazda says the 3 has been tuned for a "forward-inclined roll-center axis" to help it achieve excellent stability it claims is similar to a rear drive car.
I'll argue that point, however – especially as it applies to the Mazdaspeed version. The 3 drives and handles very nicely, but it's no rear driver.
And that's my biggest complaint about the Mazdaspeed3. But more about that later….
The 3's electro-hydraulic power-assisted rack and pinion steering offers very good feel, and the brakes are power-assisted discs at all four corners, with ABS and electronic brake force distribution. The brake pedal isn't mushy, nor does it stand the car on its nose at the slightest pressure like some do.
My GT tester came with 17 inch wheels wearing 205/50 series tires.
Inside the 3 is a comfy and efficient cabin, a pleasant office for the driver and a nice place for three others to passenger. I don't think the person in the middle of the back seat will be happy if stuck there for long periods, but this is a common complaint and not Mazda specific.
The seats are comfortable and supportive and sculpted nicely for cornering. My GT tester featured classy-looking leather that appeared more high end than one might expect in a compact car. The driver's seat isn't power operated, but between its manual adjustments and the tilt/telescoping steering wheel it's easy to find your ideal driving position.
The instrument panel is attractive and straightforward, though it took me a bit getting used to the speedometer: the scale starts at "six o'clock" and goes up to about "two o'clock" instead of the "8 and 4 o'clock" configuration I'm more used to. There's nothing wrong with this, and you do get used to it, but initially I found myself driving more quickly than I should have because the needle didn't seem to be as far around the scale as normal.
How's that for picking nits?
The audio system on my tester was a fully featured AM/FM, 6 disc CD changer with auxiliary input and it has a pretty light show when you use it, but as with so many Mazda stereos the volume is weighted toward the low end and it runs out of steam early. The audio quality is good, though.
The outside mirror controls are mounted perfectly on the driver's side arm rest, where it falls nicely to hand and don't force you to bob your head forward and backward to adjust and monitor. On the other hand, the center armrest was too far back to be useful for me (maybe the 3's designed for taller people?) and why Mazda needs two buttons to control the sunroof (one to slide and one to tilt) is a mystery for archaeologists to solve when they come back to visit planet earth from space.
There's reasonable storage inside, including a humongous glove compartment. But while there's plenty of room in the trunk (with folding rear seats), the trunk opening seems a tad tight from top to bottom, though I didn't try putting any credenzas into it.
Other nice touches include central/keyless locking and power windows and my tester featured rain sensing wipers that do a nice job of matching when I thought they should wipe with when they actually did wipe.
Imagine this lovely little car (in its wagon configuration) on steroids and you have an idea of what the Mazdaspeed3 is all about.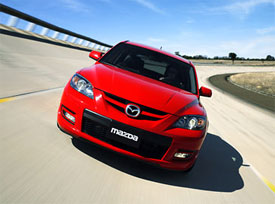 Besides the upgraded engine mentioned above, the Speed version also features a stiffer body shell and improved suspension compared with the regular Mazda3. Other upgrades from the garden variety 3 include a new limited slip differential that sends the outrageous torque to the inner wheel during hard cornering, enhanced brakes, higher coil spring rates and larger diameter stabilizer bars. There's traction control and dynamic stability control as well.
The exterior says "Speed!" via more boldly flared front fenders, an edgy hood and more prominent chin and rear spoiler. It also gets 18 inch wheels wearing low profile 215/45R18 tires and a variety of trim enhancements unique to the Speed.
Inside is a variety of upgrades including a BOSE audio system that's a nice change from the regular 3's, louder and just plain better sounding overall. There are also sport-type buckets up front, alloy pedals, and "Speed-specific" floor mats, door trim and black leather-wrapped (with red stitching!) steering wheel and shift knob. It's pretty classy.
The Speed3 comes with a 6 speed manual stick, and it's great fun when rowing up or down through the gears – though I had a heckuva time shifting it smoothly and sometimes had trouble finding second gear.
The Mazdaspeed3 is being hailed in every review I've seen as a pocket rocket that's an absolute rush. And it is. But I have to admit that, when all was said and done, I was very surprised to find that I preferred the regular 3 GT over this muscular little machine.
This stems from the 3 being front wheel drive. When it breathed fire into the Mazdaspeed6, which shares the Mazdaspeed3's turbocharged engine, Mazda gave it an active torque split all wheel drive system and that, combined with the 6's heavier weight, made all the difference. That car was also a rocket, but it performs like a liquid fuelled rocket that's pilot controllable rather than a solid booster that you light up and hope for the best.
Driving the Mazdaspeed3 on a public road can definitely be a case of "step on the gas and hold on for dear life!" When you tromp on it, there's a slight pause while the turbo wakes up (yes, Virginia, there is turbo lag, though not a lot) and then you're heading for the shoulder, white knuckled, thanks to the torque steer other reviewers may tell you isn't there.
Okay, that's only when you take off from a standing start; once you're climbing up through the gears the car becomes a lot more manageable (and a LOT more fun), but beware that initial "whoosh" lest your investment find itself in the ditch!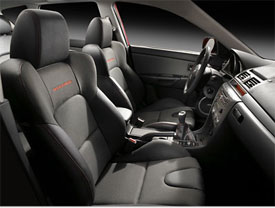 Sure, you could just choose not floor it right off the bat – but who wants to do that with a rocket like this?
Seriously, folks, this is a seriously fast car and if they could tame that beast a little more it just might be the greatest little sports wagon you can get for the price. And I'm sure if I were to drive the car longer and get more used to it (Hey, Mazda, can I do a long term test?) I'd be more at peace with it. But as it sits, this car borders on scary at times.

I had one other minor complaint with the Speed that I didn't notice with the 3, and it has nothing to do with the performance: the panic button on the key fob is so close to the lock/unlock buttons that I kept hitting it by mistake, sharing my Mazdaspeed3 experience with the entire neighborhood.
But at least they noticed me!
The two liter-powered Mazda3 starts at $14,390 U.S./ $16,795 Canadian. The 2.3 starts at $17,685 U.S./ $22,845 Canadian. The Mazdaspeed 3 starts at $22,835 U.S./ $30,995 Canadian.