Mazdaspeed 6 – Family Sedan or Road Rocket?
By Jim Bray
Take one of the best looking four door sedans on the market, add a turbocharger and a bunch of other tweaks and what do you have?
Very nearly driving heaven, if sporty performance is the Holy Grail for which you're searching.
So it is with the Mazdaspeed 6, the hottest version of Mazda's terrific mid-sized sedan. Like the Mazdaspeed Miata I drove last summer, the hopped up Mazda 6 loves to perform – and this time it does it without forcing you to leave the kids and the luggage back home.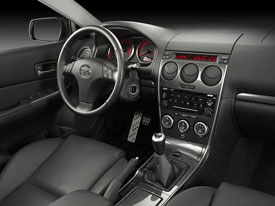 ...continued
Four BANG!er
Amazingly, all this fun comes from a 2.3 liter four cylinder engine! Yet that turbocharged and intercooled double overhead cam, 16-valve inline-4 (with direct fuel injection) cranks out 274 wild stallions @ 5500 rpm and 280 lb-ft. @ 3000 rpm. That's remarkable.
Mazda says the Mazdaspeed 6 is the highest performing, best handling sedan the company has ever created. I believe it. Tromp on the gas pedal and when the revs spin up to the 2500-3000 range it's like a fighter jet engaging its afterburner.
Yikes! Is this fun or what?
Could you imagine if they'd turbocharged their V6 for this car? Traffic cops would get writer's cramp!
It isn't just the four banger that has been upgraded to make the Mazdaspeed 6 such a hoot. Mazda claims it beefed up body stiffness, suspension characteristics and brake performance to match the car's power. And to help ensure that power stays under control where the rubber meets the road (to coin a cliché you've never heard before….) they've added the Active Torque Split All-Wheel Drive system that starts life as front wheel drive but sends up to half the torque to the rear wheels as the onboard brain deems necessary.
You're also treated to a slickly shifting six speed manual transmission that seems to be geared for maximum shifting fun. This is not a car for the shiftless….
The zoom-zoomiest 6 features a double wishbone suspension up front, supposedly with 25 per cent more damping force and a similarly higher spring rate than the garden variety 6. There's also a larger stabilizer bar. The rear suspension is multi-link with beefed up coil springs and stabilizer bar.
Mazda says the torsional rigidity of the Speed's body has been increased by 50 per cent over the other 6's, done via upgrading the sub assemblies.
The brakes feature big ventilated discs (the front are slightly larger than the rears) with four wheel ABS, Electronic Brake force Distribution (EBD) and the car also comes with a Traction Control system (TCS).
Steering is engine-speed-sensing variable assist rack and pinion, and it feels very good. One thing I've noticed about other 6's I've driven is repeated here, though: sometimes, when I was turning into a parking space at about 90 degrees or more I'd hit the end of the steering's movement. It never caused a problem or forced me to back out and try again, but it seemed a tad strange from a sporty car that handles well.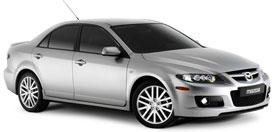 Mark of the Beast….
From the outside, the Mazdaspeed 6 is easily distinguishable from its more sedate brethren, not that the other 6's are particularly anesthetized! The "Speed" features a more aerodynamic front bumper and lower grille section, the latter of which proclaims "Performance!!!" just by looking at it. Flared side skirts leave room for the custom 18-inch aluminum wheels wearing 215/45R18 tires. They've also smoothed the rear bumper and integrated the wider tailpipes into it and added a compact and attractive rear spoiler.
The overall effect is still Mazda 6, only more so. That makes the already-attractive 6 even more easy on the eyes. My tester was a lovely – though hardly subtle – "Velocity Red Mica" color that set off the car beautifully.
Comfortable Creature….
Inside, the 6 still seats four adults comfortably (and five in a pinch, no pun intended). My tester had the leather-with-moonroof option and a powered driver's seat. The front passenger seat isn't powered, but it's comfortable and easily adjustable.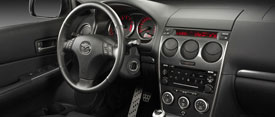 The 8 way power-adjustable heated leather driver's seat is great for the most part, though when I took it on a highway trip of only an hour or so my left cheek (the lower one) and leg (the hind one) had fallen asleep by the time we reached our destination. This caused much angst to my passengers because the sleeping body parts started snoring loudly….
This was strange, because the driving position – enhanced by a tilt/telescoping steering wheel – was fine, quite comfortable.
Oh, well, I guess that gives the "critic" in me something to whine about….
The Mazdaspeed 6's keyless entry system is first rate. The credit card-sized fob can stay in your pocket or purse as you unlock and lock the doors merely by touching a spot on the handles; you start the car by twisting a knobby-like thing where the key would go traditionally.
I'm really beginning to love this feature now that I'm getting used to operating them; the first couple of vehicles I tried that had such systems installed caused me some confusion, but it now seems clear that it was more a case of operator error than fuzzy design.
The instruments are lit in the normal Mazda red, and the speedometer of my Canadian-spec tester is graduated up to 280 km/h (approx. 174 mph) – though I doubt you can bury it. The center console and other parts of the interior are finished in a dark silver "satin" surface that's very attractive (if a little dark), the driver's pedals are alloy with a stainless steel dead pedal, and you also get a custom shift knob.
The audio system is better than some other Mazda ones I've tried. It's a 200 watt Bose system the company says is acoustically tuned to the car's interior (including, if you can believe it, calibration based on whether your 6 has leather or cloth trim!). You get the usual configuration of AM/FM/6 disc CD changer, with seven speakers and the system is satellite radio-ready. Sound quality is just fine and this one didn't seem to lose its nerve as it got cranked higher, unlike some Mazda stereos.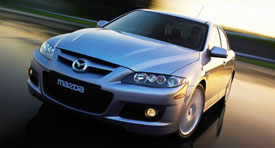 Hard drivin', man….
As you might expect, driving the Mazdaspeed 6 is a gas! It accelerates as if it were being launched by high powered magnetic fields and if that kind of performance is what you're looking for this baby'll definitely put a smile on your face. Big time. It also has handling befitting its image.
I had trouble shifting it smoothly, though I'm sure this would have passed if I had had the car longer. But the clutch is a tad heavy (to control the beast under the hood without sacrificing itself prematurely) and a touch grabby – the latter of which almost feels as if the 6 is egging you on, daring you to do your worst.
The look forward from the driver's seat is a little different from other 6's, thanks to the higher hoodline, but it's by no means intrusive or distracting. The greenhouse is very good and there's plenty of storage.
Safety equipment includes dual front air bags with crash zone and driver's seat position sensors (Mazda calls it "MARS" for Mazda Advanced Restraint System), dual front side-impact air bags, front and rear side air curtains, whiplash-reducing front seat headrests, front safety-belt pretensioners with force limiters, 3-point safety belts for all seating positions and even a "crushable" brake and accelerator pedal assembly.
The Mazdaspeed 6 starts at $28,555 US.
EPA gas mileage for the Mazdaspeed 6, according to Mazda's website, is 19/25 (city/highway) miles per gallon of premium fuel.
Its "smiles per gallon" ratio will be much higher.