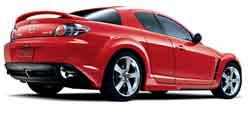 By Jim Bray
Well, they certainly aren't kidding.
I mean, Mazda's "zoom zoom" slogan can be applied in the real world to the experience of driving such fun cars as the Miata and even the 6 sedan. But take it to its ultimate expression and you have to be talking about the RX-8, the latest generation of the company's rotary-powered sports cars and an absolute blast to take out on the highway.
The gorgeous RX-8 follows on the heels of the popular RX-7, but ups the ante over that great car in several ways. First, it features a new generation of the rotary engine, which Mazda calls "RENESIS." This power plant is nothing short of remarkable: in my top-of-the-line test RX-8, Mazda manages to get 238 horses and 164 lb.-ft. of torque from an engine comparable to 1.3 litres! Incredible – and don't let those power/torque specs fool you; they may not be as high as some of the competition, but this car is no slouch by any means.
To put the efficiency of the rotary into perspective, Mazda gets 238/164 horses/torque from the 1.3 litre rotary and 220/192 horses/torque from its 3.0 litre V6 in the lovely Mazda 6. More power from less size. That's amazing, and it makes me wonder why there aren't more rotaries in Mazda's (and other manufacturers') inventory.
Another ante upper from the RX-7 is the addition of a rear seat, considered by many to be anathema to the concept of a true sports car, and two small, rearward-opening "suicide doors" (oops, I believe we aren't supposed to call them that any more; Mazda calls them "Freestyle doors") to facilitate getting into and out of the back seat. Decidedly un-sports car-like, if you're tied to conventional wisdom.
Yet I defy anyone to say this little beauty isn't a real sports car.
So far as the RX-8's beautifully aggressive styling is concerned, Mazda says the design theme was "Athletic Tension," to give gawkers (and owners) a feeling of pent-up energy ready to be released, like an athlete waiting for the starter's gun. It works, too, and the gorgeous purple colour of my tester was a classy touch. Interesting, too, because depending on the light outside or the angle from which you looked at the car it could also look deep brown or black. All the apparent shades looked great, but that purple was outstanding.
Mazda calls the RX-8 a sports car like no other, and they have that right, if only for the rotary. And the back seats.
Speaking of those back seats, Mazda has done a really nifty job of not only facilitating ingress and egress into the RX-8's twin rear bun holders, but those seats themselves are surprisingly comfortable and roomy. Because the front and rear doors open in opposite directions, there's no big pillar to get in your way when getting in and out and the resulting opening is comparatively huge, considering the overall small size of the RX-8.
As a bit of an old fart, well middle aged, I still found getting in and out a bit of a challenge, but not nearly as much as getting into and out of the back seat of the two-door Acura RSX I drove the week before. And once inside, I had plenty of headroom, though some would argue that, at 5' 7", headroom isn't a big problem for me anyway. But it was in the back of the RSX.
The beautiful interior includes very comfortable seats for all four positions. The front seats aren't power operated (must be a "pure sports car" thing) and while the steering wheel tilts it doesn't telescope - yet overall it's a very comfortable place to do business. I couldn't quite find a perfect driving position, mostly because I found the brake and gas pedal to be set a little too far forward compared with the clutch and this meant that I had to stretch my left leg when my right leg was comfortable, or get my left leg comfortable at the expense of a gas/brake pedal combination that was a tad too close. It wasn't enough to spoil the fun, though.
The RX-8 is small and snug enough that everything the driver needs to reach, including stereo, HVAC and the like, falls nicely to hand. The design is quite good ergonomically.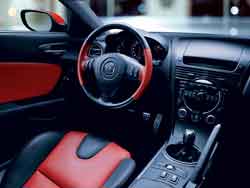 The Bose audio system features a reasonably powerful AM/FM 6 disc CD setup. I thought the overall sound was better than average as far as power is concerned, but it was also a tad muddy; I usually run test cars' stereos at their default settings to maintain "apples to apples" consistency among them, but had to crank the treble and bass in the RX before I was happy. And while the system plays fairly loudly, it runs out of steam quite quickly on CD's, well before "ear bleeding" levels (which is probably just as well, in some ways…).
The instrumentation is attractive and efficient, though Mazda has chosen to pair the analog tachometer with a digital speedometer (undoubtedly so you know exactly how fast you were going when the cop pulls you over). I prefer all analog, but the digital speedo does save precious real estate.
The air conditioning is a little weak, or so I found it during the very warm days of my test, which is kind of surprising considering the relatively small amount of space it has to cool.
What the RX-8 clearly isn't is a "city car." Oh, it performs just fine in an urban environment, offering comfort and as much driving fun as you can have in rush hour gridlock. But take it out onto the highway, especially back roads with twisties and not a lot of traffic, and the RX' true personality leaps forward.
This car loves to be driven. In fact, it demands it! Wind it up through the revs toward its astounding 9000 rpm red line and as the cool-sounding engine works harder and harder it sings an ever-happier tune. If you think this is a neat sounding engine at idle, wait until it hits its stride!
Handling is also outstanding. The rear drive RX-8 carves up the roads like the family patriarch working over a Christmas turkey. It not only goes where you point it, it almost seems to know where you're going to point it. Part of the handling prowess is due to the rear wheel drive as well as the car's perfect 50/50 front/rear weight distribution and low center of gravity.
The RX-8 also boats double wishbone front suspension and a newly-developed multi-link rear suspension. It does a nice job of striking a balance between sport and comfort, leaning as it should toward sport. Its brakes are a four wheel disc system with ABS and EBD (Electronic Brake Distribution). The GT model, which was the one I got to test, also features Dynamic stability control (DSC).
Steering is rack and pinion with torque sensitive power assist and it feels as if it were tuned using a laser to ensure sharpness.
The RX-8 comes with either a 6-speed manual transmission with wonderfully short throws or a 4-speed automatic transmission. The 6-speed manual of my tester had a neat rotor-shaped shift knob (the rotary motif is repeated throughout the RX-8).
Safety equipment in the RX-8 is about what you'd expect in a modern vehicle. It's equipped with a dual stage driver's side airbag featuring, a passenger's side airbag and curtain and front side airbags. Other safety features include an intrusion-minimizing brake pedal to help reduce foot and leg injuries in a frontal collision, a soft, impact-absorbing interior and "wheel stopper" reinforcements to prevent the front wheels from impacting the cabin during a frontal collision.
I had been waiting impatiently for a chance to drive the RX-8 since it was first introduced for the 2004 model year. I'd read the reviews, seen the car in dealerships and on the road and generally lusted after it from afar. So when my turn for a week-long test drive came up I was salivating with delight.
But when I slipped behind the wheel it was as if I were entering the Twilight Zone; the drive home as I familiarized myself with the car was enjoyable enough, but I was surprised that it wasn't the instant love affair I had expected, and resigned myself to the realization that perhaps we wouldn't be a match made in heaven after all.
The RX-8 must have sensed that. Somehow, it convinced me to keep an open mind until I had a chance to take it outside the city limits and open it up.
The rest was history. We left the urban confines and headed northwest, through the foothills of the Rocky Mountains, and the rest of the day amounted to a bonding experience that has to be lived to be appreciated. When I got back, I didn't care a whit about the clutch making me stretch my leg too much. I didn't care about the anemic air conditioning or the muddy stereo. I was in love. Or at least lust. And the feeling lasted through the rest of the week.
Then I had to give the RX-8 back. Love/lust turned to mourning.
Zoom zoom. It'll do it every time!