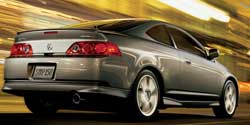 Acura's Really Stimulating Xperience!
by Jim Bray
Talk about Shock and Awe.
When the Acura RSX debuted as a replacement for the popular Integra, there was a certain amount of shock generated as people wondered why the company had chosen to introduce an all new model rather than just upgrade the Integra to a new generation.
That shock has now passed as the RSX has proved itself over the past few years, replaced by a sense of awe. As in awe over Acura's skill in taking what had been a nice "entry level" sporty car and turning it into a really nice "entry level" sporting car.
And of course for 2005, Acura has upped the ante even more.
When I reviewed the RSX Type S upon its debut I said "This car feels like it weighs about fifty pounds...yet it's stable and serene while zipping happily along at 100 mph or more. In fact, rather than the light weight making the car feel like "body by origami," it allows this aerodynamic little rocket to, well, rocket."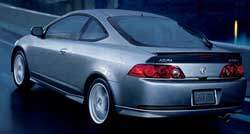 Ditto for '05, except that now there's a little more ooomph behind it as well. For its fourth year of life, Acura has tweaked the Type S's 2.0 liter inline four cylinder engine so it now puts out 210 horsepower @ 7800 rpm (up from 200) and its torque is rated at 143 lbs.-ft.@ 7000 rpm.
Now, I like torque, especially low end torque, and 143 lbs. ft. @ 7000 isn't going to set the world on fire – but on the other hand, this car is so light (less than 3000 pounds), that the engine and its nicely matched six speed manual transmission combine to turn this little car into a veritable pocket rocket sled. The car loves to be driven and it rewards your faith in its abilities with an extremely fun time behind the wheel.
It isn't all because of the power to weight ratio, of course. It's also Honda's famous technology, and there's plenty of it on display in the RSX.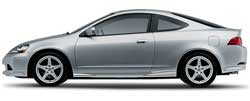 Other tweaks for '05 include a lower final drive ratio, lower ride height, retuned suspension and steering, and an upgrade for the Type S to a handsome set of 17 inch wheels. They've also messed with the cosmetics a bit, including revised headlights and a new rear spoiler that eschews the wing look in favor of a subtle little deck-mounted lip that is quite appealing. None of these are revolutionary or outrageous changes, but they combine to make a fine car even finer.
The RSX is available in four versions (RSX, PREMIUM, PREMIUM LEATHER, TYPE S), my tester was the top line Type S in a beautiful shade of racy blue that was a real head turner.
The base RSX models' 2 liter 16-valve low emissions engine puts out 160 horsepower at 6500 rpm and 141 lb.-ft. of torque at 4000. As with the Type S, these high rev figures mean you'll want to really wind the RSX up to take advantage of its mettle, and it'll respond happily.
The downside of this is bit of buzziness in city driving, but only a bit. And you can easily coast along in a higher gear at lower revs and the RSX will comply without complaint. But remember, if you want the RSX to really sing with joy you'll want to keep those revs up.
The 6 speed manual of the Type S is a joy to snick snick through the gears and, unlike a few sporty cars I've tried, finding and using sixth gear is easy. The car appears geared for spirited motoring, especially outside the confines of urban and residential speed limits; once you have it on the highway it leaps happily to attention and practically begs for more.
The other versions of the RSX come with either a 5 speed manual or a 5 speed "sequential sportshift" automatic/manual. You'll probably have a lot more fun with the stick shifts, though.
Indulging the RSX' passion for action won't do much for its fuel mileage, though you can say that for any vehicle. The Type S is rated by Transport Canada at 10.4 / 7.0 litres per 100 kilometres (the EPA rates it at 23/31mpg), which is decent, though I never got close to that as I happily wound that beautifully-shifting 6 speed up past the point at which the VTEC kicks in and the car leaps forward like it's just been given a kick in the pants.
The RSX slices and dices the roads like a French chef, though that's where the French analogy ends because the car doesn't immediately throw up its hands and surrender when things get dicey. Its front suspension is made up of control-link MacPherson struts and the rear features a double-wishbone configuration. There are stabilizer bars front and rear as well.
The variable-assist power rack-and-pinion steering feels great, there are power assisted ABS disc brakes all the way around (well, on the four wheels anyway), and my tester had a pretty decent set of All-Season P215/45 R17 87V tires.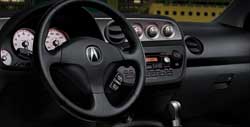 Inside, the RSX eschews bells and whistles in favor of function. Even stuff you'd expect on a premium line of cars, such as power seats, is missing. But the manual seat adjustments work just fine and finding the perfect driving position is a piece of cake – at least it is if you're just shy of 5'7" like I am.
You also don't get such niceties as steering wheel mounted audio controls – but you probably won't miss them. The interior is so cozy and well designed that the controls on the audio system (and everything else) are close enough at hand that the driver can reach them easily with just the sweep of the arm. That leaves the small and comfortable steering wheel beckoning to be grabbed and used.
The seats are firm and supportive and very comfortable – more comfortable than the seats in at least one other sports car I've driven that costs much more. The full instrumentation package is a handsome black on gray that becomes red on black at night. I'm not a big fan of red on black, but what can you do?
The red really worked against the legibility of the HVAC controls, which otherwise are wonderfully laid out and simple to use. But their labeling is hard to read and once they turn red they get even harder. Fortunately, the climate control is efficient enough that you can just set it to "automatic" and forget about it.
The Type S also features an attractive, high tech-looking carbon fiber-look trim motif.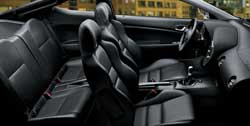 My tester also featured heated leather seats up front, heated outside mirrors, a small moonroof (with no auto open or close, alas), and power everything else except for the seats.
There's also a really nifty tray/cupholder combo up front between the gear shift and the instrument panel. Press one button to slide it open and you get a wonderful little tray that's just perfect for a cell phone or other trinkets; press the other button and it opens as a pair of cupholders. It's the type of slick and intelligent design I've come to expect from Honda/Acura, a company that excels with its logically and ingeniously laid out interiors.
One place that isn't so pleasant is the rear seat. It's definitely small, as you'd expect in a car like this, and there isn't a lot of headroom. Even my head felt crowded by the hatch and I wouldn't want to be there when the car hits a pot hole; it would probably result in a resounding smack to my cranium (though some may argue that would be a good thing).
On the other hand, one doesn't buy an RSX for hauling passengers. If you want to do that, the TSX is anxiously waiting for your attention at your local Acura dealer and it's even more fun than the RSX – and has four doors to boot.
The stereo is pretty good, though it probably won't win any awards. You get AM/FM radio with an in dash 6 disc CD changer and it all works well and is very easy to use as long as you don't try to adjust the clock time (there's no separate clock and the clock seems to lack any rational adjustment). The sound is very good compared with much of the competition and it plays quite loudly. Acura has built a subwoofer into the center of the spare tire, which is kind of a neat way to do it.
In driving, the car felt tight and well put together and, unlike my first RSX tester, there were no rattles.
As you might expect, the RSX comes with all the usual safety and convenience features including abundant airbags and belts.
If you pore over the specifications of the Acura RSX you'll find a car that is well turned out, but you probably won't be overwhelmed. But if you get a chance to get behind the wheel and take this little baby out onto your favorite stretch of blacktop it'll become plain that the whole exceeds the sum of its parts.
That maximizing of the experience is something Acura does really well, and when you're bombing down the road with a silly grin on your face you tend to not care that there's no power adjustment on the seats.
Clearly, at least with the RSX, Acura has its priorities right.