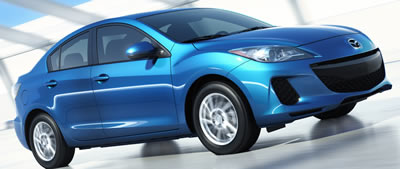 Mazda3 Promises Earth-Friendly Zoom-Zoom
By Jim Bray
January 28, 2012
You might think Mazda using a word like "SKYACTIV" to describe its products might mean it has come up with a practical flying car. You'd be wrong, of course – not that Mazdas can't fly along the road in their own right. They do, after all, offer "Zoom-Zoom."
But for 2012, Mazda is adding SKYACTIV technology to its line, the first example to come across our driveway being the wonderful 3, the small four door sedan I've come to know and love over the years. SKYACTIV promises to add more eco-friendliness to the "Zoom-Zoom" equation, through reduced emissions and better gas mileage.
So what's SKYACTIV? Mazda describes it as "The next generation of advanced vehicle performance and efficiency" saying it "embodies Mazda's philosophy of engineering only vehicles that are fun to drive, satisfying to own and environmentally responsible."
Before your eyes glaze over with all this eco-prattle, Mazda's promise that SKYACTIV technology won't suck all the "Zoom-Zoom" out of the Mazda driving experience is a very good thing, indeed. Part of what makes Mazdas Mazdas is their terrific "Fun to drive quotient" and it would be awful if that were watered down in the name of kissing up to the greenies.
It appears the company is joining the crowd of competitors in offering upped performance with downed consumption. The 3 is the first application of SKYACTIV in North America, and includes the all new SKYACTIV-G gasoline engine and SKYACTIV-Drive six-speed automatic and the SKYACTIV-MT six speed manual transmissions. Not in the same vehicle, of course!
The test vehicle supplied by Mazda came with the automatic, which is a darn shame – especially since it was before a software tweak that's supposed to make it work better. As it sat, the test Mazda3's tranny was kind of "CVT-feeling," which is enough to rub the enthusiast the wrong way.  The tweak supposedly returns any "Zoom" that may have been lost in the translation – and that's always a good thing.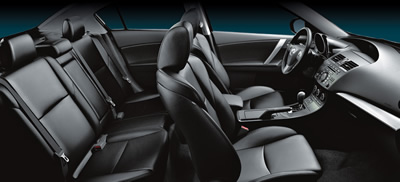 Mazda says its SKYACTIV transmission exploits the unique advantages of a conventional automatic transmission, a Continuously Variable Transmission (CVT) and a Dual Clutch Transmission (DCT). There's also  a torque converter with a lock-up clutch to maximize fuel economy and "direct drive feel."
The SKYACTIV direct injection, two liter inline four cylinder engine features 155 horsepower @ 6,000 rpm and 148 lb.-ft. of torque at 4,100 rpm, which Mazda says is up about five per cent in horses and 10 per cent in torque from the company's "garden variety" two liter four. SKYACTIV uses multi-hole fuel injectors to enhance spray characteristics, specially developed piston cavity shapes designed to ensure shorter combustion time while lowering the impact on power and torque from engine knocking (so you won't have to keep answering it when it knocks!).  
Fuel economy from the SKYACTIV stuff, Mazda claims, is up to 27/39 mpg (or a claimed 4.9l/100 km in Canada). Mazda says that gives the SKYACTIV 3 a cruising range of 1,020 kilometres (about 633 miles) on the highway, which ain't bad.
Anyone who bought Mazdas for their "Zoom-Zoom" quotient undoubtedly has learned that you pay for the fun at the pump, but this SKYACTIV stuff may be a win-win for Mazda and its audience, balancing performance with economy nicely.
The 3's already attractive exterior has been tweaked to look a tad bolder and the "Tow Mater" grille somehow doesn't seem quite as pronounced now – a good thing – and there are tweaks to the interior as well. Mazda says they're created more functionality without sacrificing touch-and-feel quality. This generation of the 3's interior is great anyway, attractive, laid out well and functional.  As with most cars in this class you probably won't want a third person in the back seat for any length of time (unless you don't like him, her or it), but it's a perfectly adequate steerage class.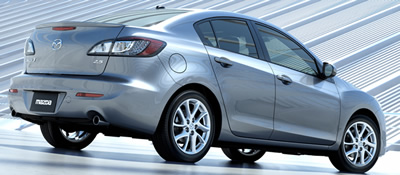 They've also gotten rid of the red gauges on the instrument panel with this generation of 3, and the new scheme is easier read. There's still red  on the center stack, but it isn't as bothersome over there.
The test 3 came with Bluetooth connectivity – once you pair it via the voice recognition system. The front seat heaters have five settings, ranging from "warm" to "broiled hams" and they heat up quickly.
A quibble: the door pull handles up front get in the way of your reach for the power window controls. This is hardly a deal breaker, but it is frustrating.
Perhaps the best thing about the Mazda3 SKYACTIV is that it's still very nice to drive – it drives like a 3, after all, and that makes it one of the most entertaining in this increasingly-competitive segment of the car market.
The Mazda3 SKYACTIV starts at around $19,000 U.S. and Canadian.
Copyright 2012 Jim Bray
TechnoFile.com