Toyota's Highland Fling Fits Its Niche Well
By Jim Bray
October 12, 2007
Think of it as a big RAV4 – and that's meant as a compliment.
The new, 2008 Toyota Highlander is, according to its maker, "the mid-sized SUV that delivers the versatility of a sport utility vehicle with the driving comfort and performance of a passenger car." Toyota also says the Highlander is designed as an "urban-friendly" SUV, as opposed to the more off-road-aimed FJ Cruiser and 4Runner, with more forceful styling and performance and a more flexible interior than before.
I never drove the old Highlander, except for a few minutes in the hybrid version at a press event a couple of years ago, but I sure like this new one. Other than a couple of quibbles, I could find little to fault during my week in the new beast.  
My tester featured full-time 4-wheel drive (4WD, US models can also be configured as front drivers) and, like all 2008 Highlanders, it was motivated by Toyota's journeyman 3.5-litre V6 engine rated at "up to" 270 horses @ 6,200 rpm and 248 lb-ft of torque @ 4,700 rpm. This is plenty. Acceleration is more than adequate, whether you're entering a freeway or trying to pass.
The engine puts its power through a 5-speed electronically controlled automatic overdrive transmission with intelligence (ECT-i), sequ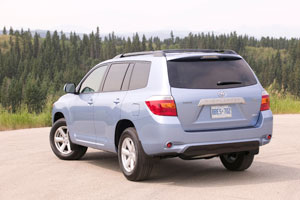 ential shift and Snow Mode. It shifts smoothly and efficiently, though not particularly "sportily" (which probably won't matter to its target audience). I didn't have any snow during my test to exploit the snow mode, but I've tried it in other Toyota family vehicles and it works well: it feels as if you've thrown out an anchor and gives you much more confidence-inspiring performance when the white stuff makes the roads slippery.
The upgraded suspension features MacPherson struts with front and rear stabilizer bars. It steps over bumps and around potholes well, offering a very comfortable ride for the passengers.
Also helping keep things serene on the road are driver-selectable enhanced Vehicle Stability Control (VSC) as well as Hill-start Assist Control (HAC), Downhill Assist Control (DAC) and Traction Control (TRAC).
Steering is a speed sensitive electrically power-assisted rack and pinion system that Toyota says is cleaner than before and "eliminates hydraulic components that need oil, while delivering improved cornering performance and better flat ride for more sedan-like control."
It may be more sedan-like, but you shouldn't forget the higher center of gravity in this class of vehicle, which means it isn't going to handle like a BMW 3 series no matter how much you may want it to. You want 3 series handling, buy a 3 series.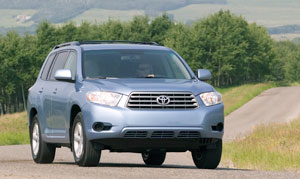 Brakes are discs all around, with power assist, ABS, EBD and Brake Assist. Brake feel is very nice, not too grabby or overboosted.
I should also mention Highlander's improved towing rating of 5,000 pounds (2,268 kilograms), which will be important to many customers.
Inside, the Highlander is comfortable and efficient. The dashboard layout is straightforward (including HVAC and audio controls that are models of simplicity) and you even get a small LCD screen in the center that doubles as a monitor for the backup camera. You might think the screen's a little small to be useful, but it isn't. The downside is that, like so many other such screens, it (and the rear view camera) can get washed out by bright sunlight.
The seats are comfortable and supportive, and the center row captain's chairs feature a nifty center section that stows under the front console and can turn the separate seats into a bench for those times when you need an extra seat.
Rear seat room is okay, about on a par with other such vehicles, and both the center and rear rows fold down easily to create a space large and flat enough that you could use the Highlander as a hearse.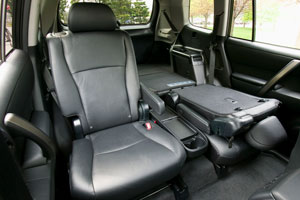 Toyota says the new Highlander offers more legroom for second and third row seat occupants, a higher hip point for more comfortable seating, increased shoulder width and more headroom. Headroom still isn't enough in the third row to let you wear your favorite ten gallon hat, but it isn't bad.
One thing that bugged me was the grab handle on the driver's door armrest, which gets in the way of operating the window controls. It's a very un-Toyota-like oversight, though hardly enough to make one run away from the dealership. Window controls for the center row are a long reach away as well, with that same silly grab handle also in the way, but on the upside the center row windows retract all the way down into the doors, just as they should (but so often don't).
You get auxiliary power outlets and an MP3 player input up front, and between the driver and front passenger is a nice big storage bin. An "ankle biter monitoring" convex mirror sits up high on the ceiling, sharing its space with the sunglasses holder one so often finds there (It's two gadgets in one!).
The greenhouse is excellent, with good views outside from all seats. The outside mirrors are big and efficient, without being obtrusive enough to double as pedestrian slappers.
The rear hatch opens as a whole unit or you can choose to just open the glass part, which may come in handy sometimes.
Highlanders come standard with such amenities as cruise control, an AM/FM/CD/auxiliary input sound system with MP3/WMA capability and six speakers, a climate control system with rear-seat ducts, power windows and door locks (with keyless entry) a telescoping/tilting steering column, a tire pressure monitoring system and 17inch wheels with wheel locks.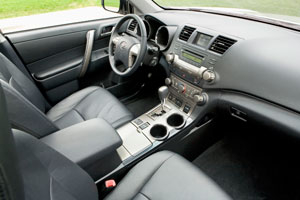 Higher end trim levels can add such toys and tools as that abovementioned 3.5 inch LCD screen with backup camera, a six-CD changer, power seats, independent front and rear HVAC, steering wheel-mounted audio controls and an upgraded JBL audio system that's much better than the garden variety Toyota stereo.
Safety equipment includes seven airbags, including dual-stage ones for the driver and front seat passenger, and roll-sensing curtain shield airbags. All seats get three-point seat belts and, a lovely touch, adjustable B pillar shoulder belt anchors on the first and second row that you can move up or down so they don't cut your neck at an awkward angle. Front passengers get active headrests meant to reduce whiplash, while those pesky jaywalkers who just have to run out in front of you may benefit from an energy absorbing hood and fender design.
I really liked living with the new Highlander. It's a tad big for my needs, and it isn't as much fun to throw around as some of the competition, but the package as a whole is a winner. If you're one of the many consumers who needs an SUV in this market segment, the Toyota Highlander should definitely be on your test drive list.
The Highlander starts at about $27,00 ($39,600 Canadian). The top line model with 4WD and plenty of toys starts at about $38,000 ($49,900 Canadian).