2006 Toyota 4Runner Limited
by Jim Bray
(photos by the author)
The 2006 4Runner continues to show that Toyota's long-running SUV franchise is a fine vehicle with legendary off road capabilities that would undoubtedly make it suitable for taking just about anywhere short of the surface of the moon.
And it would probably perform well there, too, with appropriate modifications to make it work in an airless environment. And once you figured out a vehicle to get it there…
I drove the V8 version of the 2005 4Runner Limited several months ago and, though I liked it a lot, my subjective judgment put it just a smidgen behind a Jeep Grand Cherokee, mostly because of the Jeep's awesome Hemi engine and its superior Boston Acoustics audio system.
But the 2006 4Runner Limited I drove more recently probably would have won.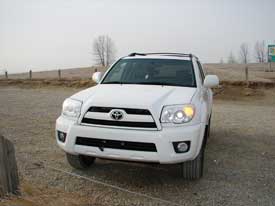 ...continued
While it didn't sport the V8, this SUV still has plenty of grunt. In fact, I was surprised to find that (power-crazed knave that I am), I didn't miss the extra two cylinders. Of course, I didn't tow anything or take the 4Runner anywhere seriously off road, either, but for my week of mostly city and highway driving this V6 offered as much power and torque as I could have reasonably wanted – and it undoubtedly saved some gas, too.
The V6 is a 4.0 liter, DOHC, 24-valve unit with sequential multiport electronic fuel injection beastie and variable valve timing (with intelligence) that qualifies as an Ultra Low Emissions Vehicle (ULEV). This is pretty darn good for an SUV. The engine is rated at 236 horses @ 5200 rpm and 266 lb. ft. of torque @ 4000 rpm.
This compares with the V8's 260 horses @ 5400 rpm and 306 lb. ft. of torque @ 3400 so, while you lose some horses and torque with the V6 (yet still get more than adequate performance), the "cylinder-challenged" version is estimated to get 21/28 mpg compared to the V8's 19/25. Not a huge difference, but over time it could add up.
The V6 is very smooth and pulls well. It's coupled to a smoothly-shifting Super Electronically Controlled Transmission [Super ECT] that isn't afraid to downshift when you want to pull out and pass.
The 4Runner Limited in V6 livery features Part Time Multimode One Touch 4WD System with Vehicle Stability Control (VSC), Hill-start Assist Control (HAC), Downhill Assist Control (DAC) and Active Traction Control System (ATRAC). You also get engine, fuel tank and transfer case protection, and an automatically disconnecting differential. This is part of the reason the 4Runner is known for its off road ability.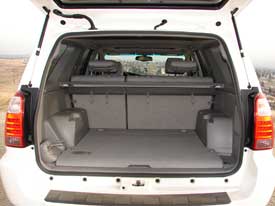 Suspension is double wishbone, independent up front, with coil-springs and shock absorbers. Out back (oops, wrong manufacturer!) there's a 4-link suspension with gas shocks, coil springs and stabilizer bar.
Brakes are disc all around, with ABS and a good set of P265/70R16, all-season radial tires. You even get a full sized spare.
Steering is variable assist power rack and pinion.
All of this contributes to a vehicle that drives far more nicely than I expected from a "serious" SUV. It's no sports car, but nor does it feel particularly truck-like.
Inside, the 4Runner Limited is a very nice place to do business. It features creature comforts I didn't expect, including a steering wheel that both tilts and telescopes, heated leather seats with power adjustments (8-way, with memory settings for the driver). Climate control features dual zone automatic temperature control and a cabin air filter. The controls are a tad funny-looking and take a moment to figure out, but they work well.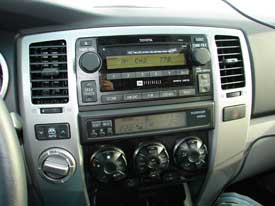 Thanks undoubtedly to the upgraded seats with innumerable adjustments for the driver, I liked the 4Runner's driving position. A lot. It's very comfortable and eminently suitable for longer trips. The rear seat is also very good, all things considered, with seatbelt receptacles that tuck out of the way nicely, and a minimal center tunnel.
Instrumentation is full and clear and switches, stalks and other controls are well located and easy to figure out. They feel good, too.
There's a good greenhouse and a good-sized sunroof.
Alas, all isn't perfect in the world of 4Runner Limited. Toyota says its audio system is a premium one by JBL, featuring the usual AM/FM 6 disc in dash CD changer one would expect. It also has steering wheel-mounted controls and MP3 capability including an audio auxiliary input jack. But despite 10 speakers spread around the interior, I still found the sound anemic compared with other systems that are out there, which just goes to show that it takes more than a respected audio brand name to ensure premium sound.
On the other hand, it's nicely laid out and very easy to use.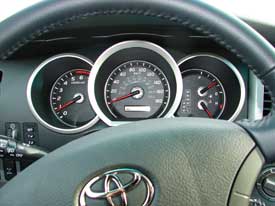 I also thought the power window controls were hard to get at. They're mounted low, under the primary arm rest, and are quite awkward. And the HVAC display, which is a liquid crystal, is very hard to read in sunlight, especially if you're wearing sunglasses – though it's fine at night when it's illuminated.
Speaking of illuminated, the front center console cup holders are lighted, which is an interesting touch.

There's plenty of storage space, thanks to the nature of the SUV beast, including 60/40 split/fold down rear seats and various cubbyholes.
Safety equipment includes 3-point belts for all occupants. Up front, there are seatbelt pretensioners and force-limiters as well as dual front airbags. The Limited ups this ante with seat-mounted side airbags for the driver and front passenger and all passengers get curtain side airbags.
My tester's price tag was $49,950 Canadian (base 4Runners start at $39,960), not including freight and delivery charges. US models start at $27,635US, with the Limited starting at $34,350.
Despite not being a truck or SUV-type of guy, this 4Runner is a vehicle I could easily live with. It's comfortable, gutsy, hauls lots of stuff and is even quite fun to drive. And as mentioned, while I thought the V6 would be a poor compromise compared with the extra grunt of the V8, in my week with the 4Runner Limited, I was surprised to find that I never missed it.