Toyota FJ Cruiser – The Legend Lives Again
By Jim Bray
Once upon a time, when the earth was young, Toyota Land Cruisers roamed the lands. Keen-eyed wheel watchers would often find Toyota's heavy duty four by four side by side with – or instead of – the famous Land Rover as they navigated a wide variety of wild and wooly wastelands worldwide.
Ancient specimens of these workhorses undoubtedly still serve their masters, bringing civilization to the wilderness the same way the revered Douglas DC-3 still flies in and out of untamed corners of the globe.
But whether it was global warming, shrinking habitat, or a lack of profitability, the legendary FJ40 Land Cruiser eventually made the endangered vehicles list, and finally became extinct, leaving a void in the global 4x4 market that consists these days mostly of softer, more civilized and comfortable vehicles that are as good for every day driving as they are at conquering Everest.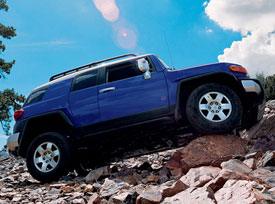 Until now. In one swell foop, Toyota has fabricated a fully fledged 4x4 phoenix that, on one hand, recreates the spirit and utility of the classic FJ40 while on the other hand imbuing it with a modern yet mature mien that's marvelous – as long as you don't leave home without your gas company credit card.
One look at the new FJ Cruiser, especially from the front, and you see "Land Cruiser" - even to Toyota's eschewing of its "big pretzel" logo from the grille in favor of the traditional Toyota text logo of old. It works to instantly tell you what Toyota is doing with this new FJ.
From the side it's less FJ40 and more "Toyota out Hummers the Hummer." The vehicle makes a statement, but in a slightly more subtle way than GM's H-vehicles. It's definitely boxy, but you don't get the impression that you could cut yourself if you ran your hand along one of its edges.
You don't cut quite the swath through traffic as you do with the Hummer, either, but that isn't necessarily a bad thing.
Short overhangs front and rear and high ground clearance indicate a vehicle happy to hustle up hills and down dales, and the rear features an externally-mounted full size spare tire and a side-hinged tailgate/door that opens 90 degrees wide – and locks there – to facilitate putting in and taking out whatever stuff you're hauling to the ends of the earth.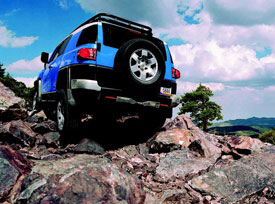 My tester sported the bright "Voodoo Blue" paint job (with the FJ's standard white roof) that is nothing if not an attention getter. I got more stares (well, I think it was me they were staring at….) in the FJ than in just about any new vehicle I've driven short of the Porsche 911.
Inside, once you master the high step up, the FJ is surprisingly comfortable and civilized. The exterior color is repeated on the interior panels (so if you buy it in Voodoo Blue, bring along sunglasses!), and it features a kind of minimalist bent that reminded me of the interior of the new Mini Cooper in that you aren't bombarded by buttons and baubles. It's an interior that's at once functional yet pleasant.
Instrumentation is also minimalist, but you get everything you need (tach, speedo, voltage, temperature, GAS GAUGE) and it's clear and straightforward – even attractive. The interior seems designed for off road utility, with water resistant fabric seats and rubberish floor and mats.
The driving position is high but not bus-like, and between the seat adjustments and tilt steering wheel I had no trouble finding a driving position that would be comfortable for many hours behind the wheel. The sun visors are a long reach away, and won't be much good if you want to swing them around to the side windows, but such is the nature of this beast.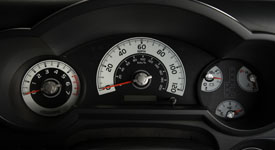 The windshield is wide but short, with a kind of "cinemascope-like" aspect ratio. But forward visibility is good and three wipers ensure the moisture and ooze you pick up gets thrown off efficiently. The view to the rear isn't nearly as good, but the side mirrors are pretty good and, however you slice it, there are worse greenhouses.
The AM/FM single disc CD stereo (with MP3 and WMA capability) is surprisingly good, with very good sound, though it runs out of steam well before your ears start bleeding (which may not be a bad thing!). My tester didn't have the optional steering wheel-mounted controls, but the head unit is mounted nicely at hand and has big, easy-to-read-and-use buttons (though, as with other Toyota stereos, the volume knob has no tactile feel whatsoever). Upgraded stereos are also available.
Ergonomics throughout the interior are generally very good; it's a bit of a reach to some of the lower buttons – such as the rear differential lock and parking sensor controls – but they aren't ones you'll use all the time anyway.
One ergonomic flaw is the clock, which washed out completely in bright sunlight if I was wearing my sunglasses.
The rear seat, accessible by rear-hinged "suicide doors," splits and folds to create a mostly flat cargo area, is also surprisingly comfortable and I imagine it would be a fine place in which to bounce over a few rocky crags, thanks both to the seats' generally supportive cushions and an overall vehicle suspension that's bouncy but not jarring. Rear seat passengers are a tad closed in, though, since their small windows are mounted mostly ahead of where the seat back is.
Driving the FJ is quite rewarding. This is no sports car, but it's surprisingly pleasant and responsive and, depending on the trim level you order, you can get power mirrors, cruise control, privacy glass, clearance and backup sensor, keyless entry, side airbags and the like, all of which make life more pleasant if not more meaningful.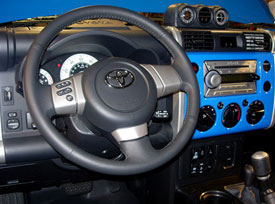 Step on the gas and the FJ's four liter V6 (which features electronic throttle control system with intelligence, sequential multiport electronic fuel injection, 24 valves, DOHC and intelligent variable valve timing) starts putting its 239 hp @ 5200 rpm and 278 lb.-ft. of torque @ 3700 rpm down to the road immediately. With a nice throaty rumble, the FJ moves forward handily, and the six speed manual transmission of my tester (which beeps once when you shift into reverse) did a really nice job of handling the V6. It also shifts very nicely, truck like but smooth and with fairly short throws.
There's enough torque here that you can zip up through the gears quickly to keep the revs low and save some gas, yet still accelerate pretty much as needed.
Automatic transmission models can be had in rear wheel drive or part-time four wheel drive. The rear drive model features an automatic limited-slip differential.
Steering is power-assisted variable-gear rack-and-pinion, and the brakes are power-assisted four piston front (2-piston rear) ventilated discs with ABS, Electronic Brake-force Distribution (EBD) and Brake Assist. The brake feel is fine; stops are straight and steady without being grabby enough to feel as if you're going to stand the FJ on its nose.
Vehicle stability and traction control are standard. The 17 inch wheels come dressed in 265/70 series all season rubber, and you get a full sized spare.
The FJ's suspension features high-mounted, double-wishbones and a stabilizer bar up front; the FJ's ample bum features a 4-link suspension with lateral rod, coil springs and stabilizer bar. The result of all this is a vehicle that's surprisingly civilized, yet which oozes off road capability right from its DNA.
The worst thing about driving the FJ on the highway is its bricklike profile, which can take a bit of a buffeting when it's blustery.
Then there's its gas mileage. Toyota's U.S. web site says the FJ Cruiser is EPA rated at 16/19 MPG city/highway, which probably isn't bad for a vehicle like this. I didn't actually calculate my mileage in the FJ (I'm under therapy for depression and didn't want to risk a relapse) but in about 300 miles of zipping around all over the place I spent over $80 on gas. Not outrageous, perhaps, but not as good as I had expected from a V6.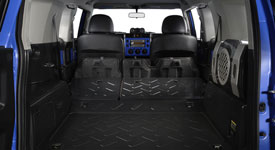 What really hurts, especially in times of high gas prices, is that Toyota insists the FJ drink premium unleaded. So there'd better be a gas station offering premium petrol not too far away when you head off into the boonies.
Fortunately, Toyota makes a good roof rack available for the FJ that'll probably be the perfect place to strap jerry cans.
A real positive is the FJ Cruiser's price. I was astounded to find that this serious piece of off road auto technology starts at just $21,710. My "B package" tester (with active traction control and some other handy or convenient options) tips the fiscal scale at approximately $26,600. For what you get, this seems quite reasonable.
And it'll leave some money in your bank account for all that premium gasoline.