Thank Heaven for 911

By Jim Bray
(photos by the author)
Porsche. Like the Maltese Falcon, it's the stuff that dreams are made of. People fantasize about Porsche, lust after Porsche.
Me, too. I've always loved Porsche – from afar, alas – especially the classic 911 that in its latest incarnation is more gorgeous than ever, with lines so muscularly seductive and graceful it can bring a lump to the throat of the car nut.
As a writer fairly new to covering the auto industry and working to build credibility in that niche (no laughing, please!), when I was invited to take two versions of this automotive jewel for test sessions, wild horses (or even prancing ponies) couldn't keep me away. So it was written and so it was done: I got to try the Carrera S hardtop and the Carrera Cabriolet convertible.
Is this a great job or what?
The Carrera S starts at about $119,000 Cdn./$79,100 US, but "mine" included options such as power seats, a striking Arctic Silver Metallic paint job, Tiptronic S transmission, upgraded stereo, etc. That upped the sticker to the abovementioned $133K Canuck.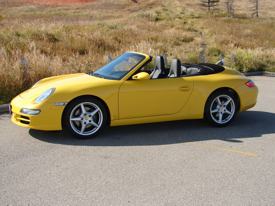 The current, "997" version of the Carrera S brings 355 horses, 295 lb-.ft. of torque, zero to sixty in five seconds and a top speed 177 mph to the table. A racer wannabe's dream, right? Of course. But it's more than that, too.
My first impression after picking up the car and heading home in rush hour traffic (besides "Hey, everyone! Look at me!") was that this is a car you could enjoy every day. It's very civilized and comfortable and comes as well-appointed as one would expect from this far into the automotive stratosphere. Rich leather, state-of-the-art technology and electronics, put together superbly with very well thought out ergonomics are just some of the car's benefits.
Heck, even the plastic's classy. And the cupholders fold out from behind a trim piece on the dash, where they're hidden completely out of sight when you don't need them. A nice touch.
It's easy to imagine the Porsche as your personal daily driver on that happy day when the Lotto gods smile and the wife consents to dropping that many dollars on something that's "just a car."
Then there's that sound! The song of the Carrera S engine is a combination of joyful play and tough business. It's probably just about the nicest tune one can get from six cylinders.
I was on the hook and the 911 was reeling me in.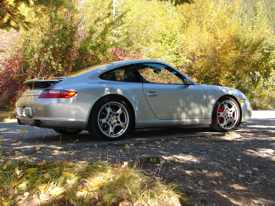 It was wonderful to have my fanny parked in one of the world's great cars and to take it out for a run. The sensations flooded in: gobs of power, sublime handling, a cabin that seemed designed specifically for my body, controls that were logical and straightforward once you figured them out. I wanted to keep going and going.
I was surprised how much road noise you get at speed in the Carrera S. On the other hand, there's a lot of rubber hitting the road at all four corners and that undoubtedly contributes. Other car writers have said the 997 incarnation of the 911 is a lot quieter than before, so the old car must have been a pip!
So the road noise becomes part of the overall experience, which is of being "at one" with the car and the road upon which it is being unleashed.
Those tires caused me more angst than just their rumble, too, but that's a story for another time. Suffice it to say, I wish there were a spare.
When cruising along in the 911 you feel as if you're the king of the road and if I had tried recording the envious stares I'd have needed a stenographer. And possible a number higher than "googolplex."
As a comparative newbie, however, I found myself more than a little intimidated by the 911. Oh, there were times when I just had to wind it out a bit, usually where there were long stretches with no police in sight and the car egged me on non-verbally – but I never came close to exploiting this remarkable car's capabilities.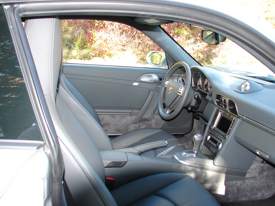 Fortunately, I had a couple of chances to take the S out on some favorite twisty bits. As marvelous as these experiences were, I was surprised how much real work it is driving the car. It's nice work, of course, but as civilized and cultured as this car is to be inside, this is no highway cruiser where you're isolated from the road. Rather, the Carrera S imparts a visceral driving experience in which you put as much effort into the drive as the car does. You feel every nuance of the road, so much so that if you drove over a dime (instead of stopping on it, which the Carrera S also does) you'd undoubtedly hear and feel the "thunk" as the rubber passed over the metal.
It's a "pure" driving experience, if you can say that of a car that also has every creature comfort you could want short of an onboard biffy.
And speaking of a biffy, you'd best visit one before heading out. At its most racy, this car can be a bladder botherer, thanks to Porsche's Active Suspension Management (PASM), which the company says adapts to both driver input and road conditions. I believe it.
Even in its most "basic" mode, the Porsche's handling seems almost as if the steering wheel is hardwired into your brain. It's tight and catlike, with a flick of the wrist all that's required to change lanes or enter curves. But if you put PASM into its sportiest mode (via switches on the central stack), Porsche's electronic brain has an epiphany and changes its demeanor from high end weekday hustler to race track ripper.
This race track mode can be downright jarring if the road surface is, shall we say, less than optimally smooth like it is on a good part of my favorite back road. It's definitely designed for ultimate performance and handling, not driver comfort.
Which is why you'll want to have an empty bladder before you head out.
The Carrera's steering is variable ratio power assisted, never, ever sloppy, and apparently is sensitive to driver's input rather than being strictly speed or torque sensitive. The steering wheel includes buttons and wheels for such amenities as stereo and phone, and a little thumb wheel on the right side acts as a cursor control and "mouse click" activator for the various gadgets. It's an elegant solution compared with some such controllers and it works well.
The display whose cursor it controls is a little low down on the center stack, where you have to take your eyes off the road to see it, but it isn't onerous.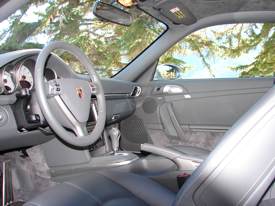 The steering wheel is manually adjustable for height and distance and, combined with the abundance of power adjustments to the seat, finding the perfect driving position is child's play.
The Tiptronic S transmission is an automatic, but it's a very smart one. In manual mode you can run the revs up nice and high before you shift via steering wheel-mounted rocker switch thingies. I'm not completely convinced about those shifters 'cause, while they're great for upshifts, they're shaped and mounted so that when down shifting you have to move your hand from its optimum position on the wheel. I think it's more a matter of just getting used to it, though and I'm more than willing to keep Porsches around long enough to test that theory.
The automatic mode is interesting. The Carrera starts in second gear in that mode, undoubtedly for smoothness and fuel economy, and then jumps up to fifth quicker than you can say "Wheee!". Shifts are very smooth, and if you're in the mood to teach some wet-behind-the-ears kid a lesson (or just want to take manual control for cornering, etc.), you can access manual mode temporarily merely by activating the shift thingy on the steering wheel.
Do that, and the Carrera S jumps to attention happily, though if you don't keep it up the car gets bored quickly and goes back into automatic mode. It almost seems like a rebuke, and when it happened to me I hung my head in shame. Bottom line: if you don't push the Porsche it shifts as if for city driving and gas mileage (such as it is). Demand more and it acts like a manual.
The result of all this technology is a rewarding and exciting drive and, despite all the cautionary tales I've heard over the years about the perils of a rear engine configuration, I had no experiences with the car's bum wanting to ride out front. Forty-some years of 911 evolution have undoubtedly contributed to this.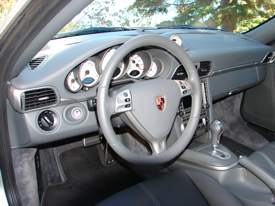 The stereo is excellent and easily overpowers the road noise – as long as the small sun roof is closed. The audio, navigation, telephone and the like (the list of stuff is too long to reproduce here) is well laid out, close to hand and quite intuitive. The automatic HVAC is single zone, which is probably not too surprising since everything in the car seems driver-focused. Instruments are full and clear; a big analogue tachometer sits in the center with a digital speedometer and info readout below it. An analogue speedometer sits off to the left of the tach.
Porsche says the 911 is a 2+2, but the rear seats are probably as functional as a government bureaucracy. I pried by butt into one of them and sat as long as it was comfortable, by which I mean that I exited almost immediately. Those little seats will work for emergencies or small kids (or butts that aren't attached to writers with sedentary lifestyles), but are best suited for carrying stuff.
The seat backs also fold down to create a reasonable shelf extending to the rear window, and when they're down they do a reasonable job of hiding the low things you've stored on the rear seats themselves.
After my week with the Carrera S I hopped into the Carrera Cabriolet, a lower model (it isn't an "S") but soft top version of the 911. This bright yellow beast got even more stares and comments than the hard top S, though it seemed to be much more of a "babe magnet" than the hard top S.
Most of the people said it was the paint color first, then the retractable roof, that got them excited.
And here I had thought it was the driver…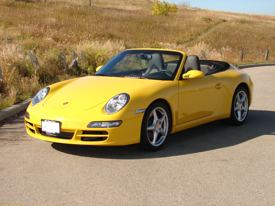 ...continued
Driving the Cabriolet you can immediately notice it has a lot more body flex than the hard top. This is more a convertible thing than a Porsche thing, of course, since convertibles tend to be a tad less "solid" than hard tops, for obvious reasons. It doesn't affect the experience – in fact it could be argued that the open air aspect of the convertible adds something to the enjoyment, if you're into such things.
The roof goes up and down via a button on the center console; there's nothing to unlock or unhook along the headliner – hold the button and the roof goes through its choreographed routine fairly quickly and very efficiently. It's slick.
Alas, from an aesthetic point of view I don't think the Cabriolet works as well as the hard top. While the hard top is, to me, one of the most attractive cars on Planet Earth, the Cab looks like its bum needs a few trips to the gym and when the top is up the car gets a bit of a squashed bug look.
Not that it suddenly becomes hideous, mind you. Heavens no! But in my never humble opinion it loses some of its classic beauty. Beauty is in the eye of the beholder, of course, and judging by the audience reaction to the Cabriolet I may be in a minority.
My test Cabriolet was a little more "Spartan" than the S, but that doesn't make it a slouch by any means. Gone were the power seats, forcing one to actually grab and activate handles (horrors!), as was the navigation system and the "race track" mode. It's essentially the same car as the S inside and outside, however.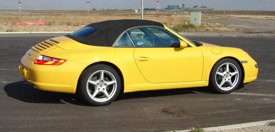 On the other hand, since this isn't the Cabriolet's S version, horsepower drops to 325 @ 6800 rpm. Which is still plenty.
Both cars use the same water cooled 3.6 liter six cylinder engine with four valves per cylinder and such things as dual knock sensors and an onboard diagnosis system to monitor things. Both cars have that speed-sensitive spoiler that makes the car look even cooler when it's up (and which undoubtedly helps the aerodynamics and stickiness to the road as well), and four wheel disc brakes with big, perforated rotors and four piston calipers.
You also get ABS and Active Brake Differential, Porsche's Stability Management (PSM) and traction control.
Safety equipment includes dual front air bags with Porsche Side Impact Protection System. The 911's security system includes interior surveillance.
Not surprisingly, the windows of both models are power operated and the driver can put either side window up or down with one touch of the button. The windshield wipers (the stalk of which is one of the few things that doesn't display wonderful tactile feel) are rain sensitive.
Options that helped bring the Cabriolet's price from its base of $115,650 Canadian to the final tally of $133,365 include full leather interior, the Bi-Xenon headlight package, Tiptronic S automatic transmission, seat heaters, the high end Bose sound system and the "Sport Chrono Package plus" that includes a stop watch with which you can track just how quickly you're leaving the competition behind.
It was a tad cool outside during my week with the Carrera Cabriolet, so that colored my enjoyment of topless motoring (I had to wear a shirt), but it's easy to see why convertibles have such a following. I love the view with the top down, though I'm not sure I'd want to live with the compromises convertibles demand when the top's up, especially the blind spots.
Still the Cabriolet's top is tight and warm and though there were a few drips down the inside of the side windows after I wand washed it before taking it back, it wasn't a big deal.
What is a big deal is the power, handling and overall performance of this motoring classic, in either of the versions I tried. The 911 is truly a driver's car and though it demands your attention (which is not a bad thing!), it rewards you for your efforts by returning a fabulous experience the likes of which you may want to tell your grandchildren about years from now.
The 911's new interior is attractive and classy, while simultaneously functional and logical. It's mostly new "retro-ish" exterior is to my eyes the most attractive yet in a long line of beautiful 911's.
My bottom line, as a Porsche neophyte?
As much as I loved my time in the cockpit (and who wouldn't?), I'm not sure my bladder nor my butt could take driving the 911 full time, and certain family members would definitely have something to say about spending $133,000 on a car. But it will sure be a wonderful addition to the stable of vehicles I'm planning to indulge in when I sell the movie rights to my novel. I'll park it right between the Infiniti M and Lexus RX hybrid. Or maybe next to the Aston Martin.
Being a hard top kind of guy, if I were to get an 911 I'd definitely lean away from the soft top. There's nothing wrong with it, but I'm perfectly happy with a sunroof to let in the air, and so far as I'm concerned the sensuously flowing body of the coupe is far more attractive than the "aesthetically compromised" Cabriolet.
There's no denying the greatness of the 911. This is a car that has earned its reputation through decades of refinement and technological advance until now it sits at or near the pinnacle of sports car engineering.
No small feat, that.