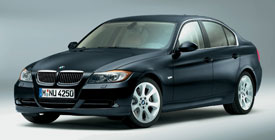 Lots of "Whee" from BMW's 3
By Jim Bray
BMW's 3 series is living proof that the company's slogan "the ultimate driving machine" isn't just hype.
Not only that but, except for its tail light design, the newest version of the 3 has managed to avoid the controversial dumpy rumpiness of recent BMW exteriors, as exemplified by the current 5 series sedan and the first iteration of the current 7.
For what more could anyone ask?
Not much. I got to spend some quality time behind the wheel of three 3's (which, mathematically, make one 9) of various configurations and by the time my test periods were over I knew I was going to really, really miss driving them. And I was right.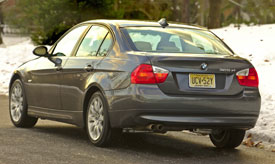 Something Old, Something New…
BMW says the all-new 3 blends traditional 3 series character and tradition with "progressive esthetics and enhanced functionality." I guess this means it's badder and gooder at the same time.
3's also feature new inline 6 cylinder engines that maintain BMW's famed smoothness and "to die for" sound while upping the power and torque ante and offering better fuel efficiency at the same time.
The 3 also features a new double-pivot front suspension, a new five link rear suspension, greater body rigidity, enhanced aerodynamics and more room inside.
It's a darn fine looking vehicle, with a distinct look and a feel of quality; it's very comfortable to park one's posterior in any seat – but if you're the person behind the wheel you'll have the best time of all.
All 3's come with 3 liter inline six cylinder engines, but the 330's is a higher output version than the 325's. This translates into 255 horsepower @ 6600 and 220 lb-ft. of torque @ 2750 compared to the 325's 215/185 respectively. Both engines fire up at the push of a button (thanks to the "comfort access" option), growl out a lovely tune, and perform like stallions.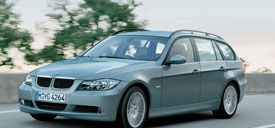 My test 3's were the 330i and 330xi (which are rear and four wheel drive versions, respectively, of the four door sedan), and the 325xi Sports Wagon (an all wheel drive station wagon version).
BMW's xdrive all wheel drive system offers variable torque split in which the amount of torque going to the front wheels is controlled by a multi-disc clutch that can be either open fully, closed fully, or be anywhere between.
Ultimate Drive…
This is a fast car, but speed is only part of the equation: it's also wonderfully smooth and refined. The "big" engine never seems to be working, even if you put the spurs to it (though you do get treated to that happy growl) and, while the smaller engine does seem to expend some effort, it seems more than content with its lot in life.
The torque from both engines is available at low revs, which helps the car positively leap forward when you step on the gas, and before you know it you're forced to ease off lest you tempt those loveable rapscallions in blue.
I remember tooling along the highway in the 330i at about the speed limit (no, really!) and coming up behind some person who seemed to think we were in a playground zone instead of the open highway. When with a gentle press of the accelerator I pulled out to pass, the 3 leapt ahead and zipped around the slowpoke so quickly I'm surprised he didn't get out of his car to see why he'd stopped so suddenly…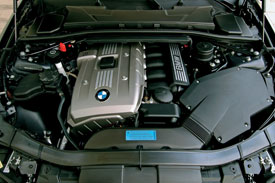 But fast only gets you so far; you also need a car that can handle, and the 3 does it superbly. I preferred the rear wheel drive version to the all wheel drive: it felt tighter and slightly more responsive. But I don't think I've ever driven a four door vehicle that handles better than any of these 3's do. The suspension is sporty stiff but not too much so (it feels very close to perfect).
Turn the steering wheel and the 3 seems to ask voicelessly "is this far enough, sir?" And it usually is. It isn't Miata or Mini territory, but the 3 is a much bigger and heavier car than they are. It certainly handles rings around any of its competition that I've driven.
The all wheel drive has its uses; for example it can come in quite handy when road conditions get less than optimal: if you like heading out to ski you might prefer the x versions. On the other hand, the 3 handles so well right out of the box, and has all the digital nannies one could want, that the rear wheel drive version will be more than adequate under most conditions. It's also lighter, less complex and less expensive.
All of my testers came with the standard 6-speed manual transmission, and it's a beauty. Throws are short and shifts are achieved almost psychically. The clutch is light and feels just right, though the one on the 325xi Sports Wagon was a tad heavy compared to the sedans'.
A six speed automatic is also available.
Brakes are ventilated discs with ABS and Dynamic Brake Control (DBC). 325's come standard with 16 inch wheels wearing run flat all season tires; 330's get an extra inch of wheel diameter.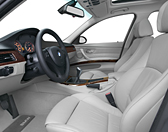 Inside Edition…
The sport seats of my testers cradled the driver and front passenger in supreme comfort, though you aren't coddled excessively. This is more a driver's car than a luxury car – an interesting counterpoint to vehicles such as the new Lexus IS, which isn't quite as much fun to drive but which is a little nicer to live with.
Part of the reason I think the Lexus would be easier to live with is its superior ergonomics inside. It isn't as if the 3's are like riding in a buckboard, but the audio controls on the head unit aren't intuitive, nor are the various switches and buttons as well thought out as in the Lexus. To be fair, though, by the time I was finished my third week in a 3 I was getting used to it all, so this is a pretty minor complaint.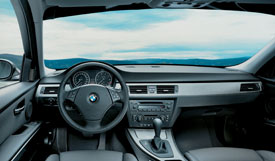 The my test 3s' interiors were kind of Spartan in appearance, though, or perhaps it could be called "minimalist". Everything you want is there, but there aren't a lot of flashing lights or other "gee, look at me" gadgets. Fortunately, the stern black surfaces are broken up by either an attractive wood grain or an equally attractive but more high tech-looking metallic trim. And you can get interior themes that aren't mostly black.
Instrumentation is analog and straightforward, with a couple of small digital displays between the speedometer and the tachometer. Controls on the lovely three spoke sport steering wheel of my testers operate the stereo, phone and air recirculation.
The stereo rocks, despite being unhelpful in its actual functionality. My testers were equipped with AM/FM single disc CD systems that sounded better than some home systems I've auditioned. They loved playing loud, but didn't require cranking to sound excellent.
The back seat is fine for two, okay for three, and split/fold down capability is standard in the Sports Wagon version. The Sports Wagon also features a neat feature by which you can remove the cargo net from its perch over the "trunk" and attach it to the folded rear of the back seat, stretching a net to the ceiling mere inches behind the front seats. This opens up a marvelously flexible storage space while holding the stuff in the rear and preventing it from slamming into your back if you tromp on the binders.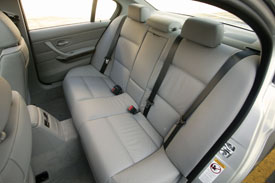 330's also come with Xenon adaptive headlights that turn with your steering wheel input (it's optional on 325's) and there's a nifty "ground lighting" feature in the door handles and under the doors that illuminate the ground near the 3 (which is nice if, for example, you're trying to avoid stepping out into a puddle) as well as making it easier to find the door handles when it's dark.
Sedan models come standard with a power moon roof, but the Sports Wagon ups the ante with a mostly marvelous dual panel Panoramic sunroof that's huge. Unfortunately, under quite a few driving conditions (mostly involving wind) an awful "whup whup whup" noise inflicts itself on you when the Panorama roof's open all the way. It sounds almost like someone's trying to land a Huey helicopter on the roof and is only bearable for a few seconds. The "half open" position, which is still great, doesn't display this unfortunate tendency.
Naturally, a car that presents itself as being state-of-the-art will also exhibit safety equipment out the ying yang, and the 3 is no different. Besides the usual bevy of bolsters, belts and bags, you get rear seat head protection (Front-seat Head Protection was standard in the last edition of 3 Series sedans). There are also automatic safety-belt tensioners and force limiters standard at rear outboard seating positions (which were already standard on the previous version's front seats).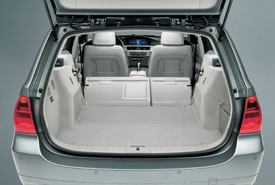 Interestingly, the 3's don't offer up/down adjustments for the front shoulder belts where they come out of the B pillar, unlike many other cars. That said, however, they were mounted perfectly for me anyway – I usually put them at their lowest position – so while I don't know how a tall driver's going to like 'em, I liked' em just fine.
The only thing I didn't like about them was unhooking them when I had to get out again, because it meant the drive was over.
Overall, I preferred the 330's, not that the 325 is a slouch. But the 330s' extra oomph really makes the 3 sing the song of the road, in two part harmony (the car and the driver). My ultimate 3 (not including the M3, which isn't available yet) would have the wonderful practicality of the Sports Wagon, with the "big"engine and rear wheel drive. Unfortunately, the Sports Wagon (aka Touring) is only available in North America as a four wheel drive 325 – which is still a very nice car indeed and would be quite pleasant to spend quality time with.
The 325 xi sport wagon starts at $35,295 U.S. The 330i sedan kicks off at $37,295 and the 330ix sedan at $39,195