Turbocharger Widens the Smiles as Miata eats up the Miles
By Jim Bray
Well, is my face red. Again.
Not with embarrassment, this time, however. A few weeks ago my face was red after driving the Toyota Prius, embarrassed that I had prejudged the car as a sop to the enviro-weenies, when in fact it's a pretty terrific vehicle in its own right. Old prejudices die hard.
Now my face is red for a much happier reason: a week spent under the hot summer sun behind the wheel of Mazda's turbocharged Mazdaspeed MX-5 Miata. I spent so much time roaring around the back roads with the roof down that I ended up being broiled medium well, which for a guy who doesn't go outdoors except to drive cars, is quite something. And, other than the sunburn, I loved every minute of it!
The Mazdaspeed Miata takes everything that makes the basic Miata wonderful and ups the ante to move the little critter from being a great fun car to being a great and fast fun car.
Wow! Even without the Mazdaspeed treatment, the Miata hearkens back to the best of the two seat open-top roadsters of days gone by, bringing them into the 21st century with up-to-date design and manufacturing, and the kind of reliability of which the three MGB's I owned in my life could only dream.

I have to admit, though, that at this stage in my life I'd probably never own a Miata to use as primary transportation like I did with my B's when I was in my 20's. That said, however, the Miata in general and the Mazdaspeed version in particular just may be the ideal toy for those who want the joy of classic open-top motoring without either being left on the side of the road (as my MGB's did regularly) or having to go farther up market to such vehicles as the Honda S2000, Porsche Boxster or BMW Z4.
It brings to mind the old cliché that this could be the most fun you can have with your clothes on – except that you could easily drive the Mazda naked, though I certainly wouldn't want to experience that sunburn!
The engine is the standard 1.8 litre four cylinder Miata engine, but with the "Tim the Toolman Taylor Treatment" (MORE POWER!) that adds a turbocharger and intercooler to bring the nets to 178 horses @ 6000 rpm and 166 lb-ft of torque @ 4500 rpm, compared to the "garden variety" Miata's 142 horsepower @ 7000 rpm and 125 lb.-ft. @ 5000 rpm.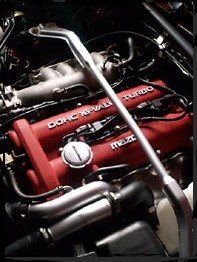 And you really, really feel it, especially as the tachometer passes 4000 rpm and the Mazdaspeed leaps ahead as if an afterburner has just kicked in.
The engine is mated to a short throw, slick shifting 6-speed manual transmission that seems geared for a spirited ride. You'll probably find yourself driving through the city in a gear higher than you'd expect with a 5-speed, to lower the revs and increase your gas mileage – assuming you care about the latter.
I had a little trouble getting used to finding sixth gear (and finding fifth again afterward), but once you're used to their locations it becomes pretty intuitive, though I managed to screw it up once in a while even until the awful time came when I had to take the car back to be pried from my warm, live hands.
You don't really drive this car; it's almost as if you wear it like a suit, it fits you that well. And the car's small size, low center of gravity and fine quality running gear contribute to a car that handles so well it's almost as if your brain is hard wired into the steering wheel and gas pedal.
Contributing to that superb handling is an independent suspension that uses double wishbones, unequal-length control arms, coil springs, and anti-roll bars front and rear. It feels like racing car stuff and is tuned for sporty driving (well, duh!), which also means that you'll feel every irregularity in the asphalt, but not jarringly so – it's more as if the car features "catlike reflexes". Steering is rack and pinion with speed sensitive variable power assist and it's so quick you can pull out from behind some oaf and be out in the next lane with little more than a flick of the wrists.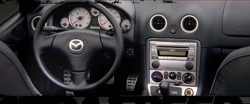 There are no audio, etc. controls on the steering wheel, but the car is so small you can reach everything easily anyway, so it's not much of a loss – and it does contribute to the "pure sports car" feel.

Stopping the Mazdaspeed MX-5 are four wheel disc brakes with ABS, and they work just fine, offering confidence-inspiring stopping power.
Of course it doesn't hurt that those brakes operate on a lovely set of 17 inch alloy wheels wearing ultra low profile, 205/40 series tires. The tires are so thin one person who was admiring the car (a common pastime when you're out in public with the Mazdaspeed) told me they'd gone flat, but of course they hadn't.
I took the car on a day trip that turned into a two day trip (because we couldn't bear for it to end!) into the Rocky Mountains, the ideal place for the Miata. Not only was the combination of long straights and tight twisties a lovely place to test the car's mettle (which it passed with flying colours, handling curves with ease while the turbo handled slow pokes with aplomb), but there's nothing quite like viewing the spectacular mountain scenery with the top down and nature's glory surrounding you on all sides.
If I weren't sure that Mazda would have hunted me down for not bringing their little prize back, I just might have kept going…
Visibility, not surprisingly, is substantially reduced with the roof up; shoulder checking to the left is particularly difficult.
And be careful about the front air dam when you're parking!
Miata has gone upmarket since its introduction, including the addition of conveniences and toys such as power windows and mirrors, a heated glass rear window and an AM/FM/CD stereo, the latter of which performs surprisingly well with the top down thanks to "top up" and "top down" settings. It also sounds very good, though the speakers mounted behind the seats are kind of blocked by the seat backs.
Mazda has put a wind blocker behind the Miata's seats, which is where the rear speakers are mounted, and this helps contribute to quite acceptable noise levels with the top down. You may have to raise your voice, but you can still talk even while zipping along at speeds that would carry a heavy fine.
The seats are very comfortable; you can drive all day and arrive, well, maybe not fresh, but not worn out. The worst thing about the Miata's interior isn't really about the interior: it's a bit of a chore to get out of the car, not only because you never want to leave it, but because you're so low to the ground and the car is so small you almost wish for a crane to lift you out.
Safety features include air bags, a child seat anchor and 3 point safety belts wth pretensioners and force limiters.
You also get keyless entry, a couple of centre console-mounted cupholders that get in the way of your elbow (due to the car's small size and the fact that they needed to put the cupholders somewhere), and projector type low beam headlights.

This is the last year for this version of the Miata, and the new for 2006 incarnation will apparently not offer a Mazdaspeed version, at least initially. From what I've read and seen of the new model, it should be a worthy successor, though it'll be interesting to see how anyone, let alone Mazda, can make this lovely and spunky little rocket any more fun than it already is.
Naturally, I'm willing to give it a try, though!
The 2004 Mazdaspeed MX-5 Miata starts at about $34,495 Canadian, or $26,340 US. That seems a little dear for what's basically a toy, but on the other hand it's more affordable than any other open top roadster I know of, and you get a lot of smiles for your dollars.