Toyota Prius a Real, Live Car
By Jim Bray
Well, is my face red.
I like to pooh-pooh political correctness, and things apparently designed to appeal to the liberal mind set. Hence my built-in aversion to hybrid cars, which at first bloom seemed to be a case of pandering to the enviro-whacko fringe.
After all, Honda's first hybrid, the Insight, was indeed a technological marvel, but so utterly impractical as anything other than a commuter vehicle (much in the vein of the Smart car, though I must admit I haven't driven the Smart yet and so could be all wet). The Insight sipped gas, but with only two seats and limited storage space – and anemic power delivery – it wasn't really a vehicle you could take into the mountain passes and expect pulling power. I know this because that's exactly where I took it.
Look, I have nothing against hybrids and, as a techno guy, I love new technologies. But hybrids seemed to up the gas mileage ante at the expense of the "fun to drive" I love so much, and at a premium price that means you'll probably never recover the extra outlay unless gas prices approach the price of premium bottled water.
Then along comes the second generation Toyota Prius for review and I'm all set to dust off all my political correctness jokes to pepper my column on the hybrid.
Then this fantastic car blew me away, on its own terms! Again, my face is red - or is it green?
Toyota, according to its website, says the Prius is "everything an Intermediate Sedan can and should be: powerful, responsive, accommodating, exceptionally fuel efficient and extraordinarily clean burning." And as it turns out, they're right.
I should have known. Since I drove that first Insight, Honda's Civic hybrid came along and it was a really nice ride that I could easily envision as a daily driver. Then, though I haven't driven it, Honda introduced a hybrid Accord that's supposedly quicker than the gas-only version, Lexus has begun marketing a beautiful and powerful hybrid version of its RX 330 SUV – and the second generation Toyota Prius has garnered all sorts of awards.
The Prius is a smooth, bubble-shaped beastie, looking kind of like how the Pontiac Aztek could have if it were smaller and had its sharp edges filed clean to make it graceful instead of angular. It slips through the air almost silently; in fact, the car's entire operation is so silent it's difficult to tell when the gas engine is running and when it isn't.
Okay, hybrids have evolved into nice, practical vehicles, if pricey.
The heart of the Prius' drive technology is Toyota's Hybrid Synergy Drive, which blends the gasoline engine with electric motor to deliver better power and fuel efficiency than you'd get if the car only used the gas parts. Toyota says it's a "full" hybrid on the road, meaning that it operates in electric-mode only, gas-mode only or a continuously variable combination of the two. This, of course, is how it should be.
The gas engine is a 1.5 liter, 16 valve, dual overhead cam, VVT-i equipped 4 cylinder model that Toyota claims gives the power and performance of a mid-sized sedan. I don't know about that, but the gas/electric combination certainly seems to deliver that performance. The gas engine is rated at 76 horsepower @ 5000 rpm and 82 lb.ft of torque @ 4200 rpm, which isn't a lot - but that's before you add the hybrid stuff.
The engine also helps qualify the Prius as a Super Low Emissions Vehicle (SULEV).
The permanent magnet synchronous electric motor is rated at 67 horsepower @ 1200 - 1540 rpm and 295 lb.ft of torque from 0 - 1200 rpm.
Get a load of that torque figure!
The hybrid system is run by a Power Control Unit that integrates both gas and electric power sources. Toyota claims the result is a 0-60 time of just 10.1 seconds – hardly sports car territory, but Toyota claims it's comparable to the 0-60 time of its 160 horsepower, 4 cylinder Camry. I drove the 4 cylinder Solara right after the Prius (though I didn't actually time either), and I'd have to agree that the claim sounds reasonable.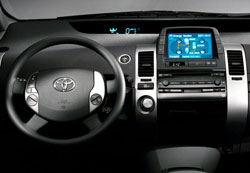 As with other hybrids, braking or coasting turns the resulting heat from friction into electrical energy that's captured and used to recharge the battery. It's an elegant system that works well.
Toyota claims the Prius will get 4.0 liters per 100 kilometers gas mileage in the city and 4.2 on the highway. I never approached those figures (there's a readout on the dash that gives a running tally of your mileage), though for most of my week with the Prius I wasn't trying to optimize my mileage – I wanted to see what the car could do besides sip petrol, so I drove it just like I drive every car to see what it was made of.
And you know, this is a very nice car to drive!. Sure, it's no sports car when it comes to acceleration, but it's surprisingly spry and, while it doesn't really handle like a sports car either, it gave me a surprisingly satisfying driving experience. On my favorite loop into the Rocky Mountains and back, which includes plenty of long straight freeway stretches as well as lots of hills and twisty bits, it performed just fine.
I was blown away. Even on the return trip on the freeway, where I stuck it in cruise control at about 115 km/h, it held the speed beautifully up and down the foothills – and still got me 4.9 liters/100 km, which for my driving style was outstanding. My mileage while driving the Prius as if it were a Champ car was still about 5.6 l/100 km, which is even more impressive as far as I'm concerned.
As with an increasing number of cars these days, Prius gets rid of the traditional mechanical "gas pedal mechanism", instead using an electronically controlled "drive-by-wire" system. Here, instead of a press of the accelerator automatically opening the throttle, your foot pressure on the accelerator sends an electronic message to an on-board computer that you want some get up and go. Toyota says this helps reduce the vehicle's overall weight and gives better and more reliable responsiveness. I don't know about that, but it seems to work fine.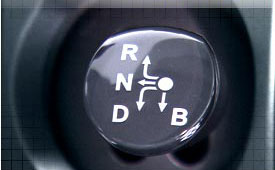 One thing you'll notice right away when you get into the Prius is its gear selector. The Prius uses a continuously variable transmission, which doesn't have conventional gears. The "gear" selector in this case is a little joystick-like device that defaults to a central position regardless of what "gear" you're in. All you do is move the selector to your choice ("D" for Drive, "B" for engine braking – which is good for controlling your speed down hills – "R" for reverse and "N" for neutral) and then drive.
A CVT takes some getting used to, not so much in actually using it but because it seems weird to be driving a car that never shifts. This was my second experience with a CVT and I really like the way they balance performance with convenience. They seem to perform like a manual, but function like an automatic. You lose the "pretend manual" feature of many conventional automatic transmissions, but that didn't bother me.
The front engine/front wheel drive Prius features independent front suspension with MacPherson gas struts while the rear is held up by torsion beams; front and rear sport stabilizer bars. You also get Advanced Traction Control (TRAC), Vehicle Stability Control (VSC) and power-assisted ventilated disc brakes up front, with ABS and electronic brake force distribution. Steering is variable power assist rack and pinion.
Inside is a surprisingly roomy and comfortable cabin, with cavernous room for the people in the rear. From the driver's perspective there isn't a lot to complain about, either. Instrumentation, while digital, is clean and clear. The instrument panel is set below the leading edge of the windshield; I first thought that it was a really dumb idea to mount it so far away from the driver, but after driving the car for only a couple of minutes I realized it's really a stroke of genius having the display set where you barely have to take your eyes from the road to read it.
In the middle of the dashboard you get the typical LCD screen that displays far too much information, including one of those damn lawyer screens that are becoming the bane of the car industry. The instrumentation/screen and the features in my test unit were quite high end, reminding me not a little of the setup in the Lexus GS 300 AWD I drove a while back.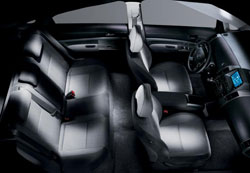 Even the in-dash 6 disc CD changer audio system is very good, though unlike the Lexus it won't take DVD-Audio or dts discs. Like just about everything else about the Prius, however, the audio quality is much better than I expected.
But of course it isn't perfect. The "info" button on the steering wheel seems to operate different functions than the one on the LCD panel and some of the other stuff controlled via the screen aren't particularly ergonomic. And the "smart" keyless entry that lets you keep the fob in your pocket (the car starts via a push button on the dash) wasn't any smarter than the Lexus one I tried – which means both of them are "intellectually challenged" compared with the system in the Infiniti M35x. To be fair, however, the Toyota system worked better for me than the Acura RL's.
The greenhouse is excellent, except that the driver's side "A" pillar gets in the way of the view sometimes. But overall there's plenty of glass and blind spots are at a minimum.
There are plenty of storage spaces, too, including an interesting double glove compartment, and the car's configured as a hatchback that features fold down rear seats, so there's plenty of room for hauling stuff as well.
Safety features are what you'd expect from a modern car, including dual stage front airbags with optional front head and curtain side airbags with front seat side mounted airbags. All five passengers get 3-Point seatbelts while the driver and front passenger seatbelts also feature a pre-tensioner which takes up any slack at the moment of impact. A force limiter reduces the belts' tension to decrease pressure on the passenger's torso.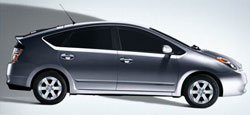 There's more, of course, including automatic HVAC, but you get the idea. The Prius is for real.
It's not cheap, though. The base model, which is still pretty nicely loaded, starts at $30,530 Cdn/$20,975 US. My handsome, fully loaded "Seaside Pearl-colored" tester tipped the cash register at about $37,945 Cdn/$26,629 US.
Okay. I'm convinced. The Prius is a very nice car on its own, regardless of whether you want to save gas (or the environment) or not. But if you're thinking of jumping into the hybrid market remember: you pay a premium over their gas powered brethren, so much so that you may never see any cost savings during your time with the car.
But hybrids are very green, and they are very nice.