Acura 3.5 RL: Cushy Technology
By Jim Bray
Acura's top-of-the-line sedan is all new, offering a handsome new suit of clothes inside and out, more power, and enough technological goodies to please the gadget geek in all of us.
It also comes with a nifty new all wheel drive system that strikes a balance between Acura's penchant for front wheel drive with the market segment's penchant for rear wheel drive vehicles.
The new RL is sleek and classy looking right from Acura's typical "bird of prey" grille to its relatively svelte rear end. The new version of the car is shorter, wider and taller than the model it replaces, yet it's roomier inside. The interior is classy and comfortable and up to date, but it's saddled with a cursor control-type wheel/button thingy whose interface seems to have been created by Rube Goldberg. Compared with the simple system in the Infiniti M, the RL's borders on incoherent.
Acura's flagship sedan is powered by a ULEV-rated 3.5 liter, 24 valve, single overhead cam V6 that cranks out 300 hp @ 6200 rpm and 260 lbs-ft @ 5000 rpm. Those are very good numbers, especially for a V6. It's also 75 horsepower and 29 pound-feet more than the last generation RL.
The engine is mated to a five-speed automatic transmission with pretend manual setting and – get this! – steering wheel-mounted paddle shifters like you'd get on some ultra expensive sports cars.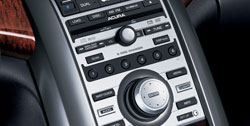 This was my first experience with paddle shifters and they work very well when you aren't turning corners, at which time it can be a tad confusing when your hands are twisted around. The tranny occasionally feels reluctant to downshift quickly and is definitely not the best auto/manual I've tried, but it's a good example of the species.
The paddle shifters seem like an unusual touch in a vehicle that, while high tech, isn't really that sporty. And when you aren't using them they get in the way a bit when you're holding the steering wheel normally.
They are cool, though!
The RL's new all-wheel-drive system is called Super Handling (SH-AWD) which, rather than routing power to the front and rear wheels as needed (as it traditional), can also send power between the left and right rear wheels. If you don't believe it, you can watch it happen on the instrument panel-mounted display.
In normal driving, most of the torque goes to the front wheels but when you goose it in a straight line, the system sends up to 40 percent of the power to the rears. To lessen understeer, help turns and maintain balance, the car's brain can also increase the spin of the outside rear wheel. If it weren't for the display on the dash you'd never really know it's working under normal conditions, but it does: the RL handles very well. I'm sure the Vehicle Stability Assist (VSA) doesn't hurt, either.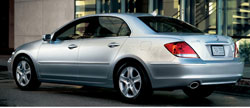 The RL features 4-wheel independent double-wishbone suspension with stabilizer bars and speed-sensitive, variable power-assist rack-and-pinion steering. The standard tires are all-season 245/50 R17 inchers, which could be a tad lower profile if they want this car to be sporty. Braking is power-assisted, four wheel discs with ABS.
Driving the RL is very nice, but it feels more like a luxury car than a driver's car, not that there's anything wrong with that. The feel is very different from the TL, which is a real blast to drive even with an automatic transmission. The RL is more sedate, not that it objects to being spurred, mind you. 300 horses are nothing to sneeze at.
The RL's handsome, wood- and leather-trimmed cabin seats five (four in superb comfort for the most part), looks terrific and is very well appointed. As is typical of Acura, switches and controls have a feel of quality and are placed just where I wanted them. The LCD screen displays the stuff operated by that cursor control thingy and there are other controls integrated conveniently into the handsome center panel that reminded me a bit of the classy Volvo S40's.
The gauges are clear and well laid out.
Acura was the first to offer DVD Audio and dts surround sound capability, and the Bose system in the RL continues that delightful tradition. The 6 disc in dash changer offers excellent surround sound and playing the different types of disc is seamless: the car figures out which type of disc you've loaded and acts accordingly. That's as it should be, and I also appreciated the fact that you can stuff all your discs into the one changer, unlike the Infiniti M in which DVD A and dts discs had to be inserted into a separate player from the CD changer.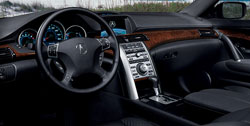 The cabin is very quiet, thanks perhaps to a noise-canceling trick whereby the stereo speakers emit "negative sound" to fight "positive sound." I would have loved to have seen if it would turn a rap CD into Strauss through noise-canceling but I didn't have a rap CD to try.
You also get Bluetooth connectivity for hands-free action of your cell phone (a wonderful feature) and get this: Acura can download messages such as service reminders right to the car.

The leather, heated and cooled seats are very comfortable, but something inside the seat bothered my back somewhat – and that surprised me a lot: I usually love Honda/Acura seats.
A nice touch Acura has included is a switch up front by which the driver can lower the rear seat headrests, getting them out of the way of the rear view mirror's view. It's also a neat way to freak out rear seat passengers if you do it without warning them. Or so I would imagine….
Those rear seat passengers get lift-up sunshades that are built into the side windows; there's also a power-operated rear window sunshade.
The sunroof is of a reasonable size and opens and closes with one touch of the button. HVAC consists of dual zone, dual mode automatic climate control that works very well.
The RL also offers true keyless entry, in that you can keep the fob in your pocket or purse. Or, usually, at least; in our week with the RL we found the system quite frustrating, working well sometimes and refusing to work at others. Unlike competitors which have "start" buttons on the dash, RL is started by twisting a thingy on the steering column where the key would normally be, which makes the keyless aspect seem almost like an afterthought.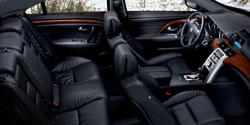 The trunk is comparatively small and the rear seats don't fold down, so if you're hauling long stuff like skis they have to pass through a little hole behind the center armrest.

As is becoming popular, the RL has swiveling headlights that work very well, and this is a wonderful feature. The car also boasts the usual selection of safety equipment, including driver and front passenger dual-stage, dual-threshold front airbags, driver and front passenger side airbags with front passenger Occupant Position Detection System (OPDS). You also get side curtain airbags, 3-point seat belts front and rear, front seat belt pretensioners and a tire pressure monitoring system in case your tires have trouble handling pressure situations.
The Acura RL is truly a beautiful car, lovely to look at, comfortable and refined and full of wonderful amenities. But…
I had driven the Infiniti M35x the previous week and perhaps that coloured my RL experience. While the M isn't as attractive as the RL, and has less horsepower (though slightly more torque), it's a lot more fun to drive. And the M's electronic wizardry (especially its cursor control thingy wheel) is much easier to use.
It's also cheaper!
The Acura RL lists for $70,700.00 Canadian/$49,470 US, which puts it about five grand dearer than a comparably equipped M in Canadian loonies and six thousand when you count American greenbacks. On the other hand, it's about $7000 Canadian/$4000 US cheaper than a comparable Lexus GS 300AWD, with which it also competes.
To be fair, the RL probably splits the differences between the Lexus and the Infiniti very well.
So if you can't make up your mind between the three vehicles, you can't go too far wrong with any of them, including the Acura RL. In fact, you probably can't go too far wrong with it anyway; it's a fine car.