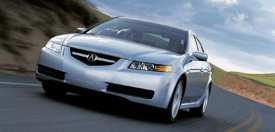 By Jim Bray
Once again Acura has left me in awe – and I wasn't even able to drive the car properly!
The Acura TL Type S may be gone, but performance aficionados need not mourn. Its replacement gives you everything that was great about that car, and a lot more.
And if you're an audiophile, the new TL just may be the set of wheels you want to wield - at least until the competition catches up. But more about that later, and in another column. Stay Tuned, so to speak!
The TL, second from the top of Honda's upscale division's line, is new for 2004. Not that the previous, second generation was a slouch. I got to drive it about a year ago, in its sportier Type S configuration, and really liked it. About the only things I could find to nitpick were its kind of bland (though in a nice way) body style and the lack of a manual transmission.
Well get a load of the new TL. This is an attractive luxury performance sedan with an aggressive new look and - hooray! - it's available with a six speed manual transmission.
Alas, the test unit I got to drive had the 5 speed automatic transmission, with sequential sportshift "pretend manual" shift feature. It's a fine automatic, almost enough to make me want an automatic, but I really, really wanted to try the six speed stick to see what kind of driving experience the TL could really be. After all, the TSX, reviewed here, knocked off my socks, and my tester TSX had the wonderful manual.
Oh, well. Fortunately, the TL has plenty of other things to love.
Such as a 3.2 liter V6 engine that ups the horsepower ante even from the Type S version of last year's model. The new TL puts out 270 horses @ 6200 rpm, 10 more than the 2003 Type S and 45 more than the "base model" '03 TL. Torque is up to 238 @ 5000 rpm, compared with 232 (Type S) and 215 ("garden variety) lb.-ft. last year.
Not surprisingly, this is a fast car. Car and Driver Magazine, in a preview test of the new TL, estimated a 0-60 time of six seconds flat, which ain't bad at all.
Unfortunately, the day after I took delivery of my tester we got about a foot of snow, so rather than having a chance to test its acceleration and handling, I got to test its traction control, ABS, and dual zone climate control. All work extremely well. I can only assume that the TL is a blast to drive, based on my experience with other Acura and Honda products and the "gut feel" you get from making the car perform as much as is practical in inclement weather.
The bad weather did make me notice one thing about the TL I'd like to see changed: the location of the hand brake. It's across the center console from the driver, on the passenger seat side. Under normal conditions this is great; it gives the driver a little extra room. However, it's also just a little bit too far away to reach easily without looking for it for those irresponsible times when the road or parking lot is slippery you want to do a few hand brake turns - just to practice your skills of course.
On the other hand, Acura has finally put the sunroof controls where, in my opinion, they belong. They're on the ceiling, where most other cars (but no other Hondas I can think of) have it. And it's a little joystick-type thingy: press it and the roof tilts, pull it backwards and the sunroof opens smoothly; the auto open feature means you don't have to keep your hand there, either – you can put it back on the steering wheel where it belongs.
Likewise, there's an auto closing feature and if you stick your arm up when it's closing it'll bounce back after hitting it, gently. It's very slick.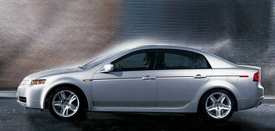 And this is a very attractive Acura. Gone are the old TL's swooping curves, replaced by a muscular and angular style that looks athletic and looks like it means business. In one swell foop they've taken the TL from "vanilla" to "butterscotch," (this is written by a butterscotch nut, of course) from slightly bland to aggressively attractive. I love the new body style. It reminds me of the TSX, only better.
This is a car that easily inspires passion – something Honda said it was striving for with the current Accord. I think they missed the passion with the Accord, despite its excellence – but they came through here, in spades.
Acura says the TL is aimed to compete head to head with the likes of the BMW 5 series and Audi A6, which are pretty good targets at which to aim. Does it hit them? Alas, I've never driven either so I can't honestly say. But while I've lusted after the 5 for years, I wouldn't hesitate to look at the TL were I in a buying mood.
If only it had rear wheel drive – or even all wheel drive. Still, it doesn't exhibit much, if any, torque steer in this slushbox incarnation and the combination of limited slip differential and all the other traction toys (such as stability assist, ABS, and traction control) help impart plenty of stability.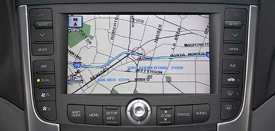 Acura says the new TL is the first Acura to debut in Canada offering a satellite Navigation System with Voice Recognition - even featuring "Canadian-specific French." My tester didn't come with an owner's manual so I never figured out the voice recognition, and since I don't speak French I didn't bother trying that aspect of it. But overall, the navigation system works extremely well, and sports an interface that, while not perfect, is better than I expected. The GPS-based unit uses a DVD-based map of North America that's mounted in a player on the floor of the trunk and interacts with you (if you so choose) with a pleasant female voice that eschews a soulless robotic sound in favor of a mellifluous virtual larynx that, no matter how hard I tried to make it mad, never ceased to sound unruffled.
This even keel is only to be expected from a robot, of course. Despite that, however, I (displaying my typical maturity) took delight in veering off the routes it would suggest, forcing it to recalculate over and over again. Just once, I hoped - even though I knew it wouldn't - it would exhibit some exasperation at my cavalier disregard for its digital wisdom and toss a little binary bitchiness my way, hollering at me, calling me an idiot, or whatever. But no, this robot was built to serve, no matter what nasty things it may have been thinking about me in its silicon brain.
The only real downside to the nav system is the way the big LCD screen acts as a finger mark magnet, and the fact that you really have to mash the "buttons" sometimes. And what's with the warning screen you have to click through every time you start the car? Lawyers...
The TL also offers other new technologies such as a Bluetooth wireless-linked telephone system that will interact with a Bluetooth-equipped cellular phone, and the first North American automotive application of a DVD-audio sound system. I won't belabor the sound system review here. I'm writing a separate column on the DVD-A, dts audio system, and it'll give you more of my impressions of this terrific audio system.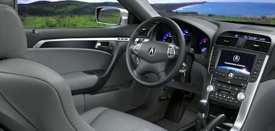 The Bluetooth idea is great. I don't have such a cell phone, so couldn't actually try it, but the concept is sound: your phone automatically becomes a hands free unit in the TL, interacting with the car through steering wheel-mounted controls, a microphone on the ceiling and the audio system's speakers. It also recognizes voice commands and can store frequently called numbers. What a great safety and convenience feature!
The TL also features drive by wire throttle control, which I first experienced in the TSX. Other than feeling a little strange for the first while, since the gas pedal is mounted to the floor via hinges rather than hanging down from below the instrument panel, but it works fine and allows the electronics to interact between pedal, engine, and transmission.
The sequential sportshift works well and shifts quickly, though it also shifts a little too quickly out of first gear. Now, perhaps the slippery roads marred the performance, but even when I gunned it and tried to red line the engine in first, it would shift into second anyway, hundreds of rpm earlier than I wanted. In the real world this probably wouldn't matter, but who knows when you'll be forced to show some unbeliever the car's burnout capabilities? And what a shame to mute that lovely V6 song as it rises through the revs…
On the upside, the new shift gate is wonderful, very intuitive and easy to use.
The new TL, by the way, is designed for long term performance. Acura has included a new "maintenance minder" system that monitors the engine and gives you an on-dash readout if something such as the engine oil needs attention. Oil change intervals are up to 10,000 miles and the first tune up isn't due until you've put 105,000 happy miles on the car.
A few little things, and it's the little things that Honda/Acura does so well (not that they blow the big things!) that I really liked include: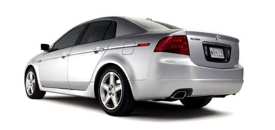 * Nice, solid feeling and easy to grasp outer door handles
* Classy integration of the tail pipes into the rear body styling
* The "lateral line" running along the doors, which give aggressiveness and character to the look
* Nice LED taillights and good HID headlights (though I thought the low beams could have been aimed just a tad higher)
* Power driver's seat lumbar support
* Excellent size of the moonroof (I like 'em large)
* Tilt and telescope steering wheel (though the functions should be powered)
* Excellent driving position, with everything close at hand
* Smaller side mirrors; the previous TL's were so big you could lose pedestrians or other traffic behind them
Driving the TL is a gas, or probably would be when conditions warrant. Step on the gas and you're off to the races right now; step on the brake and you're losing speed with safe abandon. And between those times you're in a car that goes where you point it and steps over road irregularities with aplomb. I'm willing to bet that if I'd had the TL in summer, and with the 6 speed stick, I would have been in Heaven,and my wallet would have been a lot lighter thanks to radar traps.
Suspension is double wishbone up front with coil over shock absorbers; the rear end features 5 link double wishbone with struts and coil springs. It makes the car feel very nimble and poised. Steering is a new speed sensitive, torque sensing power rack and pinion system that seems designed for those with enthusiast tendencies.
Brakes are four wheel discs with electronic brake force distribution, brake assist, ABS and four channel vehicle stability assist with traction control. The latter also works when accelerating, of course, and on the snowy roads during my test period the system worked fine when going and stopping.
The wheels are lightweight, 17 x 8 inch aluminium alloy, and are quite handsome. Standard tires are P235/45R17 M+S all seasons.
Inside, the TL is roomy, comfortable, and even with all its electronic doodads it's easy to figure out. As mentioned, my tester didn't have an owner's manual, yet I managed to master everything except some of the more arcane aspects of the navigation system.
The cabin is bigger than before, giving more head, shoulder and front leg room, the leather wrapped steering wheel is nice and thick and feels great in the hands. The instrument panel is bright and legible, though I found its LED backlighting a tad – well, garish is definitely not the right word, so perhaps obtrusive is better.
And you get keyless entry with two driver profiles as well as two memory settings for the seats etc.
My tester had the fake wood accents as opposed to the fake carbon fiber. It's handsome and looks real, though I think the faux fiber's nicer. These are matters of personal taste, of course, though I wonder why in such a tour de force as this they don't use real wood.
Environmental whackos' influence, perhaps?
Ergonomics are outstanding. Despite the gigantic screen in the middle of the dash, Acura has chosen to use a combination of buttons and readouts, focusing mostly on buttons, and they're well-placed, easy to read and easy to reach from the driver's seat. As mentioned earlier, I could have done without the lawyers' screen of "safety advice" that inflicts itself upon you every time you start up the TL, however. Perhaps it's time to start hanging lawyers again.
All the seats are leather, and very comfortable, though things might get a tad chummy for the person in the middle of the back seat. The front seats are great, though. The driver's seat has an abundance of power positioning settings (the front passenger has fewer adjustments, but the seat is powered), as well as good bolstering for "spirited driving." The front seats also feature bun warmers.
TL's automatic climate control features a dual zone feature that helps prevent fisticuffs on the road, and it works well. And get this: Acura says the navigation system can determine where the sun is relative to the driver and passenger, and adjusts the airflow to compensate for its heating power.
Safety features abound, from the usual ABS and seat belt/front air bags stuff to side airbags and side curtain airbags, adjustable head restraints. Acura estimates the car will achieve top ratings when it's tested. The car's even designed to help minimize injuries to pedestrians!
One nitpick, but one I thought unusual: the TL's windows tended to drop a tad over time. It wasn't anything major, but at least three times during my week or so with the TL I pulled up on the window controls and discovered that at least one of them had opened slightly since I'd last closed it.
But hell, I can only find such minor quibbles in what is overall a terrific piece of automobiledom.
Once again, I have to take my hat off to Acura. How do they keep doing it?