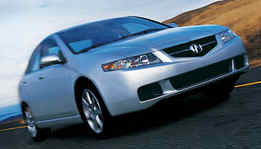 Heeding the Siren Song of the Acura TSX
Acura Builds a "Touring de Force"
by Jim Bray
Talk about a home run!
Acura's new TSX sports sedan is more like a grand slam.
And oh, she's a seductive beast. Spend more than a couple of minutes behind the wheel and you're lost – obsessed with this wonderful car and willing to do whatever it takes to keep it.
I kid you not. I spent a bit more than a week with this latest Acura and by the time it was supposed to go back I was contemplating committing Grand Theft Auto, thereby ruining my life (to say nothing of my career writing about cars!) over something as mundane as an automobile.
Not that the TSX is mundane. Hell, no! While it's very unassuming to look at – even bordering on the bland to some eyes – its whole is much more than just a sum of a bunch of Honda parts. It's a precision-crafted motorcar that's so comfortable, so balanced, so efficient, so much unadulterated fun, that it's almost as if Honda's Acura division brought in a bunch of Swiss watch makers and other world class artisans to refine the car.
The TSX is based on Honda's European spec Accord. To me, this means that - as great as the North American Accord is - drivers in the Americas are getting short changed because the European version as personified by the TSX is a true driver's car - as opposed to "merely" being an excellent, but softer, state-of-the-art family sedan.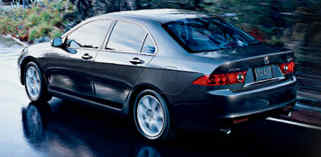 The company says the TSX is aimed to go head to head with the BMW 3 series and Audi A4. That's heady company; I haven't driven either of those other cars, but they must be really something if they're in the same league as this Acura. I find it hard to believe they could be any better, though I do have a soft spot in my driving heart for the rear wheel drive personified in the 3.
Anyway, in typically Honda fashion, the TSX is technologically savvy and features incredible attention to detail – even the small details. For instance, the doors have detent positions in them that hold them open at different amounts, depending on how wide you need them open in any particular instance, and they close with the kind of thunk that does your heart proud. And the door handles are sleek, easy to grasp and pull, and feel terrific in your fingers. Likewise the tactile sensations you get inside the cabin make it seem as if all the levers, buttons and assorted gewgaws are sliding on well-greased ball bearings.
And that's just the beginning.
The TSX is a front engine, front drive four door sedan. My Canadian spec tester was fully loaded (in fact the press material says it's only available in one trim level, though I saw one with a little spoiler on its bum – and it really did spoil it). This means it has pretty well everything in it that you could want.
It's also a rocket, and the specs don't tell the whole story.
The TSX is powered by what has to be the nicest four banger I've ever had the privilege to spur onward. It's an aluminum alloy 2.4 liter inline four that features Honda's i-VTEC variable valve timing and lift technology and puts out 200 horses at a typically high 6800 rpm - and 166 lb.-ft. of torque @ 4500 revs. That probably doesn't seem like a lot for a four door sports sedan; after all, you can get six cylinders and 260 horses (with similar torque) in the Infiniti G35 and BMW's 3 series also offers a six. And the four banger is the only engine Acura offers for the TSX.
The TSX's four is fine. Trust me. It's more than adequate – in fact it goes like hell and seems to revel in being driven hard. Wind it up through the revs toward the red line, upshift the 6 speed manual (a five speed automatic is also available, but I'll search you out and slap you if you buy it instead of the wonderful manual!) and you're nicely in the torque curve for the next gear. The TSX leaps ahead happily like a gazelle, almost taunting you with "Yeah, c'mon, is that the best you can do?" The engine never feels as if it's even close to breaking a sweat.
It's so intoxicating that I wouldn't be surprised if you'd blow over the legal limit just from taking the TSX for a spirited ride, without any kind of alcohol being involved.
And the high tech whine of the engine is a joy to hear.
So why not a six? Honda/Acura makes some fine V6's (witness the Accord and the TL as examples) and you can never have too much oomph can you?
Acura's media kit explains it this way:
"A V6 like that in the 3.2TL would deliver abundant power, but would increase the size and weight of the car, and move the TSX away from its sporting intentions. An in-line 4-cylinder, using the latest Acura technologies, would make for a lighter, well-balanced, more compact vehicle that that put the emphasis on overall sporting performance and handling responsiveness."
Okay; I've driven the car and I'll buy that explanation. While "More Power!" is the battle cry of car nuts around the world, more power would be merely gilding the lily when it comes to the TSX. It has plenty of power.
And of course there's more to a good car than a good engine. The TSX begins with a rigid unit body structure, four wheel double wishbone suspension, handsome 17 inch wheels with disc brakes and four channel ABS, Vehicle Stability Assist and traction control. Despite being a front driver, there's little torque steer and the Michelin MXM4 M+S tires stick to the road nicely and add to the TSX's excellent stability in the twisty bits.
It's all quality stuff, as is the interior makeup.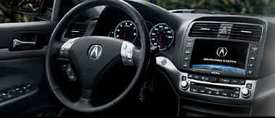 The TSX' cabin is luxuriously appointed and laid out with logical simplicity. Unlike the new Accord, which is very nice but which takes a little getting used to before you're comfortable with the new center panel layout, there's no learning curve. Everything is where you'd expect it to be, it's all within easy reach and it's so easy to operate a blind person could do it. Even the armrests are placed perfectly, including the one on top of the center console, which slides forward to facilitate lazy or tired arms.
Audio and climate controls (which include dual zone automatic air conditioning) are completely straightforward. The LED analog instruments are attractive and efficient, the auto-dimming rear view mirror works as advertised, the power outside mirrors include front-facing turn signal lights and aren't so large that they block your view.
And as mentioned above, the buttons, levers, switches and the like are smooth yet their tactile feel is almost as if they belong in a Rolls Royce. The attention to detail in this car is legendary Acura.
The seats are leather (perforated and with bun warmers up front) and the driver's seat boasts 8 way power adjustment. When I first got into the TSX I was disappointed with the diving position until I discovered that the steering wheel (which nicely facilitates 9 and 3 o'clock hands) tilts and telescopes. The telescoping made all the difference and from that point on the TSX fit me like a well-tailored suit – or what I would assume a well-tailored suit would fit like, since I dress up only under duress.
Well, it fit like that until my wife adjusted the seat for her comfort, which led me to bemoan (gently, and with massive picking of nits) the lack of driver's seat memory.
The front seats are well bolstered for cornering (whee!) and are comfortable for long drives. We took the TSX on an all-day loop through the Rocky Mountains and numb bum was minimum, while the exhilaration of the mountain roads was maximum. About the only complaint, and it's a common one for nearly all cars I've driven that are so equipped, is road noise when the sunroof is open.
The stereo system is very good, better than those found in garden variety Hondas. It's a 360 watt "Acura Premium" system featuring the usual AM/FM and with an in-dash CD changer. It really rocked, though it also set off a bit of rattling somewhere in the roof area when I unleashed a particularly powerful passage from The Who. It isn't only loud, though, it's also fine sounding.
Standard safety stuff inside includes the usual front airbags (the passenger one is mounted "seamlessly" and blends into the instrument panel), side curtain airbags, side airbags. Hell, there are so many airbags in this car it would probably lift off the ground if the gas inside them were lighter than air. There are also door beams and front seat belt pretensioners with load-limiters. And the car itself uses crumple zones and a sliding front subframe to further its life-saving skills.
Convenience features include cup holders, auxiliary power outlets, many storage spaces, and there's even a built in garage door opener, for those with built in garages.
As you've probably gathered by now, the TSX is so much fun to drive that it'll probably be outlawed some day. Step on the drive by wire throttle (which is hinged at the bottom instead of sticking down from the top, giving a feel kind of like some transit buses I've driven) and the car leaps to attention; once you've passed about 3000 rpm it seems to smile, hitch up its figurative pants, and leap forward with abandon.
The six speed manual transmission is a joy to flick, with very short throws and an excellent layout. It takes a bit to get used to the extra gear, and I shifted into fourth instead of sixth a couple of times (okay, a few times), but it's far easier than some other 6 speeds I've used.
The steering is power assisted rack and pinion and it feels exactly right. The suspension is tuned so that you feel everything on the road, but with your brain rather than your teeth. The car handles frost heaves and bumps like a football player running through the tire obstacles, and when you hit the sweeping curves of a mountain highway the TSX seems completely in its element – no Honda sport ute jokes intended.
This car is so good that one wonders what Acura could have in store for a possible Type S version down the road. I can only think of two things on my particular wish list: a driver's seat memory feature and - okay I'm a slut - even more power. And I wish Honda/Acura would move their sunroof controls from the dash to a place where you don't have to reach and squint for it – and that isn't a specifically TSX shortcoming.
But the TSX doesn't really need either to suit me. This is one car that had me scheming to find ways to pay for it. That doesn't usually happen with a test car as far as I'm concerned. Oh, I often fall under a car's spell and can easily imagine owning one. But this is the first one that almost had me begging my wife for the keys to the savings account.
The Acura TSX sells for $34,800 Canadian and $26,490 US.
And I call that a bargain.
Well done, Acura!