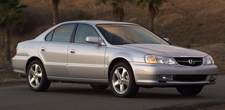 Acura builds a "Stealth Rocket"
By Jim Bray
If you're looking for a comfortable four door sedan with guts, check out Acura's 3.2 TL Type S.
This is the "souped up" TL, featuring more horsepower (260 @ 6100 rpm for the Type S as opposed to the basic TL's 225 @ 5600 rpm) and torque (232 lb.-ft. @ 3500 rpm versus 216 lb.-ft. @ 4700 rpm) as well as a few other goodies that separate it from its more "sedate" sibling.
Things like a thicker and more robust dual muffler exhaust system, 17 inch wheels with V-rated performance tires, and a few other touches here and there.
Add up all the tweaks (and kick in about $2400 extra) and you have a hot TL that, even with only medium pressure on the gas pedal, pushes you back into the seat in a most pleasurable way. I didn't measure its zero to 60 mph time, but it comes up exhilaratingly quickly.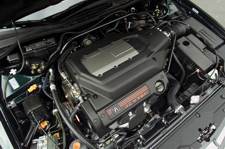 It does this thanks to a 3.2 liter single overhead cam VTEC V6 that redlines at 6900 rpm yet cruises along at about 70 mph barely ticking over 2000 rpm. The result, when you aren't standing on the gas, is a smooth, extremely comfortable and quiet ride.
In one way it's a shame that the interior is so quiet; when you tromp on the gas, there's a most satisfying noise that emanates from the mechanical stuff but unless you open the sunroof or put down a window you don't really hear it.
The engine comes with Programmed Fuel Injection, a Direct Ignition System, and is mated to a very smooth-shifting 5 speed "Sequential Sportshift" automatic transmission. This is one of those auto/manual transmissions that's basically an automatic you can also shift manually and pretend that it's a stick. It isn't a real stick, though, and I wish Acura would make one available for people who really, really want to drive.
Still, I could easily live with the "Sportshift" if I had to.
But hold the presses! For 2003, Acura is releasing a 6 speed manual transmission in the TL's sister the 3.2 CL Type S. I saw this vehicle at a recent car show, and it's lovely. At the time of this writing there's no word on whether the good folks at Honda/Acura will slide that tranny into the TL - so consider this a request on our part. PLEASE DO!
Road feel is very good, thanks to a nicely tuned suspension featuring independent double-wishbones with coil springs and stabilizer bar up front and independent multi-link double-wishbone with coil springs and stabilizer bar in the rear. Naturally, the power assisted four wheel disc brakes feature an anti-lock system (there's traction control, too) and Acura also throws in (well, includes in the price) a Vehicle Stability Assist (VSA) electronic "bail me out, I've driven past my ability!" system.
The Type S features torque sensitive (as opposed to speed sensitive) variable power-assisted rack-and-pinion steering, and the feel's very good. It isn't quite "sports car-like," but it's probably just right for this car's target market.
Inside, the Type S coddles the passengers with perforated-leather power front seats with "bun warmers" and driver's side two position memory, a leather-wrapped steering wheel, and metallic-looking instruments. My tester's black interior also came with a kind of plastic ebony wood trim that looks much nicer than conventional fake wood trim.
Standard equipment includes an above average (for a Honda product, at least) in-dash, 6 disc AM/FM/Cassette/CD changer coupled to five Bose speakers that nearly thunder. It's ergonomically well designed as well, with big and easy to find buttons and knobs.
You also get automatic climate control with an air filtration system, a nicely-sized power glass moon roof, power windows and door locks with keyless entry and security system. There's cruise control, a homelink thingy meant to operate your garage door, and a welcome and very bright set of Xenon High Intensity Discharge (HID) headlights that shut themselves off if you forget. Other creature features include power, heated outside mirrors, speed sensing intermittent windshield wipers and an emergency trunk release.
That trunk, by the way, is surprisingly large and features a pass-through to the "comfortable for two" rear seat.
I could only find real nitpicks with which to pick nits, the biggest of which was that the trunk lid's mounting wasn't quite up to the fit and finish of the rest of the car. And while it might have been nice for the TL to feel like a real sports car, it does a nice job of balancing comfort, luxury and performance, so I guess I can't really quibble.
The TL is essentially a four door version of the 3.2 CL (or vice versa if you prefer), featuring nearly identical performance, feel, and accoutrements. The extra two doors make it far more practical than the CL, however, without cutting down on the fun; they also make it a "stealth" rocket that looks classy but reasonably innocuous until you step hard on the accelerator.