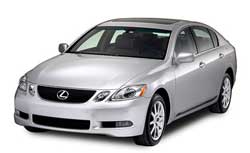 By Jim Bray
Lexus, and to a lesser extent Infiniti, really set the car world on their ears when they first burst onto the market about 15 years ago. Since then, the premium Japanese brands have been serious contenders for the dollars of the reasonably well heeled.
Over the course of that decade and a half, Lexus has changed its marketing from relentlessly pursuing perfection to passionately pursuing perfection. And they continue to make excellent cars that are often considered to be as perfect as a car can be.
The latest in their stable are the 2006 GS 300 and GS 430, the third generation of the sporty sedan that sits below the LS 430 flagship and above the ES 330 and IS 300 entry level sedans. Sporty and entry level being relative terms, of course.
The third generation looks sharp – in fact to these eyes it's easily the most attractive of the GS series to date. I liked the Italian-styled original, but the second generation kind of left me cold. This new one is a work of art, though, sleek and beautiful and reeks "state-of-the-art." It's gorgeous.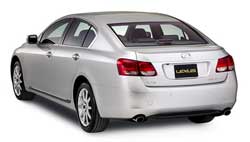 The GS has always been rear wheel drive, which is great, but the new generation GS 300 is also available with an optional all wheel drive system and that's the version I got to try. My tester listed at approximately $78,000 Canadian and, as one might expect, it is a really nice car.
The new engine in the "lower end" GS is a 3 liter V6 that puts out 245 horsepower at 6200 rpm. Torque is rated at 230 lb. ft. @ 3600 rpm. Decent figures, but not earth shattering. Lexus bandies around such descriptors as "Sequential Multiport Fuel Injection (SFI), Acoustic Control Induction System (ACIS) and Electronic Throttle Control System with intelligence (ETCS-i)," technical jargon that translates into smoothness, grace and competence, though not cheek flattening acceleration.
The GS' 6-speed automatic transmission shifts like silk and has a pretend manual setting, as it should. Alas, that pretend manual setting is really pretend and didn't add a lot of joy to this driver's life. Surprisingly, I found myself preferring the fully automatic setting. I imagine a six-speed manual would be a blast, but I wouldn't hold my breath waiting for one.
The GS features a sport-tuned double wishbone suspension that could be a tad stiffer but which is definitely no wallower. And to add a little more satisfaction for the driver, you can switch the car between default, snow and power settings. The latter was obviously my favorite, but the snow setting proved very capable and handy during my test drive when we got a hefty dump of springtime snow.

The 17 inch wheels look great and of course they're equipped with disc brakes with ABS. There's also traction and stability control, and all this stuff combined to work very well on the snowy streets; the GS could be driven confidently and comfortably regardless of how lousy it was outside.
I liked the GS' lighting system, too. Its High Intensity Discharge (HID) headlights are bright and cover a good area. Lexus says they also last ten times longer and provide three times more power than conventional halogen, while using 30 percent less power. An automatic mode turns the low beams on or off according to the ambient light outside. On one particularly dreary day, the lights would come on and the instruments change to their "night look," when we drove under overpasses. It was kind of neat.
Ease yourself into the driver's seat and you're at home virtually immediately. The leather front seats feel great. They're comfortable, heated – and air conditioned – and they adjust every way except into the fourth dimension. The car's instrumentation is also wonderful, well laid out, easy to read and attractive to boot. Everything you need to touch in the car is at hand and for the most part quite straightforward. The California walnut trim is very classy.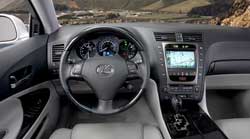 Driver and front passenger seats each come with three memory settings, so many that you could forget which one you've programmed your seat positions into!
The GS also has a really neat system of keyless operation. You can leave the fob in your pocket because you can unlock the car without it, and once you're inside you start the Lexus with a button on the dash. Likewise when you get out, you can lock the car without using the fob. I loved this feature for no particular reason other than it was really cool.
There's a rain sensing setting on the windshield wipers, though the Lexus and I agreed to disagree about when it should activate. We always seemed to be second guessing each other. Regardless of when they come on, however, the wipers and washers do an excellent job,.
Speaking of second guessing, the GS comes with a plethora of built in nannies. There's a parking assist that hollers at you (well, it doesn't really holler; it's much more pleasant sounding than that) if the car senses it's about to get dinged. And who can blame it? The LCD screen on the instrument panel shows you the direction from which that ding is about to be inflicted and indicates in which direction you should turn the steering wheel to avoid the insurance claim. It's just like having your spouse in the passenger seat, except that you can shut it off.
Since we had plenty of snow while I was making my neighbors jealous with the Lexus, I discovered on a couple of occasions that the anti-crash nanny would chime its warning every time the car stopped for a red light, as falling snowflakes fooled it into thinking I was mowing down pedestrians. It was the perfect time to use the shut off button, which is hidden with some other little used controls in a neat little panel to the left of the steering wheel.
The weather also offered a wonderful opportunity to test the GS 300's all wheel drive capability, which was great - the car was stable and secure regardless of the road conditions.
Lexus positively piles on the safety equipment. The bounteous bevy of belts and bags includes driver and passenger knee airbags, front seat mounted side airbags, side curtain airbags, seatbelt pre-tensioners and force limiters, 3-Point belts for everyone, and plenty more. It also supposedly has a pre-crash warning system that, when it senses a collision, tightens the seat belts and gets ready for impact. This probably eliminates the need for the built-in nannies to yell "We'll all be killed!"
But that's stuff you never want to have to think about as long as you know it's there. There are a lot more fun things to consider about a car such as this.
The audio system, for example. My tester came with the famed Mark Levinson option and it's really deluxe. I was delighted to learn it plays about every kind of disc you can imagine short of those old 12 inch laserdiscs or, shudder, vinyl records. It handles 5.1 channel DVD-Audio and dts music discs and, though I didn't have a chance to try it, Super Audio CD (SACD) discs as well. This ups the ante on the system I tried in the Acura TL, whose stereo blew me away at the time.
As with the TL's, the Lexus head unit automatically senses the different types of disc, making it unnecessary for the driver to do anything except hit "PLAY." And that's exactly how it should be.
It's a wonderful system and it sounds great, positively thundering. Except that for some reason on my tester the front center channel wouldn't work on 5.1 discs. This meant that on The Who's "Tommy," for example, there were no lead vocals, making the Lexus' cabin sound like karaoke night for Who fans. This was a lot of fun when I was alone in the car, but it wasn't what the system was designed for.
On the other hand, the navigation system is very good, quite easy to use, and the LCD screen doubles as a touch screen for audio adjustment controls and the like, and it even displays a rear view camera for when you're backing up.
Car companies (not just Lexus) need to do something about those damn lawyer screens you have to click through, though. They're as annoying as having a real lawyer in the car.
Well, maybe not quite.
Speaking of HVAC, the GS 300 has dual zone automatic climate control, of course, and it kept us quite toasty. Once, okay twice, I tried the seat air conditioning but since it was horrid outside it didn't take long to turn my butt into a block of ice. I cur-tailed that part of the test because I didn't want to put glacier-like scrapes on the leather upholstery.
As you've undoubtedly guessed by now, I really liked the Lexus GS 300 AWD.
And yet….
Driving it didn't quicken my heartbeat as much as I thought it would. While it's easily one of the nicest vehicles I've driven, superbly designed and executed and undoubtedly a most satisfying ride for many years to come, it didn't make me want to head straight out to my favorite twisty bits. The car is wonderfully smooth, competent and comfortable, but lacks that last bit of performance that would raise the GS from "Holy Cow, great car but…" to "I'll mortgage my soul to have it" status.
I imagine the V8 powered GS 430 would up the fun to drive factor a lot, so it's probably just as well that I didn't get to drive it or I'd be mortgaging my soul even as you read this….
On the other hand, the V6 will be more economical to run which, considering gas prices and that you have to fill the GS with premium gas, could add up over the years.
I wonder how this car would have felt to drive if Lexus had slapped its logo on the new 3.5 liter V6 in the just-released Toyota Avalon, which I drove the week after I had the GS 300. It has more power and leaps to attention when prodded by the right foot in a way this Lexus doesn't, quite. The engine seems like overkill in the Avalon, but perhaps it could be just what the driving doctor ordered for the GS 300.
Then again, there's always that V8….
Bottom line? Other than my angst over the V6, a few nitpicks here and there and an audio system problem that would be covered by warranty (and which most people would never notice, since 5.1 discs aren't popular yet), this car does seem darn near perfect.
And I'm passionate about saying that.