Lexus Redefines the Meaning of "IS"
By Jim Bray
(exterior photos by the author, interior photos courtesy Lexus)
I think I may have a new favorite car.
Once in a long while I find a vehicle that almost seems as if the manufacturer took my measurements and built the car to fit me specifically. My old 1983 Toyota Supra was like this, as was my 1972 Datsun 240z. Infiniti's M35x comes very close, as does the Acura TSX. They're cars I could easily drive the daylights out of for many happy years, and in the case of the Supra, I did exactly that for 20 years.
And Lexus' new IS 250 luxury sport sedan sure feels like the real deal. Admittedly, it isn't the rocket that the M35x is, nor does it give the athletic rush of the TSX. But when I parked my posterior in the 2006 IS 250 I felt right at home immediately, and my week with it was a marvelous experience despite the weather not having allowed me to drive the car properly – by which I mean I couldn't wind it out with abandon the way I'd have liked.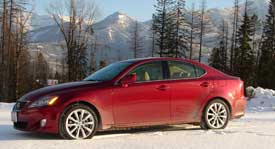 ...continued
Alas, the arrival of the IS 250 in my driveway came at the same time Old Person Winter also decided to show up with a vengeance, so the roads were in no shape for putting the pedal to the metal. On the other hand, it was the perfect opportunity to see how this new front engine, rear wheel drive sports sedan handles snow and ice. It was superb.
The gorgeous new IS is available in two basic models, and several configurations. It starts with the basic IS 250, equipped with a six speed manual transmission, and ends with the IS 350 and its six speed automatic. In between are the IS 250 automatic and the IS 250 AWD (all wheel drive). My tester was the IS 250 automatic.
The 250 refers to a new 2.5 liter V6 engine that produces what appears on paper to be a relatively modest 206 horsepower @ 6400 rpm and 185 lb/ft of torque @ 4800 rpm. The 350 sports a 3.5 liter V6 that delivers 306 horsepower @ 6,400 rpm and 277 lb/ft of torque at 4,800 rpm. Now that's my kind of power! Hopefully, Lexus will send this model around for a test once winter goes away and the car can be driven properly.
Both of these V6's meet Ultra Low Emissions Vehicle (ULEVII) fuel economy and emissions standards. They also feature direct fuel injection, dual Variable Valve Timing-intelligent (VVT-i) and employ Lexus' Electronic Throttle Control System with Intelligence (ETCS-i), a drive by wire system the company says "ensures exemplary control across the full throttle range" and an Acoustic Control Induction System that "adjusts the intake manifold length to match engine operating conditions and optimize performance." Whew!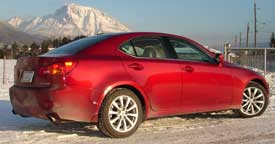 The smaller engine is smooth and quiet and even though it boasts what could be considered modest horsepower and torque compared with some of the V6 competition, it pulls well. And despite acceleration that doesn't quite kick you in the bum as if solid rocket boosters had been fired up, the "little" IS is still plenty quick.
My tester had the six speed automatic and it's incredibly smooth and efficient. It is also one of the nicest automatics I've tried; even though I'm a confirmed stickaholic, I could easily live with this tranny. Part of the reason is its "pretend manual" mode, which can be operated either from the console or via a pair of perfectly mounted paddle shifters behind the steering wheel. Click the right paddle to up shift and the left paddle to shift down. And the paddles are large enough to work comfortably for drivers who use both the "10 and 2 o'clock" and the "9 and 3 o'clock" driving positions.
I'd still love to try that 6-speed manual, though!
The IS 350 and the IS 250 AWD are only available with the automatics, which is a shame, though not surprising.
The IS is envisioned by Lexus as "a luxurious sport sedan with performance to thrill." It features the LFinesse design philosophy the company introduced on the current GS sedans, which are also very nice rides (though not as much fun). Lexus says this philosophy infuses the IS series with "a new sense of passion and innovation."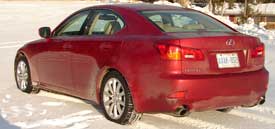 I never drove the old IS, though it was apparently quite a bit of fun and featured what appears to be the final incarnation of Toyota's venerable inline 6 engine that in various versions has been powering Toyotas since the old Crown, Corona Mark II, Cressida and the lovely Supra that stole my heart so long ago. That IS was a nice car, though I thought its instrument panel's chronograph motif was excessively gadgety-looking.
Now, Lexus has gotten rid of the chronograph stuff and crafted a luxurious and functional interior that's classy and straightforward. It's also very easy to figure out and operate without requiring one of those cursor control-like devices such as are found on some other luxury cars.
The instrument panel does feature a nifty, high tech look but it's mostly analogue and features a small but functional digital readout you can configure to display a variety of things, from the current audio source to cruising range, fuel consumption and the like.
The interior is sculpted with large surfaces and long "character lines" that impart a feeling of quality. The front seats are delightful; they're comfortable and well bolstered and my tester featured leather with heating/cooling circuits built in. Standard features include automatic dual zone HVAC, soft-touch controls that, like everything else in the cabin, work well and have a very nice feel.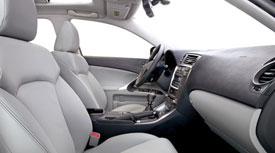 The audio system is excellent – and my tester didn't even have the premium Mark Levinson option that would undoubtedly be even better. But the standard edition AM/FM/CD/MP3 audio system with in-dash 6-CD changer, 13 speakers, and an audio mini-jack tucked away in the center console has plenty of power and sounds about as good as you can get from radio or CD. Alas, it doesn't handle DVD-Audio or dts-based DVD discs. But it definitely thunders!
You can also get an optional DVD-based navigation system with backup camera, though my tester didn't have it. Those backup cameras are great, though they can wash out in bright sunlight.
My tester was actually a pretty Spartan version of the IS, when you consider the list of stuff that's available. But while I missed such amenities as DVD-A, seat memory and the like, I didn't miss them a lot: this Lexus is so beautifully turned out right out of the box that everything else is basically gravy.
I did miss the optional moonroof, which Lexus says features a dial-type switch with one-touch open/close functionality, so when the lotto gods smile on me and I order my IS, it'll have that.
To date, I can't think of a nicer place to do the job of every day driving. Thanks to the power seats and manual tilt/telescope steering wheel, it's easy to find the perfect driving position and during my week with the IS I took it on a road trip that proved beyond a shadow of a doubt that you can drive this car for hours on end with nary a complaint from the buttocks or back.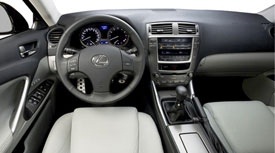 And the car is a delight to drive. Lexus has given the IS an all new suspension that features an independent double wishbone design up front, with anti-dive and anti-squat geometry. The rear comes standard with multi-link control arms. A rear sport suspension is optional on the IS 250 RWD and IS 350 RWD.
All IS models ride on aluminum alloy wheels. The IS 250 RWD comes with performance P205/55R16 summer radials on 16-inch alloy wheels; The IS 250 AWD has P225/45R17 tires and the big IS gets P225/45R17 tires in the front and P245/45R17ers in the rear (these are also optional for the IS 250 RWD. Optional 18-inch alloy wheels with performance P225/40R18 front tires and P255/40R18 rear tires are optional as well. My tester was fitted with a good set of winter tires, and I needed them.
A tire pressure monitor system is standard.
Steering is progressive, electric power rack and pinion and the IS comes to a safe and straight stop thanks to power-assisted disc brakes all around, with ABS and Electronic Brake force Distribution (EBD) and Brake Assist added to the mix. Vehicle Stability Control (VSC) and Traction Control (TRAC) are also standard.
One of the few sour points of the interior, and it isn't particularly sour, is the mounting of the traction control turnoff and snow/power setting buttons. They're low on the right side of the dash and hidden by the steering wheel, but they're easy to find and operate by feel.
That snow setting proved its mettle during my road trip. We got about six inches of the white stuff during our overnight stop and had to drive the better part of 1000 kilometers on roads that were crummy and, at times, extremely slippery. But switch on the snow setting and the IS seems to go into "fat and lazy oaf" mode, becoming more sluggish in acceleration and generally adjusting itself to minimize wheel spin and sliding. It works very well.
The downside is that it makes it harder to do parking lot donuts….
When you switch off the snow setting, it's almost as if you've weighed anchor and the IS scampers ahead happily as if unleashed, eager to please as much as its 206 horses can do. The "power" setting makes it even more rewarding to step on the gas pedal, though I had few opportunities to exploit it.
Safety equipment includes front SRS airbags, front seat-mounted side airbags and front and rear side curtain airbags. The IS also has driver and front passenger knee airbags and all seating positions get 3-point seatbelts, the outboard ones having pretensioners and force limiters.
A worthwhile option would be the Bi-xenon projector High Intensity Discharge (HID) headlamps and Adaptive Front lighting System (AFS), the latter of which automatically adjusts the angle of the headlights according to vehicle speed and steering angle and swivels the headlights so you can see further into a curve. Fog lamps are standard.
Luxury features include the SmartAccess keyless entry system, which lets you lock and unlock the car simply by touching the door handle (with the key fob remaining in your pocket or purse). You start and stop the car with the push of a big button.
You also get such stuff as power windows with auto up/down for all doors, a really nice touch, power remote heated and foldable side mirrors, well thought out map lights, glove box lighting, dual illuminated vanity mirrors and door courtesy lamps. There's also an anti-theft system.
While I love driving a new car nearly every week, once in a while a vehicle comes along that I really loathe turning back in and which tempts me to beg the manufacturer for an extension (preferably a permanent one!). This Lexus IS is such a car. Its combination of comfort, luxury, design, and performance make it just about perfect to these eyes.
I can only imagine how nice the 3.5 liter model is!
It appears that Lexus' much ballyhooed relentless pursuit of perfection is paying dividends.
The Lexus IS 250 RWD starts at approximately $36,300.00 Canadian/$30,580 US. The IS 350 RWD starts at approximately $48,900.00 Cdn/$36,030 US.
Guess it's time to head down to that lottery booth again!