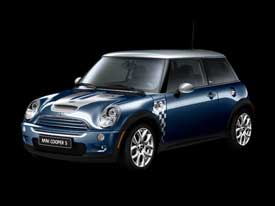 Mini Cooper S – "S" is for "Smile"
By Jim Bray
It may be called a Mini, but the driving pleasure is nothing short of Maxi.
This flatulent little road rocket provided the most fun I've had behind the wheel in quite a while, is cute as a bug's ear and can actually seat four people in a pinch – no pun intended.
When BMW brought back the long dead Austin Mini a few years ago, they weren't just joining the retro car fad; they were exhuming an innovative little car that started a revolution with its transversely-mounted engine and front wheel drive configuration. Its low weight, low center of gravity and delightful power to weight ratio made it a favorite at race tracks and rallies, as well as in the daily commute.
The new Mini takes that revered base and builds it into a modern car that brings the joy of the old Mini back and is surprisingly practical if you aren't hauling sheets of plywood.
The Mini Cooper S – my tester was the Checkmate Edition – is powered by a supercharged 1.6 litre, 4 cylinder, 16 V inline engine that cranks out 168 horses @ 6000 rpm and 162 lb.- ft. of torque @ 4000. That may seem like mini power in this age of ever more maxi specs, but when you put it into a car that only weighs about as much as Kate Moss, it's plenty. Plenty indeed; the Mini truly goes like the wind and the whine of the supercharged four banger climbing through the revs is intoxicating!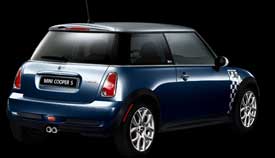 Base Minis only get 115 hp. While this undoubtedly isn't nearly as much fun, it's probably more than adequate for those who don't want to tear up the road with their Minis and who'd also like to save some gas money. But what a waste of the fun factor!
Standard transmissions are a five speed manual, but S models like my tester get a wonderful six speed Getrag manual that "snick snicks" through the gears like it was born to shift, which it obviously was. The gearing seems perfect for accelerating in any gear as long as you keep the revs reasonably high. You could also saddle the Mini with an automatic.
Up front, the Mini features a single-link spring-strut axle and symmetrical, equal-length drive shafts designed to give the car a stable feel and minimize such things as torque steer. There's still a little torque steer, but not much. And the car's extremely stable – even with some quite annoying wind gusts and oncoming semi-trailers on the freeway, the Mini felt planted securely to the road experiencing less wind buffeting than just about any other car I've driven that doesn't weigh about 2000 pounds more than the Mini.
The folks at Mini (Mini-people?) say the multi-link rear axle with anti roll bars "guarantees that each wheel is always at an optimum angle to the road surface and can react independently without affecting the other wheels." This is to help with the car's grip in the corners. Mini's web site refers to the car as having a Go-Kart-like feel and I won't disagree.
The Mini's suspension is very stiff, jarringly so if you're driving over roads that feature such things as frost heaves – but while this caused some angst on the part of my passengers, for the driver it just seems like part of the Mini experience. Just make sure you've peed before you head out!
Couple all that with the low center of gravity, huge wheels and low profile tires and you have handling that feels like the car is attached to the road like a modern steel roller coaster train is stuck to the track. You feel like you could never roll this thing if you tried!
Inside, you fold yourself into a very comfortable driver or front passenger's seat (and surprisingly comfortable and roomy rear seats). The driver is obviously the focus of the car, and finding a perfect driving position is fairly easy. The multi-function steering wheel (with controls for the audio system, cruise control and optional telephone interface) tilts – and takes the instruments with it – though it doesn't telescope.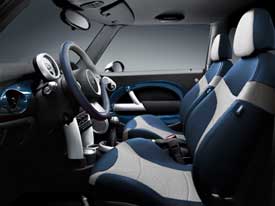 The lack of a telescoping wheel didn't bother me, since it was positioned perfectly anyway, but the short distance to the instrument panel did: I needed my reading glasses to see it clearly, which would have compromised the view outside the windshield. Murphy's Law!
Fortunately, the tachometer is legible enough that I could see the red line unaided and you don't need to see the small digital displays (clock, odometer, computer readout) all the time. So as it worked out, it was only the speedometer I couldn't read well, which allowed me to zip along blissfully unaware.
Honest, officer, it's the Mini's fault!
And what a great ride! As with cars such as the Mazda Miata and the Porsche Boxster, the Mini feels as if it's hard wired into your brain, and the tight steering jumps instantly to attention with the slightest flick of the wrist. This is great for those twisty bits, and it also comes in handy when you want to change lanes in heavy traffic.
The interior is decidedly Spartan, but in a nifty, retro kind of way. The window, door locks and other controls are old style toggle switches mounted on the center stack, quite well within reach, and they work just fine.
I loved the sunroof! Its huge and comes with a neat mesh sunshade that lets you enjoy open air motoring without Old Sol beating down too much on your pate. Or so I'd assume; it was too cold during my winter week with the Mini to give it a real test.
And, whether deliberate or not, thoughtful little touches abound. For example, I dropped my sunglasses between the seats where they'd usually land on the center console. But in the Mini, they fell into a little slot that looked as if it had been designed just for such emergencies. It was perfect.
There's even a neat sun visor over driver's side window you can use instead of having to move the front sun visor over. The passenger doesn't get one, though; instead, there's the usual grip handle that can be used to hold on for dear life.
The rear seat folds down quite flat, creating a reasonably large storage area. My family's veterinarian drives a Mini and it's big enough with the rear seat folded down to act as a hearse for large breed dogs. And we discovered to our delight that a depression in the hatch is the perfect length to hold a do-it-yourself wine kit laid flat.
Getting into the rear seat is interesting, but not as difficult as I had expected. A press of a handle on the outside of either front seat lets you move the seat forward and tilt the back out of the way to permit ingress and egress.
The stereo is excellent, though I had to turn down the bass. The system includes AM/FM and a single disc CD player; there's no DVD- A capability, but this isn't surprising. The system's easy to use, too.
I enjoyed cranking and reveling in the tunes, which meant it took me a few days to notice the Mini's flatulence. When a passenger forced me to uncrank the audio, it became obvious that this car likes to backfire. When the car's warm and you ease off the gas (hey, sometimes you have to slow down!) it farts like a Chili cookoff judge the morning after.
This worried me enough that I checked out an online Mini owners' board as well as phoning my local dealer. As it turns out, this prominent pooting is on purpose, and was even enhanced for the 2005 model year to accent the car's performance and sportiness. The dealer rep to whom I spoke said when his Mini does it the car is telling him it's warm, happy and contented in its work.
You think these people take their cars seriously?
Personally, I'd prefer the blast without the blats. But I suspect blending into traffic unnoticed isn't high on the list of priorities for many Mini owners, and I can certainly see why. Hey, if you own a wonderful little beastie like this, why not flaunt it!

My "Checkmate Edition" Mini Cooper S, which includes such tweaks as Dynamic Stability Control, fog lamps and 17 inch wheels with run flat tires, tips the financial scales at just shy of $25K U.S ($35K Canadian) as configured with options such as the sunroof, cruise control and air conditioning.
Why "Checkmate Edition"? I can only theorize it means that once you've driven it you'll be trapped, unable to escape its might. That's the effect it had on me.
Fortunately, my wife was around to pry my fingers from the steering wheel and my buttocks from the driver's seat. Something about us needing groceries more than a Mini.
Darn her!