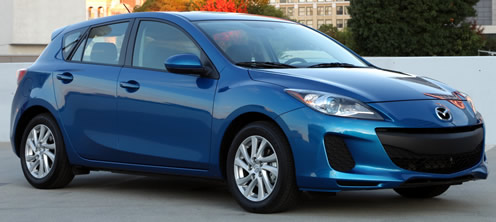 Mazda3 Sport SKYACTIV: great car, still with "Zoom"
By Jim Bray
January 3, 2013
Mazda's "SKYACTIV" technology is designed to up gas mileage and lower emissions while preserving the company's well-earned "fun to drive" quotient. And while those two goals may seem contradictory – or as unobtainable as perpetual motion – Mazda has done a pretty decent job with its top selling 3. 
First introduced with the 2012 model year, SKYACTIV technology is described by Mazda as "the next generation of advanced vehicle performance and efficiency" that "embodies Mazda's philosophy of engineering only vehicles that are fun to drive, satisfying to own and environmentally responsible." I've dumped on SKYACTIV before, especially when it came to the CX-5 crossover/SUV, which I found lacking in "Zoom-Zoom" when I drove it several months ago.
And even though my first experience with the 3 SKYACTIV sedan about a year ago left me missing some of the "Zoom" lost inevitably when one panders to the greens (or, to be a little more charitable, tries to meet ever more stringent government regulations), an experience since then put Mazda's move more into perspective.
That experience was the Canadian Car of the Year TestFest last October, which gave me a chance to drive all the brand new or drastically upgraded cars in the 3's class, back to back to back. And the 3 was still the most fun of the bunch, reducing my SKYACTIV angst a tad, at least as far as the 3 is concerned. I still think the larger and heavier CX-5 could use more zip, but at least I've made peace with this bread and butter car's performance.
The front engine, front wheel drive 3 was the first SKYACTIV application to appear in North America, and it – both in sedan and in the 3 Sport (read "wagon") configuration that's the subject of this piece – includes a two liter SKYACTIV-G four cylinder gasoline engine coupled to either a SKYACTIV-Drive six-speed automatic or the SKYACTIV-MT six speed manual transmission.  
My test Mazda3 Sport, supplied by Mazda Canada, had the automatic, which was a tad disappointing since I'd driven the auto before and was dying to try the stick. Such is life, however; at least I got the post-software tweak version whose transmission felt a lot more interesting than the kind of "CVT-feeling" early example of my previous test. The tweak supposedly returned any of the "Zoom" that may have been lost in the translation – and it appears to have worked, because I enjoyed this version a lot more.
Mazda claims the SKYACTIV automatic transmission balances the advantages of a conventional automatic transmission, the often execrable Continuously Variable Transmission (CVT) and a Dual Clutch Transmission (DCT) such as Volkswagen's DSG. It also has a torque converter with a lock-up clutch to maximize fuel economy and "direct drive feel."
As for the SKYACTIV direct injection engine, it's rated at 155 horsepower @ 6,000 rpm and 148 lb.-ft. of torque at 4,100 rpm, which is pretty competitive in this market niche. The SKYACTIV technology apparently uses multi-hole fuel injectors to "enhance spray characteristics," as well as specially-developed piston cavity shapes "designed to ensure shorter combustion time while lowering the impact on power and torque from engine knocking." In short, it's like magic.
Mazda claims the fuel economy from my sample 2013 Mazda3 Sport GS-SKY Touring Edition (now there's a mouthful!) is five liters per 100 kilometers (highway), which is pretty darn good for a car that's still fun to drive. Naturally, I didn't get anywhere close to that, my lead footed driving style being the culprit. If I'd driven more gently I may have approached those numbers, but I'd rather buy a bit more gas and enjoy the drive more.
Oh, yeah, it still burns regular gasoline, too, which is always a bonus.
I have a soft spot for wagons – in fact, my lovely wife and I bought a "new" wagon last fall, as we finally replaced our 1991 Infiniti Q45 uber-sedan – and that makes the Sport my favorite 3. It's even nicer looking to these eyes than the already attractive sedan, both of which suffered at the introduction of this generation from a silly "Tow Mater" grille, which (thankfully) doesn't seem as pronounced now, a couple of years into the model's life.
The 3 Sport features independent suspension all around – well, at each corner, anyway – with a strut-type system up front and a multi-link bum. Both ends get coil springs and a stabilizer bar, too. The suspension is stiff enough to be interesting and "Zoom-Zoomy" without being jarring. In short, it makes for a nice ride.
Steering is rack and pinion, with "Electro Hydraulic Power Assist," and it's a good match for the suspension in performance and feel. Brakes are power-assisted discs all around, with ABS and electronic brake force distribution. They work just fine.
Traction and dynamic stability control are both standard.
The interior is handsome and efficient, functional and laid out very well. The rear seat will be a tad tight for that third person in the middle, but that's a common factor in this class of car and in this regard the 3 isn't any worse that most of the competition. The front seats are comfortable and supportive and you can drive all day without getting "butt bother."
Instrumentation is straightforward and easy to read and all the controls, whether on the dashboard, center stack or steering wheel, are mounted within easy reach.
Standard equipment also includes Bluetooth connectivity, USB and auxiliary audio inputs, a tilt/telescoping steering wheel, automatic headlights and rain sensing wipers. My GS-SKY sample also had a moon roof, fog lights, leather upholstery, and eight way power adjustable driver's seat – as well as the Touring package (push button ignition, intelligent key access, LED taillights, dual-zone automatic climate control, auto dimming rear view mirror, a premium Bose audio system, etc.).
One thing that bugged me about the interior – and it's pretty minor – is that the door handles up front are mounted so that they block your reach for the power window controls. But if that's the extent of my auto angst for this car, Mazda must have done a pretty good job. 
Perhaps the nicest thing about the 2013 Mazda3 Sport SKYACTIV is that it's still a very nice car to drive. It still feels like a 3, and that means it's still one of the most entertaining rides in this very competitive market segment.
The 2013 Mazda3 Sport SKYACTIV starts at $20,695. My sample Mazda3 Sport SKYACTIV, with all its options, lists for $25,590. Not a bad price for what you get.
And it still "Zoom-Zooms!"
Copyright 2013 Jim Bray
TechnoFile.com