Dodge Grand Caravan - Maxi Minivan
By Jim Bray
It may not be the most fun minivan to drive, but when it comes to hauling your stuff and making your life easier, the Dodge Grand Caravan is a real winner.
Dodge is credited with introducing the minivan more years ago than we of middle age would undoubtedly care to remember. They created the niche and, eventually, just about every marque worth its salt jumped into the market until now there are so many of the beasties around it can be tough to make a buying decision.
I find it a tad hard to review minivans, because I've only driven one other "garden variety" model in recent months: the Nissan Quest. But I've also spent some quality time in the Mazda 5 and Mercedes Benz R350, neither of which will admit to being a minivan, but which are similar enough in function to give me some benchmarks for comparison.
If you put the Quest and the Grand Caravan side by side for some "apples to apples" comparisons you come up with some interesting conclusions. For example, I thought the Quest was much more fun to drive; it's more powerful, has better handling and imparts a more car like feel. But the Quest drove me nuts in other areas, including some of the most important ones for which you'd look at buying a minivan - storage, seating, and flexibility.
And this is where the Grand Caravan shines. As far as being a van, the Dodge is better thought out and executed, including such terrific features as "stow 'n go" seats that disappear right into the floor to leave a huge, flat area you could almost rent out to someone looking for a first time home.
My test Grand Caravan was powered by a 3.3 liter V6 engine rated at 180 horsepower @ 5,000 rpm and 210 pounds-feet of torque @ 4,000. This explains a lot of the "fun to drive" disparity between the Grand Caravan and the Quest, the latter of which boasts 240/242 horses/torque. So if you're looking for a racing minivan, the Grand Caravan wit probably won't cut it with this particular engine.
On the other hand, this is actually the smaller of two V6 engines Dodge offers for the front wheel drive Grand Caravan. The top one is displaces 3.8 liters and produces 215 horses @ 5,000 rpm and 245 pounds-feet @ 4,000 rpm, which would probably be more satisfying from an "oomph" perspective. It will undoubtedly enhance the van's hauling performance as well.
And to be fair, if I hadn't driven the Quest within a couple of weeks of the Dodge, I would have probably been more at peace with the Dodge's power.
The Grand Caravan's transmission is a four speed automatic and it's adequate for the task. It's easy to kick down a gear when you want to accelerate, and shifts are quite smooth.
The suspension is independent up front and "semi independent" in the rear, kind of like a grown child who refuses to leave home, I suppose. Handling is a tad floaty; it could be a lot tighter, but overall it's okay as long as you don't plan to slalom through the orange cones. But for an urban family hauler it's fine.
No thigh of relief.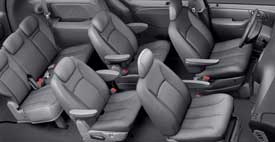 Inside, the greenhouse is wonderfully large and the driver can open and close the rear vent windows from the control pad on the door. Even better, the driver can open and close the powered side doors via switches on the ceiling, so you can swing by the grocery store or Home Depot, pull over and open the doors without having to get out.
This is good not only for the sedentary among us, but can also be really handy if you're picking up people whose arms are full of stuff and who would otherwise struggle to get the doors open on their own.
My tester included a power driver's seat that worked well, though it seems designed for people taller than me and I could never find a perfect driving position. The seat's padding and width feel a tad thin, too; I had to rely on my natural padding which, fortunately, proved to be more than up to the task. But I couldn't get the front of the seat low enough for my thighs to be completely comfortable and it felt as if my feet had trouble reaching the floor, even though they didn't.
The gas pedal in my tester was quite stiff, almost feeling as if it's either on or off and never the twain shall meet.
The instrumentation is clean, clear and analog, very straightforward. The layout for the controls is a tad confusing at first, at least for someone who hasn't driven a lot of Dodge products, but not seriously so. For example, the rear wiper/washer control is on center stack down near the HVAC controls instead of bundled with the front wipers like I'm used to. Once you figure it out it seems fairly logical, though - and it works just fine.
Speaking of wipers, the front windshield washers have a very good spray pattern and do a good job of hosing down the glass; the wipers also have good coverage.
My test unit also included dual zone HVAC with a slider control for each side. This lets either front passenger control either or both sides easily, with one hand. There's no auto setting, though.
The audio system's pretty good, though it runs out of steam too quickly and programming stations into the system's presets requires an extra step: you have to press a "set" button after you've tuned in the station, rather than just holding down a particular preset. This is pretty nitpicky, though, and isn't something you'll have to do often unless someone starts up a bunch of new radio stations in your market.
The rear compartment of my tester had the optional DVD entertainment center, with the player mounted up front where Mom and Dad can keep tabs on it. The quality's pretty good and, unlike some vehicles, it's controlled by the same buttons that operate the rest of the stereo. This also makes it convenient if you're one of the handful of people who want to play DVD-A discs, because there are no extra hoops to jump through.
On the other hand, my tester got stuck on the menu of the Eagles' "Hotel California." It played ELP's "Brain Salad Surgery" and Elton John's "Goodbye Yellow Brick Road" fine, however. And, like most of such systems, it only plays these premium discs in Dolby Digital, but that's better than not playing them at all.
Now we get to the all-important (for a minivan), middle and rear seats. How do they stack up?
Well, the middle row of captain's chairs reclines nicely and the seats are quite comfortable. Heck, even the rear bench is pretty comfortable for trips around town, though I wouldn't want to passenge coast to coast back there.
But it's the Stow 'n Go feature that really makes these seats wonderful!
And it's easy to do! All you have to do is move front seats forward and lift a panel in the floor and the seats fold right in, leaving a flat floor suitable for hauling. When the seats are up you have a container in floor you could use for smuggling contraband, though it probably isn't big enough to put ankle biters in if they're acting up too much.
The rear seat also Stows 'n Goes into the floor - and unlike the Nissan Quest's I didn't have to haul out the owner's manual to figure out how to do it.
The result of all this Stowing 'n Going is a cavernous, flat area that doesn't require removing any seats. It's very slick and convenient and is a powerful selling point in favor of the Dodge.
Oh yeah, there are plenty of cup holders and other storage bins spread throughout the interior, too.
Those powered side doors can be operated from the key fob as well as from the driver's and passenger areas and they work just fine, though the motors whine and wheeze like I do when hauling my carcass out of bed on a Monday morning.
Convenience features include keyless entry, A/C, power locks, windows and heated side mirrors, grocery bag hooks, a universal garage door opener, etc. My tester also included 16 inch aluminum wheels, rear air conditioning/heating and a roof rack.
And you can expect the usual assortment of belts, bags and the like to help keep you and your passengers safe.
All in all, the Grand Caravan isn't going to get the adrenaline of a car nut going, but that isn't its purpose in life anyway. But it's a fine minivan, extremely flexible and convenient.
And isn't that what such a beast is supposed to be?
My Canadian spec tester carried a sticker price of $37,815 Cdn. A similar configuration runs about $28,000 U.S.