Nissan Quest - Spacious, Spacey
By Jim Bray
It may look like a shuttlecraft from the starship Enterprise, but the Nissan Quest is an Earthbound minivan through and through.
Not that there's anything wrong with that.
Nissan's 2006 Quest is quite pleasant to drive, and it's certainly a decent performer. And it offers some very thoughtful touches that, unfortunately, are at least partially offset by some frustrating aspects.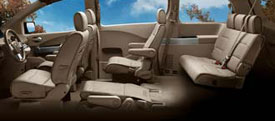 The heart of the Quest's performance is Nissan's ubiquitous V6 engine, which is standard equipment. It's a fine power plant that's shared with such "hot" vehicles as the Nissan 350Z and Infinitis G and M35.
The company says the front drive Quest is among the largest vehicles in the minivan world, which is a good thing if you want to haul butts (and other stuff) more than you want to haul butt. Not that hauling butt is out of the question: that aluminum block and head 3.5 liter V6 features four valves per cylinder, sequential multipoint electronic fuel injection and variable valve timing. Its horsepower is listed as 240 @ 5800 rpm and the torque is 242 @ 4400. This is more than adequate.
That doesn't mean the Quest drives like a sports car, of course. First of all, there's the matter of weight: the top line SE, for example, weighs 4208 pounds, which means the minivan will be fighting a certain amount of inertia when you pull away from a stop. This is the nature of the laws of physics and the curse of the minivan, however, and isn't unique to the Quest.
You can choose from two automatic transmissions: a four or a five speed, with overdrive. There's no manual setting, but this is after all a minivan. My tester had the four speed, and shifting was smooth; downshifts are quite satisfactory when you want to put the spurs to 'er.
You also get traction control and the 3.5 SE comes with vehicle dynamic control.
Suspension is four wheel independent with an advanced multi-link rear and stabilizer bars at both ends. This helps make the Quest fairly nimble in an elephantine way, but to be fair, the vehicle is more satisfying to drive than I would have thought.
Brakes are vented discs with ABS all around, as well as braking assist and brake force distribution. Stopping is good, with good pedal feel and no pulling one way or the other. The ABS isn't intrusive.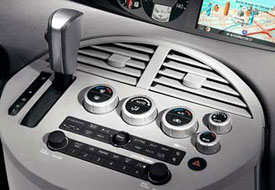 The Quest's steering is power-assisted rack and pinion and the comfortable steering wheel contains audio and cruise controls, except for the base 3.5 S trim level (which only gets cruise controls there).
New for 2006 is the S Special Edition trim, which features such nifty things as a power right hand passenger door (though why not power both sides?) and a power rear liftgate, both of which are marvelous to have when you approach the vehicle with armloads of groceries, as long as you remember to take the key fob out of your pocket first! You also get third row vent windows, a CD changer, rear sonar parking assist and some steenkin' badges.
Nissan calls the roomy design of the Quest's interior an "urban loft" theme, though I never noticed a staircase or second floor despite much searching. But it does have plenty of room, with two rows of captain's chairs and a third row bench you can fold down into the floor - eventually - to create a flat cargo surface. The fold down process isn't the easiest or most intuitive: I had to drag out the owner's manual to figure out how to do it.
The very gray but high tech-looking interior is really the Quest's weakest link. The company's designers seem to have gone out of the way to make it frustrating, from the central-mounted instrument panel that means you have to take your eyes 'way off the road to check your speed, to the CD changer mounted at an angle so that its hard to get at.
The driver's seat, which in my tester was cloth with a bun warmer, made me feel as if I was going to get tossed against the door during cornering, which acted as a constant reminder that the Quest is not a sports car - which may not be a bad thing in the grand scheme of things. There's plenty of space between the front buckets, and a handy cup holder can be folded down from the inside edge of the driver's seat.
The central dash pod continues the Enterprise shuttlecraft look and includes computer stuff that looks so complex I got stressed and had to take a time out.
One thing I did appreciate was the nifty radio preset system. Usually, you can store radio stations in memory organized by AM or FM (or FM2 or FM3 in many vehicles). Nissan gives you the best of both worlds by offering presets where any button can store any station from either band. I stored three AM and three FM stations and, since that's about the extent of the "quality" radio we get, Bob was my uncle. From then on, I could switch through my favorite AM and FM stations without having to change radio bands.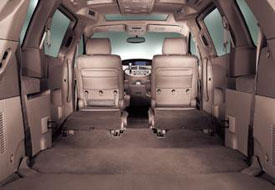 On the down side, I was less impressed by the muddiness of the audio system.
The outside rear view mirrors are big, and heated, and provide a good view behind. Unfortunately, the dashboard reflects in the windshield under bright sunlight.
Under the passenger seat of my tester was a DVD player to feed the ceiling-mounted LCD screen in the back seat. This also means you can play DVD Audio discs if you choose, though in Dolby Digital only (which is still far better than a kick in the face).
But even though they've included such thoughtful touches as rear-mounted controls for the DVD entertainment system and HVAC, Nissan seems to have gone out of its way to make the design fuzzy. The controls are on the ceiling, with the entertainment center's on one side and the HVAC on the other. This means that neither person occupying the seats can operate both without unstrapping and getting up. What's with that?
Rear passengers do get wireless headphones to help prevent mom and dad from being driven nuts by the crap kids think is music these days.
Another thing I found quite interesting about the Quest was the turn illumination lights mounted on the front corners that come on and shoot sideways when you activate the signal lights. I'm not sure they do as good as job as rotating headlights, but they do light up the side reasonably well.
Other safety equipment includes the usual assortment of belts, bags and tethers, as well as active head restraints (for those with active heads!) and a tire pressure monitoring system that didn't give me any false alarms during my test period.
On its own merits, the Quest's pleasant driving experience, good power and roomy interior are definite pluses, but when balanced with the fuzzy interior design and ergonomics, I'm not sure this incarnation of Nissan's minivan is going to make a plethora of people run out to their Nissan dealer, salivating like Pavlov's dog. But it'll undoubtedly serve many people very well.
The Nissan Quest starts at $24,000 and tops out around$39,555S.
Close competitors include the Honda Odyssey, Toyota Sienna and of course the Dodge Caravan.