Mercedes Benz R – Class, in Minivan Clothes
By Jim Bray
(photos by the author)
Mercedes Benz may not want its new R Class to be known as a minivan, but it sure seems like a minivan to me – and a darn fine one at that.
The only real difference I can see between the R 350 I drove for a week and a garden variety minivan (other than M-B's high end trappings and technology, of course) is the fact that its center passenger doors are hinged to open outward like the front doors instead of sliding backwards the way most minivan doors do.
On the other hand, it looks a lot like those so-called crossover vehicles that are becoming more common – vehicles that supposedly blur the line between minivan and SUV or SUV and wagon such as the Chrysler Pacifica or maybe GM's models such as the Saturn Relay. DaimlerChrysler seems to want the R to be known as a "sports tourer," and while I agree with the "tourer" part, I'm not sure a big vehicle like this has a lot of "sports" in it.
But whatever you want to call it, the Mercedes Benz R 350 is a fine vehicle that hauls four people in supreme comfort (and six in good comfort), and also offers flexible space for hauling stuff – all with Mercedes Benz luxury and technology added to sweeten the deal.

...continued
This was my first Mercedes Benz test vehicle, so I don't have a lot of M-B background to use as benchmarks. But if they can make a minivan this nice – and that even offers more fun-to-drive than I had dared dream – they must be doing some things right.
The R 350 is a front-engine, 4-wheel-drive, 6-passenger, 5-door vehicle that, in the black paint of my tester, looks a little like a high tech hearse. That probably isn't fair, since it actually sports quite an attractive body, but I heard that comment from several people during my time with the R, so it isn't just me. But it does make for a good joke, so I can't just let such an opportunity go by....
The vehicle is shaped kind of like a big jelly bean, taking the generic minivan look and adding more than a dash of interesting style to it. It won't go down in history as an aesthetic classic like the original SL gull winger, but that's okay; despite any hearse like tendencies it's more attractive than one might expect in this type of vehicle.
The R 350 is powered by a 3.5 liter DOHC 24 valve V6 engine that cranks out a decent 268 horses @ 6000 rpm and 258 lb-ft of torque @ 5000. This isn't race car territory, but this isn't a race car despite its "sport" designation. And it's plenty to get this big and heavy vehicle up to highway speeds as required, and if that isn't enough for you there's always the R 500 with its 302 hp and 339 lb-ft V8.
The engine is coupled to a terrific 7 speed automatic transmission with manual mode operated by little rocker patches on the back of the steering wheel. Automatic mode is fine on its own, up shifting almost imperceptibly and down shifting nearly as soon as I wanted it to.
I was surprised to find the Benz offered a manual setting on something as "mundane" as a minivan. But it sure came in handy during my review period when we had our first major snow storm of the season. The storm saw our city's intersections and hills turned to ice as idiot drivers went immediately into brain dead mode and rode their brakes, but the R 350 walked through all the highway horrors as if they were set to music.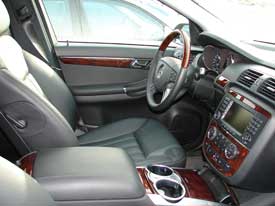 On one occasion, we were heading down a hill that had been turned into a very wide bob sleigh run, at the bottom of which was an accident scene where someone had rear ended a city bus. I shifted the R 350 into second and crawled down the hill without using the brakes; it did the job beautifully, with no fuss, while imparting a feeling of stability and security that made my nervous passengers feel very good indeed.
It was a testament not only to the manual transmission setting, but to the R's permanent full-time 4-wheel drive system with 50/50 front/rear torque split that's maintained via a single-speed transfer case and center differential.
The R's Airmatic air suspension is independent all around and features "sport" and "comfort" settings. I preferred the sport setting under normal driving conditions, but really liked the way the comfort setting helped to smooth out road irregularities. We have a freeway with so many frost heaves and other "imperfections" that it can be jarring, and the R took the jaw-and-butt clenching bumps away without destroying the feel of the drive. It was quite impressive.
Steering is rack-and-pinion with variable hydraulic power assist, while the brakes are electrohydraulic power-assisted 4-wheel discs with ABS and brake assist. Stops are confidence-inspiring for such a large and heavy (4,905 lb/2,225 kg) vehicle.
The big Benz wears aluminum-alloy wheels equipped with 235/65 R17 all-season performance tires.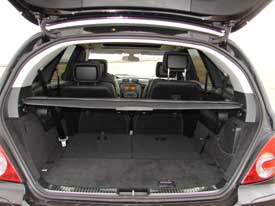 Inside is a very nice place to be, with creature comforts – and just plain comfort – galore. The first thing I noticed is the really cool roof – it features a huge sunroof and overhead glass for the second row. Power operated blinds will blank out both panels, and the sunroof opens with a single touch, though for some reason it doesn't close that way.
The driver's seat is wonderful, with excellent support and comfort, and its eight way power adjustments (combined with the tilt/telescoping steering wheel) mean you can find a perfect driving position easily. A memory system is optional; my tester didn't have it.
Despite the perfect driving position, all isn't perfect. The outside mirrors are surprisingly small, though they offer decent visibility; my biggest concern was the B pillar behind the driver's door, which was positioned such that it created a blind spot for shoulder checking.
The R features a nifty electronic toggle shifter that reminds me of the one in the Toyota Prius. In this case, you simply press the stubby little stalk down for Drive and up for Reverse, with push the button on the end of the stalk to access Park. The lever returns to its center, default position after you make your choice. It's pretty slick.
And the stereo rocks! The R comes with an AM/FM stereo/weather band radio (satellite-ready), single-CD player behind the color LCD screen in the middle, and it's coupled with a six disc CD changer mounted rather inconveniently in the glove compartment. Why Mercedes didn't just put a six disc changer in the dash is beyond me. And I was disappointed, though not overly surprised, to find that this excellent Harman Kardon stereo doesn't handle DVD-Audio, dts or SACD discs. On the other hand, these are niche formats right now and with the pending introduction of high definition DVD's they may not last.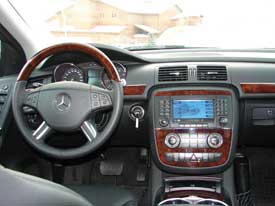 But it would have been nice to take my DVD-A discs along with me to really exploit that awesome sound system!
The system features beautifully deep and tight bass, and you can set the audio controls separately for AM, FM and CD. I preferred the "standard" ("Default") audio setting to "Logic 7 Surround," which didn't seem as realistic, but to each his own.
The radio/disc/phone presets are mounted on the passenger side of the COMAND center's LCD display, which I found was too far away for my stubby little arms, and the steering wheel-mounted controls don't let you scroll up/down through the radio presets, (just to the next station on the dial), which I thought was a tad annoying since I had to reach so far across the dash to get at the presets otherwise.
The variable-focus halogen headlamps do a good job of illuminating the road ahead. I love the automatic setting that's becoming so common on today's vehicles and means you never have to worry about turning on or off the lights, but for some reason I couldn't get the high beams to work (except for "flash") when the headlights were in auto mode. They worked fine in manual mode, so perhaps it's a configurable setting that I just couldn't figure out during my limited time with the R.
The R's windows are power-operated with one-touch express-up and down, and the cruise controlled speed can be raised or lowered in 10 km/h increments, which is kind of cool. The cruise control lever is mounted just above the signal light stalk, which made them easy to mix up, though once you're used to the vehicle I imagine it wouldn't be a big deal.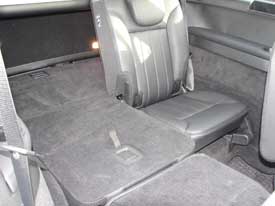 The front passenger seat also sports power adjustments, and all four front/middle seats get bun warmers and HVAC adjustments. The second and third row of seats are quite flexible and efficient, too. The second row seats are of the "captain's chair" variety and are very nice; even the third row is comfortable, with seat backs that recline somewhat, though the third row seats can't compare with the front two. The middle and rear seats fold, too, allowing you to create a big area for cargo (though it always seemed to me that it would be a shame to throw stuff in the back of this classy vehicle; I had a chance to bring an old desk home in it and put it off until a "lesser vehicle" was offered).
There are plenty of storage bins throughout the R's classy and comfortable interior and the glove box features multiple bins as well.
Safety equipment includes two-stage adaptive front air bags and front side air bags as well as window curtain air bags. Any more bags and you could start up a pipe band.
I haven't even really started to address the long list of luxury and convenience touches that would undoubtedly make life with the R 350 even more pleasant; suffice it to say this is a creature that's full of comforts.
The Mercedes Benz R class starts at $64,400.00 Canadian/$48,775 US.