Mazda 5: A People and Stuff Mover with "Zoom-Zoom"
By Jim Bray
Mazda's new six seater looks like a mini-minivan (a microvan?), but Mazda prefers to call it "the Zoom-Zoom MAV."
MAV is yet another in a long series of acronyms or nicknames companies use, perhaps to avoid the "soccer mom" image minivans and other utility vehicles have gotten over the years.
Thus we have "sports tourers" such as Mercedes R class, "CUV" Crossover Utility Vehicles such as the Subaru B9 Tribeca, "CSV" Crossover Sport Vans such as the Saturn Relay, "SAV" Sports Activity Vehicles such as BMW's X5. Next maybe we'll get "PASH-V's – People And Stuff Hauling Vehicles.
It seems as if only Honda and Toyota are bucking this "shifting identity" game, though the former's Odyssey brochure only gets around to the dreaded minivan word near the end. Toyota is gutsy enough to advertise its Sienna as "the ultimate family vehicle" on its US website, while TV ads extol its virtues as being perfect for seven "friends". And, funnily enough, you see a lot of Odysseys and Siennas on the road.
more...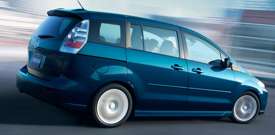 ...more
So now we have the MAV, or Multi-Activity Vehicle. It's fairly apt, I suppose, because the 5 is not only a good people hauler that can seat up to six, it can also be configured to haul all kinds of stuff from the short to the tall and the short to the long.
It's actually a pretty nifty vehicle and, as with just about every other Mazda I've driven in recent years, it has a good "fun to drive" quotient – that "Zoom-Zoom" thing Mazda uses in its ads. "Zoom-Zoom" may not be enough reason to buy a vehicle, but it certainly doesn't hurt (and it could tip the balance of the buying decision if it's important to you that a vehicle be enjoyable as well as practical). It's also one of the reasons I enjoy driving Mazdas so much.
And if you have to have a minivan-like vehicle, why shouldn't it be fun to drive?
Thus the 5 is more than just a PASH. It's a people-and-stuff hauler with a fun quotient sweetening what already seems like a pretty good deal.
Design and Technology
The front wheel drive 5's wedge-like exterior is stylish and clean, with dual sliding minivan-like rear doors you can open easily with one hand. The advantage to sliding doors is that they give you good access to the interior even if you're in relatively tight parking spaces – though they also scream "MINIVAN!". GT models of the 5 include Mazda's Easy Close mechanism that grabs onto the door as it approaches its closed point and finishes the job for you. It works well, though it's a bit strange to feel the door being pulled along for you at the end; it's almost as if there's a ghost in the machine.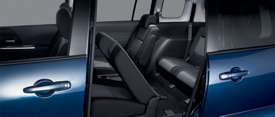 The rear hatch opens up high to allow good access to the rear of the vehicle, and the rear seats are easy to fold down from that position.
The 5, which shares much of its drivetrain and suspension with the Mazda 3, is powered by a 2.3 liter dual overhead cam 4-cylinder engine with variable valve timing that cranks out 157 horsepower @ 6500 rpm and 148 lb-ft of torque @ 4500 rpm. These aren't world-shattering specifications, but they do the job very well; I had no problem keeping up with traffic and reaching freeway speeds on onramps, and never pined excessively for more oomph, though I wouldn't have turned it down if it were offered.

Two transmissions are available. The standard 5-speed manual is apparently shared with the 3, though Mazda claims it has been refined "for smoother, easier operation" by putting an extra cone synchronizer on each of the first four gears. This apparently makes it easier to shift.
As of this writing I haven't driven the 3, so can't comment on any differences. But the 5's manual tranny does shift very nicely, with easy throws and a good feel. The clutch is nice and light, too, which helps increase the driving pleasure.
The optional 4-speed automatic comes with a pretend manual mode.

Each of the 5's transmissions has an instrument panel-mounted shifter, a first for Mazda – though others have been using the configuration for years in such vehicles as the Toyota Matrix/Pontiac Vibe and Honda Element.
The suspension features MacPherson struts up front and a multi-link arrangement in the rear. Though shared with the 3, Mazda says it has been tuned to take the 5's height and seating capacity/variety into consideration. The front suspension uses a four-point rubber mounting system for support and smoothness, and gas-filled shocks are standard all around as well.
Brakes are power-assisted, ventilated discs up front, with solid discs in the rear. The system includes four-sensor, three-channel ABS with Electronic Brake Force Distribution (EBFD). Stops from a variety of speeds were straight and smooth and the ABS wasn't intrusive.
Steering is Electro Hydraulic Power Assisted rack and pinion and it feels much nicer and sportier than a mini-minivan has any right to.
Tires on the GS trim level are 205/55R16 all-seasons, while the GT gets 205/50R17 inch all-seasons. The 5 spoke alloy wheels on my tester were quite attractive.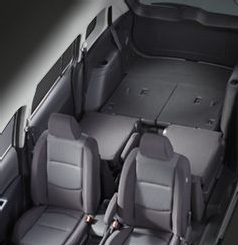 Interior Design….
As with the exterior, the 5 displays excellent fit and finish inside, with well thought out storage thingies placed throughout the cabin. There are two trays on the driver's side of the instrument panel, one on the passenger's side, the usual glove compartment, front door pockets with bottle holders, a center console with two lidded cup holders and a double-recess storage box. Second and third row passengers also get cup holders.
The first and second row seats are comfortable buckets; the third row is a 50/50-split folding bench. The manually adjustable driver's seat is height adjustable and when combined with the manual tilt/telescope steering wheel it's easy to find a comfortable position.
The second row seats recline and slide. Each second row seat bottom can fold forward and the seatback can be tipped forward with the headrest still attached (a nice touch). The second and third row's seatbacks can also be folded to create a flat cargo surface. When you have all but the front seats folded, the resulting cargo space is quite generous.
The second row seats also slide forward easily to create pretty good access to the third row.
The analogue instrument panel is straightforward and quite attractive – and its yellowish green illumination is far nicer than the usual Mazda red. The shift lever, audio and HVAC control are placed on the center stack where the driver can see and reach them easily, and the HVAC features an automatic setting.
The audio system consists of an AM/FM CD player with clock. The GS trim level comes with four full-range speakers, while the GT ups the ante by adding two tweeters. Sound quality is pretty good, though as with other Mazda sound systems I've tried it cranks up fairly loud quickly but it also runs out of steam before it really should. The ergonomics are good, though; switches and knobs are quite large and located within good reach of the driver.
There are also steering wheel-mounted controls.
The 5 has an excellent greenhouse, and the driver doesn't have to worry about a lot of blind spots. You even get corner windows between the windshield and the front door-mounted windows that can help make pedestrians easy to se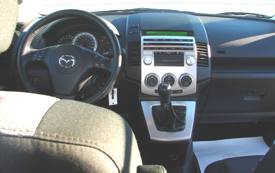 e. And the outside mirrors are large enough to provide good rearward visibility without blocking the view forward.
The headlights do a good job of lighting up the road ahead, and Mazda includes the terrific "auto on" feature that is so handy. An automatic windshield wiper system can take control of the blades based on whether the 5 determines there's enough rain falling.
As nice as that sounds in concept, I'm kind of ambivalent about these systems because the vehicles' brains and mine always seem to disagree about when the wipers should start to wipe, but I suppose it's a nice convenience feature for those who prefer to drive with their eyes closed, oblivious to weather conditions.
Safety equipment includes front row seatbelts with pretensioners and load limiters, and advanced dual stage front airbags with "seat belt-use sensors." The GT model ups that ante with side impact and side curtain airbags.
The 5 treads the line between utility and fun very well. It's very flexible, quite comfortable, and gives a more interesting driving experience than one would suspect is possible from this type of utilitarian vehicle.
It's also affordable: the manual transmission version starts at $19,995 Canadian/$17,995 US.
Now, bring on the Mazdaspeed version!