Audi A3 - Little Wagon, Ho!
By Jim Bray
May 6, 2008
A3: it's small, it's a wagon and, as usually happens when I live with an Audi for a spell, it tore at my heartstrings to give it back.
Audi's A3 (not to be confused with the AAA) is a wonderful little wagon, a blast to drive but practical and reasonably economical. And despite its size, it's roomy enough for four (five in a pinch - literally) and their accoutrements.
For what more could one want?
Heck, my test car didn't even have the MMI multimedia interface that has been the fly in my enjoyment of other Audis I've tested. Instead, there's a straightforward button-based interface that works just fine. More about that later.
The A3 is Audi's entry level four door car in North America, but that term is relative. It's entry level in only in comparison with Audi's bigger vehicles such as the A4, A6 and A8, and my test unit included the more upscale S-Line trim level that adds stuff like more aggressive fascias front and rear and sportier interior appointments.
The base A3 comes with Audi's 2.0 T FSI turbocharged four cylinder engine that delivers 200 horsepower between 5,100 and 6,000 rpm and a maximum torque of 207 lb.-ft., available from 1,800 to 5,000 rpm. Audi says it's the first production engine to combine FSI direct injection with a turbocharger.
It's probably a fine engine, but I've never tried it and such wasn't the case with my test A3, either. Instead, it was fitted with the wonderful 3.2 liter V6 that cranks out 250 horses with 237 lb.-ft. of torque from 2,500 to 3,000 rpm. It's an engine I've tried before on the A4 and A6 Avant, a lovely power plant that pulls strongly and goes about as fast as you'd need it to.
It sounds great, too.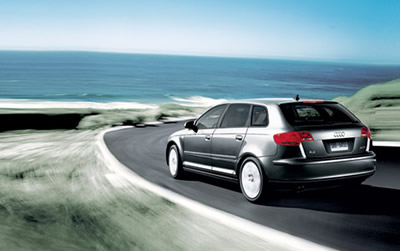 Both engines are mounted sideways which should allow for more interior room in this short wheelbase car.
Base A3's come with front wheel drive and a six speed manual transmission that, if it's anything like the tranny in the last A4 I tried, is a peach. My A3 came with quattro all wheel drive and a six speed Direct Shift Gearbox (DSG) with electro-hydraulic control and paddle shifters that works so well I'd probably order it on my A3 and risk being struck by lightning for abandoning the stick shift.
The auto/manual is extra convenient in that, when you find yourself cruising along in automatic mode and come upon a nice twisty bit or cool onramp that cries out for shifting by hand, you can just activate the paddles without shifting the main gear selector into manual mode. The transmission responds instantly and, when you've had your fun, goes "back to sleep" in automatic mode without you even having to think about it. It's marvelously convenient and fun.
And of course you can put it into manual mode (and/or Sport mode) whenever you want to stay in control of the shifts.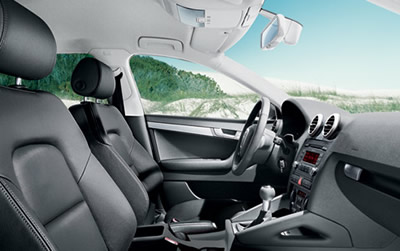 The all wheel drive came in really handy when we had a spring snow fall and I found myself at the controls of a performance car wearing summer performance tires. The combination of the quattro and the manual settings for the transmission let me drive with confidence even while other people were heading for the ditches.
My test unit wore 225/40 ZR Michelin tires on attractive 18 inch wheels. Standard equipment is 17 inchers, which are undoubtedly more than adequate.
Each wheel receives a disc brake with ABS. Audi says it's a dual-circuit system with diagonal split stability control and electronic brake force distribution, hydraulic brake assistant and an electronic differential lock. Pedal feel is nigh on perfect and the stopping power is awesome.
A3 suspensions consist of MacPherson struts with lower wishbones, an aluminum sub frame and tubular anti-roll bar up front and a four-link rear suspension with separate spring/shock absorber arrangement, subframe, and tubular anti-roll bar. They make the A3 handle just like an Audi should, catlike and confident.
The electromechanical steering also feels nigh on perfect, putting the capstone on a joyful driving experience.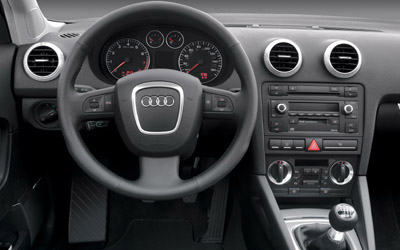 About the only nit to pick with the driving experience is the placement of the B pillar, right at the driver's shoulder. I found it got in the way when I had to look over my left shoulder in some parking lot and on-ramp situations. These were the exceptions rather than the rule, though and if you adjust the outside mirrors properly you don't have to look over your shoulder very often.
The cockpit looks a little more "economical" than in other Audi's I've driven, though not so cheap that the car actually looks entry level. But the dash material seems a little stark and I got the impression it could be a hair, dust and/or fingerprint magnet, though nothing like that accumulated during my week and a bit with the A3.
You'd expect some corners to be cut in a car positioned like this, and one way Audi shaved a bit of coin from the sticker is to offer power adjustment only on the driver's seat: front seat passengers will have to do their own butt placement, which is hardly an onerous task. In fact, if they have to scrimp somewhere, I'd rather see it there than in the drive train.
That said, the heated leather seats up front are extremely comfortable, and the rears are no slouch either, though I wouldn't want to be the middle person back there for very long.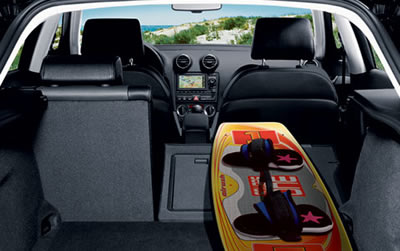 The rear seat splits and folds quite flat to create more storage space. Don't think Q7 capacity, though - or even A4 Avant - but it's competitive with other small wagons.  
For the most part, everything you'd expect from Audi is here, from the multifunction tilt/telescope steering wheel to power windows with auto up/down, keyless entry, full instrumentation (colored red, unfortunately, but that's the way Audi does it and it's easy to live with).
The HVAC controls seem a little weird. Rather than offering a rotary knob to  control the fan, you just get up and down (+ and -) buttons. The dual zone temperature controllers look like big rotary knobs, but they're actually just big, funny-looking up and down controls as well. They work fine, but it's an unusual configuration.
My test unit came with a big, panoramic sunroof that was wonderful. Only the front section opens, but rear seat passengers can watch airplanes just like the driver - er, can't (because he's driving!). The front section doesn't open quite as much as I'd like, and the panel slides across the top of the roof rather than inside it (undoubtedly to maximize headroom), but the hole is plenty large enough to let you enjoy the fresh air.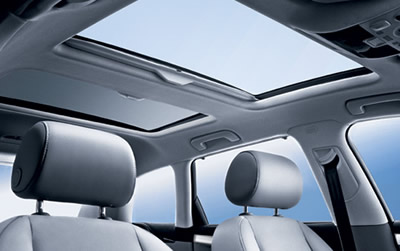 The sunroof doesn't open and close via Audi's  usual twist knob, which is a shame. And it isn't one touch open/close. Rather, to open it requires three separate sessions on the switch: the first tilts it up, the second slides it back about half way, and the third opens it the rest of the way. That's a lot of time for the driver to keep his hand away from the steering wheel.
I loved the shade you can pull over either section - unlike the solid panel on most vehicles, it's perforated so you can use it to keep the sun from beating down on your head while still letting the air in. It's lovely!
 Audi's symphony AM/FM satellite-ready audio system, which features an in-dash six-disc CD changer and the BOSE premium sound system with AudioPilot noise-compensation feature, really rocks, with plenty of power and very good sound quality. And you can operate it just fine without the annoying presence of that infernal MMI interface that complicates the process.
Instead, the display panel is surround by "soft keys" you use to control radio presets, tone parameters and the like. It works just fine, proving that Audi really can make a user friendly interface if it tries.
Safety equipment includes intelligent air bags up front (so intelligent that they aced an IQ test while I had them!), side airbags and the usual bevy of belts and stuff.
The Audi A3 starts at $25,930 U.S./$32,300 Canadian for the base 2.0 liter four banger FWD and $34,915 U.S./$43,700 Canadian for the 3.2 liter V6 with quattro.
Copyright 2008 Jim Bray