Audi A4 - Sweet Sedan
By Jim Bray
December 18, 2007
Once again, Audi has made me lust after one of their vehicles.
Earlier this year, I spent a week in an Audi A6 Avant wagon, and was ready to kidnap it and spirit it far, far away where the Audi folks would never find us.
And now, after a week in the A4 sedan, the same silly thoughts are snaking around inside my cranium. What is it with Audi that their cars are so great to drive, and nearly as great to live with?
That doesn't mean there weren't some things about it that drove me crazy, though.  
Audi's A4 is their "entry level" sedan (they also make the A3, but it's a wagon), a four door sweetheart under whose spell my wife also fell. It's a car we'd own gladly.
This could get to be a very expensive job..
I'm still of two minds about the huge schnozzola Audi has carved out of their vehicles' front ends in recent years. I guess it proves the old saw about beauty and the eye of the beholder. But the exterior as a whole manages to look both athletic and classy at the same time, with tightly wrapped sheet metal that leaves not a trace of fat. Heck, I should have a body like this!  
The current generation features flared wheel arches and arch-shaped tail lights that look much better than the previous car's knobby little butt. The car's instantly recognizable as an A4, but new and fresh at the same time.
Inside is the latest iteration of an interior that won the 2005 "Auto Interior of the Year" award from Ward's and a top rating from the Insurance Institute for Highway Safety (IIHS) for occupant protection. Audi says it's "characterized by lines extending a long way into the door trim and center console areas, which quite literally appear to embrace the driver." This "wrap around" effect, they say, is something many customers value highly because of the "remarkable sense of security that it imparts."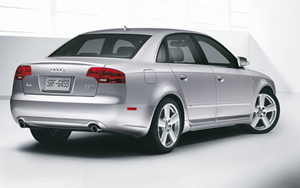 Isn't that sweet, and don't you feel better now? Hype notwithstanding, it's a darn fine and very comfortable interior, though I'd be even happier if they'd dump the red display readouts in favor of something a tad less garish. It's weird, too, because the instrument panel has a beautiful, restful kind of orange color that works very well.
Power to the People.
My test car was equipped with Audi's 3.2 FSI six-cylinder engine, with direct injection, a variable intake manifold and continuous camshaft adjustment on both the intake and the exhaust side. This engine delivers 255 horsepower @ 6,500 rpm with peak torque of 243 lb-ft. available @ 3,250 rpm. This may seem a tad anemic in a market niche where other companies get more than 300 horses from their V6's, but in practice the oomph is more than adequate. Perhaps it's because, according to Audi, more than 90 percent of the engine's peak torque is available between 1,900 and 5,900 rpm, which means you have plenty of grunt nearly from the get-go. 
I loved the six, the same engine that was in the A6 Avant with which I fell in lust. 
Audi also makes a 200/207 hp/torque two liter turbocharged four cylinder engine available for the A4, and the sported up S4's 4.2 V8 engine cranks out 340 horses with 302 lb-ft of torque.
My test unit's six banger put its lovely power to the four wheels (thanks to Audi's quattro system) through one of the nicest six speed manual transmissions I've tried. Shifts are short and slick and the clutch is feather light and effortless. A six-speed automatic with Tiptronic is also available.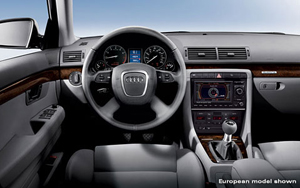 The A4 (and the S4) has a four link suspension up front and a trapezoidal-link rear, both of which use light-alloy components.  Combined with new shock absorber settings, the suspension feels sensitive and dynamic, and strikes a nearly perfect balance between sportiness and comfort - a difficult act for any car company to achieve. It hits a wonderful compromise between the stiffer sportiness of, say, a BMW 3 and the more plush feel of, say, a Lexus IS.   
The A4 comes standard with speed sensitive and power-assisted hydraulic rack-and pinion steering, and it feels great. Not only is the steering wheel nigh on perfect for the driver's paws, the steering is precise - nice and tight at speed yet effortless for parking. 
I didn't find much understeer in my four wheel drive A4; in fact, the car carves apices with joyful abandon, calm cool and collected all the way.
Brakes, of course, are discs all around, with ABS and Audi's Electronic Stabilization Program which works with the ABS, Electronic Brake-pressure Distribution and hydraulic brake assist. And of course there's also traction control.
Get this: a brake disc wiping function helps keep the brakes dry on wet roads.
Inner Beauty..
The cabin is a wonderful place to spend quality time. The analog/digital instruments are crisp and clear to read at a glance and, despite my angst over the red displays in the center stack, everything is generally easy to fathom and easily at reach.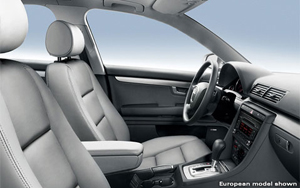 Then there's Audi's Multi Media Interface (MMI), which in this model is mounted on the center stack rather than on the console-mounting like in A6 and A8.  My test A4's MMI also included a navigation system, but I couldn't figure out how to get its map to show where we were at any particular time.
Oh, sure, I could've opened the manual, but such systems should be designed so you don't have to consult the book to figure out it. And some are. But not this one!
One other complaint, and it's pretty nitpicky: there's an armrest on the center console that you have to swing up and out of the way between the seats if you expect easy access to the hand brake, cup holders, etc..  It was annoying enough that I kept it swung up most of the time, just so it wouldn't be a hassle.
Other than that, the driving position is really good. The gas/brake positions don't lend themselves to heel and toe driving, but that isn't a big deal unless you fancy yourself a racer. And the dead pedal's mounted a little close to the clutch, but this is also a minor quibble unless you're trying to drive while wearing clown shoes.
HVAC is automatic, as you'd expect in a premium car, and the bun warmers on the front seats have six settings, from "defrost" to "broil," though for some reason they aren't labeled that way.
The Audi Symphony radio features an in-dash six-disc changer (in the glovebox, which is so 1990's) and a 10 speaker sound system that rocks once you master the MMI controls.
The trunk is cavernous, and even has a little recess in the side that's perfect for carrying milk containers or other things you don't want rolling around when you start carving apices on the way home from the supermarket.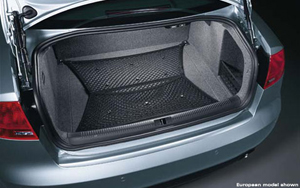 The rear seat also splits and folds 60/40, to offer even more hauling space. 
My test unit wore the "S line" package, which includes that lovely sport suspension, 18-inch 5-arm wheels with 235/40/18 performance tires, S4 front and rear bumpers, side sills, an S line specific grille, a cute rear trunk lid spoiler and special badges.
Inside, the S line package includes brushed aluminum trim and that marvelous three spoke steering wheel with perforated leather and red/black/silver stitching.  
Safety features include new two-stage front airbags and Audi's Sideguard head-level airbag system. Occupants are also kept safe with side airbag systems and crash sensors. And of course you get the usual bevy of belts, anchors and the like.
I loved driving this car. From the wonderful exhaust note to the exhilaration of mashing the gas to the floor while you fly through some curvy bits, it's simply marvelous. I can see why Audi gives their cars "A" grades.
Now if only they'd send the S4 - or, better still, the RS4 - to try...
The Audi A4 starts at $28,900 U.S./ $35,350 Canadian. The 3.2 liter V6 model starts at $36,300 U.S./$49,500 Canadian.