Audi A8 L – Awesome Audi
By Jim Bray
It may have a nose only a mother could love, but Audi's flagship A8 L is one heck of a vehicle – a fast and luxurious car that'll please the well-heeled enthusiast and the hedonist at the same time.
Available in V8 and W12 versions, the German manufacturer's current flagship is big, smooth, powerful, extremely luxurious and, perhaps surprisingly for such a large car, a comparative blast to drive.
My tester, the A8 L, was the stretched version of the "base" A8, equipped with the "little engine": a 4.2 liter DOHC aluminum 90-degree 4.2 V8 (featuring 5 valves per cylinder and variable intake valve timing) that puts out 335 horses @ 6500 rpm and 317 lb-ft of torque @ 3500. The engine moves this big sedan ahead incredibly smoothly; just step on the gas and the A8 L is off like it was shot out of a cannon, but so subtly you're at speed before you realize it. The only way you can really tell you're moving quickly is the blurring of the landscape outside the windows.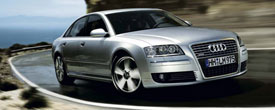 The power is sent to all four wheels (hence Audi's "Quattro" designation) via a six speed automatic transmission that's also a model of smoothness. Even under hard acceleration, shifts are so smooth as to be almost imperceptible.

You also get a pretend manual mode, and some models have paddle shifters on the steering wheel (mine didn't, alas), but I was surprised to find that I actually preferred leaving it in full automatic mode, even though I was afraid that doing so would result in this confirmed "stickaholic" being struck by lightning.
The heart of the A8 is its Audi Space Frame (ASF) aluminum alloy frame and body shell construction. Aluminum is lighter than steel, and the results can be felt on the road and even at the gas station, somewhat.
Holding up that space frame is an adaptive air suspension, with an air spring strut at each wheel. This sophisticated system offers continuous damping, driver-controlled suspension settings and automatic load-leveling. It's a great suspension that offers whatever road feel you want, from boat-like to sporty, and it's neat to see and feel it in action.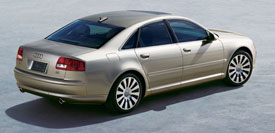 I preferred the "Dynamic" setting which, Newton's First Law of Motion notwithstanding, makes the car feel smaller than it is, with handling that may not be sports car quick but which is far better than a big luxury sedan has any right to be.
The car seems to hunker down as it speeds up, as if it were a big, mechanical Cheetah in pursuit of its prey. And more than once upon exiting the car, I could hear it expelling gas from the system as it went back to whatever magical setting Audi has programmed in as its default, a "pffft" sound that brought some suspicious looks my way from my dear wife when she heard them.
My tester A8 L featured the optional 19 inch 12 spoke forged alloy wheels wearing 255/40 all-season tires. They're definitely attention-getting, if a tad "unsubtle." Behind them are big disc brakes, with ABS of course.
The car's exterior imparts a graceful yet muscular impression, with smoothly flowing lines and an attractive profile from three of the four sides. The only fly in the ointment is the big grille, which looks to me like a cross between an Edsel's, a jet engine intake, and a toilet seat. Others disagree about its relative repellence, however, so to each his own – and to be perfectly fair if I were in the market for a car such as this I doubt the prominent proboscis would be the deciding factor in my decision.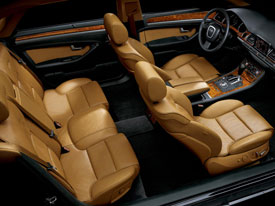 The A8 L's interior is as gorgeous and classy as the exterior, full of leather and wood and, alas, mucho techno stuff. The L version's extra length translates into so much leg room for rear seat passengers that you could probably stick a whole family of garden gnomes on the floor and still not crowd the human passengers.
The big and comfy back seat is perfect for two, but even though this is a big car there's still no happy solution for the third passenger in the rear seat. We hauled a trio for a three hour freeway trip and, while the seat was probably the best we've tried, that third person still started whining after a while, partly because the center armrest (when folded up to facilitate seating three) catches the back just wrong and the seat belt receptacle tended to catch the middle passenger's butt just in the wrong place.
But for two, this is like having a suite at a five star hotel. And they even get their own, ceiling-mounted vanity mirrors so they can get the makeup just right before arrival at whatever society ball they're attending, though we found them a tad high for short people to use. Also, the rear seat cup holders are at knee level (or "our" knee level, anyway, which may be ankle level for some) and positioned so that we were afraid we were going to break them. But they do hold cups!
Then there's the front. Both front seats are supremely comfortable for a variety of bum sizes and offer 16-way power adjustments, including 4-way power lumbar adjustment, upper back adjustment and lockable head restraints. They're also heated, of course.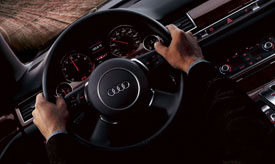 The driver's position is perfect, thanks to the power seat adjustments and the power tilt/telescope steering wheel (it's also a great steering wheel to hold in your hands, by the way). In front of the driver, the instruments are clean and clear and just where they should be, as are the wiper/turn signal stalks and the various buttons and things for all the gewgaws a car at this level of the market is expected to sport.
The instrument panel includes a Driver Information Display with readouts for the radio, pictogram displays for open door and/or trunk lid and a 6 function trip computer/outside temperature gauge.
There are four memory setting for the driver and front passenger seats that also remember the outside mirrors', driver's head restraint's and steering wheel positions, as well as the climate control settings.
Between the front seats is a big, full-length center console with a forward storage area, regrettably small cup holders, and a small storage area under the armrests. It also features adjustable rear passenger air vents and rear power outlets.
The A8 L comes with a terrific smart key system that works just fine, but instead of having a single start/stop button for the ignition there's a big Start button on the center console and a smaller Stop button above it. Why?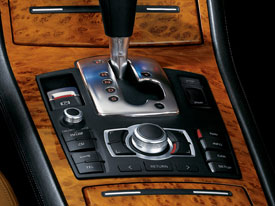 I love these smart key systems: you can keep the key fob in your pocket or purse and the doors will unlock automatically when you approach the vehicle; locking is accomplished by touching the little black "button" on the door handle.
And get this: if you don't quite close the doors completely, the Audi grabs them and pulls them closed for you. This is pretty slick, though I wonder how necessary it is.
Oh yeah, the huge trunk's lid is also power operated, which is extremely handy when you're loading stuff.
HVAC is automatic and those in the rear can mess with their own settings, which was nice during our very warm summer day's highway cruise. Rear seat passengers can also raise sun shades over the side windows and a power sun shade (operable from either front or rear controls) can cover the rear window.
A nifty touch is the little MMI LCD display, which opens up from behind a panel on the dashboard's center when you fire up the engine. It's mounted nicely near eye level and is the place from which you monitor the oodles of adjustments operated via a cursor control knob on the center console and the oodles of buttons that surround it.
The MMI system also integrates the AM/FM radio with 6-disc CD changer (in the glove compartment) that features a Bose premium 12-speaker sound system with 5-channel surround sound, subwoofer and center fill speaker, AudioPilot noise compensation and 4-channel rear window radio antenna. Audio quality is first rate, though the surround system doesn't handle DVD-A or dts-encoded DVD music discs – a common shortcoming.
The car's also Bluetooth equipped, so you can use a Bluetooth-equipped cell phone hands free. A voice recognition system can be used to control the navigation system, audio and telephone. Somewhat.
Alas, that MMI system drove me nuts. It's very complicated and difficult to navigate. Perhaps I'd have caught on better with more time, but after my week I was ready to tear it out of the console.
Ditto for the Audi's voice recognition and nav systems, which were extremely user unfriendly. I tried entering some destinations, using both the cursor control thing and the voice system, and ended up frustrated. I did manage to access the voice recognition's help system, but it wasn't particularly helpful, either.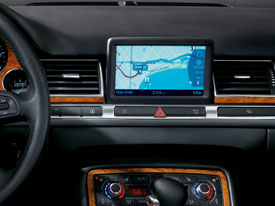 Maybe I'm just thick, but Audi's was the most frustrating of these "iDrive-compatible" systems that I've tried. That said, the company is by no means alone in the habit of, in my opinion, sticking so many features and technological tools (and toys) into their vehicles that they become more complicated to live with than they should be.
Case in point: the Audi does a nice job of finding and storing all the radio stations in your area, but entering your favorite stations into memory is anything but intuitive – and afterward the system keeps defaulting to "all stations" instead of "my stations," forcing you to press a button on the console each time to access your presets.
Perhaps it was operator error, but I don't think so. And even if it was, why should you need to pore over the owner's manual just to store and retrieve radio stations?
And while the idea behind voice recognition is great (keeping the driver's hands on the steering wheel where they belong), the technology isn't good enough yet for it to be practical. This isn't just an Audi thing either, of course.
But though admittedly annoying and complicated, you'll probably learn to live with all this stuff over time, and in the meantime you'll be rewarded with an excellent car that pleases driver and passengers alike.
And if you're the type who appreciates a driver's car, you won't be disappointed in the A8: with a great blend of power, torque, handling, and comfort, it's simply a wonderful car to be in charge of. Comfortable and fast, with extremely smooth and effortless power, perfect steering and brake pedal feel, a wonderful V8 sound and better gas mileage than I expected, this is a spectacular piece of automotive technology.
The Audi A8 starts at $68,130 U.S./$96,250 Cdn. The long wheelbase A8 L starts at $72,090 U.S./$100,420 Cdn. and the W12-powered version starts at $118,190/$170,070 Cdn.
And that buys you a heckuva lot of car.