Audi A6 Avant – a Wagon That Fits Like a Finely-Tailored Suit
By Jim Bray
April 7, 2007
For me, it was love at first drive. And it was a four wheel drive station wagon!
Not just any wagon, mind you. The Audi A6 Avant, the wagon version of the Audi's A6 sedan, is one of those rare beasts: a car that feels as if Audi had taken my measurements and crafted the vehicle with me in mind. Is it any wonder that I was captivated?
I didn't think it would be that good. While I had driven the A6 Avant briefly at an Audi media event in the autumn of 2006, and had really liked it then, that was for only about 15 minutes of seat time as opposed to the week I usually get with a test vehicle. I was afraid that the additional familiarity of a full test session, rather than making me content, might instead breed contempt.

For one thing, my tester was equipped with Audi's 3.2 liter V6 engine as opposed to the 4.2 liter, 350 horsepower direct injection V8. How can a six satisfy when an eight is on tap as well?
In reality, that oomph angst disappeared quickly because that six is more than adequate; in fact, at least when it comes to the A6, the V8 (and the V10 you can get on the sported up S6) could legitimately be considered a case of gilding the lily.
On the other hand, is it possible to have too much power?
Anyway, this is one classy set of wheels, as you'll notice at first glance. From that Jimmy Durante proboscis (which, to be fair, has become more attractive to these eyes since the column in which I described the A8's as "a cross between an Edsel's, a jet engine intake, and a toilet seat") to its LED-lit bum, this is a very handsome vehicle. Featuring low-slung windows and a coupe-like roofline, the A6 simply oozes class and its stance holds the promise of catlike reflexes.
The wagon turned a lot of heads while I was driving it, which was great for the ego (until I remembered I had to give it back!).
It's also a terrific vehicle to drive, with excellent handling and a suspension that splits the difference between the "softness" of a Lexus and the "sportiness" of a BMW.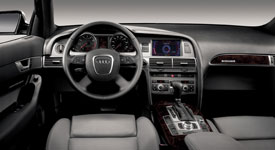 Delightful Insides, but….
The driver-focused interior is blessed with quality materials, wood accents breaking up the abundance of black vinyl stuff, and the power adjustable driver's seat and power tilt/telescope steering wheel make finding the perfect driving position simple. The instrument panel is analog where it should be, with big, easy to read gauges, and Audi has placed the inevitable digital readouts squarely between the tach and the speedo, with print that's large enough to let you take it in at just a glance.
The four-spoke "multifunction" steering includes thumb-operated knobs for audio controls, as opposed to the more common separate "up and down" buttons – and I really like this method: it gives you more control and you can operate it more quickly than by holding down a button.
To the right of the instrument panel, atop the center stack, is the LCD display used for the navigation system and as a monitor for the Multi Media Interface (MMI), an "iDrive-like" control terminal interface on the console behind the gear selector.
And that's where my love affair with the instrumentation ended. Why? Because that MMI system, like BMW's iDrive, really needs to be dumped. It's counterintuitive and overly complex, and if you use it while driving you just may run into something while it's occupying your attention.
I realize this is a competitive market segment, but whatever happened to the K.I.S.S. principle? Do we really need to have a list of "previously used" radio stations and stuff like that? Just give me preset buttons on the audio head unit and I'm happy.
And what's with the placement of the CD changer in the glove compartment, where it's a chore to load from the driver's seat? Dumb, dumb, dumb.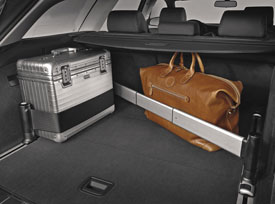 Rear seat passengers are treated to a very comfortable and usable environment, with well-designed and placed (split/fold) seats that also offer good legroom. The luggage compartment "out back" (sorry, Subaru!) features two recessed rails with sliding, adjustable (and lockable) lugs for securing stuff. And you can divide up the cargo area floor in a variety of ways for added flexibility.
Sweetening the loading/unloading ordeal on my tester was the optional power tailgate that you can operate from the key fob, which is a wonderful convenience when you're approaching the vehicle with your arms full of stuff.
My tester also included the S-Line trim level that sports things up superficially without turning the wagon into the type of screamer the "full" S treatment would create. It's mostly cosmetic, but it does feature a sportier suspension.
I was surprised to find that the windshield washers only fire two jets per side, as opposed to the wider spray that's becoming common, which seems kind of cheap for this level of car. On the other hand, the rain sensing wipers work very well, and the self dimming mirrors inside and out and the retractable blinds for the rear side windows are nice touches.
The sunroof's a good one, too. Audi uses a knob rather than a button or slider to control how far you open it (just twist it as far as you want the roof to open), and if you hold the knob at its "fully open" position the sunroof will keep going back until it's flush with the edge of the hole in the roof. And the noise level is quite acceptable at highway speeds, as long as you don't open the roof that extra little bit.
The A6 includes automatic climate control, naturally, and the audio system offers excellent sound quality, though (as is usual) it won't accept DVD-A discs. The car is Bluetooth enabled and my tester also featured a rear view back up camera.
My tester also featured keyless entry with push button engine start/stop, a lovely feature that lets you leave the key fob in your pocket or purse most of the time, though in this application it seems a tad silly for Audi to have used separate start and stop buttons. Not only that, but the controls with which you lock the doors "foblessly" are hidden on the bottom surface of the door handles and it takes a deliberate poke to activate them once you've found them.
But those are quibbles.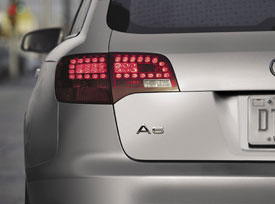 Beauty More Than Skin Deep….
While the MMI and other silly touches did their best to drive me nuts, it wasn't nearly enough to change my opinion that, when the Lotto Gods smile on me, you just may see me heading down to my nearest Audi dealer with a wad of bills. This is, indeed, a car I would own happily – not for its woolly-headed gadget design but because it offers a driving experience so wonderful it makes other considerations moot.
Which brings me back to the V6 power plant, which puts out an apparently modest (compared to some competitors) 255 horses and 243 lb-ft of torque. Yet that's plenty of poop, and a good match to the car. I never pined for the V8 (though I wouldn't turn it down) – and remember, the six should be more economical to run.
This lovely engine is mated to a terrific 6 speed automatic transmission with a seductive manual mode thanks to the paddle shifters mounted behind my tester's steering wheel. Paddle shifters are making me a fan of automatic transmissions, something that, as a confirmed stickaholic, I never expected.
A four-link front and self-tracking trapezoidal-link rear suspension toe the line between comfort and sportiness perfectly, with Audi's Quattro all-wheel drive system (standard on all A6 models) sending torque to front and rear axles via a central differential. It works really well, but as with most all wheel drive cars I've tested, it tends to understeer a bit when spurred.
Helping contribute to the exhilarating driving feel is speed-dependent "Servotronic" power steering that's more responsive than it has any right to be. Understeer or not, this car seems to know intuitively where you want it to go.
Brakes are discs with ABS and Electronic Brake-pressure Distribution all around. Pedal feel is also first rate, neither too grabby nor too mushy.
Safety equipment includes the usual bevy of belts and bags, as well as the "Sideguard" head curtain airbag system. All of this helped the A6 snag the Insurance Institute for Highway Safety's (IIHS) top frontal and side impact crash rating.
Gadgetry grief aside, the biggest problem I had with the 2007 A6 Avant was the knowledge that I had to take it back after my test. It's awful to be teased like that!
The Audi A6 Avant 3.2 Quattro starts at $48,000 U.S./$66,200 Canadian.