VW Touareg Diesel Rocks
By Jim Bray
May 6, 2011
High gas prices may make you want to think about a hybrid as a way to save some fuel, but there's another way to do it: Go diesel.
Diesels have had a reputation for being stinky and slow, but that was then and this is now. According to Sergio Stiberman, CEO and founder of LeaseTrader.com,  "The diesel cars of today are clearly not your father's diesel." Stiberman, whose company matches shoppers with "shoppees" who want to get out of their auto leases, says "More people today are searching for diesels because of the improved mileage they can get."
Diesel engine technology has been popular in Europe, and in Canada somewhat as well, for years but it's only recently gaining ground in the U.S. outside of its traditional niche of big trucks, buses, and the like. Modern diesels burn cleanly and – even if diesel prices are higher than those of gasoline – they can be cheaper to drive because of their extra efficiency. Perhaps that why The Diesel Driver, a website that offers data and analysis of diesel fuel insight, says sales of diesel automobiles doubled in 2010.
Undoubtedly helping that is the fact that diesels are being offered in vehicle styles with which consumers are already familiar, such as the nearly ubiquitous Volkswagen Golf and Jetta. Not only that, but "Diesel residuals are very strong right now which means deals are getting better," LeaseTrader.com's Stiberman says.
An excellent example of the species is the VW Touareg TDI, a large SUV I drove for a week while going through maybe two thirds of the gasoline I did when I got some seat time in a new Ford Explorer the week following – and at the time diesel was cheaper than regular gas in my area, though this isn't necessarily representative of diesel prices continent-wide.
Granted, the Touareg/Explorer matchup isn't a complete apples-to-apples comparison, but it does illustrate one of diesel's advantages. Another is torque; the VW turbo diesel goes like heck! Not that the Explorer doesn't pull well, but the turbo diesel is intoxicating.
In fact, the Touareg TDI is a vehicle I would definitely consider if I were shopping for a full-size SUV. I liked my sample Touareg so much that I might even consider buying it instead of the Porsche Cayenne V6 – a realization that has me, a confirmed Porschephile, hiding in my basement lest I attract a bolt of lightning for my heresy.
Yes, it's that good.
I drove the gas Touareg a couple of months ago and liked it a lot. And while its 3.6 liter V6 puts out a competitive 280 horses, which moves it along smartly, the turbo Diesel's three liter V6 is rated at what might seem a miniscule 225 horses.
Fortunately, Diesels are all about torque, the force that pushes you back into your seat when you stomp the fun pedal that's on the right side of the floor. The Touareg's conventional V6 cranks out 265 lb.-ft., which is still pretty competitive in the marketplace – but the Diesel slaps 406 of those wild, torquey beasties onto the road, and it's enough to put a silly grin on your face if you like acceleration.
It takes an instant for the turbo to wake up, but only an instant – then, HANG ON! I loved it.
This year, VW also makes available a 380 horsepower,  three liter 6 cylinder hybrid model as well. I haven't driven it, but 'twould be tough for a hybrid to be as compelling a drive as the Diesel.
And the Touareg TDI is definitely a compelling drive.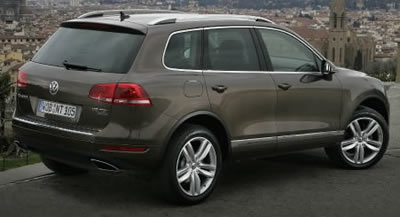 Getting that mighty torque to the four wheels is an eight speed Tiptronic transmission with sport mode (no paddle shifters, alas) and Dynamic Shift Program (DSP) that works smoothly and efficiently. Also along for the ride is an independent, double wishbone steel spring suspension fore and aft.
And of course the Touareg comes with Volkswagen's 4Motion permanent all-wheel drive system.
The Touareg also has one of the nicest SUV cabin's I've experienced, a typically Volkswagen interior from the company I consider (along with Porsche) to be the standard-setter for vehicle interiors. It's comfortable and classy, and laid out extremely well, with a minimum of buttons to confuse you, thanks to a flexible touch screen LCD that's a model of simplicity.
My test VW, which wore an upscale trim, had nice wooden inserts and a wonderful panoramic sunroof that opens up the sky to both rows of seats, though it only retracts over the front seats. It also has a power retractable blind you can use to keep the sun from beating down on your head too much.
Instrumentation is straightforward, with a nice LCD display in the instrument cluster that can provide the driver with vehicle status information including turn-by-turn navigation directions. The seats – even in the second row – are comfortable and, in my sample, they were heated as well.
The steering wheel tilts and telescopes via power, and the driver's side of my test Touareg also had three memory settings. There's Bluetooth of course, and it'll stream from your smart phone, though I couldn't skip musical tracks on my Android device. There's also an iPod adapter in the glove compartment that I didn't try but which usually lets you use the LCD on the center stack to operate the iPod as if it were part of the vehicle.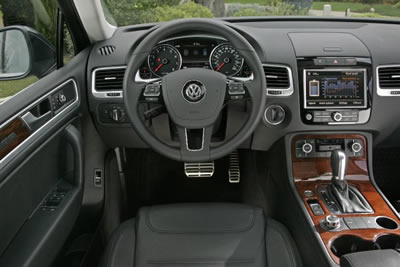 Streaming this way also lets you listen to smart phone apps, including the SIRIUS Satellite radio one I have, as well as apps for individual radio stations. I love that feature.
One bit of weirdness is that, if you shut off the power to the audio system, it shuts down the whole screen and everything that works with it. Best to just leave it on.
My sample also included a power tailgate, power outside mirrors you can fold flush with the vehicle's flanks for when you're in tight spaces. It also had smart key functionality, so the doors will unlock as your hand approaches the handle (though locking them again requires more concentration) and you can start and stop the vehicle with a push button on the center console.
There's a conventional slot on the dashboard into which you can insert the key normally if you want, but why would you want to do that when the push button is so convenient and lets you leave the fob in your pocket or purse?
The VW Touareg TDI starts at $47,950 U.S./$53,190 Canadian, and you can option it up from there.
Famous Explorer
I also got to spend a week in the new Ford Explorer, a welcome test since I'd driven it at the Canadian model introduction a month or so earlier and was looking forward to some quality seat time on my own.
The new Explorer takes the vehicle's traditional body-on-frame construction – which means it was basically truck-like but with no bed – and replaces it with the unibody construction that's become so popular with cars and crossovers in today's marketplace. I never drove the old version, but I liked the new one a lot.
My sample wore the Limited trim, which included three rows of seats and plenty of technology. That technology included the MyFord Touch interface the company ballyhoos so much, which gave me a second look at the system.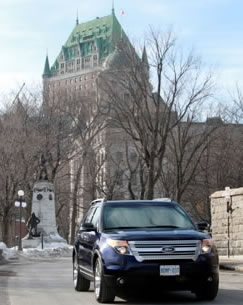 It's a pretty good system, too, or at least a good first generation. It uses a combination of voice recognition, LCD's on the instrument panel and center stack, and cursor controllers and buttons on the steering wheel to supposedly let you operate vehicle functions while keeping your eyes more on the road. And it works well, though I noticed this time that there's a lot of scrolling around through menus to be done.
This worked against the radio channel presets, which are actually easier to use via the center stack's big and colorful LCD. On the other hand, there's nothing wrong with having multiple choices of how to interact with the vehicle.
The screen doesn't have much in the way of tactile feel, but it works well as long as you keep your finger on it long enough for it to be recognized. And because you can do so much with the interface, Ford has been able to eliminate a bunch of possibly-confusing buttons and knobs from the center stack, making it almost as easy to use as the VW touch screen interface (though the VW's has a better feel and is less busy).
It's still a huge leap in ergonomics from some of the competition (are you listening, Honda/Acura?) and I look forward to the system evolving into something even better.
The Explorer can also be configured with all kinds of audio/video inputs, including composite A/V, USB (which I used for charging my phone on the road) and Bluetooth for phone and audio – as with the Touareg, I used it to listen to a radio station from Michigan that streamed via a smart phone app.
My sample also had HID projector headlights, a rearview camera and a third row seat that can be lowered by pushing a button, a lovely feature when your arms are full of stuff you need to stow in the back.
My Explorer also had adaptive cruise control, which you can use to keep you a preset distance behind the vehicle in front of you. It works great on the freeway, slowing you down as you come up behind a vehicle and speeding you up again when you pull out to pass (or when the other vehicle gets out of your way).
The blind spot warnings on the outside mirrors work well and, unlike some of the competition they don't holler at you or jerk the wheel when you second guess (or ignore) the robot. My Explorer also offered seat memory, leather, bun warmers (operated from the center LCD) and decent audio quality.
There's a good view out of the vehicle, too, thanks to a generous greenhouse. The sunroof didn't appear to close with one touch, which is a bit of a pain, but the panoramic roof itself, like the Touareg's, was great.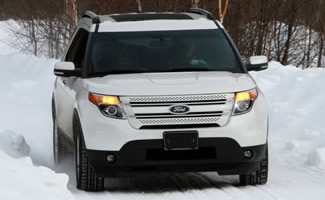 Power from the 3.5 liter V6 engine is rated at 290 horsepower and 255 lb.-ft. of torque. I'd love to see Ford stick their twin turbo EcoBoost system in the Explorer; on the Flex, the 3.5 liter EcoBoost V6 delivers 355 ponies and 350 lb.–ft. of torque, and that would be awesome.
The base, front wheel drive, Ford Explorer starts at $28,190 U.S./$29,999 Canadian. The four wheel drive Explorer Limited starts at $37,365 U.S./$44,199 Canadian and you can add some nice tools and toys that can add several grand more.
The new Explorer was named the 2011 North American Truck of the Year, and it's a fine vehicle. I have to admit, however, that if I were tasked with choosing between these two Crossover/SUV's, I'd opt for the torquey Touareg TDI; I really felt at home in it.
I have a feeling the Ford will suit many people very well, however. It's a very good vehicle that's priced competitively.
Copyright 2011 Jim Bray
TechnoFile.com