New Explorer Covers New Territory for Ford
By Jim Bray
March 4, 2011
Quebec, Canada – It bristles with high tech new features, and Ford is hoping its new Explorer will be discovered by armies of consumers searching for just the right big SUV.
Ford introduced the all-new 2011 Explorer to a group of media folk at a "Winter Adventure" in the ultra-frosty climes of Quebec City and environs, an event that also proved the value of a good heating system for that time of year, when the temperature drops to near Absolute Zero.
Fortunately, the Explorer's heater works well! Even better, there's a lot more about it that works well, including the MyFord Touch interface and a bunch of safety and driving aid features that can help keep the Explorer planted wheels down regardless of the terrain.
Ford claims its reinvented Explorer offers best-in-class fuel economy as well as improved driving dynamics.  The company also says the new, unibody-based Explorer raises the bar on safety with a "class-leading array of airbags" including industry-first inflatable rear seat belts, AdvanceTrac with Roll Stability Control and Curve Control.
Making the SUV easier to live with is the abovementioned MyFord Touch "driver connect technology" which, coupled with the latest generation of its SYNC integrated communications and entertainment system, helps let you keep your eyes on the road and your hands on the steering wheel.  
Our Winter Adventure in Quebec and "pointes est" began with a reception in the city's ice hotel. It was the coldest reception I've gotten since my wife and I told her parents we were getting married.
Things heated up the next day, though, as we sallied forth more than 100 kilometers through some lovely rolling hills the locals call "mountains", on routes that took us from freeways to icy back roads, and even up a 20 minute "mountain track" climb meant to show us that our Continental Tire-equipped Explorers are as comfortable zipping across "polar-ized" terrain as Scott of the Antarctic.
Fortunately, our adventure had a happier ending.
After we'd returned to the bottom of the off road leg, we headed for a small airport Ford had taken over so we could do some dynamic handling tests. The airport is probably a lovely location in the summer, but it was a gigantic sheet of ice when we slid onto it, with a single forlorn Beechcraft as lonely sentinel of happier flying days.
Naturally, that made it a perfect winter handling test site. They outlined a track with cones (and, smartly, had plenty of people on hand to replace them!) that started with a short section of pedal to the metal, followed by panic braking to bring in the four wheel ABS. Then we faced a choice. To the left was a big open skidpad area, just crying out to have doughnuts done on it, and to the right was a serpentine section, a couple of tight curves and the "start/finish" straight.
We were tasked with making three runs each, one with the Explorer in normal mode, one in "sand" and one in "snow" mode. You can see where this is going – and it did.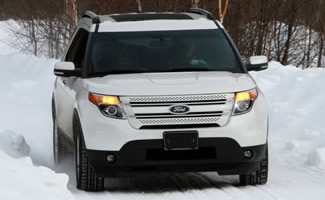 The "snow" mode was by far the best, offering decent control even when we were flailing about wildly. "Normal" mode was actually pretty good as long as you didn't stand on the gas and brake pedals, while "Sand" mode was just plain silly considering we were at a venue where only a Zamboni would feel at home.
The sand setting sure worked great with the skipad dougnuts, though!  
The 290 horses (80 more than the previous Explorer's V6, and only two fewer than the old V8) are sufficient, but there were times on hills when I missed having more than the 255 lb.-ft. of torque the 3.5 liter Ti-VCT V6 engine creates.
The Explorer will also get a four cylinder, turbocharged and intercooled EcoBoost engine, an option that'll create 237 horsepower at 5,500 rpm and 250 lb.-ft. of torque from 1,700 through 4,000 rpm. Ford says it's aimed at those for whom fuel economy is paramount (or at least Warner Brothers!).
Both engines use a six speed automatic transmission to get power to the wheels – all wheels or only the front wheels thanks to the new FWD version. Ford says the tranny combines lowered initial gears "for improved off-the-line acceleration" (for those times when you just have to race your Explorer!) with higher gearing for improved efficiency.
My sample Explorer V6 had the available intelligent 4WD system, with the terrain management system we had so much fun with at the airport. Besides the modes we tested on the airport track, you can also select a "mud" mode via the knob on the center console. There's also a hill descent mode.
Explorer's new Curve Control functionality helps keep the vehicle snug in the twisty bits by sensing the point at which your bravado passes your talent, reducing engine torque and, if necessary, applying the brakes. Ford says it can slow the vehicle by up to 10 miles per hour in about a second. It seems to work:  I managed a couple of mild four wheel drifts when the pastoral curves got particularly tight and icy, but the Explorer handled it with aplomb.
I think I scared a moose, though.
Other available safety stuff includes adaptive cruise control and a collision warning system, and you can even put yourself into a state of BLIS, thanks to the Blind Spot Information System that illuminates an icon on the side rearview mirrors if someone is in its area of concern.
Towing capacity for the V6 Explorer is 5000 pounds.
It's a comfortable and pleasant vehicle to drive. The steering wheel tilts and telescopes and the seats are comfortable and hold you in well; up front, they're power-adjustable and heated. My Explorer was also leather-equipped, which may explain the beef we had at dinner the last night of the Adventure.
The second row of seats come with what Ford says are the world's first inflatable seat belts, which act kind of like airbags. The third row seat is pretty roomy and my sample's featured power folding/extending seats and power tailgate.
The MyFord touch system is very cool. It organizes vehicle functions and settings for quick and logical access, using controls on the steering wheel and voice commands to help you keep your attention on the task of driving. The excellent color LCD interface and graphics get their marching orders from the latest generation of Ford's SYNC system, which Ford says now has better voice recognition. You can dictate text messages into it or have it read incoming messages to you.  
There are also more connectivity ports than you can shake a stick shift at, including an SD Card slot.
The instrument panel really has only one conventional gauge: the speedometer (the one I use the least!). It's mounted centrally, with a small LCD to each side on which you can display different stuff, including a digital rendering of an analog tachometer. The left display is controlled by the controller on the left side of the steering wheel and lets you display vehicle parameters such as fuel economy or mechanical status. The right display, controlled by the other controller on the steering wheel, handles infotainment settings, climate control, phone and navigation menus.
The result is a very clean center stack. Instead of acres of switches and knobs, you have a few touch-sensitive switches and, of course, the big touch-screen LCD above them. The LCD can get a bit busy, but it's laid out clearly and easy to figure out.
We didn't really get a chance to try out the Sony audio system. It handles AM/FM/CD, SIRIUS Satellite Radio and USB-connected MP3 players, as well as memory sticks. It also offers HD Radio capability. It also offers "Enhanced Bluetooth audio support," which means it'll play nicely with your smart phone or music player if it has the same capability. 
The Explorer isn't a small SUV, and that may work against it with some people. But it's a very nice large SUV and I can see why people would find it a good choice if they need this size of vehicle.
The new Explorer also shows where Ford is headed, so you can undoubtedly expect its many new, high tech safety, engineering, entertainment and convenience features to trickle throughout the line. Sounds good to me!
Copyright 2011 Jim Bray
TechnoFile.com