New Volvo Crossover Worth a Look
By Jim Bray
January 25, 2008

Many years ago, the Doobie Brothers released an album titled "What Were Once Vices Are Now Habits." That title could also be applied to the SUV, utility vehicles that serve perfectly good uses but which have been so stigmatized by people who want to run other people's lives that auto companies have taken to calling them "Crossovers" lest they be tagged with the evil SUV label.
But people aren't stupid, or cowed, and these SUV/crossover "vices" have become habits because of their wonderful utility and their improved occupant safety over the little metal boxes some people would rather you drive.
On the upside, the term crossover is actually more descriptive of the wide-ranging species than is "sport utility," applying to a broader spectrum of vehicles than the old fashioned, truck-based SUV's (such as the Toyota 4Runner) that began the vice/habit, to include a multitude of car-based models (such as the Toyota Highlander) and more wagon-like vehicles such as the subject of this piece, Volvo's new 2008 XC70.
If you weren't told it's a crossover (or, according to Volvo, a "family adventure vehicle"), you might think the third generation XC70 is "merely" a wagon because it isn't nearly as tall as most SUV's (including Volvo's own XC90). That's okay; you may lose the higher view of traffic you get from a "real" SUV, but it's easier for shorter people to get into and out of. And while you lose some hauling height, you don't lose much length.
Volvo says the XC70 features new styling cues, improved driving dynamics, more luxury, sophisticated technology and innovative safety features. Sounds kind of like a Volvo, doesn't it? And that's okay, too. I've liked every Volvo I've driven over the past couple of years (in fact, it's getting very difficult to find a bad vehicle these days), so wasn't surprised to find that I also liked the XC70 very much.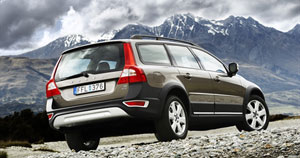 Volvo has increased the size of the rear loading area by expanding the "intelligent overlapping tailgate" to include the taillights, which should make it easier than before to load and unload your stuff. I didn't try stuffing in any credenzas, but for groceries and the other normal stuff of life the power-operated tailgate worked very well.
It's a handsome wagon, too, recognizably Volvo, very comfortable and very straightforward to use. And as with other Volvos, it features typically simple interfaces that some other premium brands could look at for inspiration.
Its menu system, for example, is a piece of cake, though it doesn't offer nearly as much customization as do competing systems such as BMW's iDrive and Audi's MMI - but it doesn't need to, either. Volvo's menu includes settings for the seats, mirrors, climate, audio, etc. What more do you need?
The XC70 is motivated by a 3.2 liter inline 6 cylinder engine that puts a reasonable 235 horsepower and 236 lb.-ft. of torque onto the road via all four wheels. Volvo says this power plant is like getting two engines in one, since its advanced valve mechanism (dubbed CPS, for Cam Profile Switching) and its Variable Intake System supposedly satisfies performance-driven customers as well as those who are more interested in comfort and fuel economy.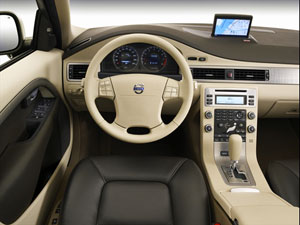 I fall into the former camp, and I'd like to have seen a tad more torque to enhance its ability to pull into traffic a little better.  But that's a quibble.
The engine puts the power to the wheels via a six-speed "Geartronic" automatic transmission with a pretend manual mode. It shifts fine in automatic mode, but doesn't offer a lot of "sport" feel when you "shift" into manual. The standard all-wheel drive system has Instant Traction to enhance grip in all road situations and a new electronic Hill Descent Control (HDC) uses the brakes and the torque to crawl in bottom gear on steep downhill slopes.
The car, er, "family adventure vehicle" drives very nicely, with a suspension that falls a little on the soft side of the soft/sporty spectrum - but not so far as to be too floaty (unless you switch to the softest suspension setting via the console-mounted button).
The interior is roomier than before, well thought out and comfortable. Volvo says the design focuses on clean lines and intelligent functionality, and I shan't disagree. The comfortable, power-adjustable "ortho-posture" front seats are great for the long haul and the reasonably comfy rear seat splits 40/20/40 to let you seat either two outboard passengers (who can be separated by a wide armrest) or three unhappy campers crammed together (as with most vehicles of this size).
The XC70 also comes with Volvo's trademark "ergonomically designed instruments" that are clean and clear to read at a glance, and the elegant and slim "flying buttress" center stack with its subtle little storage space behind. I've grown to really enjoy this configuration; I like storing my cell phone behind the flying buttress - though on the other hand having it out of sight means I forget it's there..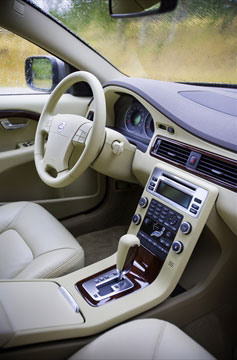 Convenience features abound, including a smart key system that lets you leave the fob in your pocket or purse. I configured the car to fold in its outside mirrors when I locked the vehicle, not only for space and convenience but also so I'd know the vehicle had actually locked itself - because, if you try pulling on the door handle to check, it unlocks and makes the test moot.
You also get dual zone automatic climate control, an auto-dimming rear view mirror, cruise control, and power windows with auto up/down up front.
Of course a Volvo wouldn't be a Volvo without a focus on safety, including a new, height-adjustable integrated child booster cushion - a world first, according to Volvo - with an extended inflatable curtain.  There's also Volvo's next generation Whiplash Protection System (WHIPS), Dynamic Stability and Traction Control (DSTC), a Tire Pressure Monitoring System (TPMS) and enhanced impact protection for pedestrians and cyclists (so much for mowing 'em down!).
My tester included the optional Blind Spot Information System (BLIS), which flashes lights on the A pillars if a vehicle enters what the car judges as your blind spot on either side. In reality, I found it distracting and shut it off, though others I spoke to thought it was great.
Other options include adaptive cruise control with collision warning and brake support.
Some might find Volvos a bit bland or sterile, but I think they're straightforward and functional, while still being attractive. And while a wagon, er, crossover, er, family adventure vehicle isn't for everyone, I found it a very nice vehicle to live with, despite not being a rocket sled, one that should provide its owners with many years of good service.
The Volvo XC70 starts at $36,775 U.S./$46,495 Canadian.
Copyright 2008, Jim Bray