Porsche Cayman – a "Low End" Supercar?
By Jim Bray
April 17, 2007
There's nothing quite like a Porsche, at least in my experience driving and writing about driving. Porsches speak on a visceral level; the current 911 Carrera is the most gorgeous in the car's long history of being gorgeous, and driving one is even better than looking at one.
Even the entry level Porsches are a blast, as I discovered during my week with a "HEY!!!! LOOK AT ME!!!!!" "Guards red" Cayman.

Speaking of "look at me," I have to go on record as saying I think the Cayman is probably the second most attractive sports car on the road today (the gorgeously slinky 911 being tops). The curved, sculpted fenders, flush headlights above air intakes, fastback roofline and wide rear end exude automotive sex appeal. The only potential fly in the ointment (and a small one at that) is the more concave fastback and high, borderline bulbous roof (compared with the 911) and the comparatively wide buttocks that give just a hint of "fat bottomness" or "writer's butt".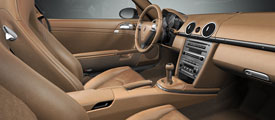 But any impression that the Cayman needs to slim its butt disappears when your butt hits the driver's seat, at which time all is at peace in the world, at least until some kid in a gussied up Cavalier comes up beside you at a red light and thinks he wants to race.
Cayman is Porsche's new entry level hard top. It has been called basically a Boxster with a roof, and that's not a bad thing. Hard top vehicles are generally a little stiffer than convertibles, which translates into a stronger package overall, with better handling.
Not that the Boxster's a slouch in the road manners department, of course. But the Cayman is a delight, even in its least robust format such as my tester was.
By "least robust" I mean that the horsepower from the delightful-sounding 2.7 liter horizontally opposed six cylinder engine is rated at a comparatively modest 245 @ 6500 rpm, with torque of 201 lb. ft. from 4,600 - 6,000 rpm (an increase of five horses for this engine compared with the 2006 Boxster). Heck, the little Mazdaspeed3 has "better" specs than this (263 hp @ 5,500 rpm and 280 lb. ft. @ 3,000). What gives?
Well, what gives is that there's obviously more to a vehicle than its specifications on paper because, while I didn't drag race any MazdaSpeed3's during my week with the Cayman, trying to equate them is like comparing Budweiser with Glenfiddich: they're both drinks, they can get you faced quickly if that's the goal, but the taste is decidedly different.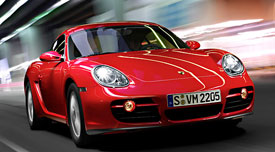 Besides, though Cayman may be one of the slowest Porsches, it's still all Porsche and that means it's a fabulous driving experience at any speed. But of course fast is best. And Porsche's claim of a zero to 60 time of 5.8 seconds with a top speed of 160 mph should put to rest any thoughts of the Cayman having the get up and go of, well, a caiman sunning itself on a rock on a hot summer day.
You do notice the difference between the Cayman and the Cayman S when you first tromp the gas from a standing start. Though hardly leisurely, the car pulls away in a more, well, restrained manner than its more upscale brother, though it's more fun when the revs get higher. And that said, a restrained Porsche still whooshes away with abandon and is guaranteed to put a smile on your face.
The base Cayman, which my tester was (except for its 18 inch wheels wearing winter tires), comes with a five speed manual transmission. It's fine, though a tad clunky, but if you opt for the optional six speed like you get standard in the S you'll probably find its gearing makes the "entry level oomph" even easier to live with.
Cayman, like its Boxster stable mate, features a mid engine layout that brings superb balance to the platform. This is how many supercars are configured, with the engine and passengers' weight mounted between the axles for as close to 50/50 front/rear balance as you can get.
This means Handling! Driving the Cayman and Boxster twins is like having the steering controlled psychically. A quick flick of the wrist and you've changed direction, and if you're facing a serpentine section of secondary highway you're very nearly in heaven.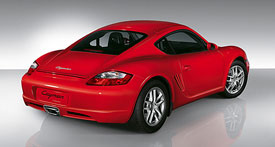 Assuming the road has a good surface. One thing about Porsches is that they focus on the animal driving experience and this means if you're used to your buttocks being coddled you're in for a surprise. The Cayman's MacPherson-type coil-over struts and lateral control arms do, indeed give the Cayman its characteristic feel and wonderfully flat cornering, but when you hit a frost heave you can't avoid, a sensitive butt can feel abused.
This is why I no longer take Porsches on my favorite twisty highway and won't until its much-needed resurfacing happens (by which time we'll probably all have flying cars anyway). Fortunately, there are other roads in my part of the Rocky Mountain foothills that are nearly as good when I need to fling a fine vehicle around a bit.
Flinging around the Cayman a bit is facilitated by a plethora of electronic aides such as Porsche Stability Management (which can be shut down), Active Brake Differential, "Anti Slip" Regulation (I guess you aren't supposed to wear a dress) and ABS for the four wheel disc brakes that can stop the Cayman quickly enough to pull the breath from your lungs.
Inside is a cockpit that is distinctively Porsche, and that's a very good thing. The two seats are comfortable and supportive and you're cradled nicely for cornering. My tester featured the basic Cayman seats, in the interior's Sand Beige standard leather, with powered seat backs but manual cushion adjustments. Finding the perfect driving position is easy; the seat adjustments coupled with the manually tilting/telescoping steering wheel take care of any comfort discrepancies at warp speed.
My tester didn't come with Porsche's multifunction steering wheel, which adds audio controls and the like to it; while I missed it, the car's compact interior is so well laid out that everything the driver needs falls close to hand anyway, with merely a sweep of the arm.
The audio system features good sound, but not as much oomph as I expected (at least some of the other Porsches I've driven had the upgraded stereo/communications system). In this case, the system runs out of volume too early; perhaps it's Porsche's way of encouraging you to listen to that siren song of the engine a few inches behind your head.
And that's a pretty compelling argument…..
Speaking of head, the Cayman's roof is so high I felt as if I could either stand up inside it or wear a ten gallon hat and have plenty of room to spare. There's a feeling of spaciousness that's quite remarkable for such a close cockpit. The downside for me is that no sunroof option is available, perhaps because of the "convex" shape of the roof.
The ventilation, HVAC and the like are first rate, and Porsche has chosen to concentrate on simplicity and ease of use rather than piling so many electronic gadgets that you need an iDrive-compatible cursor control device to manage it all. This is how it should be, especially in a car that is one of the ultimate machines for driving.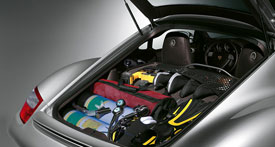 And for driving, the instrument panel is laid out about perfectly, with a big analog tachometer in the middle and a smaller analog speedometer next to it. A digital readout sits in the center bottom of the tach and gives speed and a variety of other bits of information you probably don't want to read at 160 mph.
My only complaint about the interior treatment is that the radio preset buttons, of which there seem to be about a thousand, are a little small for my stubby fingers.
One advantage of the Cayman compared with the 911 Carrera (and probably the only advantage other than price and overall balance) is its hatch, which can hold a surprising amount of stuff and part of which keeps your valuables out of view from oglers and/or thieves.
The Cayman is obviously not the ultimate Porsche, but for people who want the real Porsche experience and who may not have been visited yet by the Lotto Gods (or been promoted CEO), this entry level Porsche is definitely the real thing.
The "garden variety" Cayman starts $49,400 U.S..$69,600 Cdn.