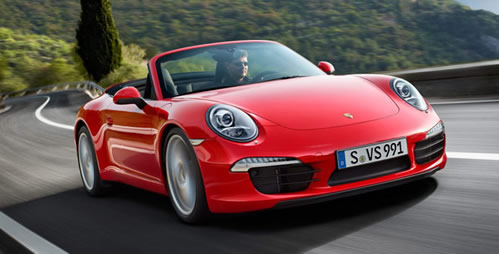 By Jim Bray
March 7, 2013
It may look like a hunchback when the roof is down, but Porsche's 911 Carrera Cabriolet is still an exquisite car worthy of the lustful glances it's sure to bring.
And what better way is there to experience the new, convertible version of a great car than to get it during the depths of winter, when the days are short and one's breath is frosty?
That's what happened to me. Thanks to the realities of the calendar and the number of other writers who also get seat time (damn them all!), Porsche offered me my week in the new 911 – my favorite car in the world, at least in coupe form – when there was snow on the ground, ice in my heart and it was too darn cold for open top motoring.
So I did what anyone else would do in such a situation: I bought a warmer hat.
Another week in a 991 generation 911 – the latest and greatest version of a car that makes the previous, 997 generation look old and obsolete – even though it seems like only yesterday that the 997 911 was busy making its previous version (and every other car) look frumpy in comparison.
So, yeah, I was ready for it, frost or no.
Sweetening the deal was the fact that this 911 had that neat new seven speed manual transmission I enjoyed so much in my last Porsche 911 review. It's said to be based on the company's marvelous PDK dual clutch auto/manual, and this new stick shift seems to eschew the previous manual's clutch, which was so heavy you practically had to use both feet to hold it in. Now that was a dual clutch!
A long way for a bad pun, but the newly lightened clutch is indeed a reality and that makes the manual 911 a lot nicer to live with if you're in big city traffic. It also creates the conundrum of which version I'd choose if I were suddenly the last person on earth and could drive any car I wanted until the gasoline ran out (the only time I'll be able to afford a Porsche).
The PDK is about $4600 more than the manual, and that's powerful incentive when you can put that money into something like active suspension and the Sport Chrono package. But if push came to shove, I think I'd still take the PDK. You have to experience its shifting to believe it; I've driven it on back roads and handling courses and even in automatic mode it's fantastic. And I love steering wheel-mounted shifters, especially paddles, which let you keep your hands on the steering wheel – and which you don't get with a manual transmission.
But that beautifully shifting seven speed manual is definitely sweet, and I can see why supposed purists would opt for that over the "slushbox" (though to call the PDK a slushbox is to misunderstand it). And it isn't like you're roughing it with the manual; it's a pile of fun, and lovely to wind up through the cogs and the revs.
This has nothing to do specifically with the cabriolet version of the 911, of course. It's just stuff to consider with any Carrera where you have the choice of transmissions.
Roofing it, not roughing it…
I read somewhere where Porsche apparently claimed this new 911's convertible roof line matches that of the coupe better than previous versions, and that may be true. There's still no mistaking this for a coupe, however, if only for the big fabric top where the coupe would have metal. And while the roof line looks good while it's up, when you drop the top the beautiful 911 gets that same hunchback look the previous generation had. I guess Porsche wanted the car's appearance to ring a bell…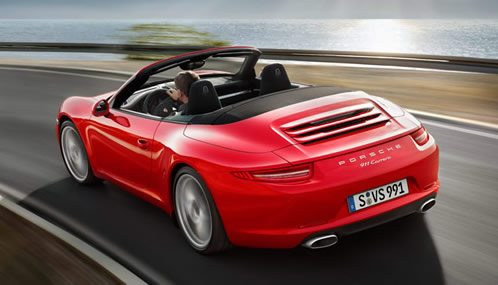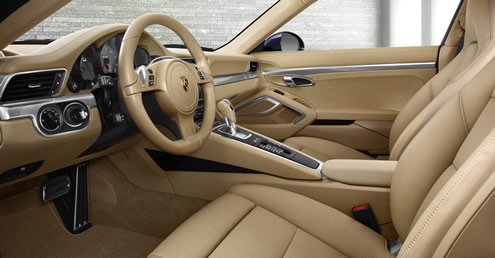 (Note: PDK Transmission shown)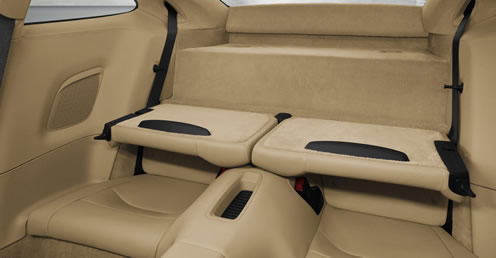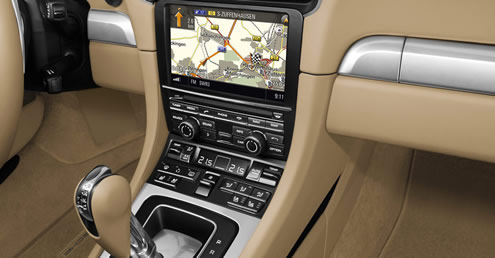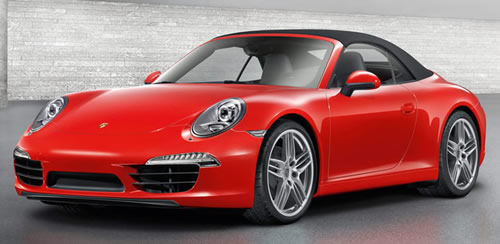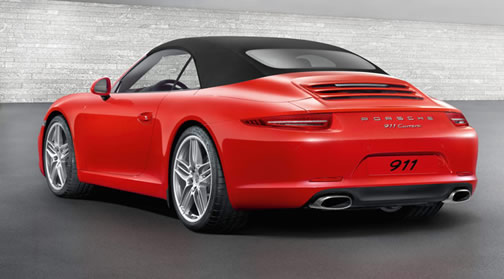 This "Notre Dame syndrome" is understandable: until you can just wish it into non-existence, that roof has to go somewhere. It's caused, undoubtedly, by the convertible being an adaptation of the original hard top design, instead of the car being designed originally as a convertible. This is why, from a strict looks standpoint, I'd buy the Boxster if I wanted a Porsche convertible.
Ah, but there's that 911 cachet, as well as its extra performance. Plus, it has a rear seat, kind of.: there's a pretty decent, two level (if you fold the seat backs down) storage area behind the front seats that also happens to have bum-shaped depressions in them, presumably in case of emergency. I've actually used them; I stuck my daughter-in-law back there once, in the previous generation of 911, when she was silly enough to volunteer for a spin in steerage.
She didn't stay back there long.
To be fair, the rear seats are probably adequate for small kids or people you don't like much.
Snow job…
Driving the 911 Carrera Cabriolet in the winter is just about as much fun as driving the coupe. Put a good set of winter tires on the thing (as Porsche Canada's sample had) and the car's a blast. Its superb handling and balance make it a delight on wintry streets and if you run into trouble, it has state-of-the-art aids for traction, braking and the like. And if you happen to come across a deserted, snowy parking lot, you can turn off the traction control system and have at it. Or so I've heard.
My sample being the base 911 (as opposed to the "S"), its 3.4 engine flat six "boxer" engine put out 350 horses and 288 pound feet – an appreciable upgrade from the previous generation. I'd still rather have the 911 S' 400 horses, but we aren't really talking cosmic order of degrees here; the base car is still plenty quick.
Agile, too. This being one of the world's great sports cars, it obviously sports a high end suspension.  In this case, it's an independent suspension up front that features "a lightweight spring-strut axle with longitudinal and transverse links and cross members that have been refined for stiffness." Read that to mean there's no "comfort" mode here. Well, there is, but it's still nicely tight and displays no tendencies to float or wallow. Heaven's no!
The multi-link rear suspension is a good match for the front and the car doesn't feel as bum-heavy as one might think of a rear engine'd car, even one which has moved the engine a bit forward compared to the previous generation's arrangement. 
The steering is typically Porsche – which means it feels connected psychically, even though Porsche has moved to electric power steering. I hope governments never learn to control us the way we can control Porsches, because that way lies darkness.
Here, though, all is light, and sweetness: the car's easy to drive and, rather than being intimidating considering its place in the panoply of classic cars, it feels just right – as if, once you've slid your posterior into the Porsche, you've come home.
The interior is the same as the coupe's, of course, and that's just ducky. It's a great new interior, well thought out and designed. Porsche has moved a bunch of buttons onto the more Panamera-like center console, but they're laid out for easy selection and use and there isn't much of a learning curve.
The Cabriolet has another set of buttons down behind the gear shifter area that opens and closes the roof and, in a really nice touch, raises a nifty wind breaker that will undoubtedly make the Cabriolet nicer to drive quickly with the roof down once it's warm enough to actually do so.
Make sure there's no one in the back seat then, though, because the wind screen thingy'll knock their heads off quicker'n you can say "Oops, sorry about that!"
Pricey but right…
My sample 911 Cabriolet had nearly 20 grand worth of options, a common occurrence with Porsche. Perhaps they strip the cars down so people can get into them easier, but they often leave out some nice stuff. Fortunately, they're getting better at including stuff that should be standard, which means such stuff as bi-xenon headlights and Bluetooth are now standard equipment.
Options this time around included the Basalt Black Metallic paint, which was a surprisingly affordable $820. It also had Porsche Torque Vectoring ($1510), heated front seats ($790!) with ventilation ($960!!), lovely 20 inch Carrera Classic wheels ($3120), the PASM Active Suspension system $2390) , Sport Chrono package ($2110) Dynamic Light System ($880), the excellent Bose surround sound system ($1820), satellite radio capability ($1280) and the SportDesign steering wheel (a mere $290).
Oops! Forgot to mention the Porsche crest on the headrests, which adds $330. And who can live without that, especially if you have eyes in the back of your head?
I often chide Porsche for this a la carte approach, but in some ways it's better than the "packages" many car companies offer. At least this way, you can mix and match to a certain extent. Porsche does make some package deals available as well.
There aren't enough superlatives in my digital thesaurus to describe the joys of a Porsche 911. It's a car that has earned its place in automotive lore over the past 50 years, one that just keeps getting better as technology moves along, but which appears to have never lost its basic focus or design.
Copyright 2013 Jim Bray
TechnoFile.com