Mercedes B200 Turbo – A Little Car that Can
By Jim Bray
(photos by the author)
Maybe Nissan shouldn't have cancelled its Axxess so many years ago.
That old car, long dead now, may have been ahead of its time because it almost seems like a "down market prototype" for the new Mercedes-Benz B 200 "Compact Sports Tourer."
While one could make the argument the B is really more like a miniature minivan than a "Sports Tourer," it's actually a fairly apt description of the beast. It's definitely compact and surprisingly sporty – and during my week of touring around the foothills of the Rocky Mountains in it I really started to like the little critter: it's fun to drive, roomy, efficient, classy – and features a wonderfully expansive sunroof through which you could very nearly parachute. When it's open, of course.
The bad news is that U.S.-based consumers can't get their hands on a B200 unless they can somehow sneak one across the border from Canada, bringing a new wrinkle to the illegal immigration discussion. This is a shame, but what can you do short of starting a letter writing campaign to the folks at Mercedes-Benz? Perhaps ask the U.S. Government to grant amnesty for "compact sports tourers?"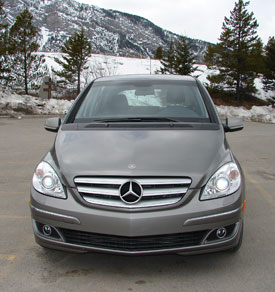 Anyway, the B200 is a front wheel drive vehicle, a configuration for which the three pointed star is not known usually. Driving the front wheels makes a certain amount of sense for a vehicle such as this, however, if for no other reason than not needing to run a drive shaft under the passenger compartment to the rear wheels means they can open up the interior a bit more. And open it up they have.
Mercedes-Benz points to the B-Class's "sandwich concept" as a reason for its spacious interior, citing the "space-saving arrangement of the engine and transmission partly in front of and partially beneath the passenger cell" as how the B can offer "the interior spaciousness of larger sedans and wagons despite its compact external dimensions."
This sandwich concept, which I suppose is also meant to ensure that this little bread and butter car has enough meat in it to be attractive to buyers, is also touted as a safety benefit. The company says that by inclining the engine and transmission as well, the B achieves a "greater effective front end length available for crash deformation." Mercedes-Benz says the sandwich concept also offers significant advantages in a lateral collision because occupants are seated above the impact zone.
Assuming you aren't run into by a bus, pickup truck, or evil SUV, I suppose.
Anyway, the B200 is available in two main versions, "regular" and "turbo," My tester was the turbo, and it's a little sweetheart. The engine is a two liter inline four cylinder model with only two valves per cylinder that, with the turbo, cranks out 193 hp @ 5,000 rpm and 206 lb-ft torque from 1,800 - 4,850 rpm. This is more than adequate power for a little car like the peppy and fun B, which also has good throttle response and feel and exhibits very little turbo lag. The B's like a puppy: happy and anxious to please.
The non-turbo version is rated at 134/136 horsepower and torque, respectively. This is probably more than adequate, though undoubtedly not as much fun.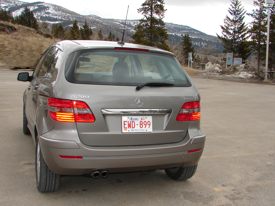 The Turbo's engine is mated to either a 6-speed manual or optional continuous variable transmission (CVT). My tester had the CVT, and I continue to be amazed and delighted by these critters.
A CVT has no actual gears and it's a little strange to be driving along and never feel the car shift, but on the other hand the CVT keeps the B always in the power band and if you kick down the gas pedal the car moves ahead as if you've downshifted even though you haven't.
The CVT also has a pretend manual mode (called "sport") with seven virtual gears. It works well and has its uses (for instance it comes in handy when you're going downhill and you want some engine braking – or if you just want to wind 'er up through "the gears" in a moment of wild abandon), but for 95% of my time with the B I was more than satisfied with the CVT in its native mode.
The garden variety, non-turbo B200 comes standard with a 5-speed manual tranny; the CVT is optional.
B's come with a dual-circuit hydraulic braking system, with ABS and Brake Assist, and Electronic Stability Program. Electromechanical power steering offers good boost and good road feel; the B doesn't seem as hard wired into your consciousness as something like a Mini Cooper S or Mazda Miata, but it doesn't claim to be a pure sports car either, so this is only to be expected.
The suspension includes a newly developed parabolic rear axle coupled with coil springs, single-tube gas-pressure shock absorbers with selective damping system and coil springs, and a torsion stabilizer bar. Up front, the B's slung with McPherson struts, wishbones, twin-tube gas-pressure shock absorbers with selective damping system and coil springs, and another torsion stabilizer bar.
The ride is sporty firm but not jarring and it does a pretty good job of smoothing out frost heaves and stuff like that.
Standard wheels are 16" aluminum-alloy rims wearing a decent set of 205/55 R 16 tires.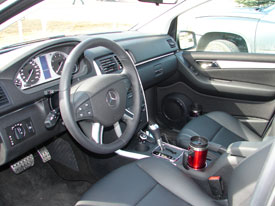 The interior is attractive and very comfortable, as one would expect from the three pointed star company. The front seats are terrific. My tester's were heated and powered, though manual adjustment is standard. The steering wheel on my tester tilted and telescoped, too – though that's also an extra cost option.
Another option I would not want to live without is that Panorama louvered glass sunroof. Besides being wonderfully expansive, it's pretty quiet at reasonable highway speeds. You haven't lived until you've driven a quiet rural highway on a starry night with the sunroof open fully. It's marvelous.
For some reason, however, the folks at Benz have chosen not to give the sunroof one touch open and/or close capability, so you have to keep your finger on the switch to operate it.
Getting in and out of the B200 is child's play, thanks to the large door openings and high seating position. And once you're inside, you're treated to an excellent greenhouse with lots of glass and well-situated pillars.
Instrumentation is analog and attractive, though the onboard computer system's a little hard to fathom at first. The AM/FM/CD stereo thunders, and the disc player handles MP3 and WMA files as well as conventional compact disc. A 6 disc changer is available; my tester didn't offer DVD-A capability, though it may be available if you upgrade to the optional Harman/Kardon LOGIC7 digital surround sound system.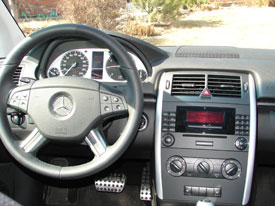 Other nice touches include a four spoke, leather-trimmed steering wheel with multifunction buttons, power windows with one-touch express-up/down for all four windows, power mirrors and a terrific (though optional) Bi-Xenon headlamps with active curve illumination that swivels the lights when you corner. You also get air conditioning, an armrest between the front seats, tinted glass, and attractive brushed aluminum trim.
The rear seat is comfortable and roomy for at least two passengers. It also splits and folds down. Overall, there's a surprising amount of storage space considering the small size of the vehicle.
Safety equipment includes two-stage front air bags, seat belt tensioners in the front and on the outer rear seats, adaptive belt force limiters, active head restraints and head/thorax sidebags.
Nothing's perfect, of course, but my complaints were only of the niggling variety. For example, the cup holder on the center console in front of the shifter is placed really badly; if you want to put a bottle there you have to wriggle it into place or – better still – wait until you shift out of Park.
And I couldn't get the steering wheel-mounted buttons to jump up and/or down radio station presets – just up and/or down to the next station on the band. This was annoying but not fatally so, since the reach to the stereo isn't onerous.
The outside mirrors are also a tad small, though they offer good visibility rearward and, while the windshield wipers do a good job overall, they also leave about 1.5 inches untouched on the left of driver's side of the windshield. This is a common vehicular affliction, though, from a variety of carmakers.
An interesting wrinkle is the sunglasses holder which, instead of being on the roof between the front seat passengers, is up on the top left where a handle would sometimes be. Not a problem, just unusual.
All in all, I enjoyed the Mercedes-Benz B200 Turbo a lot more than I had expected. What I thought would be a luxurious but weird little vehicle turned out to be a very nice little car, very nice indeed – pleasant, comfortable and fun.
The B, according to Mercedes-Benz, "meets the wishes of today's younger and discerning motorists who are looking for a car with generous space, exemplary comfort, excellent practicality, an exciting design and a high level of driving pleasure."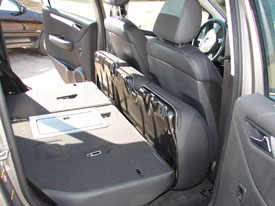 Something tells me they wouldn't silly enough to turn away customers who may not be quite so young, however. This is good, because I could see myself opening up my garage to a B200 Turbo if I were in the market, and according to my kids I'm about as old as Methuselah. The B200 could be the perfect answer for professionals who need something small yet classy, sporty yet efficient. Videographers, house call-making veterinarians or salespeople who need room to haul stuff with them could find the B200 a marvelous solution.
The B200 starts at about $31,000 Canadian, while the B200 Turbo starts at about $35,000. My reasonably-but-not-excessively optioned tester tips the fiscal scales in the neighborhood of $48,500.
That's starting to get a little dear, but on the other hand, this car is a little dear.