Big Mazda "Crossover" SUV – "Zoom" with a Bird's Eye View
By Jim Bray
March 24, 2007
It's big, it's comfy and it's roomy. Oh yeah, it's also a Mazda and that means it's pretty nice to drive.

"It" is the Mazda CX-9, the company's new flagship SUV, er, crossover. It's basically a bigger version of the CX-7, and features a windshield raked steeply, big, multi-spoked wheels and three rows of seats meant to hold up to seven people.
I only had a short time to spend in the new Mazda, but my quick test drive left the impression that this is a vehicle that's sure to find a happy home in many suburban garages. Mazda describes the CX-9 as being aimed at "couples and families who want to drive a stylish, smart vehicle that fits their lifestyles" and says the CX-9 combines "the practicality of an SUV with the outstanding performance and luxury of a sports car."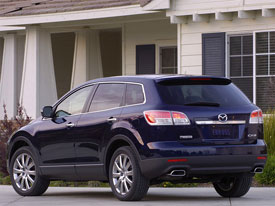 Well, I'd be risking a lightning strike if I agreed with the comparison with a sports car – especially since Mazda makes a couple of pretty terrific sports cars already in the MX-5 (Miata) and RX-8. But the CX-9 is definitely very nice to drive, like every other Mazda I've steered. That is definitely one area in which Mazda excels.
But the CX-9 is still no sports car. Look at it, perhaps, as more like a more affordable Acura MDX or BMW X5, neither of which are as sporty (at least to me) as their makers would like you to believe, either. That doesn't make them land barges, of course, but let's not confuse sportiness with "sportiness".
On the other hand, the CX-9 definitely looks nifty, from its sleek sheet metal to its chrome-accented dual exhaust pipes and high tech LED tail lights.
It's a bit of a step up getting in, but no worse than many other vehicles – and without that step-up it'd be hard to create the high point of view you get from SUV's, a view that gives you wonderful visibility in traffic. And, to be fair, it isn't as onerous as the step up on some of the truly huge vehicles out there, ones that should come with a block and tackle or elevator to help short people get on board.
Once you're inside, you're treated to a very nice cabin, comfortable and efficient. Electroluminescent gauges look back at the driver, as do blacked-out instruments mounted on a T-shaped instrument panel. And, as with many vehicles today, indirect lighting is embedded in the door trim and the ceiling, outputting a warm glow that contributes to the cozy feeling.
Instrumentation is clear and attractive, as are the audio and HVAC controls. It looks like a Mazda; about the only real complaint I could come up with is that the radio and clock displays are arranged so that listening to, for example, radio station 620 AM at 3 p.m. comes up on the display as 3:00 AM 620 , making it look like your world has turned upside down by half a day. And that's pretty nitpicky.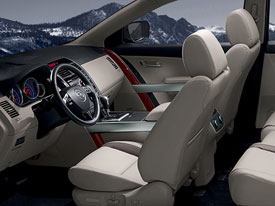 Drivers will find the steering wheel comfortable in the hands and the steering effort light with good feedback, though it could be a tad tighter. The driving position is nigh on perfect, thanks to the abundant adjustments offered, and the four wheel disc brakes with ABS and EBD offer ood pedal feel and stop the vehicle well.
The rain-sensing windshield wipers seem to know how I like things better than some similar systems in some higher end vehicles, and the heated side mirrors definitely came in handy during my wintry test.
The seats are comfortable, especially up front of course, where my tester's leather buckets were power adjustable and came with bun warmers. A large central console separates driver from shotgun, middle row passengers can recline a bit and the seat also slides, either for legroom or to create one of the better entryways to the 50/50 split/fold third row. And the third row was also one of the roomiest and most comfortable I've tried. I still wouldn't want to spend more time there than necessary, but they've done a very good job considering this very un-bus-like vehicle.
The audio system is good in a typically Mazda way as well, in that the sound quality is fine but it could use a little more real oomph. And the CD player in my tester looked like a changer but acted like a single disc player despite a "load" button and "disc up/down" controls. I tried ramming in multiple discs, only to have the head unit pucker its lips like a kid faced with a spoonful of cod liver oil.
Driving the CX-9 was a little more fun than an Acura MDX, but more similar than not. The 3.5 liter V6 puts out 263 horsies @ 6,250 rpm and 249 lb ft of torque @ 4,500 rpm, but it's so effortless and quiet you hardly feel that it's working. You spur its output wheelward via the right foot on an electronically controlled throttle, and through a six speed automatic transmission that reads out the gear you're in even in automatic mode. It also has a manual shift mode.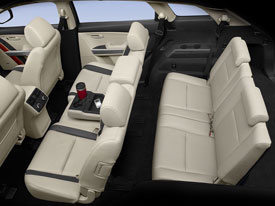 Front wheel drive is standard; my tester (which wore 20 inch wheels) had Active Torque Split AWD, which is front biased and sends torque rearward when any slip is detected.
CX-9's independent suspension contributes to its good handling; it displays a rewarding lack of dive or roll tendencies for such a big vehicle. Of course the nannies on hand (roll stability control, traction control, dynamic stability control, etc.) don't hurt either, unless you want to hang out at the edge of the envelope.
Safety stuff includes the usual bevy of bags, belts and such, including side curtain air bags.

Mazda CX-9 GS 2WD starts at $29,630/$39,595.00 Cdn. The up market AWD GT starts at $34,470 / $45,955.00 Canadian (trim levels and options are somewhat different in each country).