Mazda MX-5 - Talkin' 'bout Regeneration!
By Jim Bray
Once it was called the Miata, and it turned the automotive world on its ear. The little two seat roadster took all that had been great about open top motoring as personified by such cars as the classic British MG's, Healeys and Triumphs and added to it new technology and the legendary dependability of Japanese cars.
It was an instant hit and has continued to be a wonderful and popular fun-mobile ever since then.

But nothing stands still, and now the Miata's just the MX-5 and, though it probably won't have the impact on automobiledom that its previous self did, Mazda's little bundle of joy has been reborn as an even more terrific open top sports car.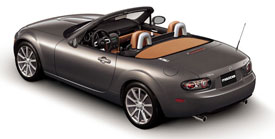 I must confess a bias. Many years ago I owned three MGB's, ranging from old and on its last legs (but a blast when it ran), to used and rarin' to go, though finicky (but a blast when it ran), to brand new and absolutely worthless (and it wouldn't even have been a blast if it had run). I love this type of car, but they left a bad taste in my mouth.
Not the Miata, though, especially the Mazdaspeed version I drove last year. Back then I said it may be "the ideal toy for those who want the joy of classic open-top motoring without either being left on the side of the road…or having to go farther up market to such vehicles as the Honda S2000, Porsche Boxster or BMW Z4."
Marvellous MX….
The Mazdaspeed Miata took the basic car and upped the oomph ante with a turbocharger that helped raise the output of the sweet little 1.8 liter four banger to 178 horses @ 6000 rpm and 166 lb-ft of torque @ 4500 rpm. It turned the Miata from a fun little car to a fun little rocket.
The new MX-5 doesn't have a Mazdaspeed version, yet. Fear not, though! The MX-5 is still "a little car that can", a vehicle you wear like a comfortable set of casual clothes. And even though it isn't turbocharged and has gotten a little heavier (haven't we all?), it has more get up and go than the old car.

The MX-5 features a 2.0 liter four cylinder engine that pumps out 166 horsepower @ 6700 rpm and 140 lb-ft. of torque @ 5000 rpm. It isn't quite the visceral thrill of the old turbo version, but it's still an absolute blast. One could argue that the turbo was merely icing on the MX-5/Miata cake anyway and if you compare the new engine's output to the 142 horses/125 lb-ft. torque of the regularly aspirated Miata of old you get a better "apples to apples" comparison: however you slice that apple, this is definitely an upgrade.
Which makes me salivate in anticipation of what I hope will be the inevitable Mazdaspeed MX-5!
But back to this car.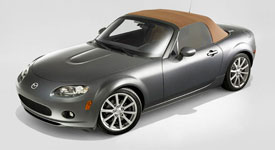 Mazda has done a remarkable job of updating the Miata. The new body is reminiscent of the Miata (and is instantly recognizable as such), but new and fresh at the same time. The front and rear are a little more chiselled-looking than before, the fenders flare nicely over those big wheels and tires, and though a bit of the old cuteness has been lost in the translation, it has been more than made up for by a confident and aggressive swagger.
The old roof was easy to raise and lower from inside, but the new one is better. Now, a single latch in the middle is all you need to unfasten before swinging the roof back and snapping it into its niche behind the seats. To raise it, unsnap the latch between the seat backs and lift; you can do both operations with one hand. seated.
Mazda has now included a wind blocker between the headrests, but when it's up (even though it's only a couple of inches high) it blocks the view over your right shoulder for shoulder checking. This means you'll just have to drive fast enough that no one can catch up with you….
When closed, the roof's tighter than Nancy Pelosi's face. I took it through an automatic car wash on its "super deluxe" setting and the only drip inside had its hands on the steering wheel….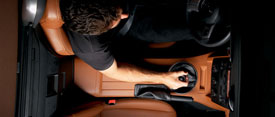 Inner space….
Slide into the driver's seat and you'll find a snug but welcoming environment. MX-5 is supposed to be a tad bigger than the Miata, but it didn't feel like it. That isn't a complaint; I love wearing this car, though I'm not sure how it'll fit tall people.
The pedals are placed perfectly, the steering wheel now tilts, finally, and the controls are all placed exactly where they should be, easily at hand (though considering the size of the critter it's hard to imagine anything not being at hand!).
MX-5 also includes built in roll bars and there's even a little storage bin on the rear panel between the seats. It isn't very big, but it's sure handy in a car where space is at a premium.
A short reach to the right puts the driver's hand on the lever for either a five speed or six speed manual transmission, and you can also get an optional six speed electronically-controlled automatic with overdrive, lock-up torque converter and paddle shifters.
As intriguing as the idea of paddle shifters is, I was pleased that my tester had the six speed stick. It's a beauty. Throws are short and clean, the clutch is light and "engaging" and it's easy to row through the gears without making a mistake. The gearing is also nigh on perfect for zipping the little bugger up through the numbers with wild abandon.
And handling? This car doesn't just handle; as with the Mazdaspeed Miata, it feels as if it's hard wired into your brain.
It sports a fully independent, double wishbone suspension with coil springs and stabilizer bar up front, and a multi-link bum with coil springs and stabilizer bar. Flick your wrist and you've changed lanes. Crank the wheel a bit more and you're well into the curve or the turn. It's effortless and intuitive and the car's engine rpm-sensing variable power assist rack-and-pinion steering feels like it knows exactly what you want.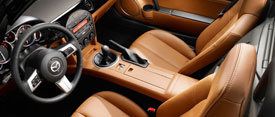 It's a lot of fun carving up apices….
Miata, er, MX-5 has power assisted discs all around with diagonal hydraulic circuits and ABS. Pedal feel is great and the stopping power is well more than adequate.
Nothing's perfect, of course, but try as I might to find nits to pick, all I could come up with is the typically underpowered Mazda stereo (though it does manage to handle roof down driving surprisingly well, go figure) and the fact that the shoulder belts cut my neck at an uncomfortable angle, and aren't height adjustable. I don't know how the belts could have been mounted differently, though, considering the nature of the car.
Oh yeah: be prepared to start pumping premium unleaded – though that's a small price to pay for the privilege of driving the MX-5.
Hard or soft?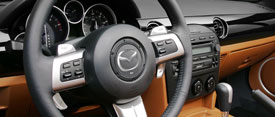 As if the MX-5 isn't great enough already, Mazda has just introduced a retractable hardtop version which may just be the ultimate version, especially if they hurry up and slap in a turbo to make up for the extra weight.
I hate baking in the hot sun and am more prone to driving topless on cloudy days or after the sun has gone down – and during the fabulous winter Chinooks we get where I live. The droptop hardtop may be the perfect compromise for sticks in the mud like me.
With either top you choose, there's one extra bonus to sweeten the deal: air conditioning is now offered.
The MX-5 starts at $21,030 U.S./$28,095 Canadian and goes up to about $31,500 /$39,200 Canadian for the retractable hardtop version, depending on the other options you choose.