Jeep Rubicon Offers an Off-road Blast from the Past
By Jim Bray
October 25, 2007
Talk about retro!
In an age when more and more vehicles seem to be embracing the look and/or feel of vehicles past (just look at the PT Cruiser or the current Mustang), the basic, garden variety Jeep doesn't have to follow such trends. Nope, it continues to look pretty much like it always has, the body style millions have come to know and love since the U.S. Army was given the Willys back in 1941.
Oh, it's changed, all right. In fact, for the 2007 model year the classic Jeep, now called the Wrangler, even stretches itself to add a pair of rear doors, while becoming even boxier than before. And it ups its off road ante through more ground clearance, larger wheels and tires, (optional) next-generation Command-Trac and Rock-Trac transfer cases, new electric axle lockers, and electronic-disconnecting front sway bar.
Jeep says the new Wrangler also sports a frame that's twice as stiff as before, a longer wheelbase (hence the extra doors, I suppose) and a wider track. It also features more hip and shoulder room and rear-seat legroom, a plethora of door, top and windshield combinations, more safety features (including an Electronic Stability Program), four-wheel disc brakes with ABS, electronic roll mitigation, dual-stage air bags, seat-mounted side air bags and Occupant Classification System (OCS) - the last of which sounds awfully judgmental.
Jeep offers the Wrangler beast in three basic models (X, Sahara and Rubicon - my tester being the Wrangler Unlimited Rubicon) and proclaims it as "the most capable off-road vehicle in the world." And it may be. I'm not much of a four wheeler, but I can understand the value and appeal of such.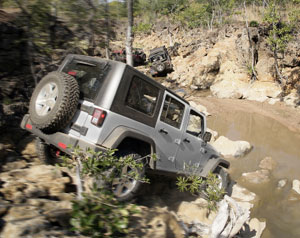 The "Unlimited" designation, apparently, means the vehicle is designed to perform wonderfully in five key off-road performance categories: traction, ground clearance, maneuverability, articulation and water fording (or, in this case, "water jeeping!").
Maybe so, but I just didn't get the Wrangler Unlimited Rubicon I had.
Perhaps my angst came partly because of the trim level. My tester came with manual windows, manual mirrors (which means you can't adjust the right hand mirror without help unless you have arms like a giant squid's tentacles), manual door locks - pretty well manual everything. Power stuff is optional, so maybe their omission as standard equipment is a throwback to the Jeeps of old. And maybe that's a good thing.
It certainly wasn't the power that kept me lukewarm to the Jeep. The Wrangler features a 3.8-liter V-6 engine that generates 202 horsepower and 237 lb.-ft. of torque (apparently with better fuel economy than before). That may not seem like a lot of oomph these days, but it was more than adequate for my pavement-oriented driving.
And it wasn't the transmission. The six speed manual is very nice, in a truck-like way, with long but satisfying shifts.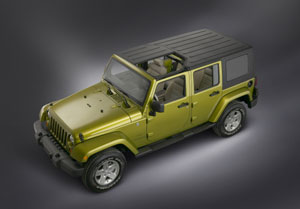 It was partly the B.F. Goodrich Off-Road tires that rubbed me the wrong way. They're as big and as knobby as you'd want for serious off-roading, but on asphalt they cause the vehicle to almost wander out of its lane. If you don't plan to take your Rubicon to, well, the Rubicon Trail, you'd be best served getting some more highway friendly rubber.
On the other hand, if you're planning to observe the Wrangler in its natural habitat, you'll be glad of that rubber, and that even the base model features what Jeep says is a "best-in-class approach angle of 44.3 degrees, breakover angle of 25.5 degrees, and a best-in-class 40.4 degree departure angle."  The Rubicon trim level adds to the mix an Off-Road Rock-Trac two-speed transfer case with a 4.0:1 low-range gear ratio and electric axle lockers front and rear.
Driving the Rubicon reminded me of my days piloting school buses, without the length, width and height - and, fortunately, without the yammering ankle biters. You sit up close to the steering wheel and quite high off the floor, and the windshield seems as close as the sneeze guard at a salad bar. It was a weird sensation for someone who likes having the steering wheel at nearly arm's length away.
On the other hand, I see people driving like this all the time, and not necessarily in Jeeps, so maybe it's me who's weird.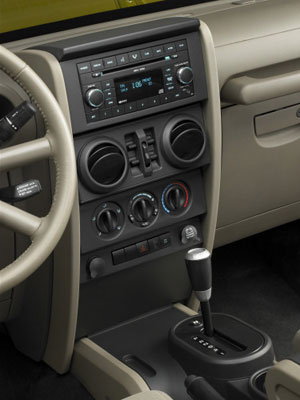 The seats up front are comfortable, though hardly luxurious. The rear bench sits you up as straight as your mother wants you to sit, and would probably inflict numb bum before too long in the saddle. But obviously this isn't meant to be a Lexus..
The steering wheel feels fine but, in the Jeep's retro/minimalist vein, my tester's didn't have any ancillary audio controls on it (just the cruise control, on a separate lever). In practice, however, this didn't really matter because everything on the center stack is close at hand.
Everything everywhere is close at hand; in fact, I found the interior to be very tight despite its improved dimensions. It isn't Miata tight, but it's close enough that there wasn't even an arm rest on the inside of the doors (probably a good thing since it forced me to keep both hands on the wheel, which came in handy when the tires transmitted their wanderlust up the steering column).
The Jeep's signal lights have the same "depress gently for three blinks when changing lanes" feature found on European cars, which I like very much and miss when I'm driving a car that doesn't have it.
And the HVAC controls are models of simplicity.
The stereo is very good. It features plenty of power, nice tight bass and clean, not shrill treble, with six Infinity speakers and a subwoofer, AM/FM and CD/MP3 capability. It's easy to use, too.
You can remove the roof in the Rubicon, as long as you have the time and the inclination. My tester had a three piece thing called the Freedom Top that comes off, eventually, by unlocking latches and unscrewing, well, big screws, then lifting the pieces off (and putting them where, if you also want to haul stuff?). I wouldn't want to do this if there's rain within 50 miles, but it'll probably be okay if you're in dry climes and just leave the roof in the garage.
The advantage is its customization: you can remove driver's side, passenger's side, or the rear passengers'. This should facilitate drive by shooting. You can fold down the windshield, too, for even better aim or for those who are too busy to stop for lunch and opt for a face full of bug protein.
A soft top is also available.
This isn't my type of vehicle, though perhaps if it had a few more of the optional creature comforts (which include such "necessities" as power windows and door locks with remote keyless entry, full-screen navigation system) I'd have enjoyed it more.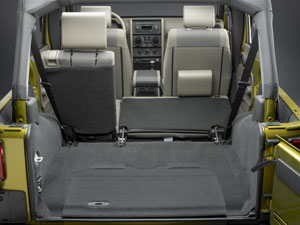 Or maybe, when configured this way, the Jeep is meant to give people a feel for what it was like to drive one back in the "good old days" - kind of a homage. But considering the competition, some of which also boast prodigious off-road capabilities, it almost seems like roughing it for the sake of roughing it.
On the other hand, I had several people ogle the Wrangler Rubicon lustfully while I had it, so it obviously strikes close to the hearts of some.
The 2008 Jeep Wrangler starts at $19,320 U.S. ($19,995 Canadian). My rather Spartan Wrangler Unlimited Rubicon starts at $27,880 U.S. ($30,595 Canadian).