Ford Ponies Up the Fun in Retro Mustang
By Jim Bray
It was just like having a midlife crisis, then being able to get back to reality again without having ruined my life in the meantime.
"It" was a week with Ford's new Mustang GT, the latest and possibly greatest version (not including the various Shelbys, Machs and the like, perhaps) of the car that changed the business back in the 1960's.
I took my Drivers' Ed (kind of like Mister Ed, but featuring horsepower instead of a horse) in a 1969 Mustang convertible back longer ago than I'd care to admit, though as a hint I'll admit that the car was new at the time. Three students and one instructor poured ourselves into the pony during the dead of winter and learned our stuff, including such cold weather exercises as parking lot donuts, though I'm not sure that was really part of the curriculum.
That was the last time I drove a Mustang, though I've always had a soft spot in my heart for the equinemobile. Alas, since that 1969/70 model I've watched the original pony car go through generations that varied from bloated to pretender, from bland to "close, but no feed bag."
Then I saw my first promotional photos of the new car and thought "Wow! If they can pull this off it should be really something!" And they have. The new pony car follows the retro styling craze personified by the new Beetle, PT Cruiser, and even the Ford Thunderbird.
Except that the new Mustang is the best of the bunch, taking styling cues from old generations but giving the car a state-of-the-art look and feel that's quite wonderful. To these eyes, this is the best-looking Mustang ever, even better than my previous favourite, the 1967 fastback.
And if you believe the reviews you read, the new pony is a darn good value and a lot of fun to drive. You shouldn't believe the reviews, of course – except for mine, obviously – and I don't generally believe them either - so I went into my test period with as open a mind as possible from someone for whom the Big Three lost their luster years ago. I wanted to like it, but I feared all the beauty was only skin deep.
It isn't. I like this new Mustang, a lot. It's a wonderful example of the classic muscle car, with gobs of power and torque, an intoxicating V8 rumble even at idle, and a slick 5-speed manual transmission with short throws you can throw with abandon.
I also discovered that I'm too old to drive one of these things, that as much as its fetching curves fetched innumerable covetous glances when I drove it through the thoroughfares in my neck of the woods, I couldn't help feeling silly as a graying old fart driving what felt clearly to be a "kidmobile." It felt as if those whose heads turning my way were thinking "great car, who's the old guy pretending to be young?"
But it was sure fun!
My tester was the Mustang GT, the current alpha stallion of the line. It features a 4.6 litre V8 with 300 horses (making a total of 301 if you include the car itself) and 320 lb. ft. of torque. The result is an awesome rush of wind by the car when you tromp the gas pedal. This is truly the 2005 rendition of the muscle car; it muscles its way through traffic and along highways. It may not be subtle, but it's certainly a rush!
That luscious V8 is mated to a 5-speed manual transmission as standard equipment, which is as it should be – though I wondered what a 6-speed would feel like. A five speed automatic is also available.
The 'Stang's front suspension features MacPherson Struts with Reverse "L" Lower Control Arms and a stabilizer bar, while the "older tech but tweaked" rear suspension uses constant-rate coil springs with panhard rod and a stabilizer bar. That rear contributes to a bum that seems willing to break a bit with the right combination of gas pedal pressure and road irregularities, but it's nothing that'll raise a sweat. It's also a neat flashback to the glory days of the muscle car.
And of course the Mustang retains its front engine/rear wheel drive configuration, which is how a sports car should be laid out.
The brakes are power-assisted discs all around, with ABS, and they do a nice job of bleeding off the incredible inertia that builds up after you mash the accelerator to the floor. Steering is power-assisted rack and pinion.
The GT also comes with traction control. Ford says it's "smart enough to know when a little bit of wheel slippage is a good thing - like when you want to make those rear tires sing off the starting line." Fair enough, but if you really want to make 'em chirp you're best switching the traction control off via the button on the dashboard. Not that I'd ever try that, of course….
T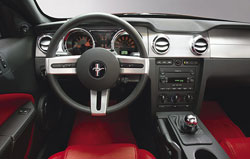 here's very little to quibble about, and most of my complaints were so minor I'm almost embarrassed to mention them (except that I don't want this review to appear a whitewash!).
So I was disappointed that the shoulder belt anchors couldn't be adjusted up and down because the belts seem designed for a taller driver. I also found the clutch a tad heavy – not so much that you can't sit through a red light with it depressed (which would be depressing!), but more than I like.
I also thought the A/C was a tad anemic. Granted, it was extremely hot when I had the GT for my test, but the combination of comparatively weak A/C and a black leather interior (with aluminum inserts you could cook stuff on) meant the cockpit tended to be very warm for a while when you first get in.
I discovered that the best way to get around this was to open the windows and drive like a banshee to ensure adequate air flow reached the interior.
Really, officer, I wasn't trying to speed, I was just cooling the car off!
The driver's door handle seemed a tad loose, in that it would sit a little "opened" when at rest (though only a little – I said I only had quibbles!). I also thought the glove compartment too small, the centre console bin has a latch that's hard to use, and the seat bottom doesn't move forward to facilitate entry into the tiny back seat.
Despite that, the rear seat is surprisingly comfortable despite the lack of legroom one expects in such a vehicle. I wouldn't want to spend a lot of time back there, though. Oh, the back seat also splits and folds down to allow you to actually haul stuff in the pony car.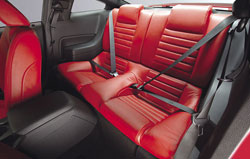 Back to the positives, the driver's and front passenger seats are very comfortable and supportive and are a good perch when you want to hit the curvy bits. The car itself doesn't like the curvy bits as much as it likes the straights, which is another muscle car tradition the new Mustang maintains. Oh, it handles fine overall – but it "feels" as if it's happier when screaming up a drag strip than tackling a tight road course.
Creature comforts and safety features include dual power-operated outside mirrors, a rear window defogger, variable intermittent wipers, tilt steering wheel (no telescoping, though), keyless entry, dual airbags, the usual seatbelt assortment, and a SecuriLock ignition disable for theft prevention.
The audio system is a Shaker, and they aren't kidding. It features a blistering AM/FM stereo 6-disc CD, MP3 player with speed-sensitive volume control and it rocks. The only problem is that when you crank it you can't hear the siren song of the V8 as well. Or possibly the siren song of the cop pulling you over...
I loved the optional alloy wheels on my tester: really classy and very attractive. They wear a good set of 235/55ZR17 performance all-season tires that are just crying out to have their treads burned off.
The Mustang starts at $23,795 Canadian ($19,890 US) for the V-6 model or $32,795 Cdn. ($25,815 US) for the GT V-8. My GT test car, which featured various options, comes in at about $37,700 Canadian/$27,000 US.
Seems like a pretty good deal to me.
Since its introduction, Mustang has sold more than eight million copies and if this latest and greatest is any indication they should be moving quite a few million more before this stallion gets put out to stud.