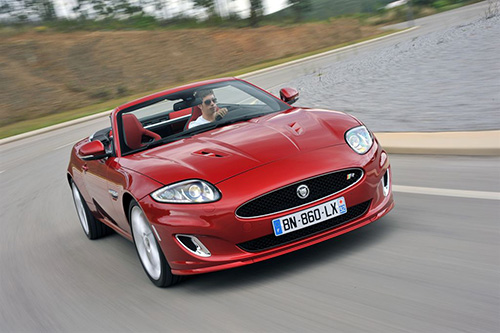 Jaguar XKR a real snarling beast
By Jim Bray
November 7, 2013
Talk about a car that speaks for itself! Here's one that roars!
Thanks to voice technology, many cars have the ability to speak, but their vocabulary is limited to whatever has been programmed in, and it probably has little to do with the car's actual performance on the road.
Then there's the Jaguar XKR (click the picture on the left to open a slideshow), a beast that's come in from the wild but which hasn't been domesticated fully. This is a car that does, indeed, speak for itself and in a most visceral way, one that reflects its personality and raison d'être . Yep, fire this thing up from the center console-mounted push button and you're poking the beast with a stick, waking it from the type of peaceful slumber for which cats are known.
Its response is an immediate snarl that's the stuff of car nuts' dreams. The snarl abates after the big cat wakes fully, settling into a happy but lethal-sounding purr as it awaits its next opportunity to pounce.
Yeah, it's a cat. Who'd have thunk?
Well, it isn't really like a cat in some ways: you can hop aboard this Jaguar, and it obeys your commands happily (like a dog!). Try hopping aboard your kitty - or try making it obey your commands - and you'll likely pull back a bloody stump where once was an arm. So the cat analogy only goes so far.
The XKR is basically the middle model of the Jaguar's XK sports car line (not including a couple of GT's): there's the entry level XK and the top line XKR-S you can opt for if you sprinkle around enough green - and I don't mean catnip. I drove the S at Canadian Car of the Year TestFest a couple of years ago and it was even more of a beast, like a big cat hopped up on crack.
The R straddles the line between luxury sports car and luxury sports brute very well, with a comfortable and high tech interior and enough great stuff under the skin to quicken the pulse. It really is a special car. And it doesn't hurt that it's a Jaguar, a British marque with a long and storied history (though there seem to have been a couple of decades when the cars may have been lustworthy still, but weren't particularly good).
Jaguar Land Rover Canada kindly loaned me the vehicle while I was travelling in Ontario. It was my first quality seat time with a Jaguar; otherwise I've only encountered them briefly at TestFest, which is a nice way to get a first impression but which can also be kind of a blur. And what better Jaguar (other than the new F-Type) to try than the one that resembles most closely the marque's most famous, iconic, and lustworthy car: the gorgeous E Type?
The experience was all I expected and most of what I hoped for. And never have I driven a car that got so many looks and appreciative comments from passersby!
The XK is available as either a coupe or convertible, and both look fantastic. The sample was the convertible which, even though I'm not really a convertible fan, seems the more lustworthy of the two.
A Jaguar's heart…
That snarl, and the subsequent purr that can turn instantly into a snarl again at the mere press of the accelerator pedal, comes from a supercharged 5.0 liter V8 engine with twin air intakes, variable inlet camshaft phasing and Eaton supercharger. Tromp that right hand pedal and your eyes turn back into your skull, which is probably a good reason not to do it, especially in playground zones. There's no reason not to do it when conditions are right for such delights, however, and the acceleration comes on RIGHT NOW, thanks to the car's 510 horsepower and 461 lb.-ft. of torque. That's nearly as many horses as the British had at the Charge of the Light Brigade!
The company says the XKR will zip from zero to 100km/h in 4.8 seconds, which is plenty fast. They also claim fuel consumption of 11.8 liters/100km (about 19 mpg U.S.). Not if you plan to do 4.8 second sprints, of course, but this fact of driving life should surprise no one.
Power gets to the real wheels via a sweet, six speed automatic transmission with "Jaguar Sequential Shift," which means it has a manual mode with paddle shifters. And it's very good. I took the Jag on a couple of back roads with some nice hills and twisty bits (as much as there can be such in southern Ontario) and the manual mode added an appropriate amount of fun to the experience.
The horsepower didn't hurt, either. Look at it as a safety feature. There were times when I needed to pass some slow-moving vehicle and, since the best way to pass safely is to spend as little time as possible in the oncoming traffic's lane, it helps if you can pass quickly. The Jag pawsitively pounced. It was fun!
And there was a time when, for several kilometers, a punk kid in a Honda Civic Si HFP (a nice car, and the hottest Civic) sat in the passing lane where he obviously figured my blind spot was (but wasn't, since I adjust my mirrors properly) and tried to force a squeeze play when we came up behind some slow-moving cars in my lane. It could have been a dangerous situation, thanks to this oaf.
Ah, but I had a Jaguar XKR and wasn't afraid to use it. A quick shot of supercharged V8 and I zipped out in front of the punk and past the slowpokes, passing safely and sending a much-needed message to the punk. And it worked; he backed off, switched to the proper driving lane and followed at a safe distance for another 100 kilometers.
Cats land on their feet…
This is not a small or light car, but the handling is well, cat like, thanks to its sports suspension, adaptive dynamics, active differential control, and the usual stability controls, ABS, and the like. The XKR likes to be thrown a curve and it'll put a smile on your face as you carve it.
Naturally, a car like this comes with a whole bunch of high end stuff, including adaptive bi-function HID xenon headlights and 16 way heated and cooled power adjustable front seats with memory (which, like the dashboard and doors, are covered in soft grain leather). There's also a heated leather steering wheel with logical multi-function controls and the column tilts/telescopes via power.
The  seven inch color touch-screen display is a tad busy and slow, and not the most intuitive, but it does the job. I only tried the navigation system twice; the first time it wouldn't let me punch in the destination, but the second time it worked great.
The Jaguar also comes with a 525 watt Bowers & Wilkins audio system. Bowers and Wilkins make fine speakers and the system did a fine job with my best digital files - via Bluetooth. There's also a media interface with an auxiliary socket as well as USB and iPod connectivity and HD Radio. The Bluetooth phone connectivity worked fine as well.
Naturally, you get a smart key system with keyless entry and push button start/stop, power folding mirrors (which are quite large and mounted high), front and rear parking sensors, a back up camera, you know the drill.
Instead of a shift lever there's a chrome knob that rises up out of the console when you fire up the car, and that's very cool. On the other hand, it looks like one of those cursor control thingies - so I had to keep reminding myself not to crank it while trying to change radio channels or something. I'm not sure it would actually let me shift into Park while moving, but I certainly didn't want to find out!  
The trunk is small, though it's probably a lot bigger in the coupe version. In the convertible, however, it had room for my carryon luggage and back pack, and that's about it. Maybe that's why there's a small rear seat…
The convertible top closes things up nicely and tightly, and you can operate it at low speed (which is handy when it starts raining suddenly). I think it lets in more road noise than the coupe would (not that I've tried the coupe), which makes this luxury cruiser a tad louder inside than I expected.
Despite the high level of equipment, I noticed a distinct lack of nannies, and that was fine with me. Oh, it has traction control, ABS and all of that stuff, but my sample had neither lane change nor blind spot warning gewgaw and I didn't miss them.
That more traditional mien, the straightforward and mostly analog instrument panel, good ergonomics and well thought out design result in a car that's a blast to drive, fast, and comfortable enough to drive all day without tiring you out excessively.  It's about as close to being "state-of-the-art pure motoring" as possible, a wonderful and modern driving experience that doesn't beat you over the head with technology.
And talk about cutting a swath through traffic!
The mighty Jaguar XKR starts at $116,125. You can pile on the options from there, including stuff like a Dynamic pack, active exhaust, performance seat and adaptive cruise control. Check off all the boxes offered on the website and the total price reaches $137,925. A lot of scratch, but you're getting one heckuva car for that.
Copyright 2013 Jim Bray
TechnoFile.com