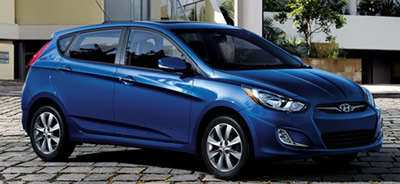 Hyundai Accents the Positive with Winning Entry
By Jim Bray
December 2, 2011
Hyundai appears to be on a definite roll. Not only has the company released a series of terrific vehicles over the past couple of years, it also walked away with three "Best of" vehicle awards at the 2012 Canadian Car of the Year competition held at the end of October.
One of those winning vehicles is Hyundai's new Accent, a terrific little car that was voted Best New Small Car (under $21,000), beating out such worthy competitors as the Fiat 500, Kia Rio 5 and Nissan Versa Sedan.
I agree completely with the choice.  I loved the Accent, both at the competition and during the more thorough wringing out of it I did a few weeks earlier. It's a fine car, arguably the new benchmark in this class. And while the model this new Accent replaces was no slouch, Hyundai (as it did with the Elantra, Sonata and others) has really raised the bar with this new generation.
The 2012 Accent makes good use of Hyundai's "fluidic sculpture" styling that also looks so great on the Elantra (though, alas, not so great on the Sonata). It's available as either a five door hatchback or four door sedan – there's no "two door" option any more – and features a 1.6 liter GDI DOHC four cylinder engine that puts out a very reasonable 138 horsepower @ 6300 rpm and 123 lb.-ft. of torque @ 4850 revs.
That's not only more than competitive in this segment, which features such cars as the Toyota Yaris (106 hp) and Honda Fit (117 hp) it's not bad in the next one up, either – a slot that includes such venerable family classics as the Toyota Corolla and Honda Civic (which are rated at 132 and 140 horses respectively).
Not bad if you like power. Yet Hyundai claims the Accent – equipped with the six speed manual transmission of my test sample – gets an EPA rated gas mileage of 30/40/34 (city/highway/combined). That's pretty good.
I never come close to achieving such mileage, since I tend to drive every car as if it's on a race track, but I considered the Accent to be more than adequately economical after my week with it.
The six speed manual features a nice, light clutch and shifting is very smooth and slick. The manual adds quite a bit of enjoyment – let alone control – to the driving experience, though the six speed automatic's no slouch, either. If you want the best bang, however, opt for the stick.
The front wheel drive Accent even features a reasonably spry independent suspension consisting of MacPherson struts with coil springs and gas shock absorbers up front and a torsion axle with coil springs and monotube shock absorbers out back. Combine that with a reasonable, though a tad numb, steering feel and – while you definitely don't have a sports sedan here – you do get a pleasant driving experience.
Mostly, anyway. I angered my sample Accent once while taking one of my favorite freeway off ramps at a speed I know to be reasonable but which the car thought excessive. And who asked it, anyway?
Anyway, the Accent's traction control intervened obtrusively, taking all the fun out of apexing the curve. Chalk it up to an econocar's angst at being driven sportily, and if I'd known it was going to happen I would've used the little button on the dashboard to shut off the traction control. Alas, it happened when I was on my way to return the vehicle so I never had a chance to try the maneuver again.  
Call the driving experience "lively," as opposed to "spirited," then. This is obviously not a car you'll want to use for weekend drag races at your local track, unless you want to embarrass yourself. For its mandated task of ferrying people and their stuff as efficiently and cheaply as possible, however, the Accent (not to make an ex-Hyundai model name pun) excels.
My Canadian-spec sample Accent wore the GLS trim, which would be comparable to the U.S.-spec Accent's base, SE trim level. Yet it included just about everything you could wish for in such a vehicle, including Bluetooth, 16 inch alloy wheels (14 inch steel ones are standard), keyless entry and air conditioning, a power, sliding sunroof, heated front seats, turn signals on the outside mirrors, fog lights and a leather-wrapped steering wheel.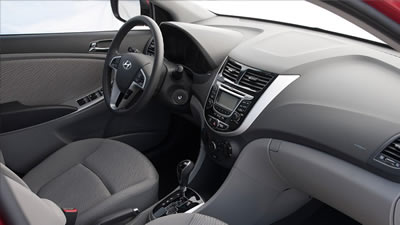 The equipment list also includes disc brakes all around (with ABS and the usual aids), stability and traction control, a 60/40 split/fold rear bench seat, tilt steering wheel and an audio system that, while sans Bluetooth in the most basic configuration, offers USB and iPod connectivity.
Inside, the Accent treats you to a comfortable cabin (for four, anyway) that's modern and uncluttered, featuring instruments and gadgets that are laid out logically and are very easy to figure out and operate. I'd have liked to have a telescoping steering wheel, but such wasn't the case. Despite that, however, I had no trouble finding a comfortable seating position with the manually-adjustable front seats, and the steering wheel feels good in the hands.
The brakes also offer good feel and performance.
My daughter-in-law complained that the shoulder belt in the outer position of the split/fold rear bench was uncomfortable (the front ones are fine, and feature height adjustment), but to be fair that's a complaint I hear often from rear seat passengers, which means the Accent was no worse than many other cars in a variety of market niches.
Storage space is about what you'd expect from a little four door hatchback: adequate with the rear seats up, much better with them folded down (and they fold nearly flat). You won't be carrying a full load of big stuff from IKEA, but when it comes to groceries and the other things you usually haul home from the store, it should be more than adequate.
Safety equipment includes the usual bevy of belts and bags, as well as Active Headrests up front.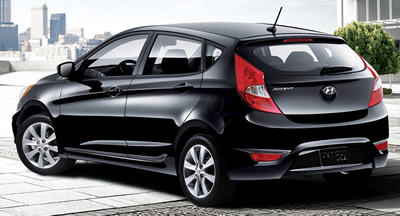 The traction control nanny incident aside, I really enjoyed driving the new Hyundai Accent. It's definitely an economy car – not that there's anything wrong with that, of course – but it's surprisingly refined and capable and offers very good value for the price.
That price starts at $14,600 U.S./$13,600 Canadian for the hatchback. My sample would cost closer to $16,000 U.S./$17,000 Canadian, not including taxes and the other usual "carrying charges."
And that's not bad at all, considering what you get.
Copyright 2011 Jim Bray
TechnoFile.com