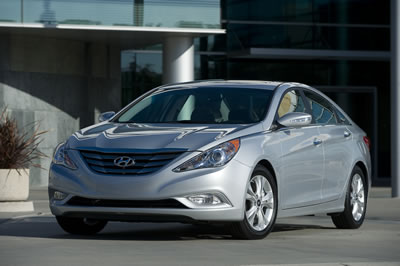 Hyundai's Seductive Sonata Storming the Streets
By Jim Bray
November 11, 2010
Hyundai's Camry-and-Accord-killer Sonata appears to be on the way to becoming a huge success for the Korean automaker, and it's easy to see why.
I can't remember the last time I saw so many of a brand new car on the road so quickly, which certainly bodes well for the 2011 Sonata. And having spent a week behind the wheel, I can see why people are falling for it: it's built and equipped well, carries a reasonable price and is nice to drive.
It's a good thing beauty is in the eye of the beholder, though, because to this beholder's eyes it has one of the ugliest front and rear ends I've seen in a while. Fortunately, you can't see that once you're inside, because that "Mr. Sardonicus" grin occupying the front grille is enough to send small children scurrying away in fright. In my never humble opinion, anyway.
 Hyundai describes the new, sixth generation Sonata's styling as using the company's "Fluidic Sculpture design philosophy". Some visually- challenged (or taste-challenged!) person at Hyundai's Design Centre in California supposedly came up with the look, which the company says was crafted "to give customers a dynamic, strong and recognizable alternative to the staid competition."
And staid it ain't! It looks positively avant-garde which, in a niche that includes the dumpy Honda Accord and the "vanilla" (but handsome in its own right) Toyota Camry, means it certainly stands out.  
Under that bizarre skin beats a solid heart – a four cylinder engine so eager to please that Hyundai has dumped the V6 option that was available until this Sonata was unleashed. That filled me with unease initially, but I should've known better: today's four cylinder engines crank out as much power as yesterday's sixes (while sixes have moved into V8 power territory). In this case, the Sonata GLS/Limited's standard 2.4 liter four is capable of a healthy 198 horsepower @ 6,300 rpm (while meeting ULEV standards) and 184 lb-ft of torque @ 4,250 rpm.
This is more than enough, and more than competitive. For comparison, the Toyota Camry four cylinder version is rated at 179 hp @ 6000 rpm; 171 lb.-ft. @ 4100 rpm, while Honda says the base Accord is rated at 177 hp @ 6500 and 161 lb.-ft. of torque @ 4300 rpm. Obviously, Hyundai has nothing to apologize for here!
If it isn't enough, there's also a turbo version that cranks out 274 horses and 269 lb.-ft. of torque! That should be enough for everyone except those with the heaviest right feet.
My sample Sonata Limited's engine sounded a little buzzy, making it appear a tad less refined than some of its competition – the abovementioned Camry, for example – but it certainly performed well and I never pined for a V6 or the turbo.
Power gets to the front wheels via either a six speed manual or a six speed automatic transmission. My car had the automatic, with a manual setting, and shifts were very smooth.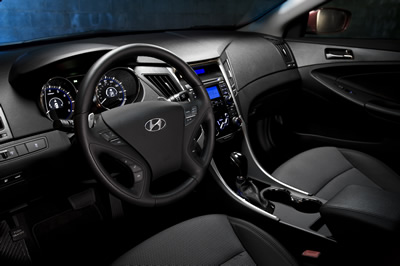 Inside is an attractive, ultra modern-looking cabin filled with quality materials and a whole bunch of tools and toys. My test car was quite loaded, offering up a very good-sounding six speaker audio system (with satellite and Bluetooth capability), air conditioning, power windows, power door locks, cruise control, and a tilt/telescoping steering wheel with remote audio controls. There are also iPod and USB/auxiliary audio inputs and Bluetooth Hands Free for the Phone and for the tunes – and it worked fine, though I had some problems getting the car to flip through tracks on my Android phone via Bluetooth.
The steering wheel feels good in the hands and is perched in front of a classy-looking instrument panel that includes temperature and fuel gauges placed cleverly inside the tachometer and speedometer, saving space yet keeping them right in front of  you.
Two auxiliary power outlets and the music player connectors are mounted on the center console right below center stack, conveniently at hand. HVAC and the main audio controls are laid out well and work well.  
A small point, but one that I really appreciate when I find it on a car (and it's showing up on more and more all the time) is the one-touch "three blink" signal light for lane changing.
Hyundai also throws in keyless entry and a security alarm.
The seats are comfortable and supportive  and the rear seat is good for two, adequate for three. My "Limited" test car's front seats featured eight way power adjustment with lumbar support. Rear seat passengers get their own ventilation controls and the Limited adds heating back there as well, something Hyundai says is a first in this segment.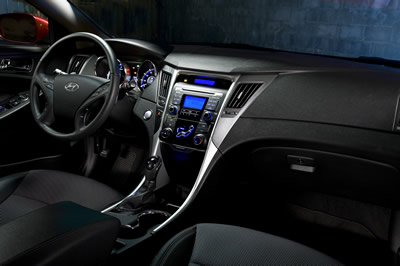 The Sonata is a good driving experience, with a reasonably tight suspension that makes it more fun than some cars in this segment – notably the above-mentioned (ad nauseam) Camry I drove the week previously. The power-assisted, speed sensitive power steering feels as good as any in this class, and it also has also has a very good turning circle.
Standard safety equipment includes six airbags (with a pair each of front/side and side curtain airbags), electronic stability control and four wheel disc brakes with a four channel ABS system that includes Electronic Brake Force Distribution (EBD). You also get front active head restraints, Electronic Stability Control (ESC) and Traction Control.
The Sonata Limited adds to the mix such niceties as a sunroof, leather seats, the premium audio system and dual-zone climate control system. My test car also included an optional navigation system with a high resolution touch screen display and backup camera.
Despite my angst over the car's external appearance, I seem to be in a minority. Most of the people I've talked to about the car, including those who saw me getting into or out of it during my test drive and wanted to learn more about the new Sonata, have said it looks terrific.
I still prefer the previous generation's smoother styling, so it's probably just as well that, given how other people ooh and aah over it, Hyundai chose not to consult with me during their design phase.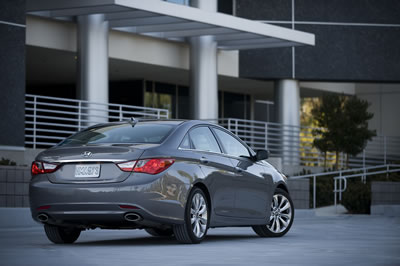 Hyundai has been very busy – and very successful – establishing itself as competitive in any market segment in which it chooses to operate. I have great respect for the line, from the great little entry level Accent to the new luxury sedan Equus, the latter of which I got to sample far too briefly a few weeks back.  And if my father's experience is any gauge – he's owned a last-generation Elantra for at least five years and it has given him not a lick of trouble – the cars are good for the long term, too.
Hyundai has, indeed, come a long way, and have earned their success. That means, fortunately, that the days of the Pony and the Stellar are long gone now, and may their names be forgotten forever.
The Hyundai Sonata starts at about $19,000 U.S./$22,650 Canadian. The Limited and Turbo walk onto the fiscal scale at about $25,500 U.S./$29,000 Canadian.
Copyright 2010 Jim Bray
Technofile.com