BMW 5 Series Wagon – Hauling more than Your Stuff
By Jim Bray
BMW doesn't appear prone to the "middle child blues." And that's good news for drivers!
Middle children, according to popular myth, are often the most unhappy of a family's siblings. They struggle for recognition, overshadowed by the eldest child's maturity and experience, while competing for attention from parents forced to concentrate on the youngest child's often more pressing needs.
Not so for BMW's middle child sedan, however. While the BMW 5 series is bigger than the popular 3 that's the company's bread and butter sedan (and a blast to drive, too), and smaller than the luxurious 7 that's deservedly one of the darlings of the luxury sedan set, it has its own personality and its own reputation. It's really the 5, especially in its highest performance livery, the M5, that's most often equated with being "the ultimate driving machine".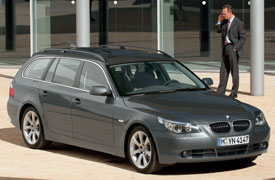 I remember taking a high performance driving course a few years back, doing some free laps on a road course near the end of the day, my car screaming down the long straightaway, giving its all joyfully – only to have a black M5 blow by me like I was driving a pedal car. It was an instant reality check and an excellent illustration of the difference between a fine $25,000 four cylinder sports coupe and an $80,000 "Wow! Machine".
Needless to say when I approached my test BMW 530ix and noticed that it also sported those famous "M" badges, my heart started racing.
Alas, in this particular case the M designation (at least on my Canadian-spec test car) is more of a trim level than a serious performance upgrade, much like Toyota's TRD badging when it appears on such vehicles as the Matrix – though the only other things the Matrix and the 5 have in common is that they have four doors, four wheels, engines and tailgates.
So rather than getting the M5's 507 horsepower V10 engine, my test 530ix Touring was equipped with the excellent 3.0 liter inline six BMW also uses in the 330i, a power plant that pushes out 255 horsepower @ 6600 rpm and 220 lb-ft of delicious torque @ a low 2750 rpm.
This is more than adequate, believe me; it's just that I had the sugarplums of that ten banger dancing in my head. Maybe next time….
Anyway, just 'cause it ain't a real M doesn't mean the 530ix Sports Wagon (aka Touring) is a slouch. I have quibbles with it, but not for the way it drives. No, indeed.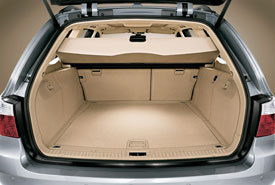 Motoring...
First off, that lovely six is a peach. The same engine you can get with the 330's, it's an inline, double overhead cam 24-valve magnesium/aluminum powerhouse featuring Valvetronic variable intake-valve lift and Double VANOS 1 variable intake-and-exhaust-valve timing. It goes to beat all get out, emitting glorious mechanical music as it does so, and in my tester was matched with a gorgeous six speed manual that has to be one of the nicest transmissions I've had the privilege of shifting. And the clutch is sublime, light and progressive.
The suspension up front consists of double pivot struts, with a five link independent rear end. Steering is BMW's Servotronic speed-sensitive, power assisted rack and pinion, and the brakes are ventilated discs with four channel ABS at all corners (and corners, or curves, is probably where you'll have the most fun using them!). The standard tires are 245/40 series run flats on attractive 18 inch wheels.
The all wheel drive 530xi handles extremely well and the suspension toes the line between comfort and sport, offering catlike road feel without making your pee your pants from jarring impacts – which comes in handy on long trips since one feature missing from most vehicles is a port-a-potty!
The wagon format was missing from the 5 for two years, and with the redesign of the series it makes a welcome return: not only do you get a wagon's flexibility but you also don't get that big buttock look that plagues the current 5 series sedan. This makes the Sports Wagon the most attractive of the 5 series, to these never humble eyes. Sure, it's still a tad slab sided, but that's okay, and the front end is very easy on the eyes.
There's plenty else that's new in this generation of 5, so here's a partial list of the features BMW likes to brag about, with a few of my snide comments in parentheses:
New final drive ratios for the 6-cylinder models, numerically higher to exploit the new engines' greater revving capability
Servotronic vehicle-speed-sensitive power steering, standard on all models. (my tester's steering feel just right)
Available Active Cruise Control now in its 2nd generation, with enhanced functions (You can raise or lower your chosen speed in either one or 10 mph – or km/h – increments, which is quite handy)
Dynamic Stability Control with expanded braking functions (a fine, stable car indeed, with brakes that bite into your forward velocity as if born to the task, which of course they are)
Xenon Adaptive headlights newly standard on 530i/xi models (headlights that swivel in turns, a wonderful feature!)
Start/Stop button replaces former key switch; new-type remote control (Not necessarily, though; my tester had the conventional key/keyhole in the steering column combination)
Standard in-dash CD player adds MP3 capability (my tester had a single disc player and other than its connection with the iDrive gizmo I can't fault it: it sounds superb)
Climate-control rotary knobs (another way to avoid iDrive!)
Steering-wheel spoke trim in Soft Finish (an ultimate driving wheel, indeed, with controls for the audio and other stuff mounted onto it)
Bluetooth phone interface (a niche market right now, but it'll be de rigueur before long – and it's a great idea because it can turn your cell phone into a hands free unit)
And there's plenty more. But the real story of the 530 ix Sports Wagon, besides its performance and comfort and the joyful driving experience, is that you also get day to day practicality and hauling capability without having to buy an SUV or minivan.
A thoughtful feature is the hill start assist, which holds the car steady for a few seconds when you're starting on a hill, so you don't roll back into the jerk who parked himself on your bumper. But don't rely on it too long; its time is finite.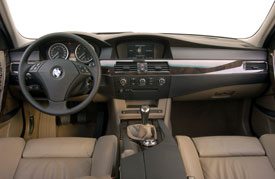 Inner Space...
The weakest part of the 5 is its interior. Despite great seats (power operated up front, including headrests and thigh support, and with bun warmers – though not "bun coolers") and nice creature comforts, the trim on my tester looked like a kind of metallic hound's tooth, or maybe it was a ball peen hammered motif. Whatever it was, it wasn't particularly attractive.
But the driving position's perfect, the analog gauges are clear and clean, and the front seat passenger is also cradled nicely.
On the downside, the door pockets are quite small, and the center console has two little storage bins in it, mounted one on top of each other and neither big enough to hold much more than a sunglasses case or cell phone. They're also awkward to use and should be avoided when you're at speed.
The dual zone HVAC is rotary operated and easy to use, but it would've been nice to have a digital readout for quicker viewing. And the cup holders in the rear are small; my son complained that his medium sized "Slurpee-compatible" wouldn't fit.
Then there's the dratted iDrive cursor control thingy system which sits on the center console where a cup holder would be in a perfect world. I spent about ten minutes futzing around with the menus trying to store my favorite radio stations in a procedure that could be a lot more user friendly (like, by using buttons on the stereo like almost every other marque does). Fortunately, once your initial adjustments are completed you can operate the stereo via the steering wheel buttons rather than the damn iDrive and pretty well ignore the iDrive controller from then on.
The stereo's awesome. My tester had the in-dash AM/FM/MP3/single CD model, and it not only plays nice and loud, but it has wonderfully tight bass, clean midrange and highs that avoid shrillness. The volume can also be adjusted to compensate for the vehicle's speed.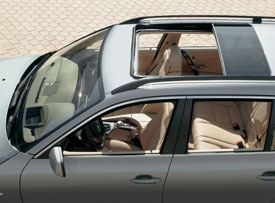 That's a good thing, because my tester also had the huge Panorama sunroof that opens so widely you could almost use it as your point of ingress if you live in a second floor apartment with a balcony. But as with the 3 Sports Wagon I tested earlier, if you open it all the way you'll sometimes be assaulted by a horrid, loud "whup whup whup" noise (depending on wind conditions, it seems) that's headache-inducing.
At its middle position, however, it still offers plenty of open space and the noise level is quite acceptable.
There's good room for five in the 5, which seems appropriate. And as with the 3 wagon, you can fold down the rear seat and mount a cargo net to its folded back to keep stuff from rocketing into the back of your head if you hit the brakes hard (and, this being an ultimate driving machine, you undoubtedly will!).
Also similar to the 3 wagon is a cargo cover that zips up and out of the way automatically when you open the hatch (which was power operated in my tester). This is nice and convenient, but I kept forgetting it had gone up and then, when I parked myself back in the driver's seat, it blocked the view out of the rear window, necessitating a trip back to re-seat it.
Safety equipment includes a SMART airbag deployment system, front and side thorax airbags for driver & passenger, and advanced head protection. Plus the usual stuff.
My Canadian-spec tester also came with about ten grand worth of options, including the Premium Package (stuff like manual side sunshades for the rear seat passengers, auto dimming mirrors, bun warmers for rear seat passengers, and a handy parking distance control that malfunctioned almost as often as it worked) and the abovementioned M Sport Package that includes an aerodynamic package, multi-function leather sport steering wheel, sport seats, and 18" M double-spoke alloy wheels with performance run-flat tires.
All in all, a wonderful machine in which to haul stuff, whether goods or just your smiling self behind the wheel.
BMW's 530ix Sports Wagon starts at $52,100 U.S./$72,800 Cdn.