Toyota Matrix TRD
By Jim Bray
How do you turn a good and popular compact wagon into a racing car?
Well if you're Toyota and you're talking about the Matrix, you offer a couple of minor upgrades, slap on a few logos, and Bob's your uncle.
And that's the problem.
The Matrix, based on Toyota's legendary Corolla, is a very nice wagon. It offers a lot of flexibility and economy, and if it works as well as my best friend's nearly identical Pontiac Vibe, it should offer its owners plenty of driving pleasure and value for years to come.
Ah, but a sports car it is not.
I think Toyota may realize this, or else the powers-that-be with Toyota Canada didn't really think about the copy their agency people were writing – because on the website they say about the Matrix TRD: "Available on the base FWD models, this package gives Matrix a look that will have car enthusiasts breaking out in a cold sweat."
No kidding. I like to think of myself as at least a middling car enthusiast, and when I heard my next test car was the Matrix TRD I got quite excited. After all, the top-line Matrix is quite sporty, with a relatively hot four banger mated to what's supposed to be a pretty slick 6 speed manual tranny.
And since Toyota's racing division has earned respect, one might be forgiven for expecting a TRD package would be more on the line of BMW's M series, Mercedes Benz's AMG, Mazda's Mazdaspeed – you get the picture.
But here's the list of stuff you get for the approximately two grand Canadian that separates the bottom-of-the-line Matrix from the TRD "Special Edition":
• Unique 17" Alloy Wheels with Wheel Locks (which, to be fair, are quite nice)
• Air Conditioner
• Clean Air Filter
• Panasonic 200-Watt Audio System/AM/FM CD with MP3 Player (more about this later)
• Custom Rear Spoiler
• Rear Bumper Protector (a strip of rubber or plastic that protects the bumper from scratches when you slide large packages into the cavernous cargo compartment)
• Colored Mirrors and Door Handles (always a priority with racers)
• Colored Side Skirts (ditto)
• TRD Decals (which really help the car's performance, I'm sure)
• TRD Exhaust Tip (which looks like one of those coffee can tailpipes kids love)
• Blacked-Out Side Window Frames
• Power Remote Mirrors (you mean these aren't standard?)
• TRD Shift Knob (Manual Only)
• Chrome Scuff Plates
• Power Door Locks (but no keyless entry)
• Illuminated Entry (in case you can't see the interior through your racing helmet visor, I suppose)
• Fog Lamps
Here's what you don't get:
• Disc brakes all around, let alone ABS or traction control
• A 6-speed manual transmission
• The upgraded, sporty engine
Clearly, the TRD Special Edition of the Matrix is a case of form over substance. It looks a little racier than the base model, but at heart it's just the base model with lipstick and rouge.
It's too bad, because the Matrix is a very nice car and there's plenty to like about it. But Toyota is insulting the intelligence of "car enthusiasts" by presenting this special edition with any use of the word "racing" in its name.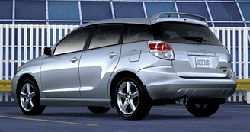 So let's just talk about the Matrix itself and forget about the TRD stuff – except that I can't leave the topic without talking about the special stereo. This 200 watt Panasonic system features an AM/FM/CD/MP3 head unit that looks really nifty. Alas, the buttons are small and – I kid you not – the labeling is so tiny I had to pull the car to the side of the road and put on my reading glasses before I could figure out how to work it, and even after that it was an ergonomic pain in the rear.
But at least the front folds down in a nifty way to reveal the CD slot when you want to load or eject a disc.
Another case of form over substance.
And the stereo itself is not particularly good, 200 watts or not. It's muddy and doesn't offer any manual adjustments, just a series of presets you can use to find the least objectionable of the settings.
But at least it looks neat.
Okay, rant off. Back to the car itself.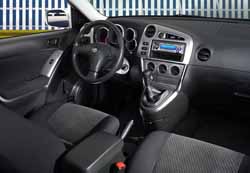 The Matrix competes with such vehicles as the Mazda 3 Sport and of course the Pontiac Vibe. It's a nice 5 door wagon with plenty of room to haul stuff, and enough ways to configure it (for example, the front passenger seat folds forward flat for extra hauling length – or to make a nifty little desk) to make it ideal for young people, sales people - or just ordinary folk looking for a small and economical vehicle with more room than you can shake a stick at.
The base engine (don't get me started again!) is a 1.8 liter four cylinder, double overhead cam 16 valve ULEV (Ultra Low Emissions) engine with variable valve timing. Rated at 130 horsepower @ 6000 rpm and 125 lb-ft. @ 4200 rpm, this is hardly racing territory (oops, there I go again!), but it's just fine for every day driving and hauling. This I know from experience with my friend's Vibe.
But if you want to race, you're better off choosing the Matrix XRS, which features an optional four banger that cranks out 170 horses @ 7600 rpm – though only 127 lb.ft. of torque @ 4400 rpm. It's also mated to a six speed manual shifter.
And that's what I thought the TRD would be a derivative of….
Now some full disclosure: my wife owns a 1992 Toyota Corolla and it's a terrific little car. It goes like hell, despite having no more than 100 horsepower, which leads me to believe that the Matrix XRS, while heavier, would be a relative blast to drive.
The Matrix's suspension includes MacPherson struts with coil springs and stabilizer bar up front and torsion beam with trailing link, coil springs and stabilizer bar in the rear (the AWD version gives you independent double wishbone with coil springs and stabilizer bar). Steering is power assisted rack and pinion and it feels pretty good.
The brakes are of the front disc/rear drum variety, even in the TRD's supposedly racing trim. The XRS has all-wheel discs with ABS. My TRD tester's front disc/rear drum combo's stopping power wasn't up to that a Smith and Wesson, but it was fine for regular driving.
You also get cargo tie downs in the rear area, and the Matrix features a good assortment of bins, nooks and crannies in which to store stuff.
There was a weird anomaly in my tester's windshield that my wife didn't notice but which rubbed me the wrong way. It was a waver or something that made lines on the road appear to bow slightly as I drove along. It reminded me of my big screen at home, where the geometry is off slightly so objects appear to warp a bit as they scroll up from the bottom of the screen. The effect was opposite in the Matrix, with objects warping as they approached the bottom of the windshield, but it was strange and very un-Toyota-like.
The TRD model is cheaper than the XRS FWD, by nearly five thousand dollars, but even though I haven't driven the XRS (another friend of mine has one, however, and loves it) I feel safe in saying that if you want the performance, instead of just a bunch of badges and gewgaws, it's money well spent.
And while it's true that a real racing car usually eschews creature comforts, the Matrix TRD's owners have to live in the real world, which makes it hard to explain why it lacks such common amenities as power windows!
The base FWD Matrix, with manual transmission, starts at about $17050 Cdn/$14,860 US. The Matrix TRD Special Edition starts at $20825.00 Cdn. and doesn't appear to be available as such in the US, though there may be a comparable options package if you want to throw some after tax disposable income into the street.
The XRS FWD starts at $25685 Cdn/$18,850 US.