The EL began life as basically an up market Honda Civic, and there's certainly nothing wrong with that. Through two generations, the EL carried Acura's compact luxury sedan banner very well, but now the company has decided to break with that tradition and give the new version a new name.
And that's okay. The CSX is a fine little car and I suspect Acura Canada will sell truckloads of them.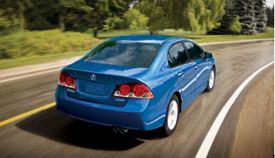 The Nuts and Bolts
Available in two trim levels, Touring and Premium, the front engine/front wheel drive CSX is powered by a 2.0 liter, 16-valve, DOHC, 4-cylinder i-VTEC engine that puts out 155 horses @ 6000 rpm and 139 lb.- ft. of torque @ 4500 rpm. This isn't a huge amount of oomph these days, but it's a good match for this vehicle and quite competitive for the market segment. It's also a little sweeter than the "garden variety" Civic's 1.8 liter/140 hp/128 lb.- ft. mill, unless you step up to the hot little Civic Si coupe and its 197 horses.
The CSX' standard transmission is a five-speed manual, but my tester had the optional 5-speed automatic with manual mode activated by paddle shifters behind the steering wheel. While I generally prefer a manual, I liked this automatic a lot, especially in manual mode, which gives you a lot more control. The paddles are mounted in the perfect place for "9 and 3 o'clock driving" and work very well, though they can be a tad challenging if you shift while turning a corner.
My only complaint about the transmission is that you don't get a readout of what gear you're in until you actually shift, so if you're in automatic mode and switch to manual, you can't tell what gear you're in. A quick upshift takes care of this, but why should you have to?
Still, the car moves along nicely.
The CSX features an independent suspension: Toe Control-Link Independent Macpherson Struts with coil springs up front and Reactive-link independent double-wishbones with coil springs in the rear. There are stabilizer bars fore and aft as well.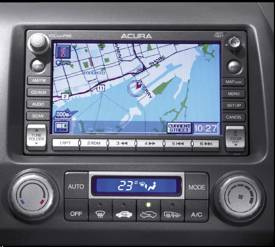 Not surprisingly, the car handles very nicely and the ride is smooth without being overly cushy; the CSX has a nice, cat-like feel over road irregularities and on twisty bits. It's no TSX, but it's okay just the same - and it doesn't pretend to be a TSX.
Steering is variable electrical power-assist rack and pinion. Acura says that doing away with a traditional pump helps result in better steering response because it's lighter and more efficient. The brakes are four wheel ventilated discs with ABS, and the standard wheels on both trim levels are 16 inch aluminum-alloys wearing all-season P205/55 R16's.
Sleek and Smooth.
There's a lot of Honda Civic in the car's exterior and interior, but to these eyes the CSX is better looking in and out - not that the new Civic is a dog by any means! But both cars share the same basic structure, including the steeply slanted windshield that gives the car an extremely aerodynamic appearance and the double decker instrument panel that is nothing if not interesting.
You can get the CSX equipped with high intensity discharge (HID) headlights that illuminate the path ahead very well, and the outside mirrors feature front-firing signal lamp implants. The car's classy-looking bum is definitely more Acura than Honda, and displays large, wraparound tail lights and twin exhaust tips.
The trunk is large, but my tester exhibited a very un-Japanese car-like tendency: while you can usually close the trunk by merely pressing down on the lid, I very nearly had to slam this one. Unusual.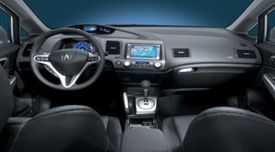 Superior Interior.
Inside, the CSX is comfortable and very well thought out. The stacked instrument panel may be love it or hate it (I experienced both emotions, beginning with hate and learning to love it), but it's clean and clear and very readable. I wish the speedometer were analogue, but I'm starting to reluctantly get used to digital speedos. Besides, I doubt there'd be room for a real analogue speedometer in the space provided.
I suspect Honda/Acura went the stacked route, and included a dust-hoarding depression on the passenger side of the dash, because of the sharply-raked windshield: otherwise there'd be a huge expanse of bare plastic. That expanse looks a lot smaller now, and that contributes to a more "homey" feeling in the front seats.
The stack is arranged with the speedometer and the gas and temperate gauges up top and the rest of the instruments below. The tilt/telescoping steering wheel is lovely: leather-wrapped and it feels just right. It also includes buttons/switches for the audio and cruise control systems, as well as fingertip activation for the CSX's voice control system.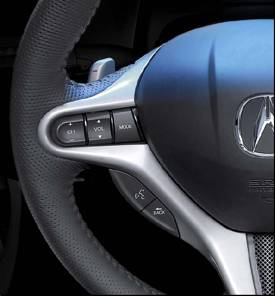 A Mobile Speakeasy?
That voice control system lets you do such things as change radio station presets, adjust the temperate and, to a certain extent, operate the navigation system by speaking to the car. For example, you can say "Home" and the car will offer to calculate a route home on its nav system. And if you say "Radio AM Preset Two," the car will repeat that back to you and, if there actually is such a preset in its memory, it'll activate it for you.
It's pretty neat, but such systems have a long way to go before they're really useful. For example, if you want to calculate a route somewhere, you have to spell out your destination letter by letter, pressing the voice activation button after each utterance. It's faster (though maybe not safer) to unfold a map. And the voice activated navigation works much better if you know the phonetic alphabet (Alpha, Bravo, Charlie, etc.) than if you say "A," "B," "C," etc.
Still, this is the direction in which the technology is going (and it's available on several other cars today as well) and once it really gets there it's going to be great.
The front seats of my tester had the optional heated leather surfaces and were very comfortable. Manually adjustable, it's easy to find a good driving position.
Good driving is also facilitated by a terrific greenhouse. There are even little windows just behind the windshield, on the sides. Unfortunately, however, the A pillar is very thick and it can get in the way when you're cornering.
Rather than one of those cursor control-type thingies, Acura has surrounded the central LCD screen with traditional, illuminated buttons. Hurrah! And while they work well, I found the labeling a tad small and until I got used to which button was which I nearly had to put on my reading glasses - not something I want to do while driving!
The design of the inner door handles reminds me of those from Porsche, though in form only - not in materials and execution.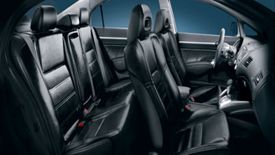 Strangely, the vanity mirrors under the sun visors aren't illuminated, and the visors themselves are only easy to pull down with the hand on the arm located toward the center of the car. This means left handed drivers may find it a bit annoying. That's pretty nitpicky, though!
The audio system features a single disc CD player (and AM/FM radio, of course) and it sounds very good. It won't rattle the windows, but the audio quality is more than acceptable.
The windshield wipers are huge, not surprisingly considering the gigantic windshield, and they work okay, except that on the driver's side they miss a couple of centimeters immediately beside the A pillar.
Safety equipment includes active head restraints, driver and front passenger dual-stage, dual-threshold front airbags, driver and front passenger side airbags, side curtain airbags and a security system with keyless entry.
When all is said and done, the Acura CSX is a very nice car that's comfortable, efficient and performs well. It's no race car, but it isn't meant to be. Rather, it's an affordable luxury sedan that's pleasant, even fun, to drive and will undoubtedly be pleasant and fun to live with over the long term.
I suspect Acura is aiming the CSX at young couples and families who may be primed to purchase a Civic, Corolla, or other car of that ilk, but who can be seduced by something with a little more pizzazz and performance. And the CSX fits that bill very nicely.
The Acura CSX with 5-speed manual transmission starts at $25,400.00. The automatic starts at $26,700.00.