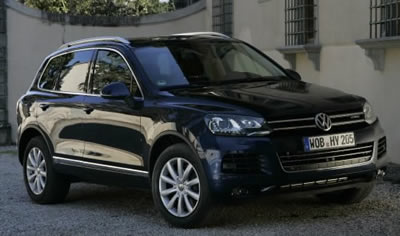 VW Touareg Ups Its Own Ante for '11
By Jim Bray
January 28, 2011
It's bigger, more graceful and more efficient than the previous generation and you can get it in a hybrid if that's important to you. It's also comfortable and luxurious, kind of a "less well-heeled man's" Porsche Cayenne.
The difficult to spell Touareg is Volkswagen's full-sized SUV and it's a fine one. And for 2011 the Touareg, promoted as the second generation of the vehicle, there are substantial changes from the original model.
VW says the new Touareg is wider and shorter than its predecessor, "for a stronger presence". It's also longer, with a longer wheelbase that translates into more interior space – and it manages to do all this while weighing approximately 350 pounds less than the old Touareg. It's also supposed to feature an improved ride, more function and convenience and offers customers three engine choices: the supercharged hybrid, the very nice V6 FSI of my test car and the turbo diesel TDI.
Outside, the new Touareg features a narrower, more "Golf-like" grille, LED running lights, new fender flares, and little fog lamps down below the front air intakes. The Touareg's hindquarters is more curved than before, too, with new "L-Design" taillights, blacked out lower bumper and chrome exhaust tips. Basically, the evolution has left the Touareg looking a lot like the old vehicle, but smoother and less boxy.
Inside, Volkswagen says, the Touareg has been refined, cabin noise reduced, and legroom increased. My test Touareg had the optional panoramic sunroof – billed as 350 per cent larger than the previous model's conventional sunroof. Alas, it was too darn cold to test it during my time with the big VW.
The eight inch touch screen LCD on the center stack works great and you can use it to display vehicle status information, navigation, hybrid drive system information (where applicable, of course), audio controls and the like.
The nearly inaccessible DVD/CD player plays MP3's and radio: SIRIUS Satellite/FM/AM stereo. There's also equally convenient interfacing for iPods, SD cards, etc. 
I liked the eight speed automatic transmission with Tiptronic. It shifts very smoothly and gives you enough gears to row yourself silly in manual mode. This came in handy on snowy roads.
The transmission should also allow decent gas mileage for such a well-shouldered beast: VW says its two top gears are meant as fuel-saving overdrives. Perhaps this focus on overall economy is why the V8 option isn't offered on the Touareg anymore – and, to be honest, as much as I love a nice V8, I didn't miss it much here. The 3.6 liter V6 has plenty of power and torque (280 and 265, respectively)  and moves the Touareg along with more than enough gusto.
The 4MOTION four wheel drive and Electronic Stability Control (ESC) were awesome on the wintry roads in my neck of the woods, helping the Big T remain stable and eminently driveable on the worst of Person Nature's wrath.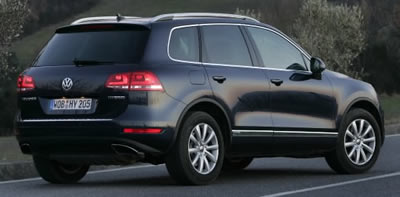 Touaregs come with a lightweight (thanks to the use of aluminum) double wishbone suspension, and the 4MOTION system is married to a rear limited-slip Torsen differential. Propulsion is biased 40:60 toward the rear to improved the overall driving dynamics. It works.
Touareg features power-assisted vented disc brakes front and rear and the pedal feel is smooth and confident, with no mushiness. My sample was fitted with optional 20 inch wheels that look very sharp but if they were any bigger VW would have to install a fold out staircase to help one get inside the Touareg.
My test unit was about mid-line, with plenty of optional stuff sandwiched into its structure. So it had everything from an auto-dimming interior mirror and the wonderful automatic headlights feature every vehicle should have, to Bluetooth Mobile Phone Connectivity and "Climatronic" dual-zone electronic climate control.
It also had leather, driver's seat memory (the buttons for which are a little far back on the door, but you don't use them much), Bi-Xenon headlights, a rear view camera. The 12 way driver's seat cups the buns comfortably and the rest of the seats are also plenty cozy.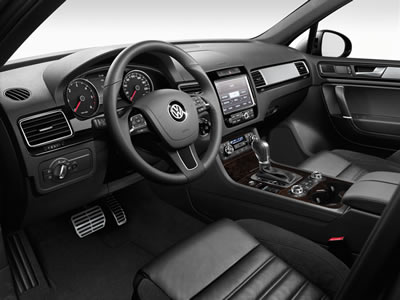 The 60/40 split/fold and sliding rear seat has a recline feature and folds pretty flat for when you want to haul stuff.
Also aiding the hauling is a power tailgate you can operate from the driver's seat, from the key fob or from the tailgate itself.
The cabin is comfortable, classy and efficient. The instrument panel is straightforward, the center stack features VW's terrific touch screen system (one of the best) and ancillary buttons and controls for HVAC, audio, etc. The multifunction steering wheel is comfortable in the hands and the speed-dependent variable ratio hydraulic rack steering system guides the SUV efficiently, with good steering feel.
About the only complaint I can think of for the driver/front passenger compartment is the silly placement of the DVD player – in the glove compartment, tucked into its ceiling and accessible only after you press a little lever, after which it pops down. This is a royal pain if you happen to be in the driver's seat.
As expected, the audio system is very good, with power enough and speakers that don't shake themselves out of their mounts at the first Who tune. My Touareg came with SIRIUS satellite radio activated, which is always a treat.
A nice touch is the double sun visors for the front seat passengers, which let you use a visor on the side and front windows at the same time.
There's plenty of storage space and auxiliary power for your gadgets is at hand.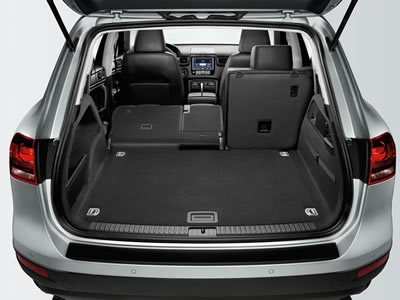 Safety equipment includes rain sensing wipers and six airbags – including dual front units, thorax units and "Side Curtain Protection" for the front and rear outboard passengers. There's also Anti-Slip Regulation (ASR – so, ladies, don't show up in your dainties!), anti-lock brakes, Auto-Hold and Hill Hold Assist, and Volkswagen's Electronic Stabilization Control (ESC).
I really enjoyed my week with the Touareg and would definitely put it near the top of my list of SUV's in this niche. It comes off as a slightly more affordable Porsche Cayenne which, since they were spawned in the same ocean, shouldn't really be a surprise. It's nothing to sneeze at, either.
The Volkswagen Touareg starts at $44,450 U.S./$48,440 Canadian.
Copyright 2011 Jim Bray
TechnoFile.com