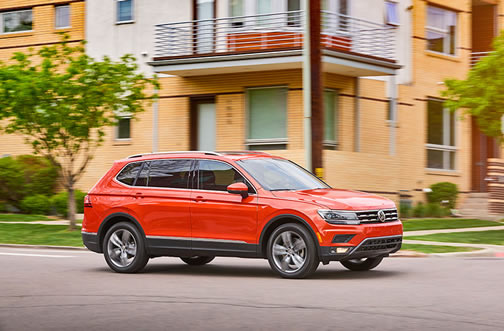 Volkswagen stretching things with new generation Tiguan
By Jim Bray
September 25, 2017
The VW Tiguan has always been a great compact SUV, and for 2018 the German carmaker has redesigned the vehicle completely, crafting a new generation Tiguan that seems fully capable of slugging it out in this niche of the market.
Click the image to open a slideshow.
As a VW fan, I'm always nervous when they release a new model because I'm afraid they'll screw it up. It's like your favourite sports team coming off a championship-winning season, and you just know the team will be different next year thanks to retirements, free agency, etc., and you dearly hope the new team will be everything the old one was. They aren't usually, unfortunately - dynasties being the exception rather than the rule - but at least in Volkswagen's case their history is generally one of steady development and refinement rather than the company rushing to throw the new baby out with the ancient bath water.
Some might think that makes VW's designers and engineers some of the laziest in the world - heck, a Golf still looks like a Golf even after decades of development, but can you say that about, say, a Civic? I think it means they're steady and don't throw something out just for the sake of newness. I like that.
So here we have an all-new Tiguan, hot on the heels of the all-new Atlas I drove a few weeks ago. It's bigger, bolder, more muscular-looking and with newer technology than the outgoing Tiguan. And you can even get it with a third row of seats!
That bath water is looking mighty inviting!
The Tiguan has been one of my top three compact SUV choices for several years now. I love how the old one drove and, as a VW fan, I liked just about everything else about it as well. My only issues were the usual ones I have about VW vs. the competition: VW's are a tad pricier than some competitors and I'd have liked the old Tiguan to have a little more oomph (though the latter whine is one I do with just about every other mainstream vehicle these days).
Did they address those issues with this new generation? Mostly.
The 2018 Tiguan is based on VW's MQB (VW says the acronym refers to "Modular Transverse Matrix") platform that's also home to the Atlas and Golf, and other VW group vehicles such as the Audi A3. Compared to the outgoing Tiguan, the new kid has a lot more space inside and, VW says, up to 58 per cent more cargo space (in the two row model). It's also longer than before - VW says it now has one of the longest footprints in the segment - though you'd never really know it from driving the new Tiguan.
Available in the typical Trendline, Comfortline and Highline trim levels, VW Canada's sample sported the Highline trim and its $39,175 CAD "non-optioned" price included Habanero Orange Metallic paint that reminded me of a Creamsicle and certainly got its share of stares.
Tiguan, like its big brother Atlas, features a very chiseled and muscular exterior that's quite the change from the graceful curving lines of the old model. It's a more contemporary look and I think it also looks more serious than the more "cute ute" mien of the old one.
While the base Tiguan gets halogen headlights, LED daytime running lights and 17 inch "Montana" alloy wheels, stepping up to the Highline trim level adds an inch to the "Nizza" wheels, as well as adaptive LED headlights, a power tail gate, and silver roof rails. As is becoming fashionable, the power tailgate features an "easy open" feature activated by the feet of graceful people (yep, I had issues…) and owners of the old Tiguan might notice a lower loading height with the new version.
There's also an "easy close" feature with a pair of activating buttons - one of which closes the tailgate immediately upon pressing it (duck!) and one that waits until you step away from the vehicle to do it. Highline models also get power, heated, folding exterior mirrors with memory and a reverse tilt down function.
Motivating the new Tiguan is an updated version of VW's two litre TSI engine, coupled to a quickly-upshifting (if you're not putting the spurs to 'er) eight speed automatic transmission that really could use a set of shift paddles. All wheel drive versions such as VW's test vehicle also get four selectable driving modes for various terrain scenarios, and there's a drive mode (eco, sport, etc.) button mounted inside the terrain selection knob.
That turbo four puts out peak horsepower of 184, from 4,400 to 6,000 rpm, and while that number of horses isn't particularly outstanding in this niche, the maximum torque of 221 lb.-ft., which comes on at 1,600 rpm, should put a smile on your face. It certainly did that to mine, especially when the Tiguan was put into Sport mode, which tightens things up nicely. Sport mode won't give you more power, but it'll make the Tiguan feel like a more willing beast than it does in more "pedestrian" modes, as well as elevating its responses from "a tad fluid" to "feline-esque."
The interior features a modern design crafted with high-quality materials. The cockpit is driver-focused and standard features now include a multi-function steering wheel. The instrument panel is a big LCD that's configurable (for example, you can have the navigation map display between the tacho and speedo meters, or you can just show anything from fuel consumption to distance travelled or whatever you're listening to on the audio system - though I preferred the "gear and speed" option that put a handy digital speedometer on screen).
VW's sample also featured a powered, heated driver's seat with leather and memory, ambient LED interior lighting and interior footwell lights, chrome applications on the door handles, dark horizon decorative inserts and a heated steering wheel.
The second-row bench can recline, slide back and forward, and be split/folded 40/20/40. A 50/50 split/fold third-row is available on any Tiguan trim level, providing seating for two, VW claims. The sample only had two rows, so I can't comment on the third row's room or usability.
There are tie-down hooks and a 12-volt outlet in the rear cargo area and, in models equipped with the optional (and very nice) Fender Premium Audio System, VW hides the subwoofer in the spare tire's space to maximize the cargo space above. In my tests of the audio system, I figured loud rock and roll would make the spare tire rock and roll with it, but it didn't seem to - and that's good.
Volkswagen's sample had the lovely panoramic glass tilt-and-slide sunroof that allows for great mountain views if, like me, you're driving where they happen to be. The sunroof comes standard on the Comfortline and Highline trims, and it's designed so that wind noise is minimized when it's open. It works, too.
The Trendline version comes with  6.5 inch touchscreen on the centre stack, AUX in, SD card and USB (only one port, though), and you also get a rear view camera and Bluetooth. Comfortline and Highline models get a glass-covered eight inch touchscreen. The Fender Premium Audio system (standard on the Highline) features a 480 watt, 12 channel amplifier with nine speakers including "Super Twin" front-door speakers and a Bassman subwoofer. I really like the Fender system, which is nearly enough in its own right to make me opt for the Highline trim level, even without the rest of the upgrades from "lower end" Tiguans.
While I'd love more power from the engine - why can't VW put their V6 into it like they did with the Atlas? - the Tiguan is still a very rewarding vehicle to drive. I was fortunate enough to have it virtually back to back with the Mazda CX-5 - my other favourite in this niche - and while the Mazda would save me a couple of grand, I think I'd opt for the VW anyway (imaginary money being particularly easy to spend!) because it offers everything the Mazda does, but a little bit more nicely. And there's nothing quite like that feeling of solidity you get from a German vehicle!
Volkswagen stuffs all kinds of today's safety equipment into the Tiguan, including Volkswagen Intelligent Crash Response System (ICRS) that automatically shuts off the fuel pump, unlocks the doors, and even switches on the hazard warning lights if the airbags deploy. You also get Automatic Post-Collision Braking System, Forward Collision Warning and Autonomous Emergency Braking with Pedestrian Monitoring, Blind Spot Monitor with Rear Traffic Alert, Adaptive Cruise Control, Lane Departure Warning, front and rear Park Distance Control, High Beam Control and a nifty Overhead View Camera.
Add to that the usual bevy of belts, bags, bolsters and the like and you have a compact SUV that's right up to date with all the latest nannies (most of which are switch offable, fortunately).
According to Volkswagen Canada's website, the 2018 Tiguan starts at $28,925 for the base, front wheel drive model. VW's sample Highline unit, thanks to the $1,470 Driver Assistance Package (Adaptive cruise control and Area View 360, Lane Assist and Light Assist and Remote start), totalled $40,645, before taxes and the other usual kilos of flesh demanded these days.
That's not chicken feed, but if any mainstream compact SUV is worth the price it's definitely the 2018 Volkswagen Tiguan.
Copyright 2017 Jim Bray
TechnoFile.com